The Sudbury, a new 486-unit, 600,000 square foot residential building in Boston's Bulfinch Triangle, introduces the first dramatic architectural move of many to transform an antiquated edifice – the monolithic, 2,300 car Government Center Garage – into a connected, walkable neighborhood. The first phase of the Bulfinch Crossing Redevelopment, The Sudbury injects new residential life where six historic neighborhoods converge for the first time in nearly 50 years. With crafted details deferential to their architectural context and a slender, expressive form, The Sudbury introduces an authentic local character which seamlessly mends surrounding urban fabric while finally claiming a place for this historic district along the Boston skyline.
Rethinking The Future Awards 2023
First Award | Housing (over 5 floors) (Built)
Project Name: The Sudbury
Category: Housing (over 5 floors) (Built)
Studio Name: CBT
Design Team:
Sae Kim
Ken Lewandowski
David Nagahiro
Liam O'Sullivan
Area: 611,449 SF
Year: 2020
Location: Boston, MA
Consultants:
Tishman/Aecom (Contractor), McNamara Salvia, WSP International, Dirtworks, Gordon Smith Corporation, Simpson Gumpertz & Heger, Sladen Feinstein, Van Deusen Associates, Acentech, C3 Code Consultants, Campbell McCabe, The Green Engineer, , RWDI, Entek Engineering, Weston & Sampson, Faulkner Design Group, Rottet Studio, Haley & Aldrich, VHB, Howard Stein Hudson, Neoscape
Photography Credits: Raj Das Photography, Flaunt Photography, Mark Flannery Photography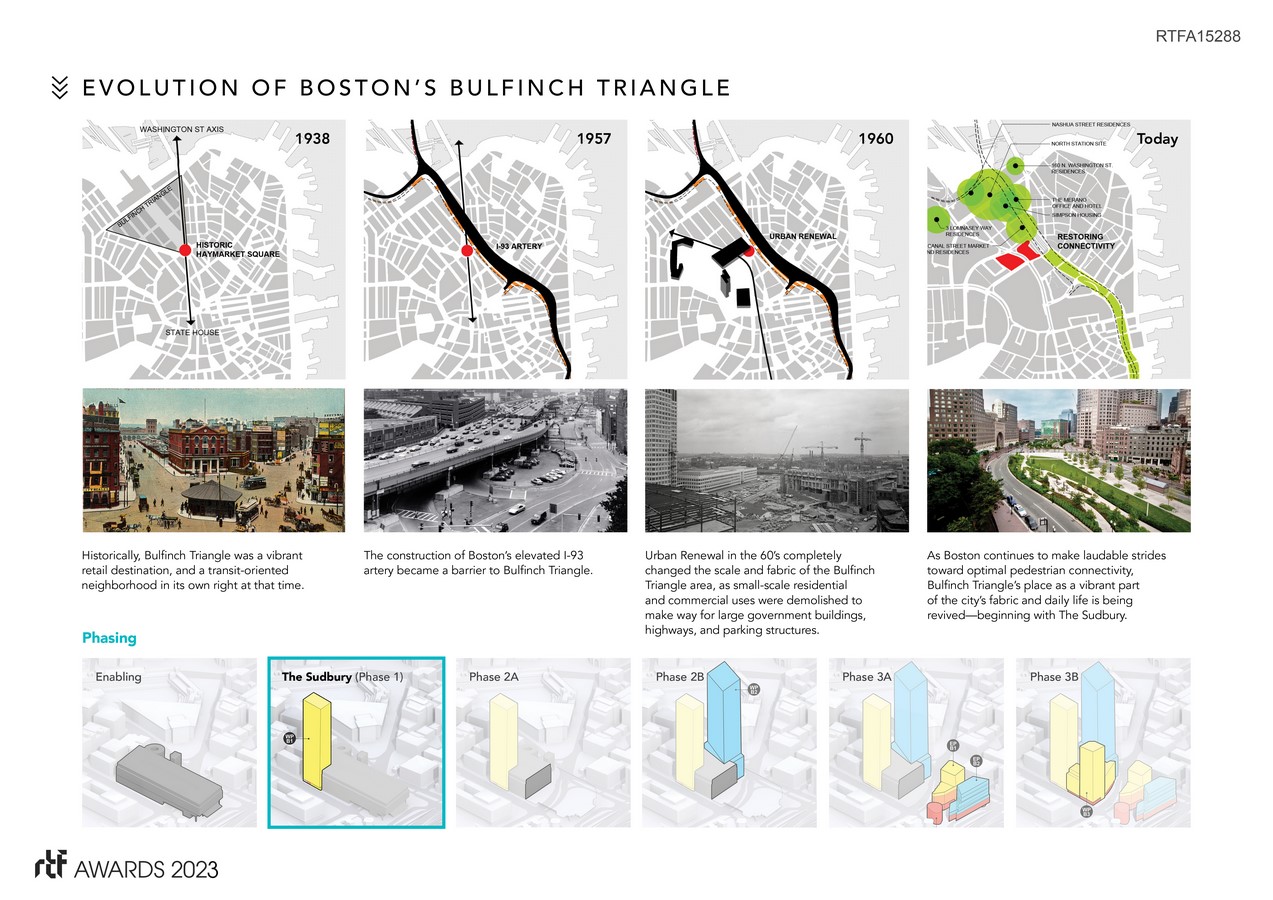 Careful Composition: Intentional Massing and Form
Instead of maximizing the building envelope with a single gesture, The Sudbury's thoughtful massing breaks down in scale to create three stepped, vertical volumes which results in a graceful addition to the skyline, reduces the building's footprint, and opens up the street to daylight.
Strategically offsetting the building's floorplate, The Sudbury's form opens up views in each living space from eight corners instead of four, immersing residents in the surrounding cityscape. A sawtooth pattern on the facade creates a unique texture which complements the articulation of the building's massing and reinforces The Sudbury's distinct architectural identity. The delicate grooves and ridges of this sawtooth design interplay with sunlight throughout the day, establishing an artistic and engaging presence. A distinct window pattern, which complements The Sudbury's offset floorplate and sawtooth facade, creates a strategic balance between glass and solid material which reduces solar gain while optimizing interior access to natural light.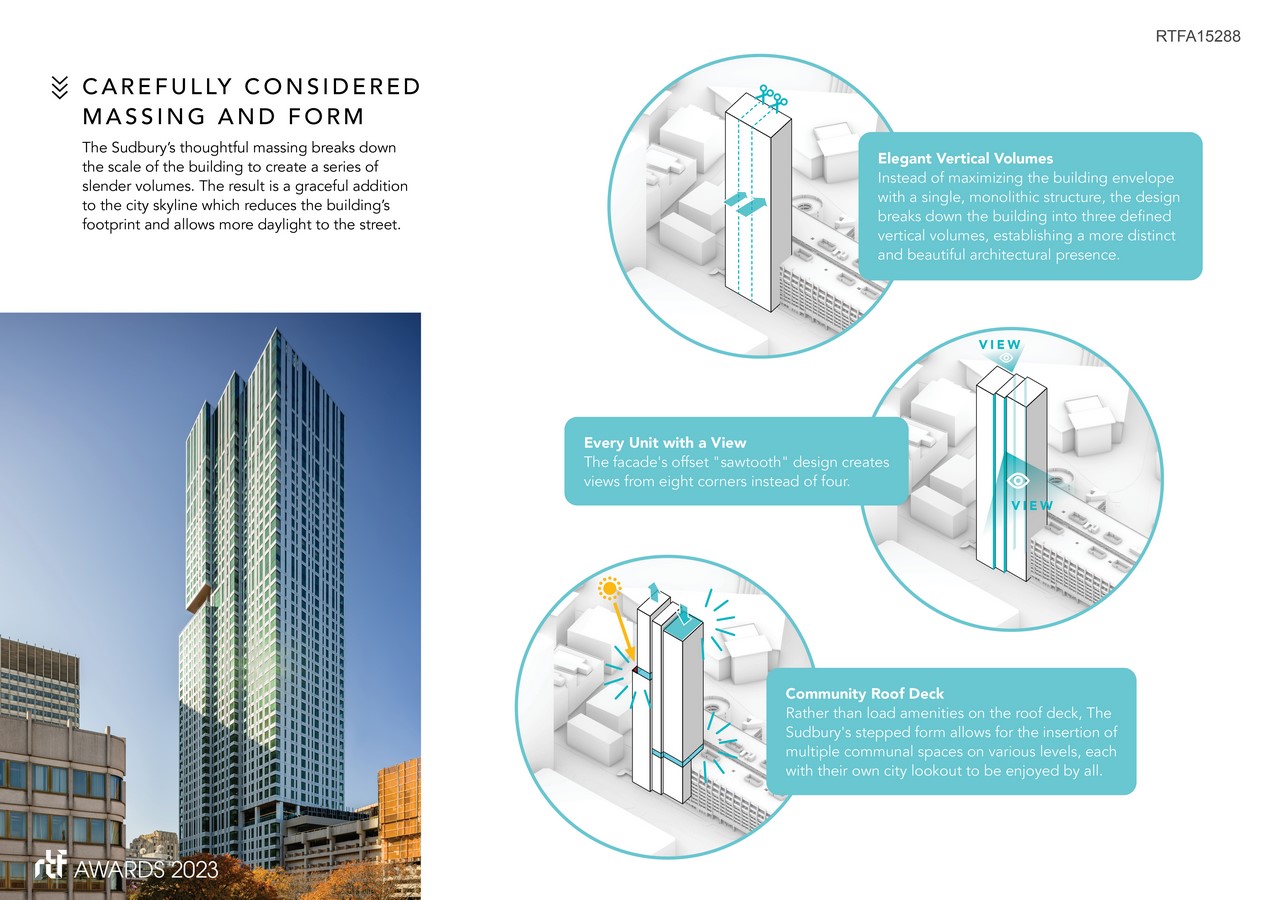 window pattern creates
The Human Element: Bringing City Life back into City Living
The Sudbury offers multiple communal spaces on various levels each with their own city lookout –  rather than loading amenities on the roof deck – to foster social opportunities and healthy living among residents. On the ground plane, renewed connections to public space, augmented by the introduction of a new park and pedestrian connection known as Bowker Green, create a wholly improved public realm experience, accessible to all.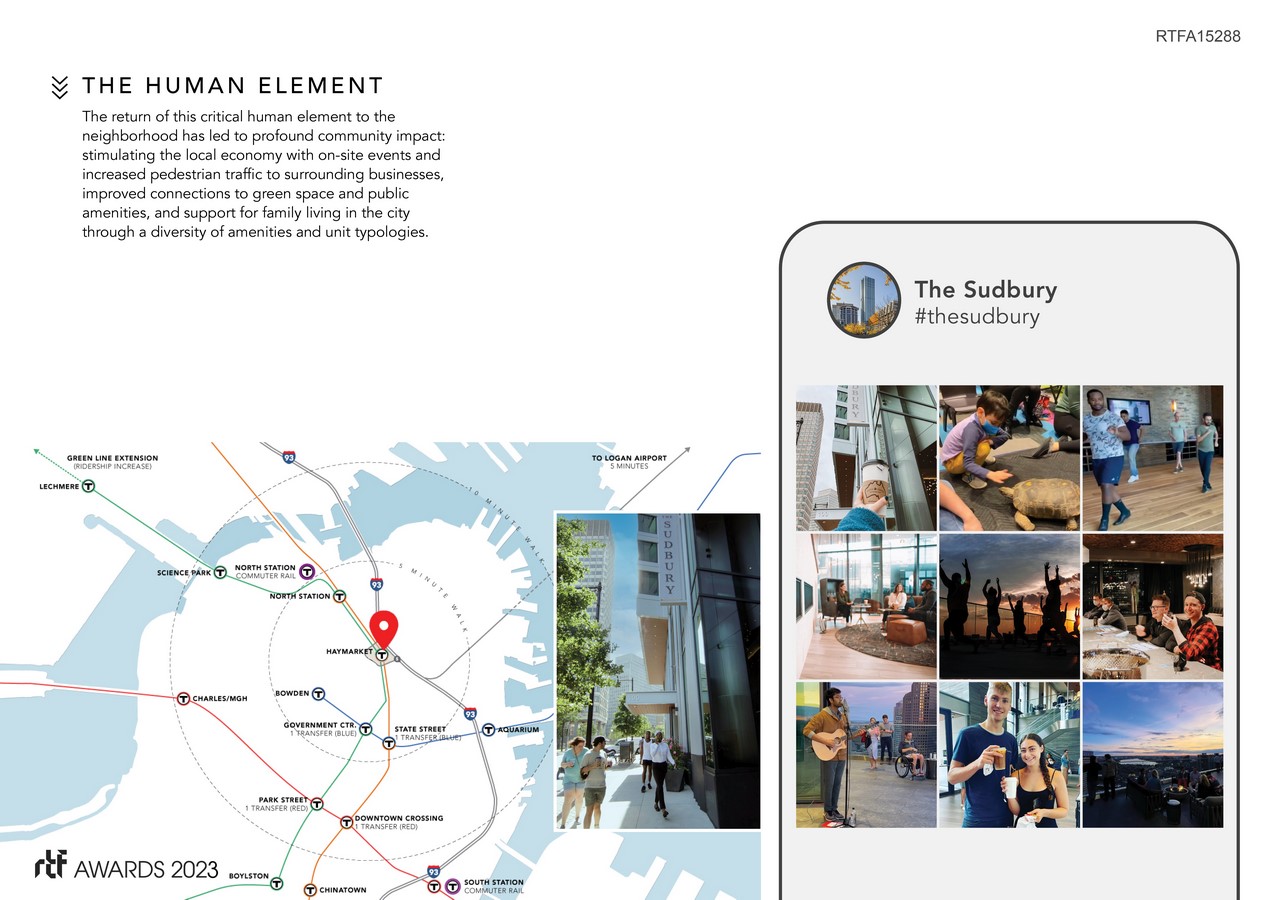 Rather than neglect existing street frontages, The Sudbury transforms derelict corridors and alleyways into safe, well-lit, and open spaces for the public, introducing an active and welcoming ground plane that hasn't graced this neighborhood since early last century. The return of this critical human element has led to profound community impact: stimulating the local economy with on-site events and increased pedestrian traffic to surrounding businesses, improved connections to green space and public amenities, and support for family living in the city through a diversity of amenities and unit offerings.