Dylan and Annie, a landscape designer and a hairstylist, wanted a flexible studio space for work and guests and to keep their backyard intact.  They also didn't want to relocate during construction or to disrupt the mature landscape.
Rethinking The Future Awards 2023
First Award | Women in Construction Award (Built)
Project Name: The Perch
Category:         Women in Construction Award (Built)
Studio Name:   Nicole Blair, LLC
Design Team:   Nicole Blair, architect
Nicole Blair, general contractor
Area:                  660 sqft
Year:                  2021
Location:          Austin, TX USA
Consultants:     Amanda Dees, Structures PE, structural engineer
Ryan Stoltz, Structures PE, structural engineer
Photography:  Casey Dunn
Render:             (n.a.)
Other Credits:  D Crain, landscape design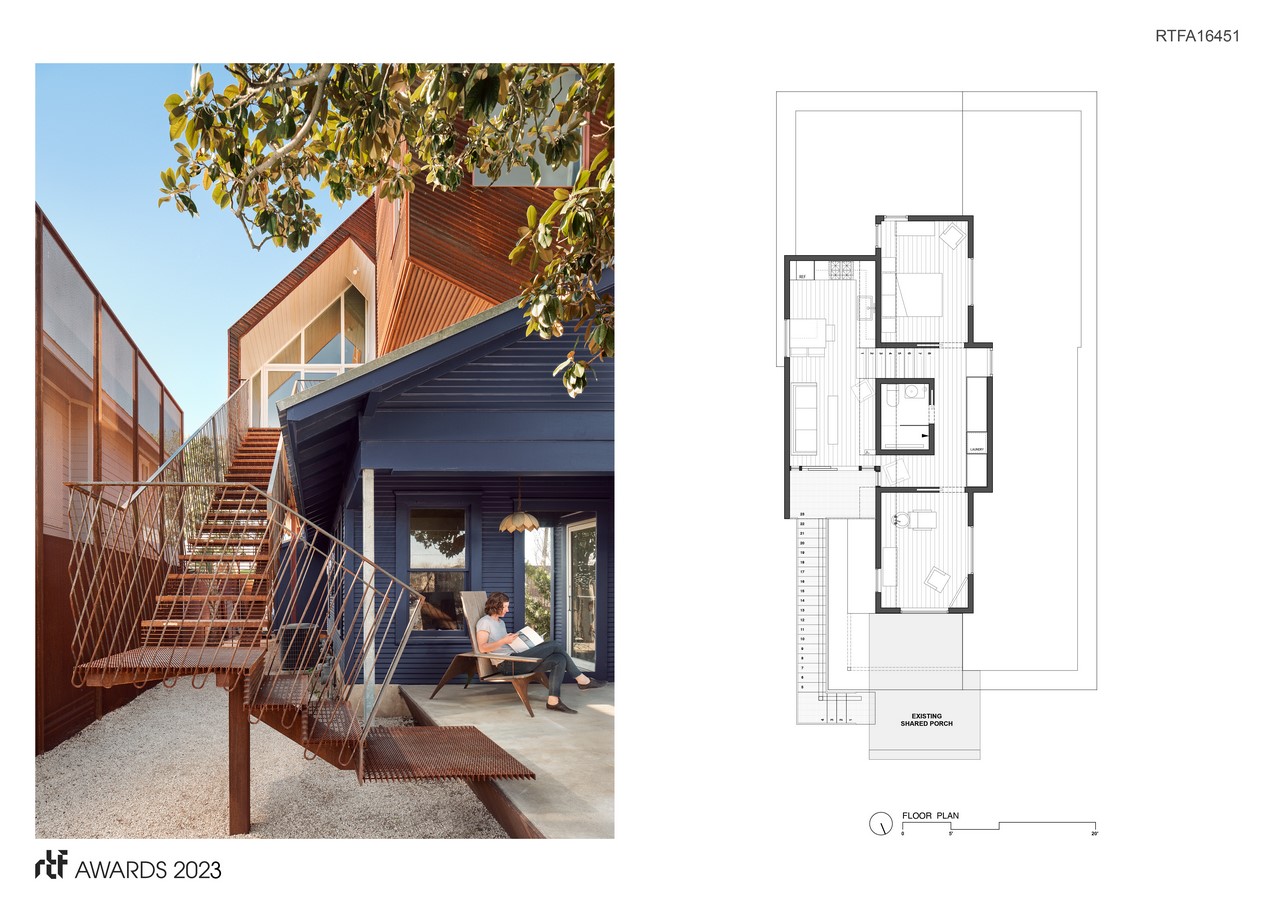 The Perch, a 660 sqft structure, is shaped to meet these needs, fitting just above the existing bungalow roofline and just below the City of Austin setback tent.  Rooms have small footprints and vaulted ceilings, and the split-level form provides interstitial storage and mechanical space.  The Perch rests on four steel columns, three of which pierce through existing bungalow walls to resist lateral forces.  The steel frame was shop-built and craned into place in a single day, minimally disturbing the site.
Corrugated Corten siding was selected for its low maintenance and to match existing site elements.  The open grate with expanded metal stair shares a landing with the bungalow and is barefoot (and paw) friendly while allowing light to pass through below.
From the front cantilevered room, you feel a slight movement when someone walks up the stair, providing a sense of awareness and connection back to its construction and a gentle reminder of wind and gravity.  A steel coatrack welded to an exposed beam at the entry is designed to sway, echoing this motion.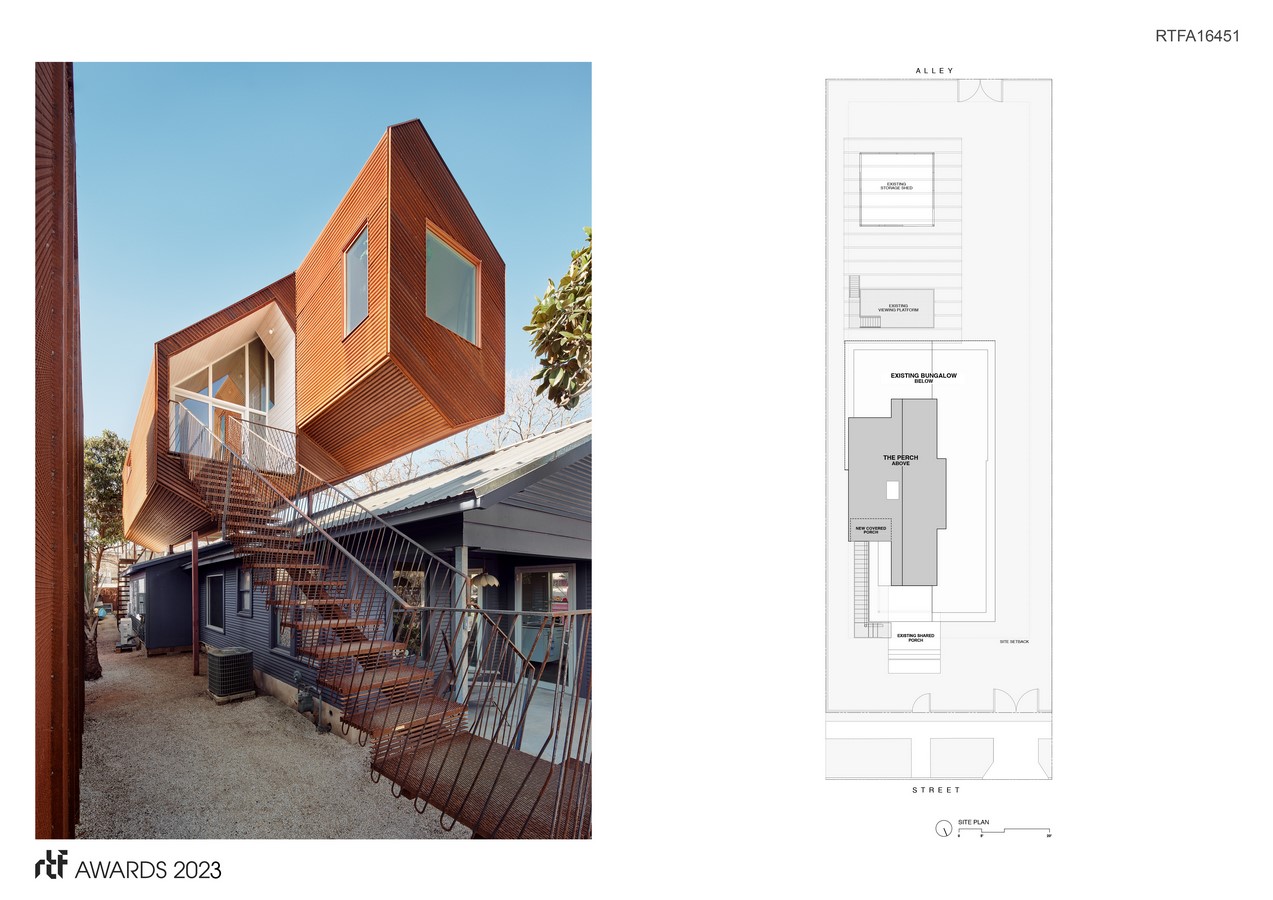 Materials were selected for economy, durability, and efficiency, including off-the-shelf pre-finished T&G pine walls and ceilings (spanning from the exterior porch into the interior), off-the-shelf Boos butcher block countertops, IKEA cabinets (with custom painted fronts), and standard porcelain sockets and pendant lights the client already owned.  Wood flooring is a remnant mix of pre-finished plain and rift sawn white oak, overage recycled from a larger project.
Structural steel throughout is left exposed and painted white.  A hard-working beam in the kitchen supports an open shelf above the sink, carries the bedroom floor behind, allows the countertop to extend deep beyond the kitchen sink for added storage, and hides recessed countertop lighting.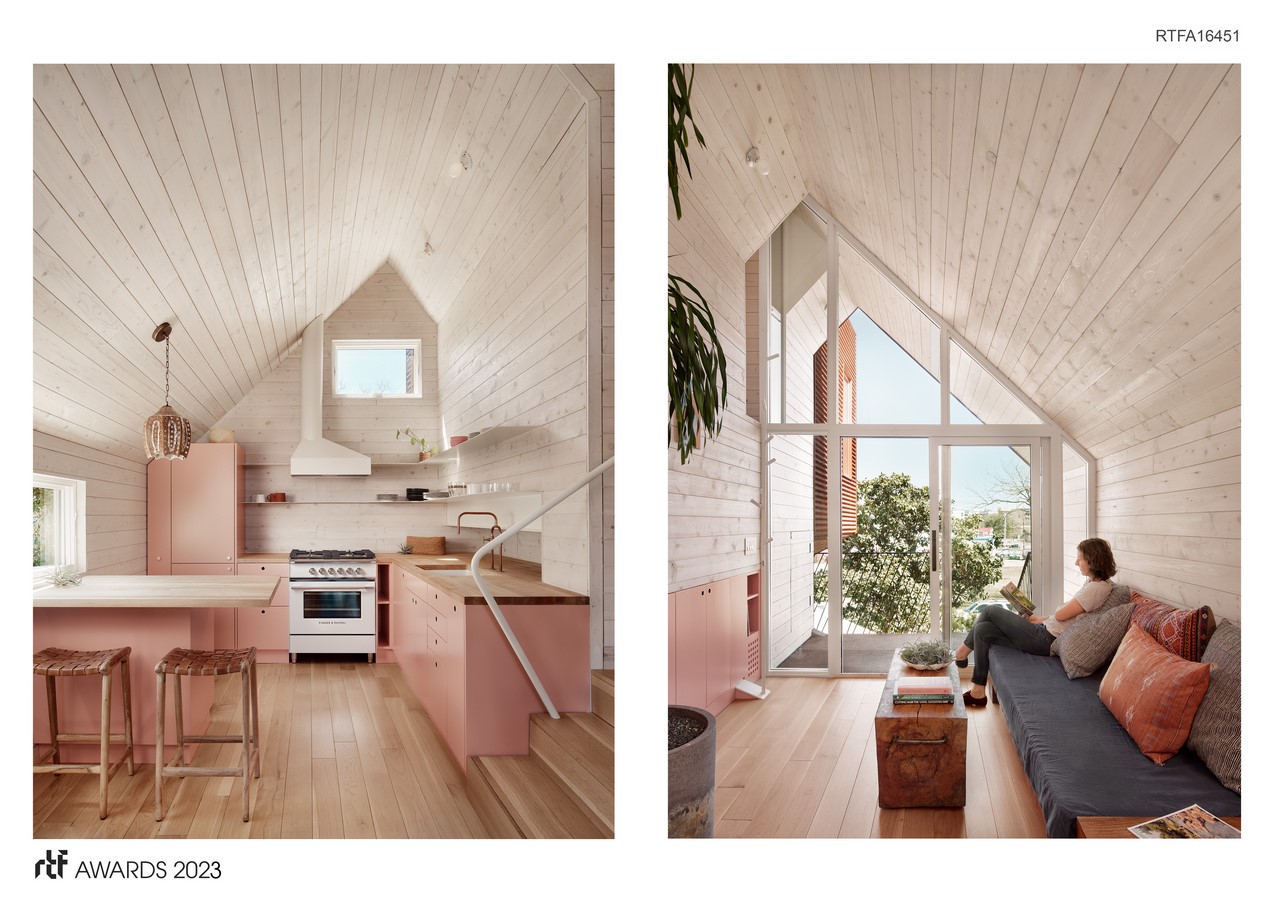 Three pipes aligned behind the southeast column efficiently and stealthily carry power, water, gas and sewer lines to The Perch from the bungalow mechanical closet below, and a stack washer/dryer fits neatly behind closed doors in the hall storage.
While a February 2021 freeze claimed most of the site's flora towards the end of construction, reestablishment is underway.  The Perch currently serves as a pandemic workspace for the hairstylist.