The project for the new complex gives the opportunity to develop the urban space in the city of La Ciotat and is thought to welcome people of all kinds and all ages in order to develop the living together and make the social relations easier.
Rethinking The Future Awards 2023
First Award | Sports & Recreation (Built)
Project Name: Cinema, leisure and sports complex in La Ciotat
Category: Sport & recreation
Studio Name: Atelier(s) Alfonso Femia / AF517
Design Team:
architectural and landscape design: Atelier(s) Alfonso Femia
Architects: Alfonso Femia
Structural, services and environmental engineering: Quadriplus Groupe (France)
Landscaper: Après La Pluie (France)
coordination: Simonetta Cenci
project responsible: Sara Traverso, Valentin Mazet
design team: aude rasson, adrien menard, vittoria paternostro, ilaria sisto, stefania bracco, carola picasso, alessandra quarello, francesca recagno, roxana calugar, carlotta turrato, sara massa, stefano cioncoloni, rodolfo siccardi, alessio granata, jana van der hoeven, alessio minetto, enrico martino, paolo galelli, marcello morino, mehdi reddaa
Area: 16.386 sqm (Total area)
8 Cinemas (1300 seats) and public spaces 3.705 sqm
Administration and services 360 sqm
Bar and rooftop restaurant 602 sqm
Restaurant and commercial areas on ground floor 323 sqm
Laser Game 427 sqm
Multi-functional centre 5.492 sqm
Receptions and restaurants 1.223 sqm
Fitness Area 1.110 sqm
Offices and coworking area 3.159 sqm
Hotel building 5.465 sqm (Hotel 101 rooms 2.180 sqm, Appart-Hotel 39 suites 1.207 sqm, Reception, Swimming pool, Offices 360 sqm)
Restaurants 486 sqm
Parking 485 places
Year: 2016 – 2021
Location: La Ciotat, France
Consultants:
Photography Credits: ©L. Boegly, ©S. Anzini, ©S. Demailly
Render Credits: ©AF517 & Diorama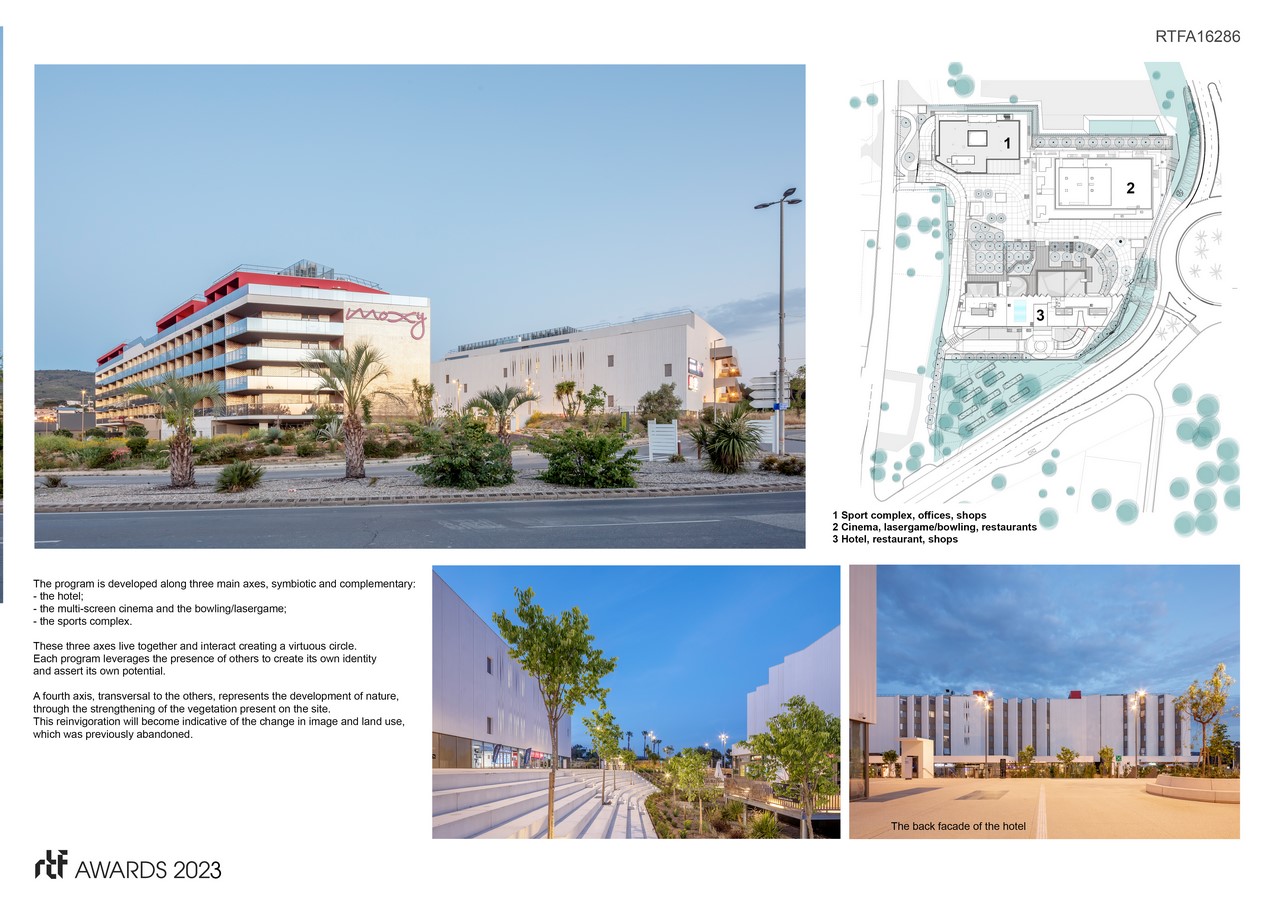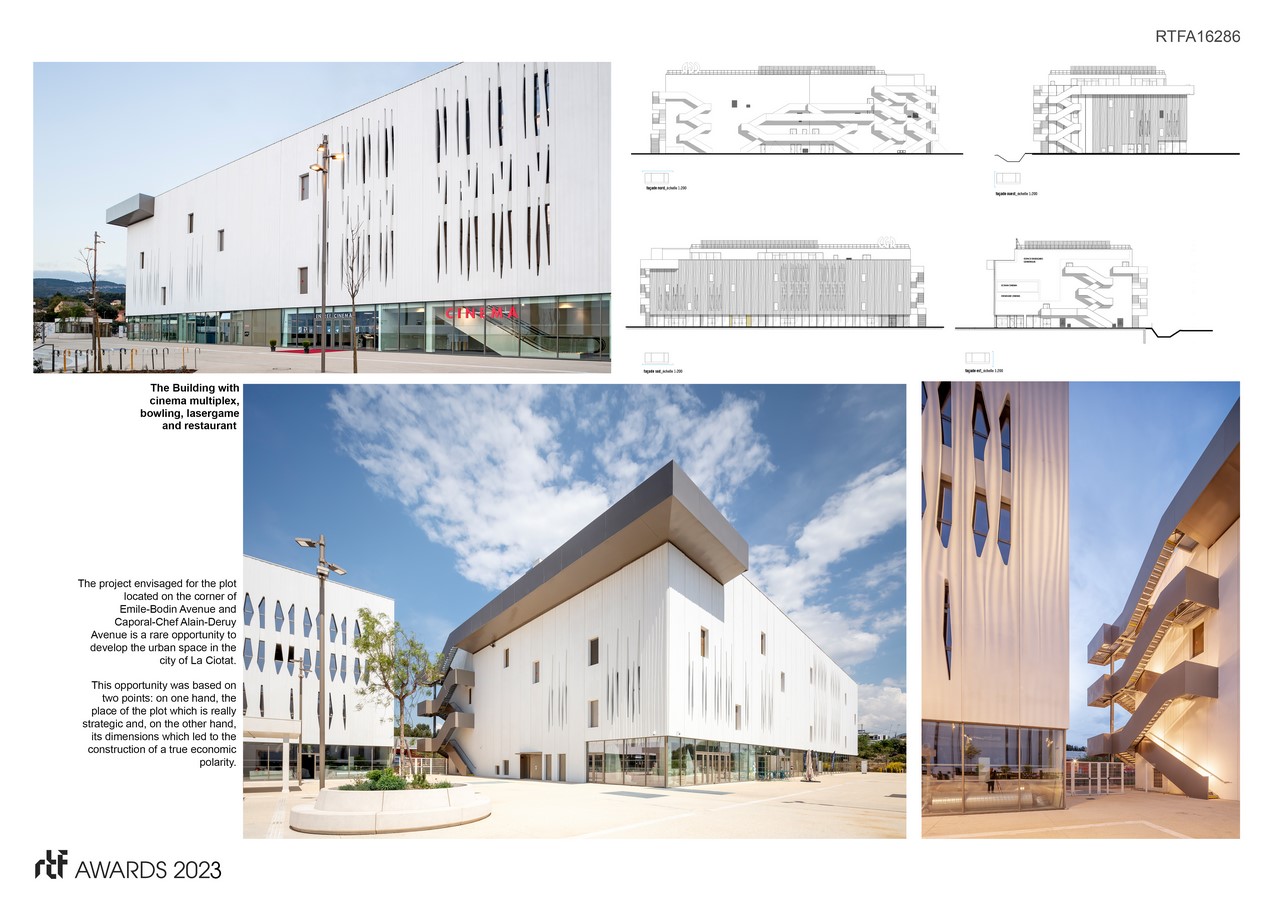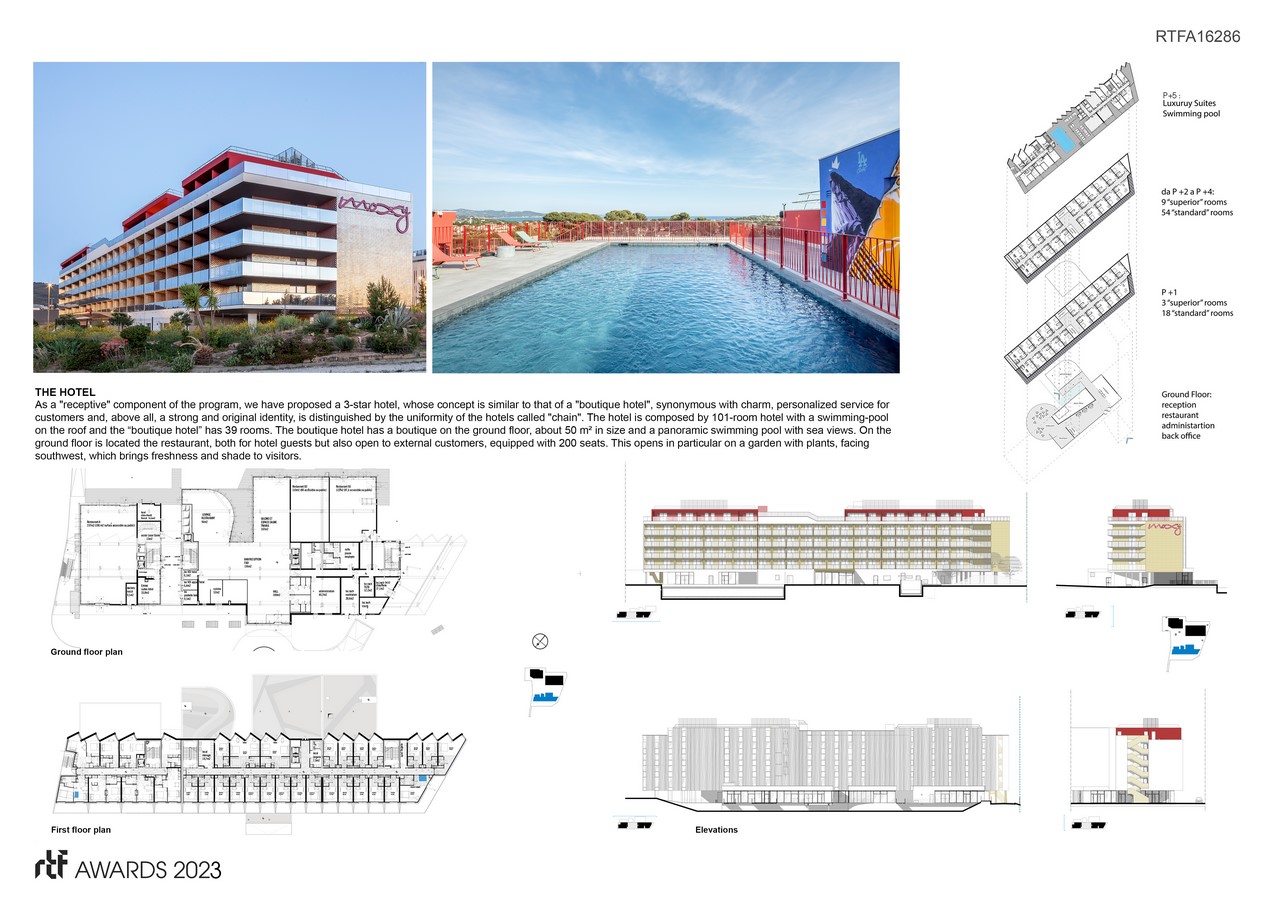 The program is developed with three complementary and symbiotic axis: the multiplex cinema; the multi-functional centre; the hotel. A fourth axis, is the development of nature with the reinforcement of the vegetalization presence on the site.