In the fall of 2018, the Colorado Rockies baseball team set out to transform a surface parking lot within the downtown corridor between Coors Field and Denver's Union Station into a dynamic destination for locals and tourists alike – "McGregor Square" – featuring restaurants, shops, and a circular outdoor plaza with a 110-foot LED screen.
Rethinking The Future Awards 2022
Second Award | Interiors Hospitality (Built)
Project Name: The Rally Hotel
Studio Name: ICRAVE Design
Design Team:
Lionel Ohayon, Founder & CEO
Jesse MacDougall, Design Director
Kim Lanza, Project Manager
Catherine Ondrizek, Senior Designer
Nicole Ravasini, Senior Designer
Jane Yi, Associate Designer
Youngmi Ham, Senior Designer
Rikki Tenenbaum, Junior Designer
Jay Kim, Job Captain
Freddy Correa, 3D Visualization
Andrew Delgado, 3D Visualization
Rudi Pham, 3D Visualization
Adly Elewa, Graphic Design
Area: Interior Hospitality Design
Year: 2021
Location: Denver, Colorado
Consultants:
Stantec Architecture (Architect of Record)
Mtech Engineers (Mechanical Engineer)
ME Engineers (Electrical / Plumbing Engineer)
Hensel Phelps (General Construction)
Smith & Green (Food Services)
Nine Dot Arts (Art Consulting)
Canoe Hospitality (FF&E Procurement)
Photography Credits: Nathan Hindman Photography
Other Credits:
Preciosa Lighting (Custom Feature Lighting)
Bryan Ashley (Custom Furniture) The cornerstone of this square was a 176-room hotel which would contain several F&B offerings in addition to a 2nd-floor exhibition space displaying years of Rockies' history and memorabilia.
Denver-based Sage Hospitality, tasked with operating the new hotel, asked ICRAVE to design the hotel interiors. The challenge was clear: deliver a design that embraces baseball and enhances the Rockies brand – with style – while maintaining broad appeal to travelers of all walks. With luxury projects like The Dallas Cowboys Members Club, Cowboy's Fit brand, and The Stadium Club at AT&T stadium under our belt, ICRAVE was the perfect fit. We spent a great deal of time in the concept development phase, ensuring we had the right design posture for the project. We wanted to explore themes that connect guests with universal aspects of the sport, convey the history and civic role of the organization, and celebrate the majesty of Colorado. We familiarized ourselves with the Americana aesthetic of classic baseball movies like Field of Dreams in addition to researching little-known facts about Coors Field that only die-hard fans might know about, all while sprinkling nods to Colorado, baseball, and the Rockies throughout the space.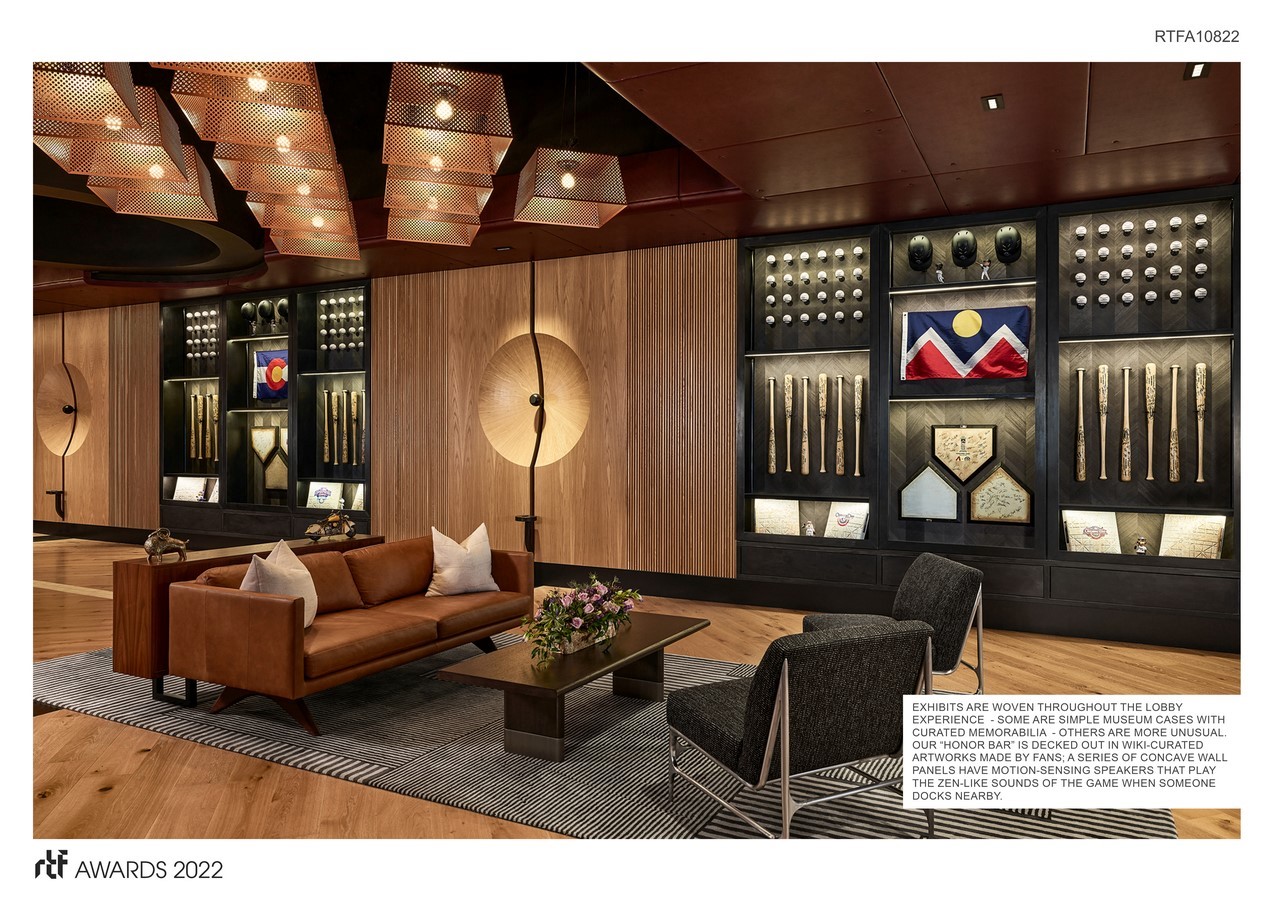 The Rally Hotel's ground level lobby spaces feature clay-red brick tile floors with a continuous white "base-line" that leads guests through the space. It's both a clever tool for wayfinding and a familiar design feature that most baseball fans will recognize. The hotel has enjoyed encouraging guests to "follow the base line" to special events and pop-ups. In the Wazee lobby, a copper and green paneled "Ivy Wall" installation and series of floor lights is meant to reference the evergreen trees and seven fountains at Coors Field that are set off when the Rockies hit a home run. The hotel's 176 guest rooms, including 29 suites, are thoughtfully designed to evoke a feeling of approachable luxury. We went with two concepts for the guest rooms. The materiality of our "Home Field" rooms take inspiration from the familiar leathers of a baseball glove and "dad-plaids" of America's pastime. Our second concept was reserved especially for the 8th floor. Sitting at 5,280 feet in elevation, the eighth floor is known as The Mile High Floor. Just like the mile-high row of purple seats at neighboring Coors Field, this floor features a collection of unique rooms with an elevated, dramatic design featuring dark woods and deep purples that reflect the "Purple Mountain Majesties" of the Rocky Mountains that inspired the team colors.