The neighborhood, in which the school group is located, is composed of light-colored buildings, most often white and pale gray, whose design is framed.
Rethinking The Future Awards 2022
Third Award | Institutional (Built)
Project Name: 'Moulon' Group of schools in Gif-sur-Yvette, Saclay Plateau, France
Studio Name: dominique coulon & associés
Design Team:
Project management : Dominique Coulon & associés
Architects : Dominique Coulon, Ali Ozku, Hugo Maurice, Hannes Libis, Olivier Nicollas
Assistant architects : Luc Kuster, Osvaldo Gounon, Yi Ran Weng, Isabela de Carvalho
Construction supervision : Ali Ozku, Hugo Maurice
Area: : 7400 sq.m.
Year: september 2021
Location: Gif-sur-Yvette, Saclay Plateau, France
Consultants:
Structural Engineer : Batiserf Ingénierie
Mechanical Plumbing Engineer : Solares Bauen
Electrical Engineer : BET G. Jost
Cost Estimator : E3 Économie
Acoustician : Euro Sound Project
Kitchen expert : ES Énergie
Landscape : Bruno Kubler
Photography Credits: Eugeni Pons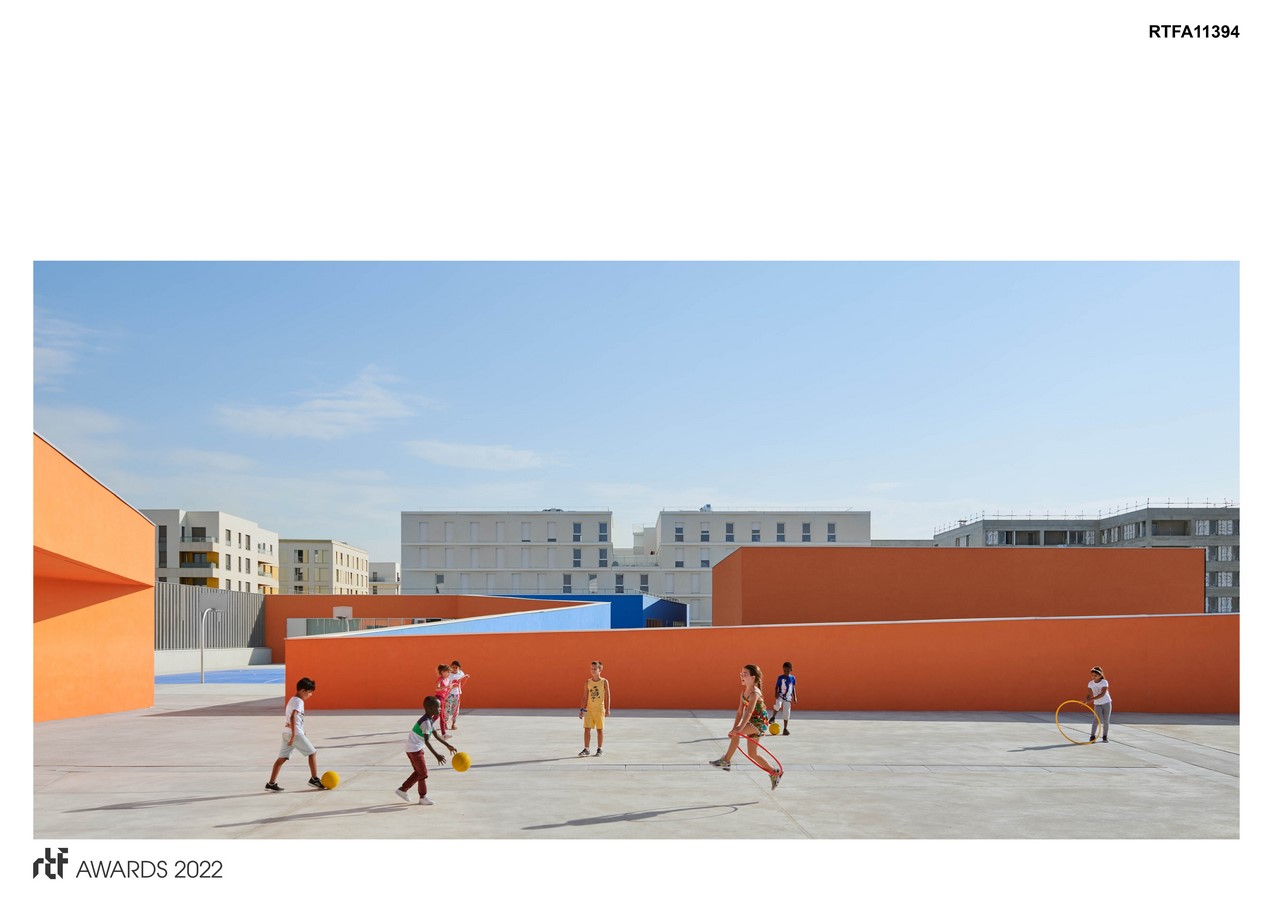 the projet affirms its status as a public facilité by ostensibly breaking away from its context, particularl through the color work.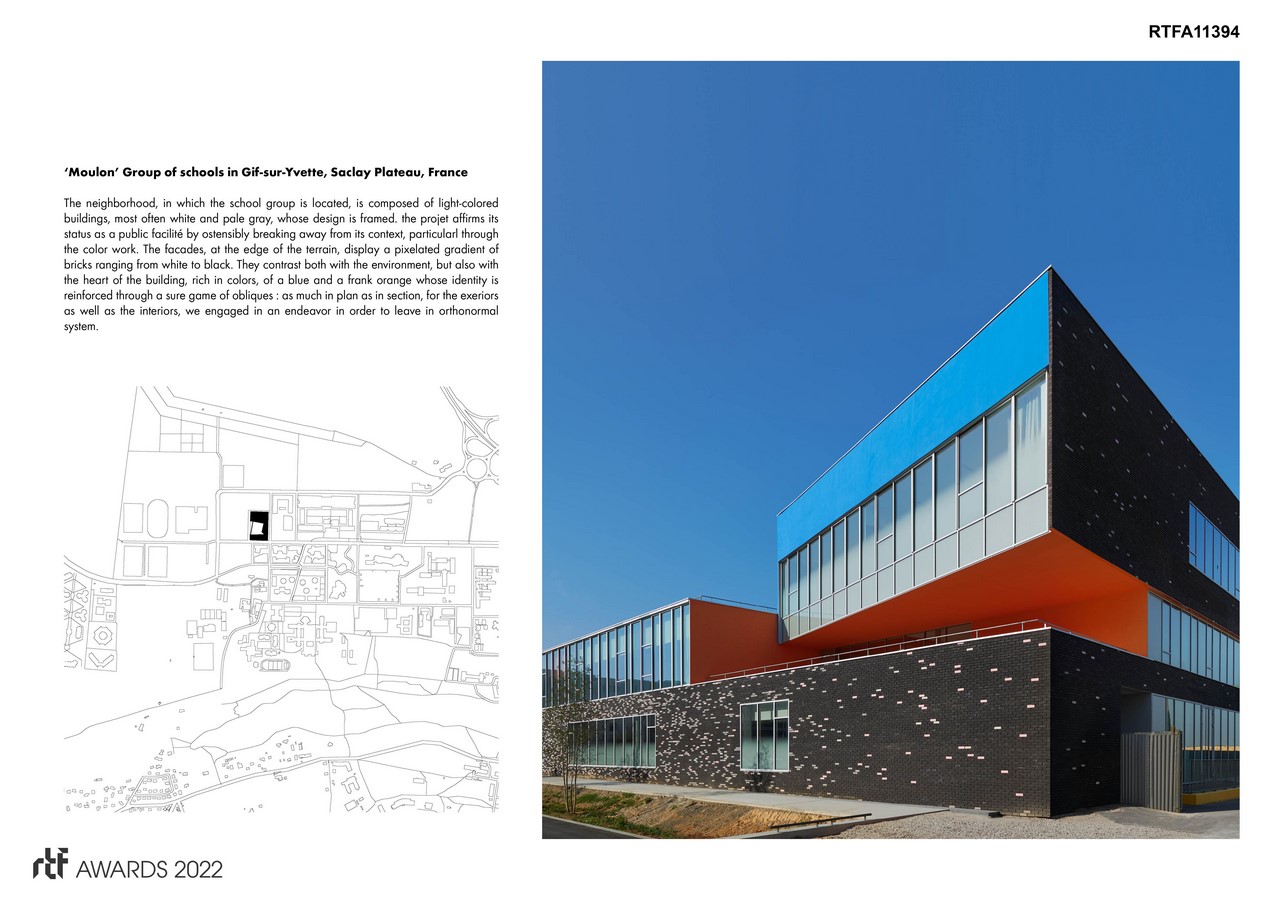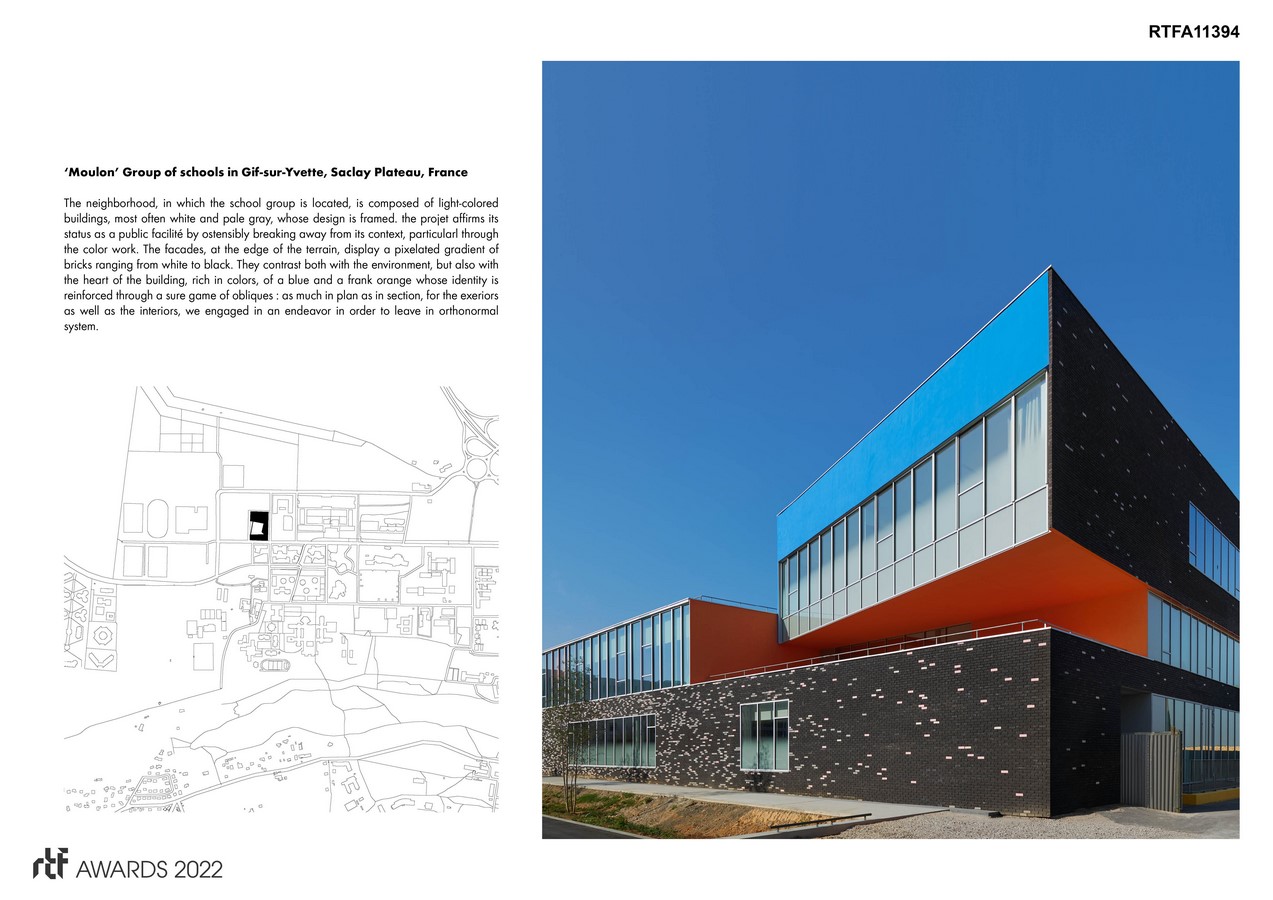 The facades, at the edge of the terrain, display a pixelated gradient of bricks ranging from white to black.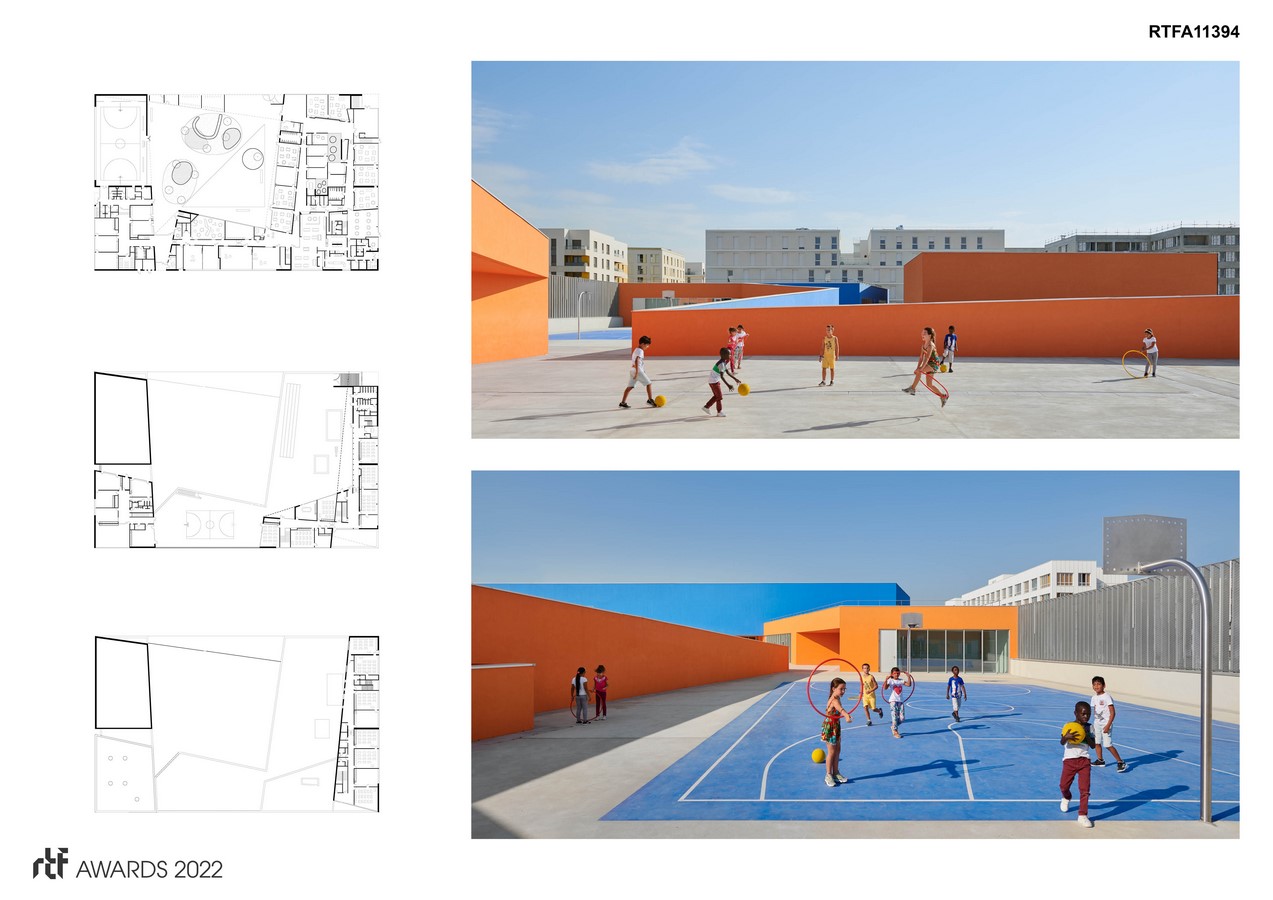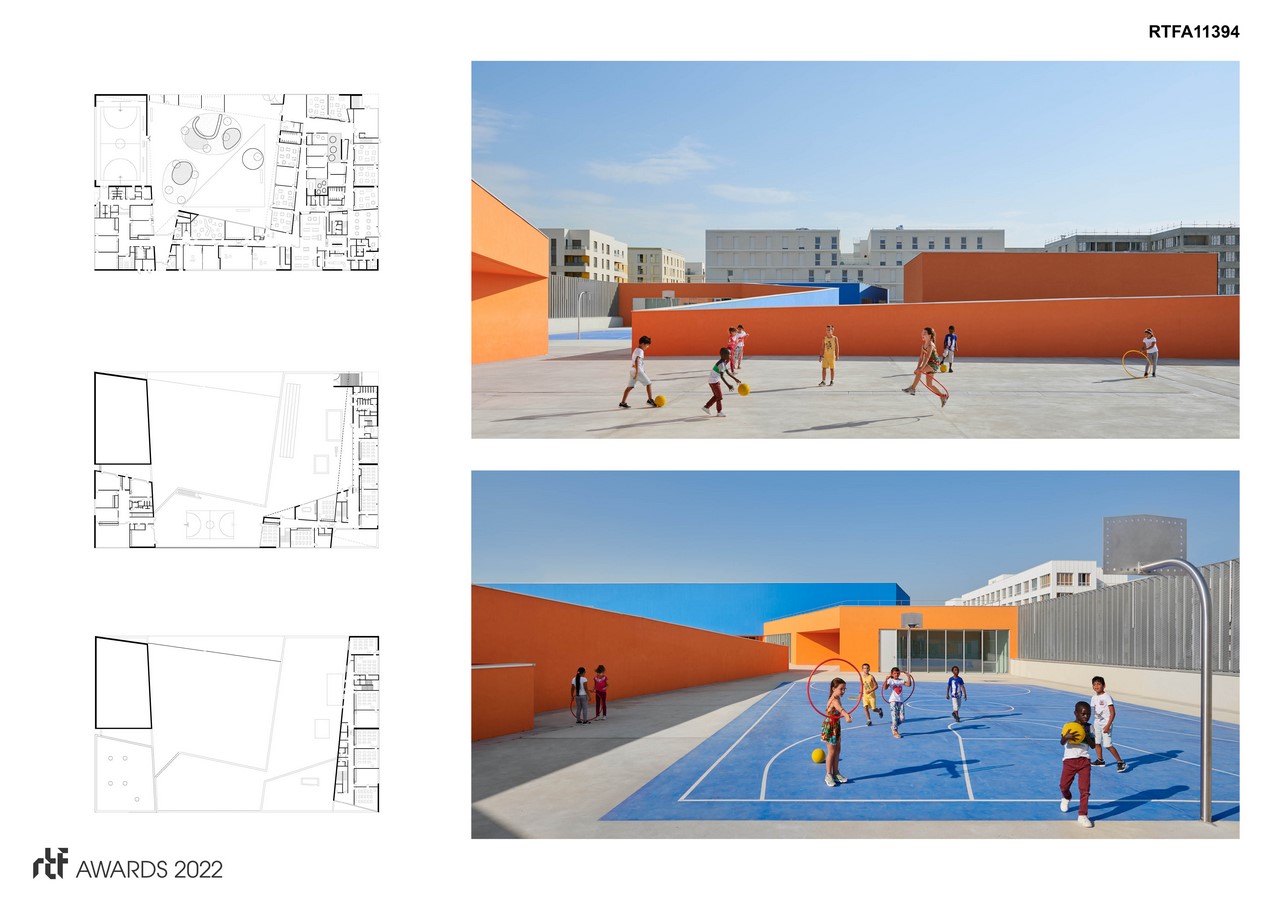 They contrast both with the environment, but also with the heart of the building, rich in colors, of a blue and a frank orange whose identity is reinforced through a sure game of obliques : as much in plan as in section, for the exeriors as well as the interiors, we engaged in an endeavor in order to leave in orthonormal system.