Circle Shade canopy system is the winning project of an annual design/build competition in New York. The brief called for four portable demountable structures to populate a highly active park environment, for adaptable use, and assembly in 10-15 minutes by one to two people. The size of a unit was defined for a maximum of 8 x 8 feet.  Extensive staking to the ground was discourage, and the option for integrating branding was welcomed.
Rethinking The Future Awards 2021
First Award |  Furniture Design (Built)
Project Name: Circle Shade
Studio Name: Eva Jensen Design, LLC
Design Team: Eva Jensen Design Team
Area: Unit: Canopy dia.: 96", Poles: L: 88-1/2" – 80-3/4"                                                                           Counterweight: dia.: 13" H: 16" ( 4 units built)
Year: 2017
Location: New York, NY, USA  (Portable canopy system)
Consultants: LED Engineers, Structural Engineer Consultant
Photography Credits: Jonathan Pilkington Photographer,
Eva Christine Jensen, Architect AIA, MAA
Other Credits:
Folly/Function 2017 Design/Build Competion
Organized by The Architectural League of New York &
Socrates Sculpture Park, Long Island City, NY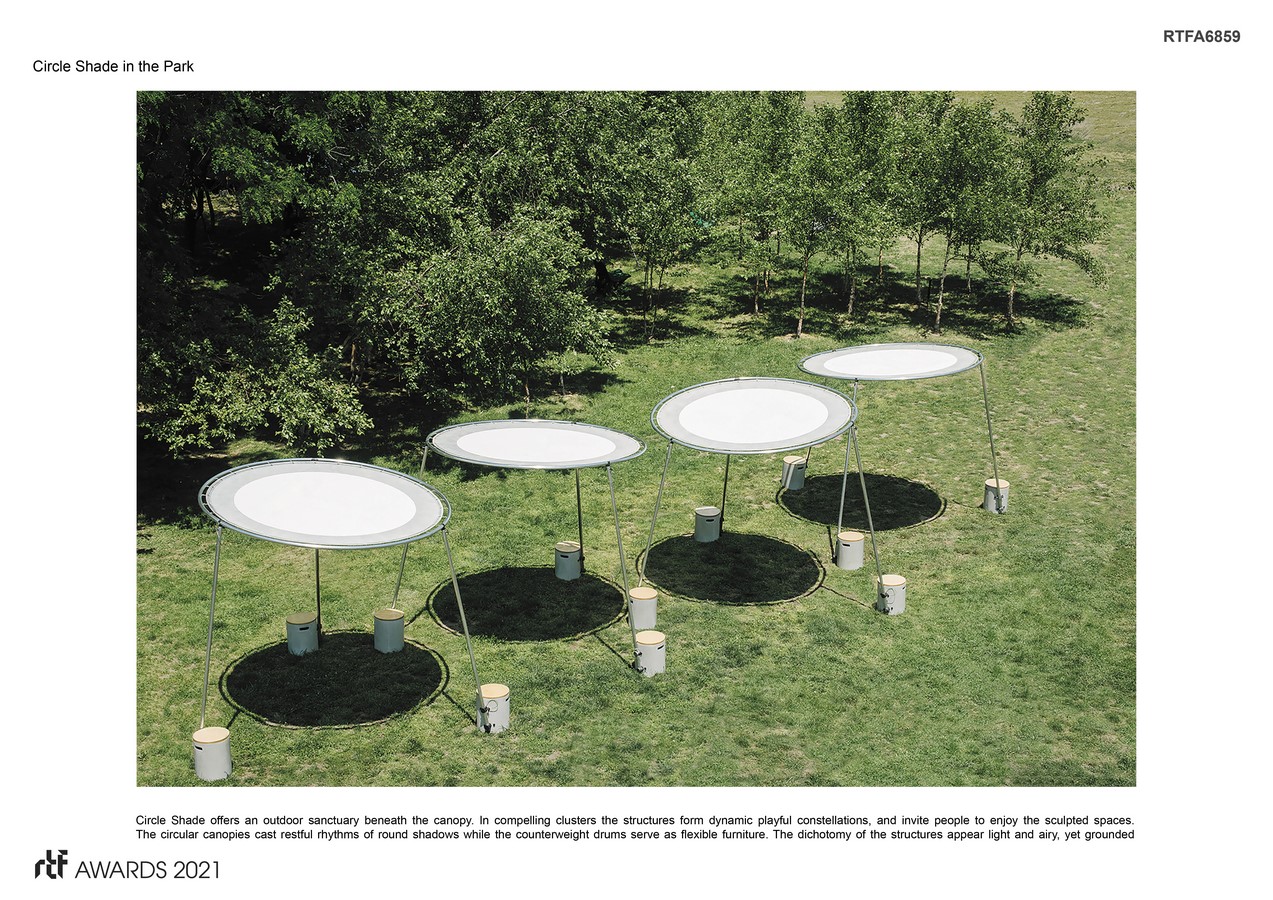 Circle Shade is an innovative and elegant and portable canopy system,  designed as a Kit of Parts, for simple set up.It integrates outdoor furniture with functional versatility.
The design vocabulary is minimal and refined based on the structural tripod concept. Harmonizing system with detail, the distilled composition is formed by two fundamental geometries: circle and triangle.  A single unit consists of 3 main components, and only 7 parts: 1 canopy, 3 poles and 3 cylindrical counterweights. The canopy provides for branding, and is circular, to roll for ease of mobility to set up.
Assembly of a unit can be done in less than 5 minutes by 1 to 2 people. The counterweights function as furniture: seat, back rest and tabletop, and serve as step stool during set up. Circle Shade offers space for both social interaction and distancing. It sets up as single unit or in compelling clusters, with option for a variation of arrangements in dynamic playful constellations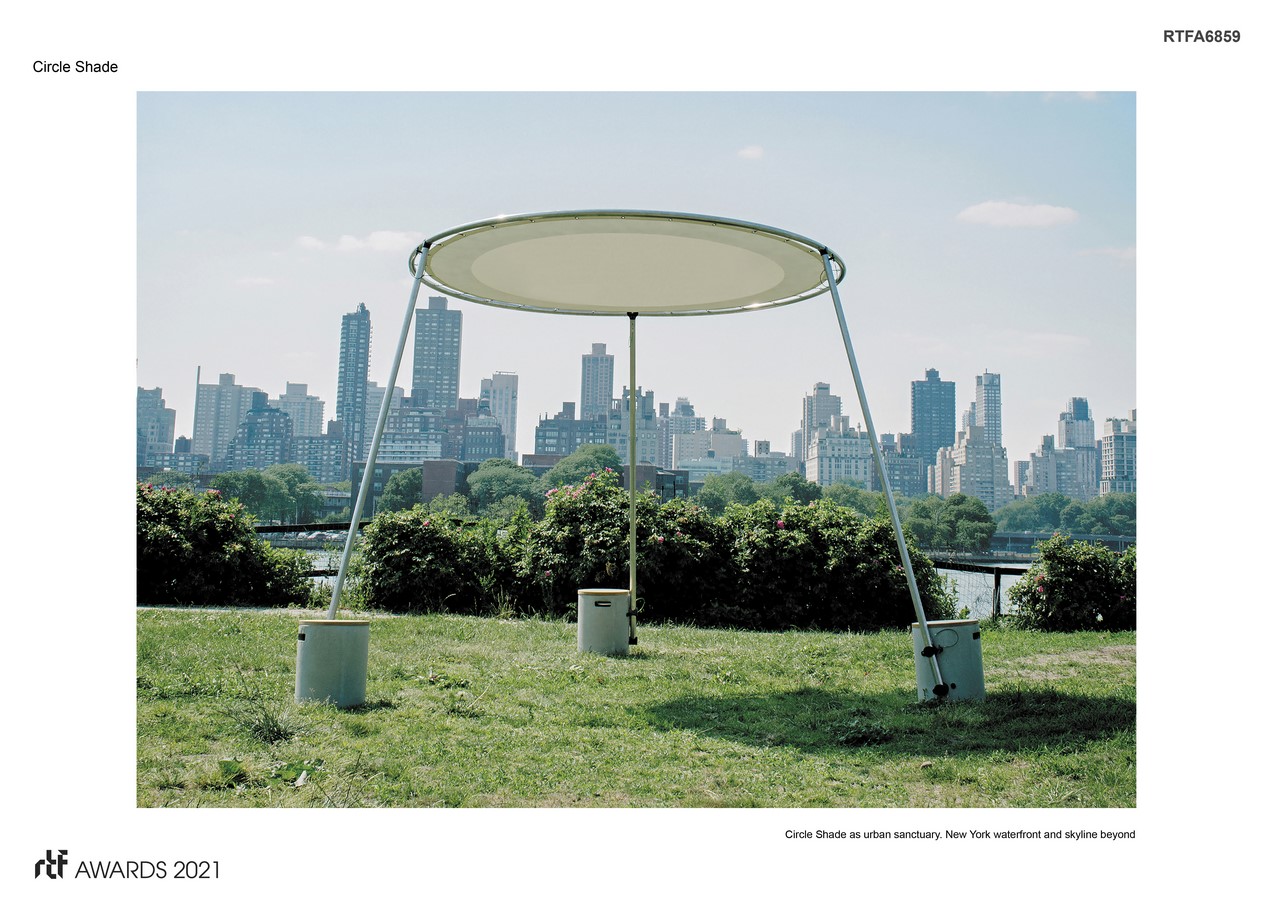 The system was designed in collaboration with structural engineers, and all joint connections as well as overall system were structural engineered. Technical considerations with high level of attention to detail were applied meticulously throughout the process.
The affordability and customization capabilities of 3D printing enabled full scale iterations of structural joint nodes and brackets. Using 3D printing in fabrication proved effective and allowed for custom tailoring of each joint node, enabling a high level of articulation within a cohesive design, joining bespoke with customized high-tech.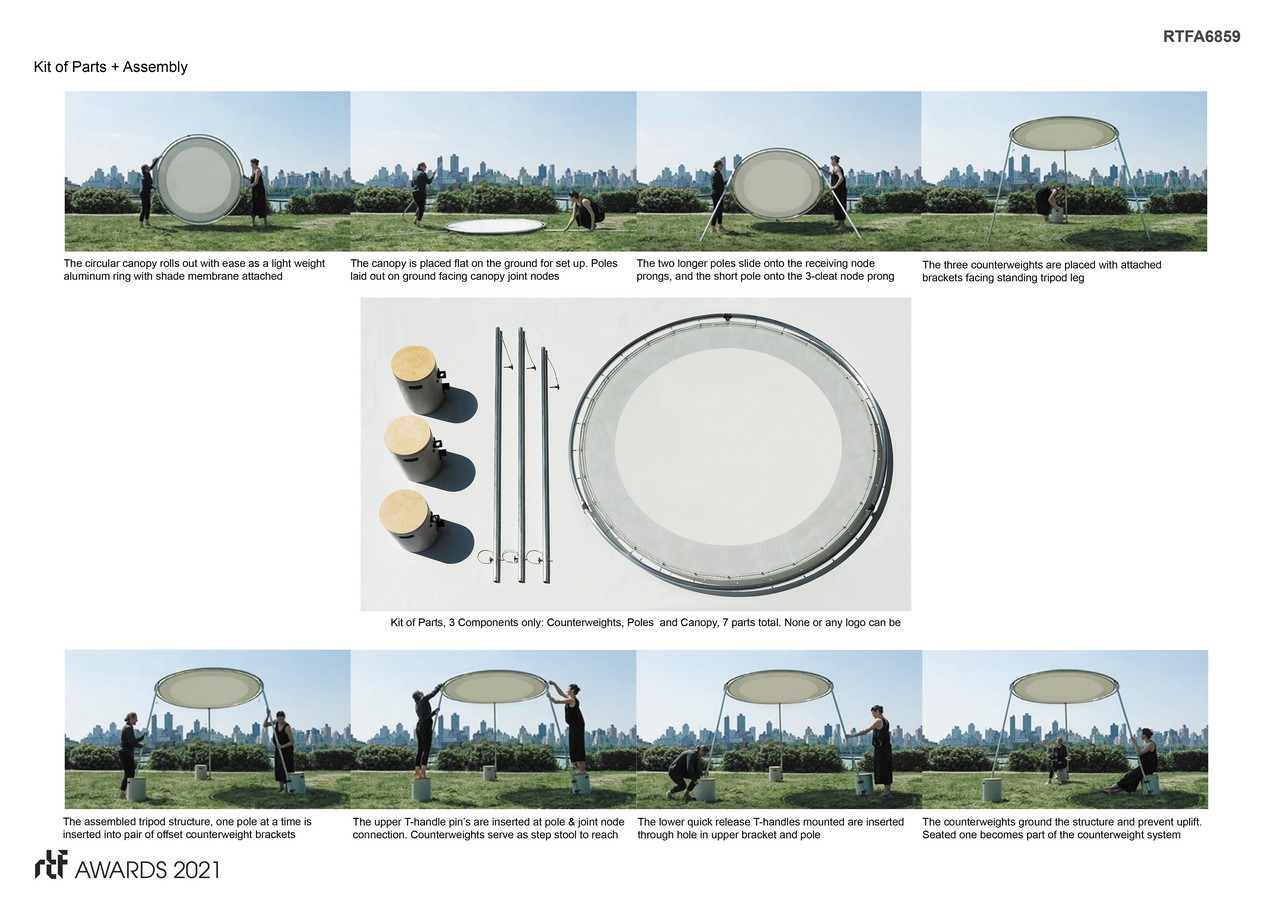 Circle Shade synthesizes renewal of the umbrella shade and mobile tent structures. It eliminates the center pole common for opening and closing parasols and offers a flexible layout and uncluttered alternative to square tents. With the challenges of climate change, and need for protection against the sun's harmful rays, the canopy system proposes a new type of space for improved outdoor living quality. It's flexible and integrates with ease offering an outdoor sanctuary with open space, and unobstructed views beneath the canopy.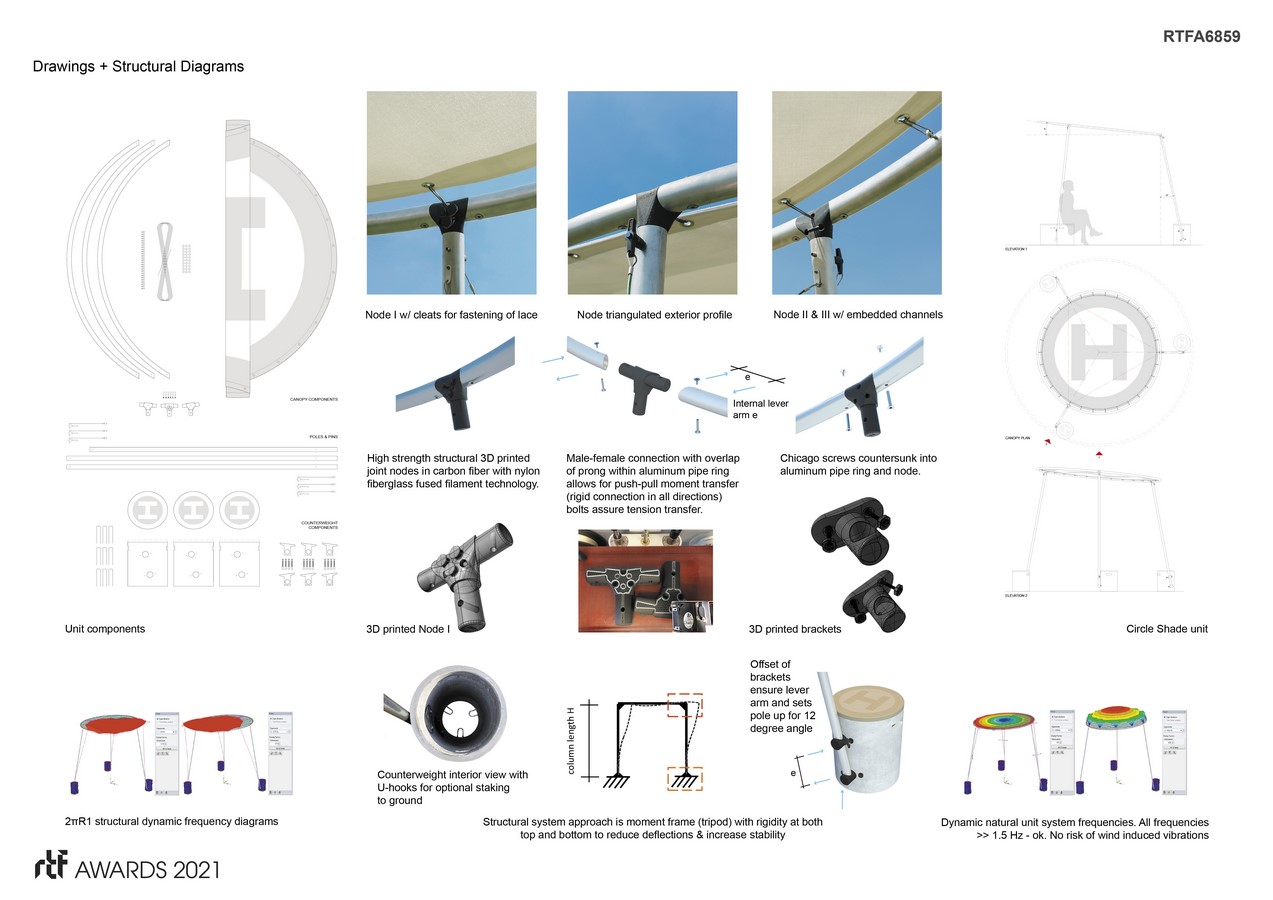 Circle Shade is a unique mobile canopy system, that serves both the public and private realm for people to connect and engage, while offering individual respite. Itsversatile in a range of settings from parks, gardens and urban environments to pool side, waterfront including kindergartens, education campuses, residential parks, hospitality and entertainment, even accommodating a temporary space for relief effort and refuge. The system gets its name from the shape of the canopy, and the function this serves.