Nestled in the Swiss Alps above Monthey, Switzerland, the Eco-Chalets coexist with the mountainside allowing for an environmentally preserved hospitality experience amongst the alpine landscape. The minimalist chalets are conceived to receive families and groups wishing to spend a few days in the mountains.
Rethinking The Future Awards 2021
First Award |  Hospitality (Built)
Project Name:  Whitepod, Suites-Chalets
Studio Name:  Montalba Architects
Design Team:  Montalba Architects
Area: 1,100 sf (one-level) 2,150 sf (two-level)
Year: Completed 2020
Location: Monthey, Switzerland
Consultants:
Construction Management: Maitrimo Engineer
Civil: Kurman Cretton Engineer
MEP: Technitherm SA
Engineer – fire/egress: Richard SA
Photography Credits: Delphine Burtin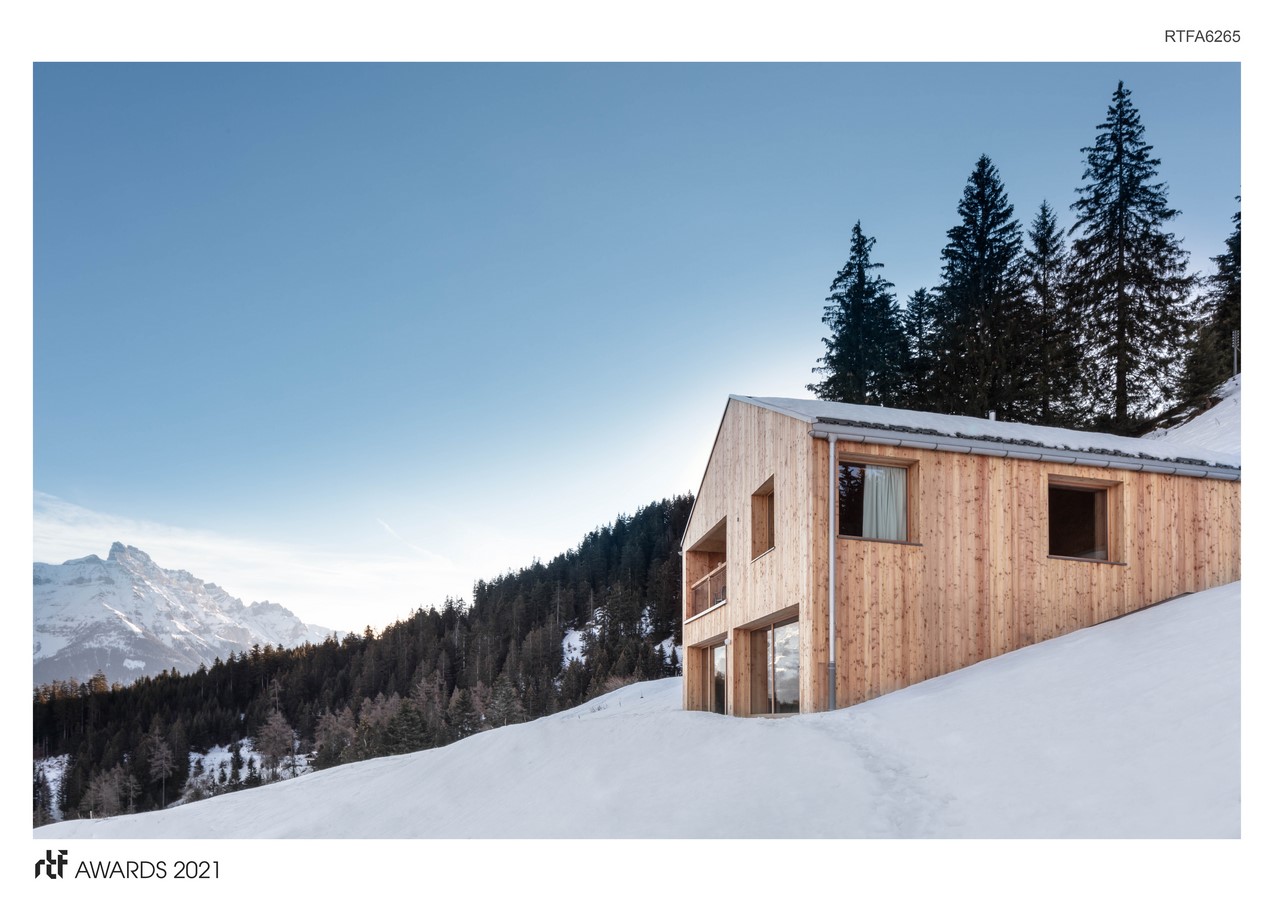 Made entirely with Swiss materials and products, the larch wood paneled exterior, and interior millwork by a local fabricator, creates a seamless transition between the structures and mountainous environment while also evoking the design of a traditional Swiss chalet. A central bloc containing all services separates the volume of the chalet with the night part composed of 3 bedrooms on one side and the day part with the entrance, dining room and the living room on the other side.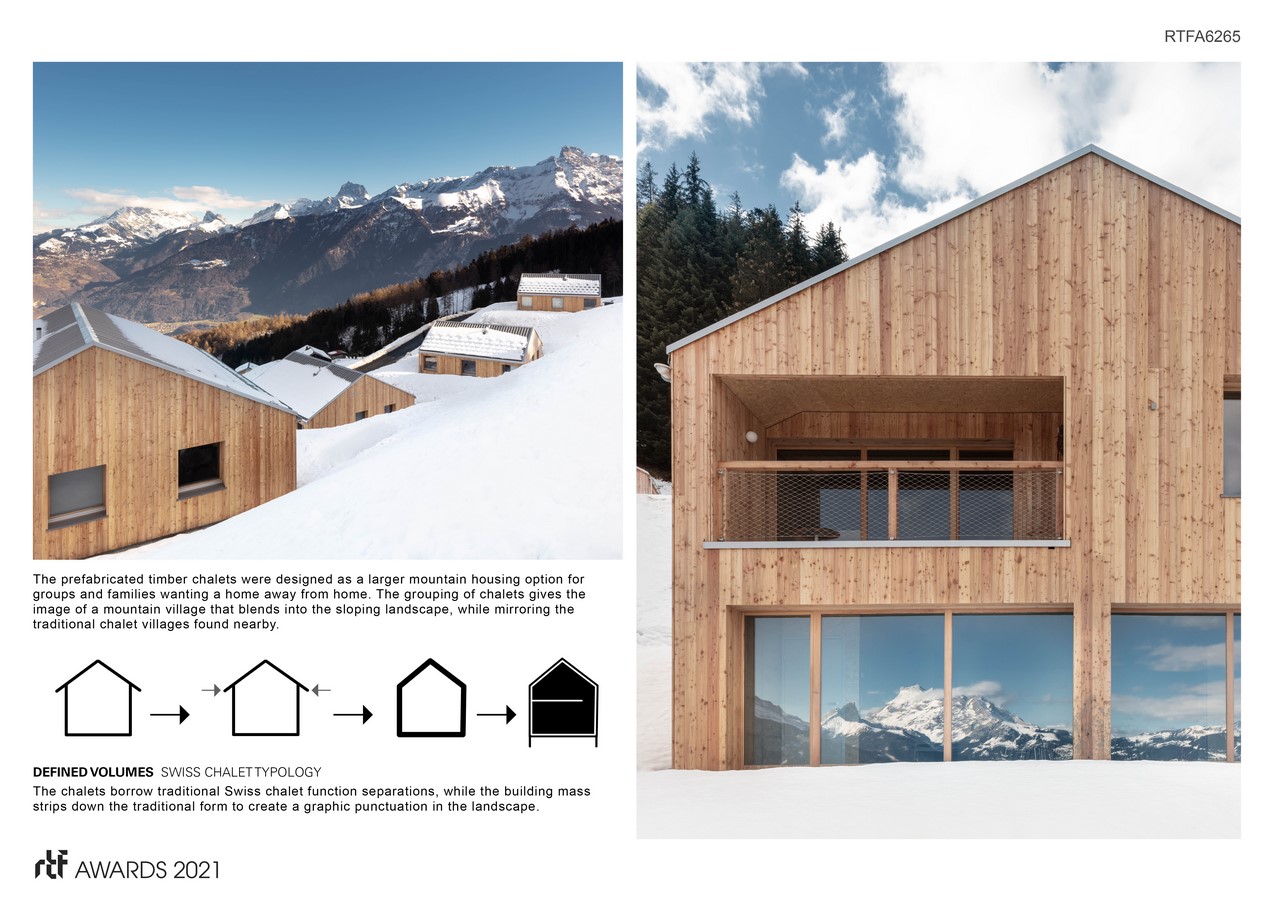 The primary design goal for the project was to design 21 low-cost, sustainable chalets that explored the ideas of ritual, wellness, and connectivity. From the onset, sustainability was a driving force in the design.  Early studies looked at ways the chalets could be economical in materiality, size, and heating techniques.  It was decided early on that the chalets would be prefabricated off-site by local vendors, to better control these objectives.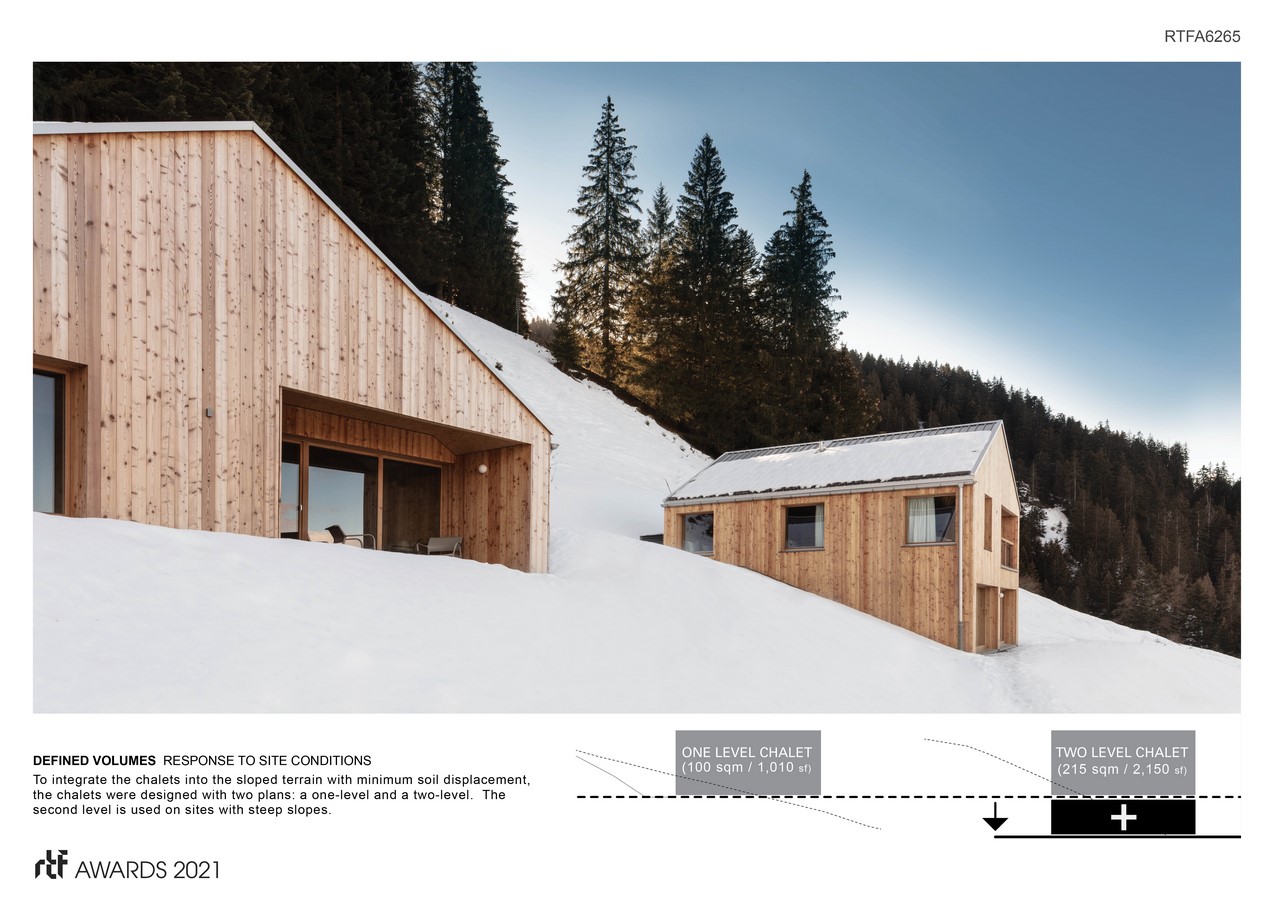 The footprint of the chalets was intentionally limited to minimize the impact on the land.  All of the chalets are energy self-sufficient. Water from the surrounding springs is collected and converted to power by hydro turbines that in turn supply the chalets. Each chalet has an air to water heat pump coupled with radiant heating in the floors allowing for constant low heat consumption.
Energy-efficiency is also reflected in the passive sustainable design and materiality of the chalets. Exposed concrete flooring provide thermal mass for heat absorption during the day and release during the night.  Large, triple-pane windows allow for natural daylighting.  The building envelope is constructed to provide maximum heat retention in the winter, while window penetrations are oriented to provide cross-ventilation during summer months.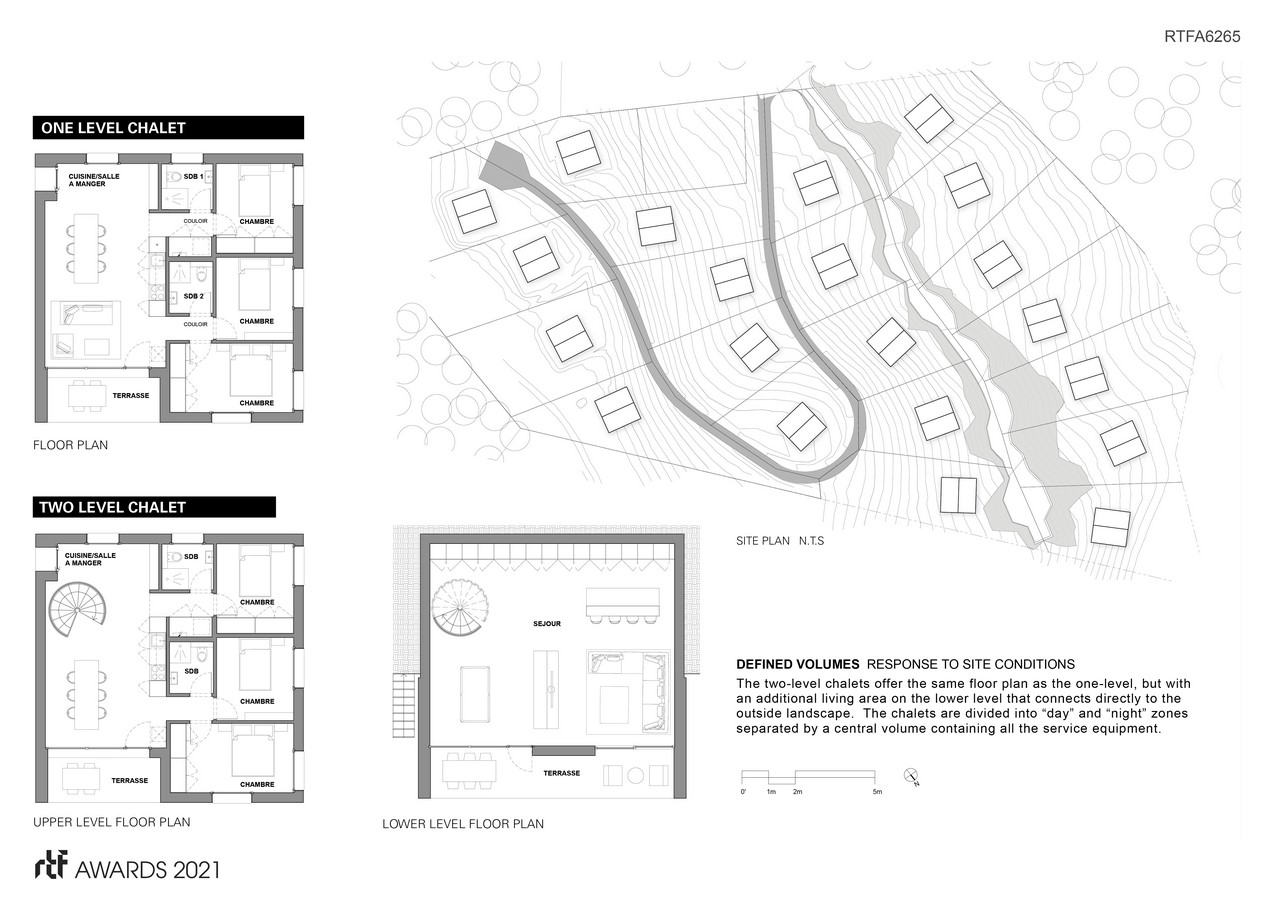 The 21 units are all prefabricated off-site, using local vendors in a big effort to reduce carbon emissions and construction waste, while increasing the energy efficiency of the building with controlled construction over-sight.  Local construction companies and vendors were used for the site and foundation work, with total construction time taking 3 months for the single-level chalets and 4-5 months for the two-level ones.