"Americans"—a nod to the name given to this country's indigenous peoples by European settlers—is a modern, dynamic, multimedia, permanent display. The 9,200-square-foot exhibition at the Smithsonian Institution's National Museum of the American Indian in Washington, D.C., deconstructs conflicts and decisions involving native peoples.
Rethinking The Future Awards 2021
First Award |  Exhibition Design (Built)
Project Name: "Americans" Exhibition
Studio Name: Studio Joseph
Location: 4th St SW & Independence Ave SW, Washington, DC 20560
Consultants:
Contractor: Capitol Museum Services
Photography Credits: Thomas Loof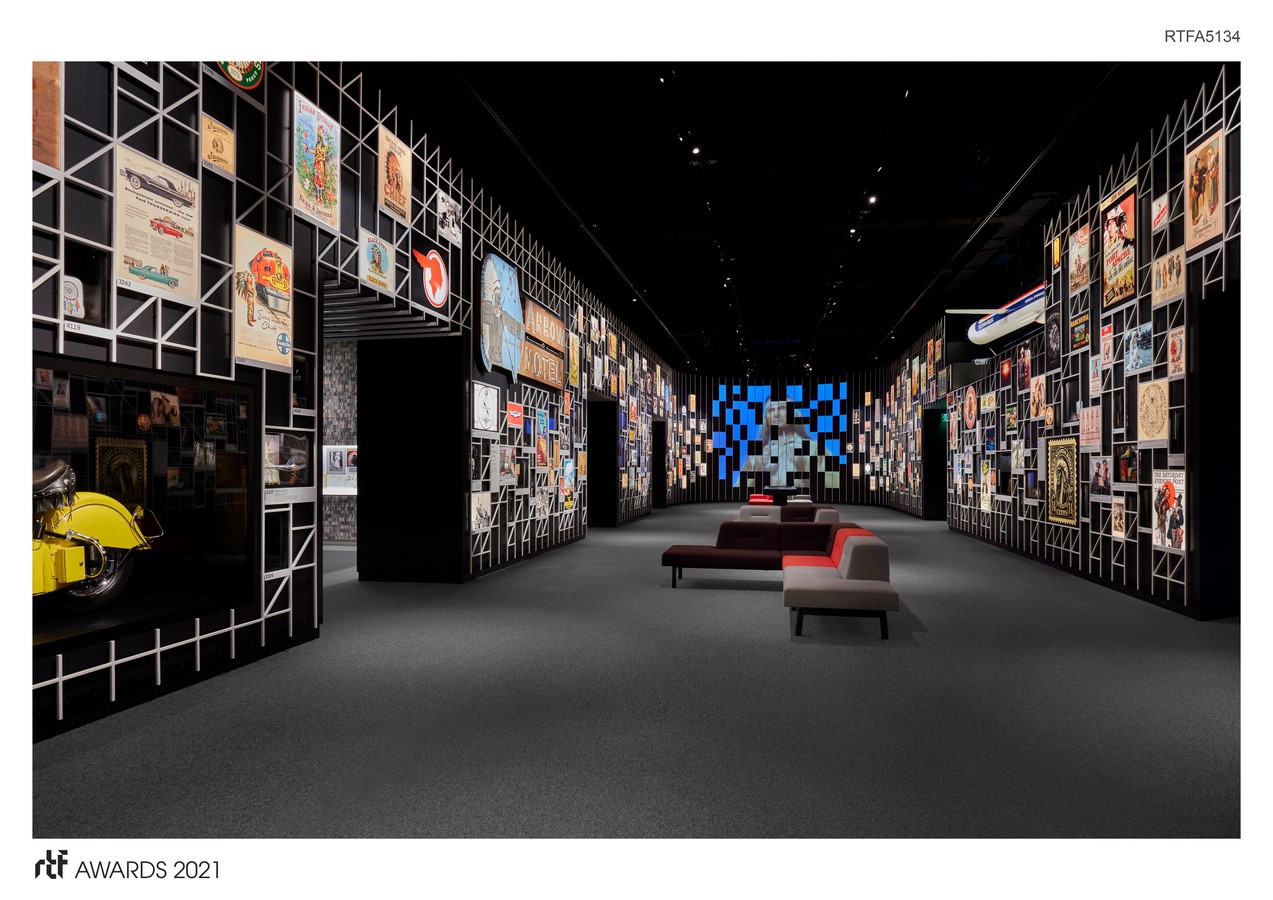 Its curatorial goal is to examine in detail specific historic moments and questioning the ubiquity of a demographic in American pop-culture that at present comprises only 1% of the country's population. Innovative, immersive environments use visceral media technology and tactile, multi-layered experiences to communicate with all audiences no matter their experience, background, or exposure to Native Peoples.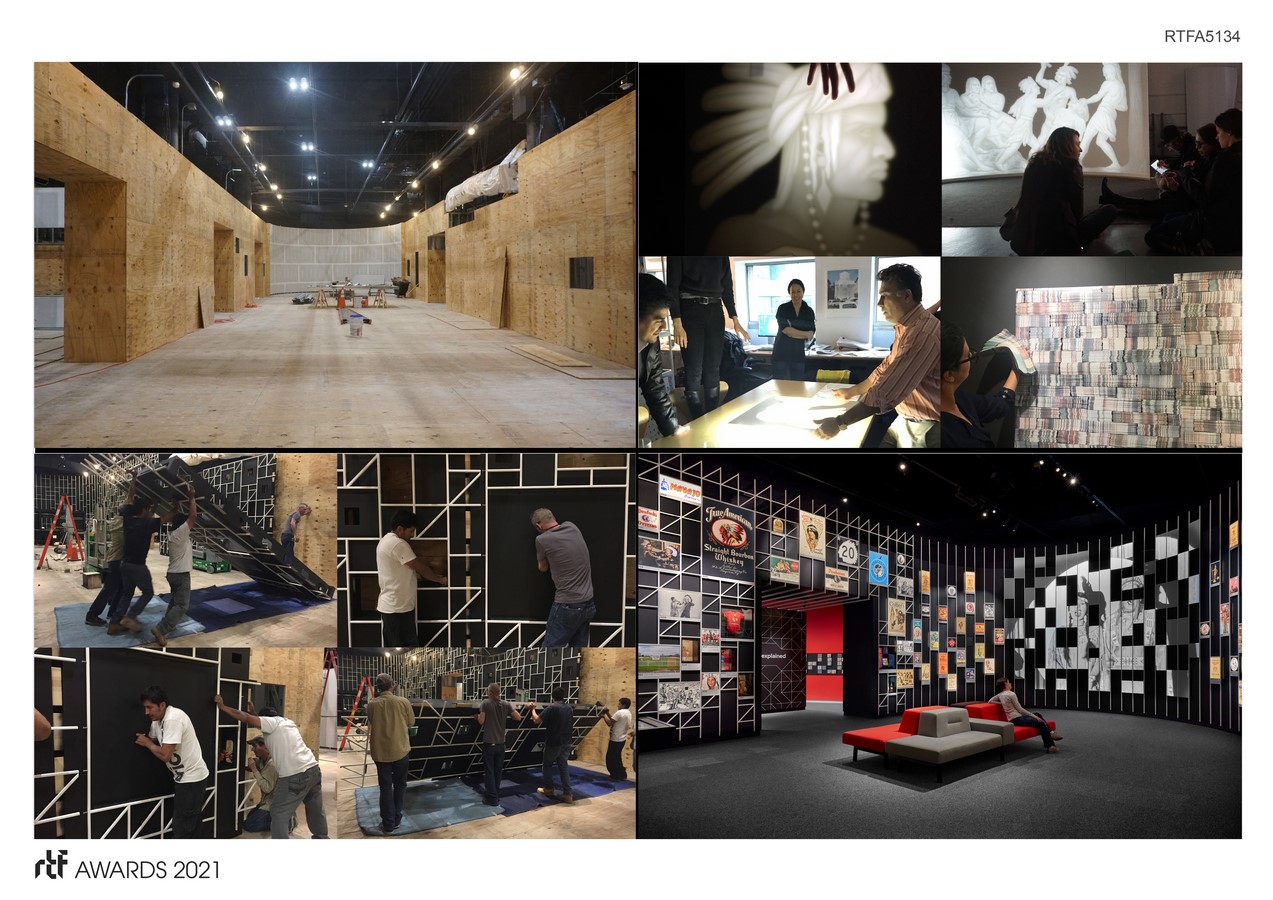 The gallery's highly irregular shape is organized into a large entry room off of which are five spaces, each engaging the visitor in a different question. The voice of the show as one of probing possibilities rather than preaching dogma is a significant part of the tone that we set with the aesthetic.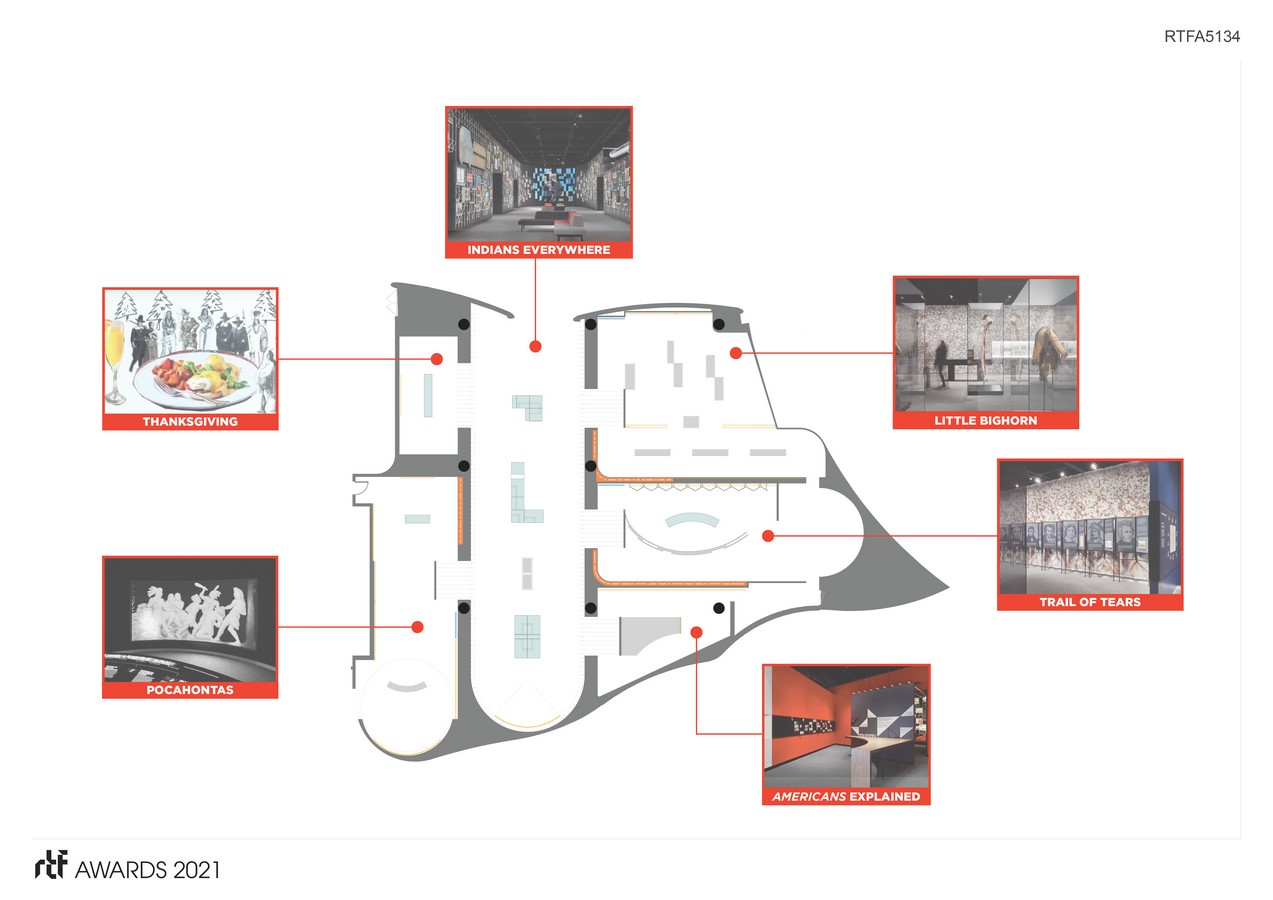 The central gallery, "Indians Everywhere," is lined with a powder-coated, ¾-inch, square tubular steel armature that holds three centuries of American objects, graphics, and contemporary photography. A total of 168 back-lit graphics and dozens of items in individually-lit cases are arranged to link storylines. The highly distinctive artifacts include a classic 1948 Indian Chief motorcycle, a Tomahawk missile, a Land O' Lakes butter box, and Navajo Barbie The intricate display system required creativity and technical expertise. Each museum-quality case integrates signage, graphics, and objects and has an adjacent interpretation. The design result is a larger-than-life, historical narrative interpreted within a bold, modern aesthetic. Interactive screens in the center of the room "decode" the artifacts and allow visitors to search for favorite iconography. All the while, a loop of (68) film clips are projection-mapped at the rear. Visitors use this space as a living room, spending time to enjoy the breadth of materials.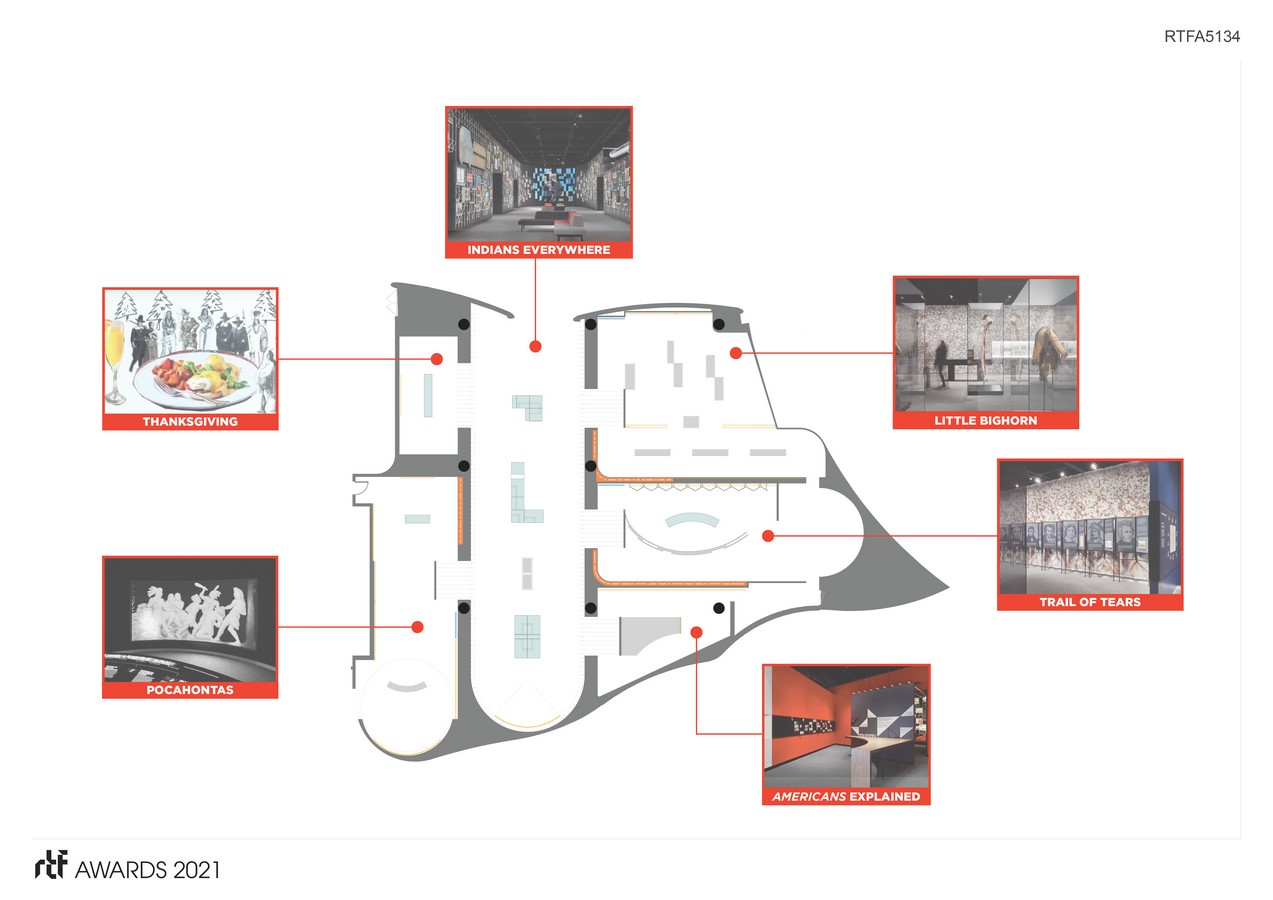 The other galleries address familiar yet often misunderstood historical topics—Pocahontas, the Battle of Little Bighorn, Thanksgiving, and the Trail of Tears. To bring relevance to content and engage the visitor, media and technology are skillfully employed for maximum effect. Bold graphic motifs coupled with pithy, provocative quotes hold one's interest and inspire the questioning of common assumptions. By understanding the past, visitors acknowledge the cultural complexity of native peoples in America's collective history. As evidence of the Battle of Little Big Horn, Indian "regalia" and hand drawings on muslin, displayed against a graphic enlargement of an illustration by an Indian at the battle itself, are some of the most delicate artifacts that exist. Each display case follows a prescribed Indian ritual using herbs and solar orientation according to tribal custom. The curators pose, "Who won the Battle of Little Big Horn? It's complicated."
There is a dedicated gallery with an analog visitor sharing area to facilitate community learning and engagement. Visitors have eagerly shared highly personal experiences with the museum. Within this safe space, we all question the past and define America's future.