Sensory Journey embodies truly equitable placemaking inviting all people, irrespective of ability, to come together for shared learning, enjoyment, and social bonding. Our goal is enhanced awareness and respect for the beauty of nature. Sensory Journey is a site-specific sculpture and place of engagement at the Hudson Valley, New York, non-profit center Art Omi.
Rethinking The Future Awards 2023
Third Award | Pop-ups and Temporary (Built)
Project Name: Sensory Journey
Category: Pop-ups and Temporary (Built)
Studio Name: Studio Joseph
Design Team: Wendy Evans Joseph, Jose Luis Vidalón, Monica Coghlan,Shuo Yang, Cassandra Gerardo Area: 1,200SF
Year: 2021
Location: Art Omi –  Ghent, New York
Consultants:
Photography Credits: Alon Koppel
Associate Architect: Sam Morse, Southside Design and Build, Rich Blass, Guigon LLC
Structural Engineer: Silman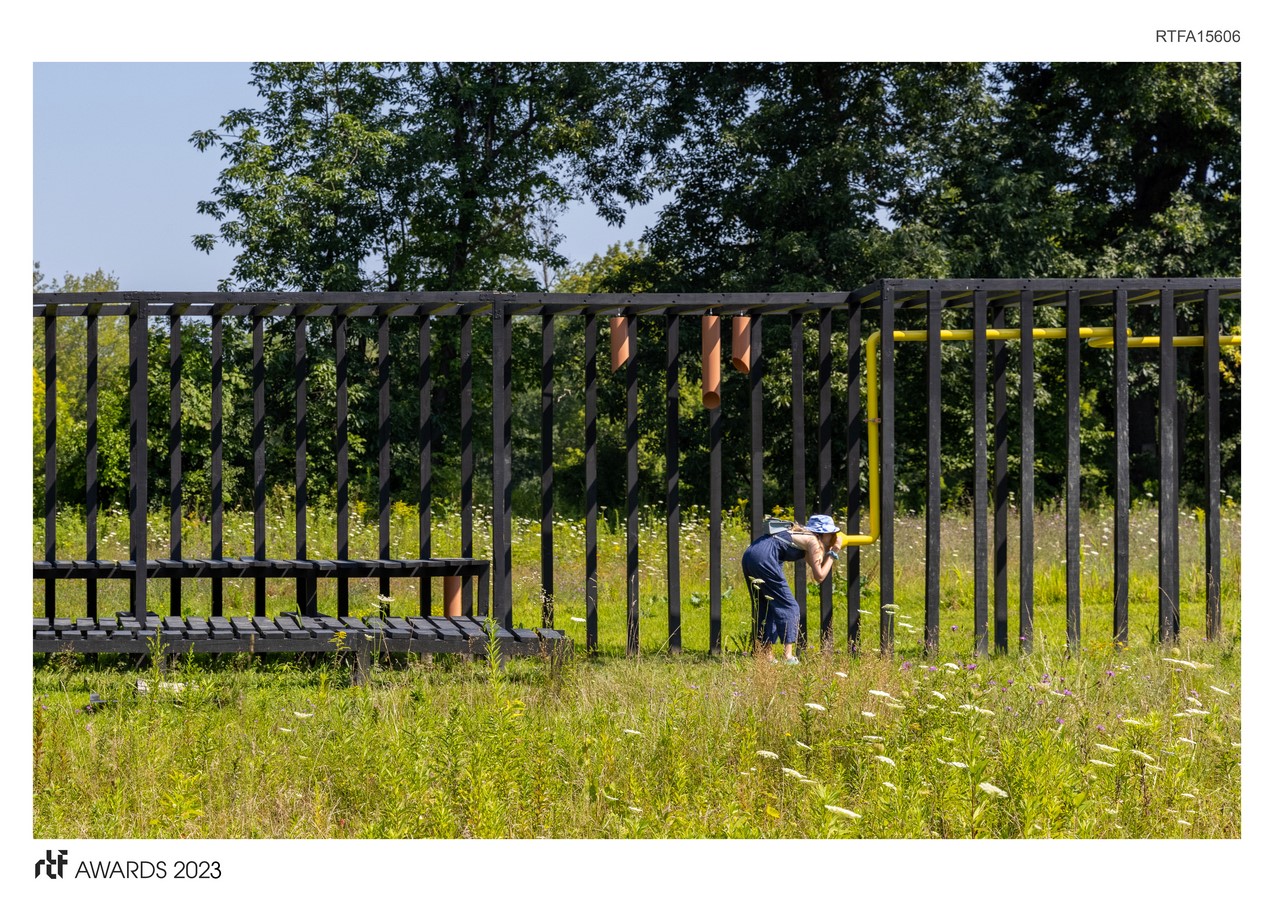 As visitors walk through Sensory Journey, they encounter a series of interactive elements and spaces to gather. The pavilion frames views provides shade and is a place to picnic. However, beyond the pragmatic, it is a place of playful encounters focusing our senses on the rural landscape. The experience goes beyond vision to olfactory, haptic, auditory, and tactile explorations and is fully accessible to those who use wheelchairs or have other mobility issues.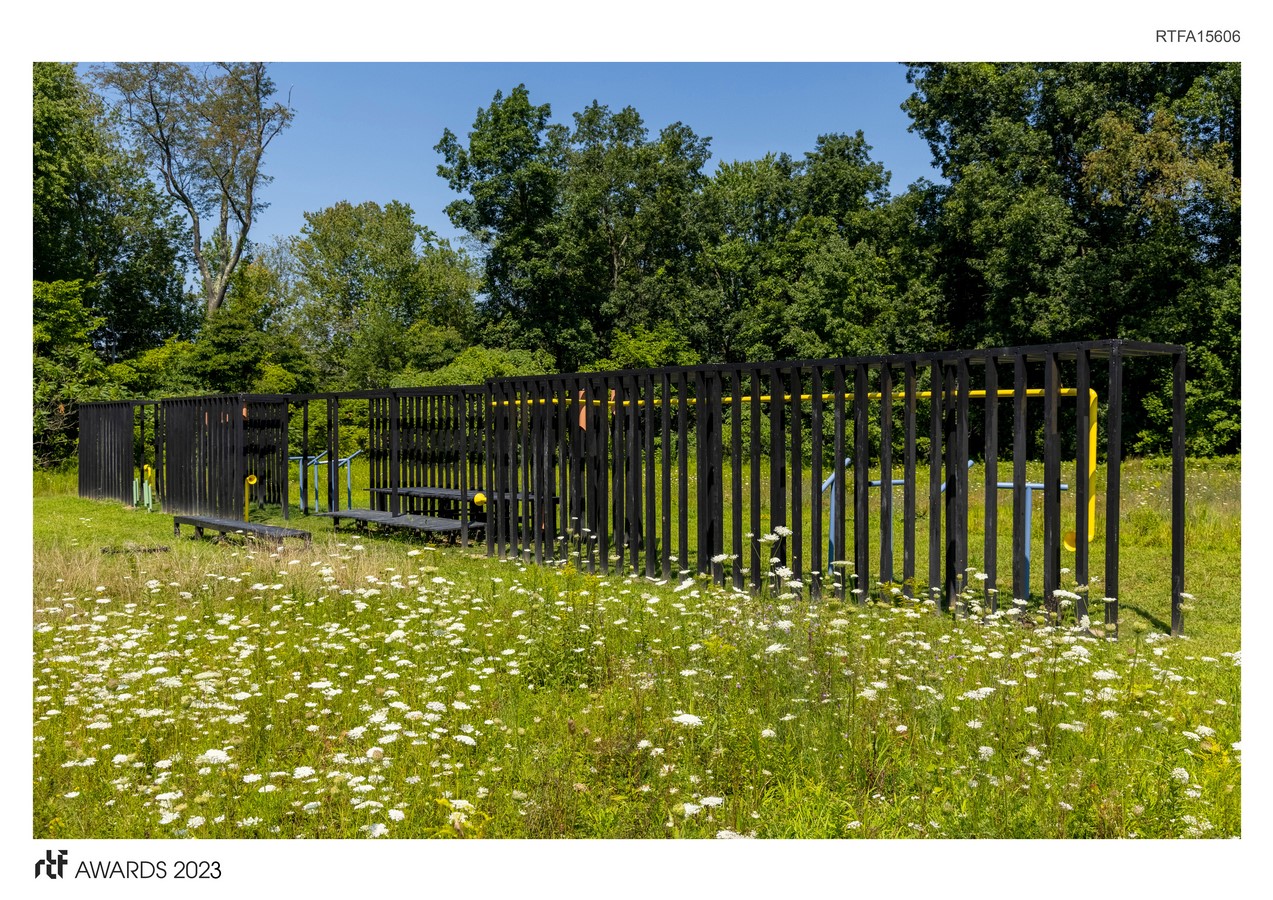 The pavilion consists of three material and functional components.
126, 4×4-inch, 10-foot-high posts, stained black. They are organized into a 3-part pathway that leads from the woods to an open meadow. The wood frames create an armature for sensory opportunities, both collective and personal. The 125-foot-long structure runs on the east/west compass points for solar orientation.
A fire pit relates to the seating and table, fostering a sense of social bonding amongst neighbors, classmates, and new friends. The Art Omi staff conducts educational classes for children, social events, and celebrations around its flames.
There are four types of sensory experiences. They are custom-fabricated metal forms dispersed into the wooden structure, each with an interactive component. Green: A gathering of pipes that hover over herbs. Blue: Periscopes aim at the trees and the sky, focusing on that magical place where earth and atmosphere meet. Coral: wind chimes swing softly from the joists above. Yellow: There are two 30-foot lengths of pipe with bell-shaped megaphones at either end; one is above, hung from the armature, and the other is buried below ground. They allow visitors to talk with each other through this surprising low-tech invention.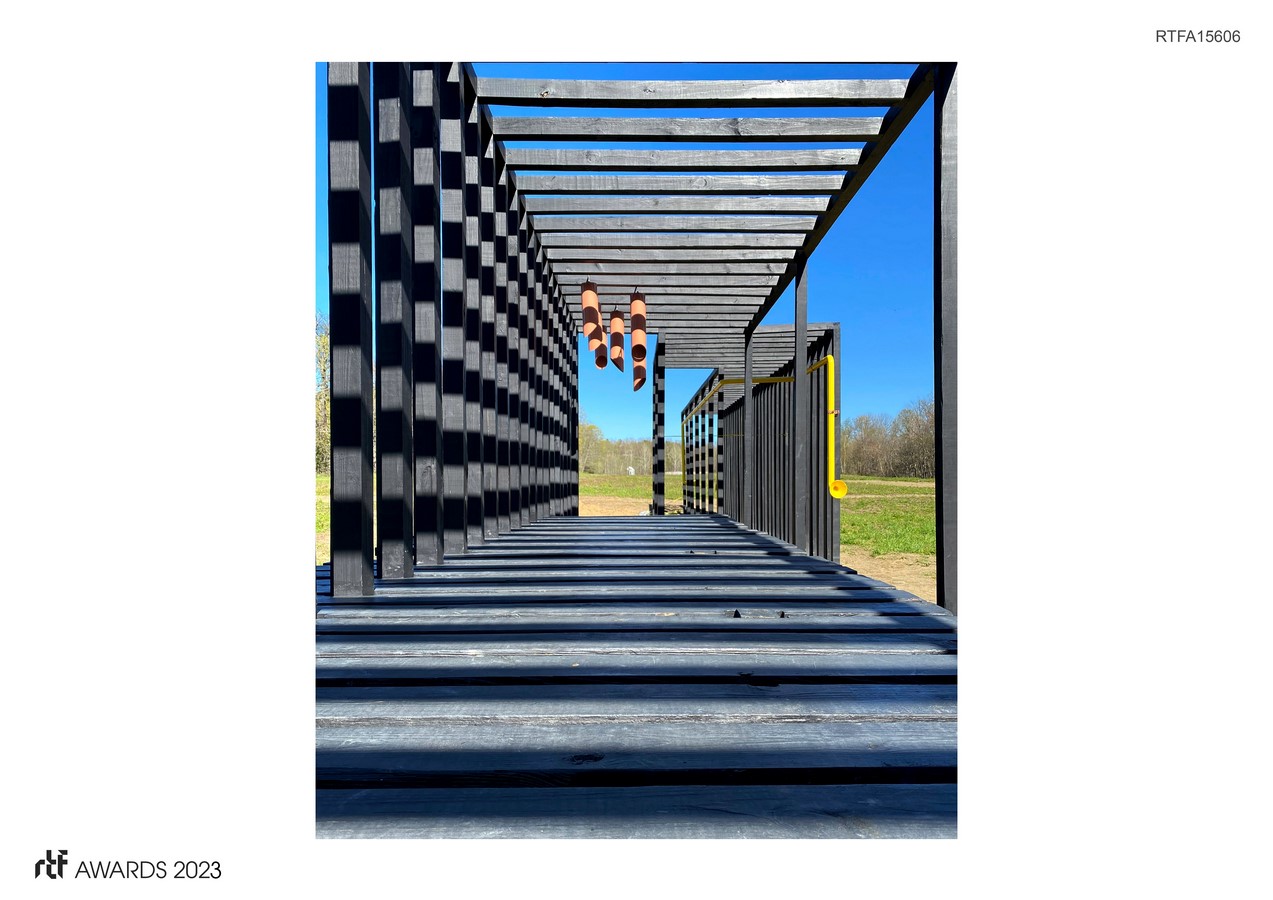 Sensory Journey, an unpretentious, economical project for a non-profit art education center, has become a place for learning about ecology and the fragility of ecosystems. Conceived and built during the pandemic shutdown, our studio painted and partly constructed it. We created this project because of our commitment to community learning, inspiring environmental awareness, and social equity.