The Design Gallery embraces Russel Wright's design genius, unifying a pragmatic approach to content delivery with an organic, formal language. As the only permanent, in-depth public exhibition of Wright's product designs, The Russel Wright Design Center, located at Manitoga, Wright's home, and studio, is an installation of over 200 signature objects that tells how Wright forged a modern American lifestyle through groundbreaking designs for everyday objects of the home.
Architecture, Construction & Design Awards 2022
Third Award | Exhibition Design (Built)
Project Name: Russel Wright Design Center, Manitoga
Project Category: Exhibition Design
Studio Name: Studio Joseph
Design Team: Wendy Evans Joseph, Monica Coghlan, Jose Luis Vidalon, Albane Jerphanion, Alexandra Adamski
Area: 750SF
Year: 2021
Location: Manitoga, Garrison, New York
Consultants: Lighting Design: Anita Jorgensen Lighting Design, Donald Albrecht, Curator, River Architects, Architects of Record
Photography Credits: Michael Biondo
Other Credits: Fabrication: Southside Builders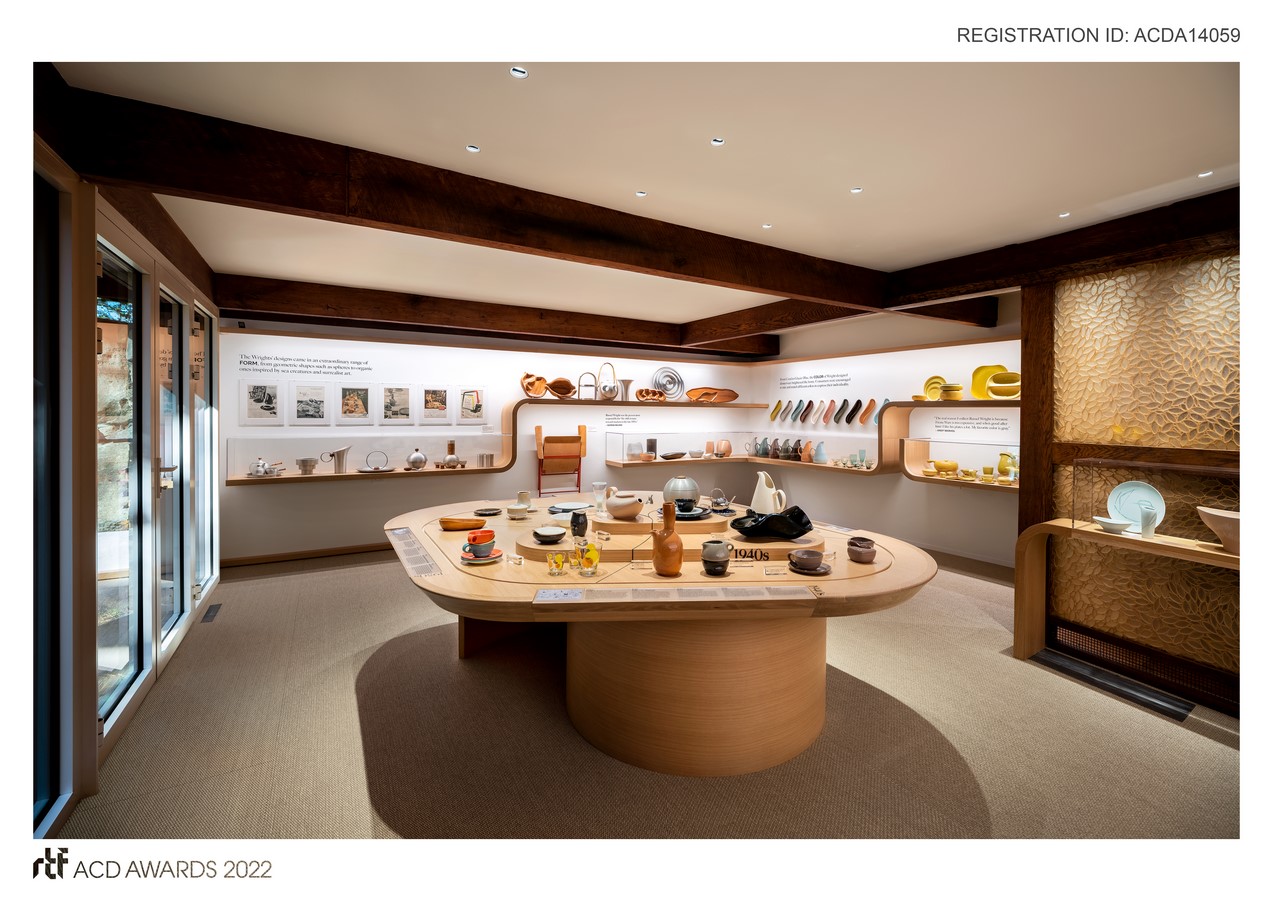 The gentle curvature of the gallery installation—domestic in scale and built in the warm-toned natural tones found on the rural site—echoes the geometry and materiality of many Wright designs. A large display table centers the gallery with a didactic timeline of signature work. The three surrounding walls offer a more purely visual approach based on themes of color, form, and pattern.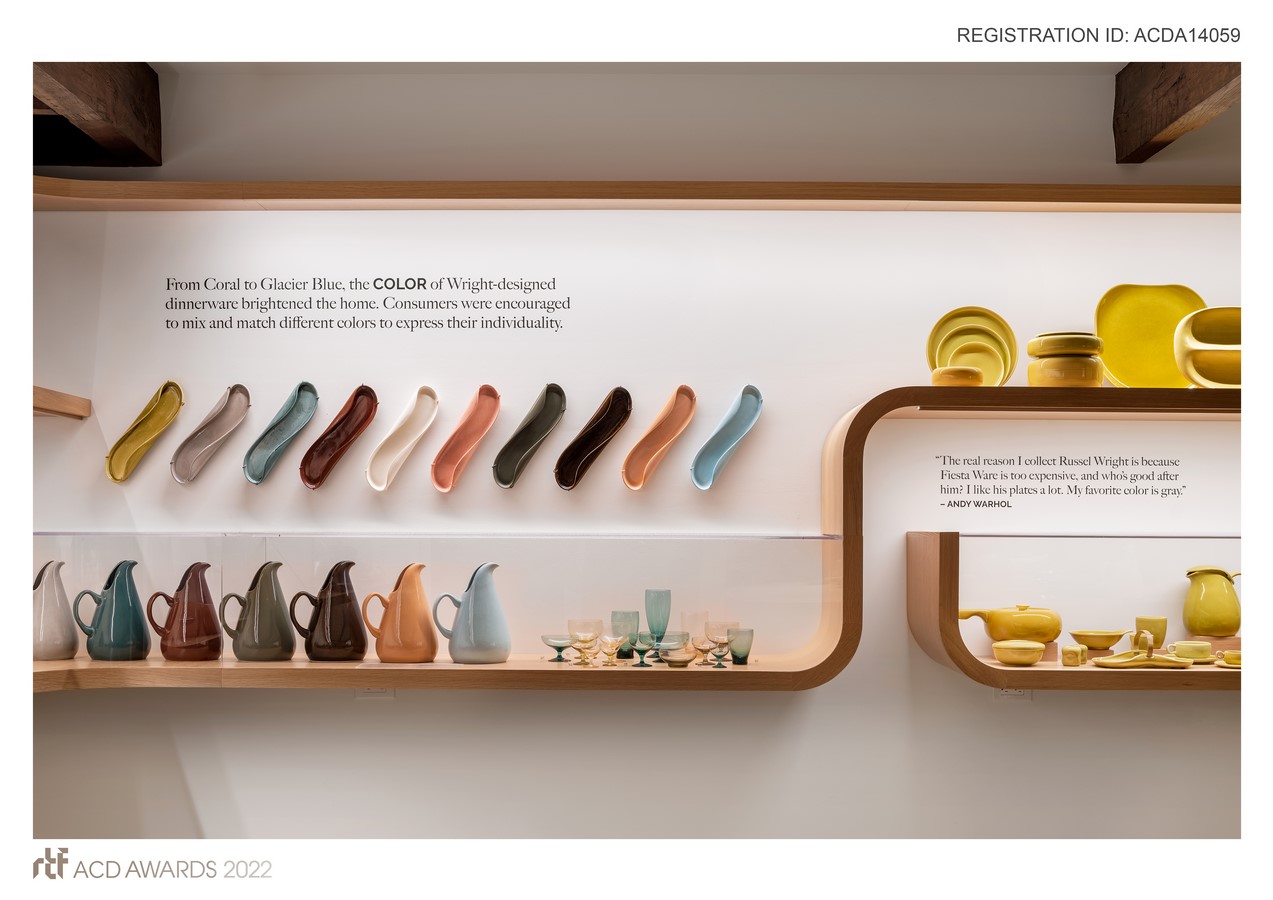 Installation: The entire display armature is constructed in rift-cut, natural oak. All fasteners for the assembly are hidden, so there is no visual interference with the objects. The interpretation is informative yet minimal. Printed on a transparent or translucent substrate, the graphic labels are background elements in conversation with Wright's designs. Warm LED lighting creates a soft glow that works with northern light coming through a newly installed glass wall assembly.
The landscape was always an integral part of Wright's design vision. From inside the gallery, visitors overlook the Quarry Pond—keeping nature front and center and stressing the critical role flora plays in his design. From the woods, we see the gallery integrally nestled into the house. This gallery invites inquiry into 20th-century American design, the forces that shaped it, and the interrelatedness of nature, art, and design.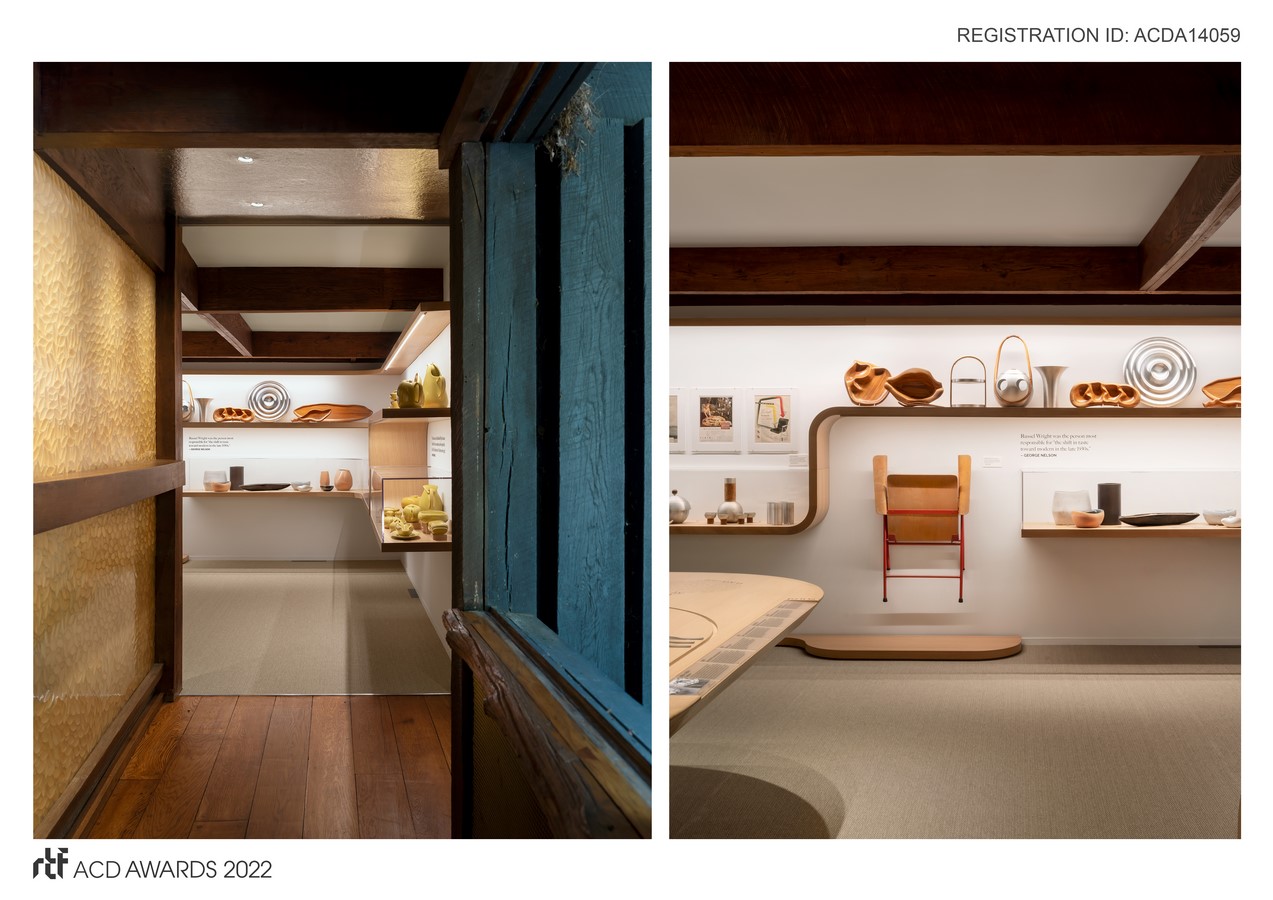 Meeting client objectives
Create a playful, organic, celebratory but not idolizing design.
Allow the house to be a part of the exhibit, not a backdrop.
Meet a limited budget without compromising quality or craftsmanship.
Addition of a vinyl carpet to consider acoustics as this is also a teaching space.
There is a hidden door that provides a lockable, secure enclosure.
Allow ADA access to all areas.
Replace doors and windows (the original were no longer salvageable) to open the views.