The project site is located 7km south of Yinchuan city centre, adjacent to an urban express highway. The site is also attached to a valuable landscape resource – the Guan Lake park, which makes the site much more valuable. With a total of 120,000 square meters GFA, this urban mixed-use complex is a large combination of "shopping center + retail street + boutique apartments".
Architecture, Construction & Design Awards 2020
First Award |  Mixed Use (Concept)
Project Name: Yinchuan Jianfa Yoyo City
Studio Name: L&P Architects
Design Team: Gang Li, Yifan Shen, Jaenes Bong, Zerong Lin, David Ho, Siqi Li, Zhongwen Gan, Saijal Sharma, Luke Bonomelli; Interiors: Mengsi Li, Keda Ye, Xiangkai Qin, Yanbo Peng; Landscape: Carlo Laquian, Ernest Yip
Area:  123,000㎡
Year: 2020
Location: Xi'an, PRC
Consultants: Interior Design & Landscape Design – L&P Architects
Photography Credits: L&P Architects
Other Credits:  Yinchuan Jianfa Group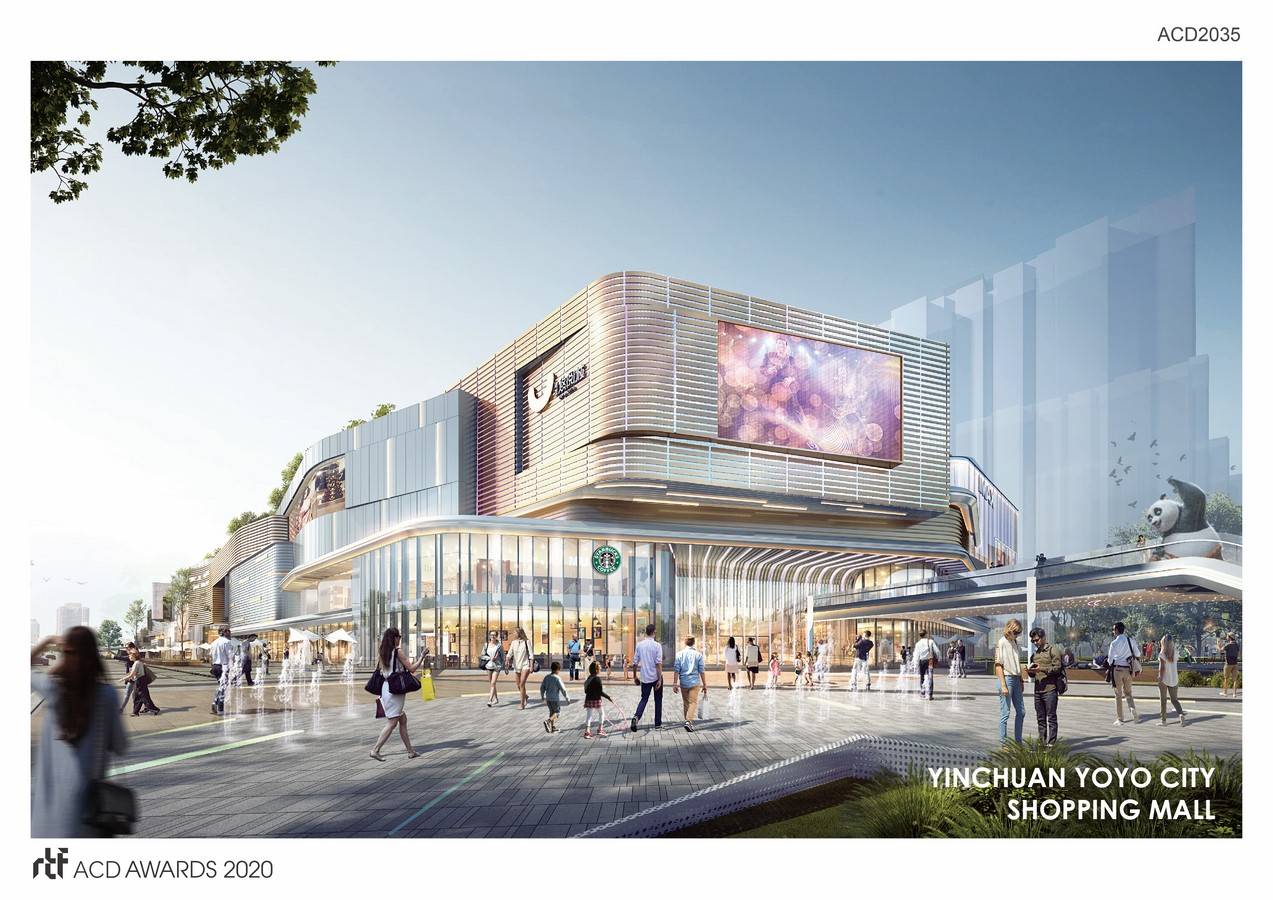 Considering the land use of the surrounding area and the progress of urban development, the shopping center is sitting at the west side of Zhengyuan Street in order to act as a city icon of Yinchuan. The retail street along the east side of Guan Lake park is perfectly integrated with the green nature open spaces, hence, created the "urban vitality axis" that runs through the east and west of the site and the "community life axis" that runs from north to south. The design introduces urban landscape resources into the site that integrates urban development with the natural landscape. The design concept of "urban symbiosis" aims to offer the city more sustainable and natural spaces for leisure and entertainment, so that people can come to enjoy, play around and relax.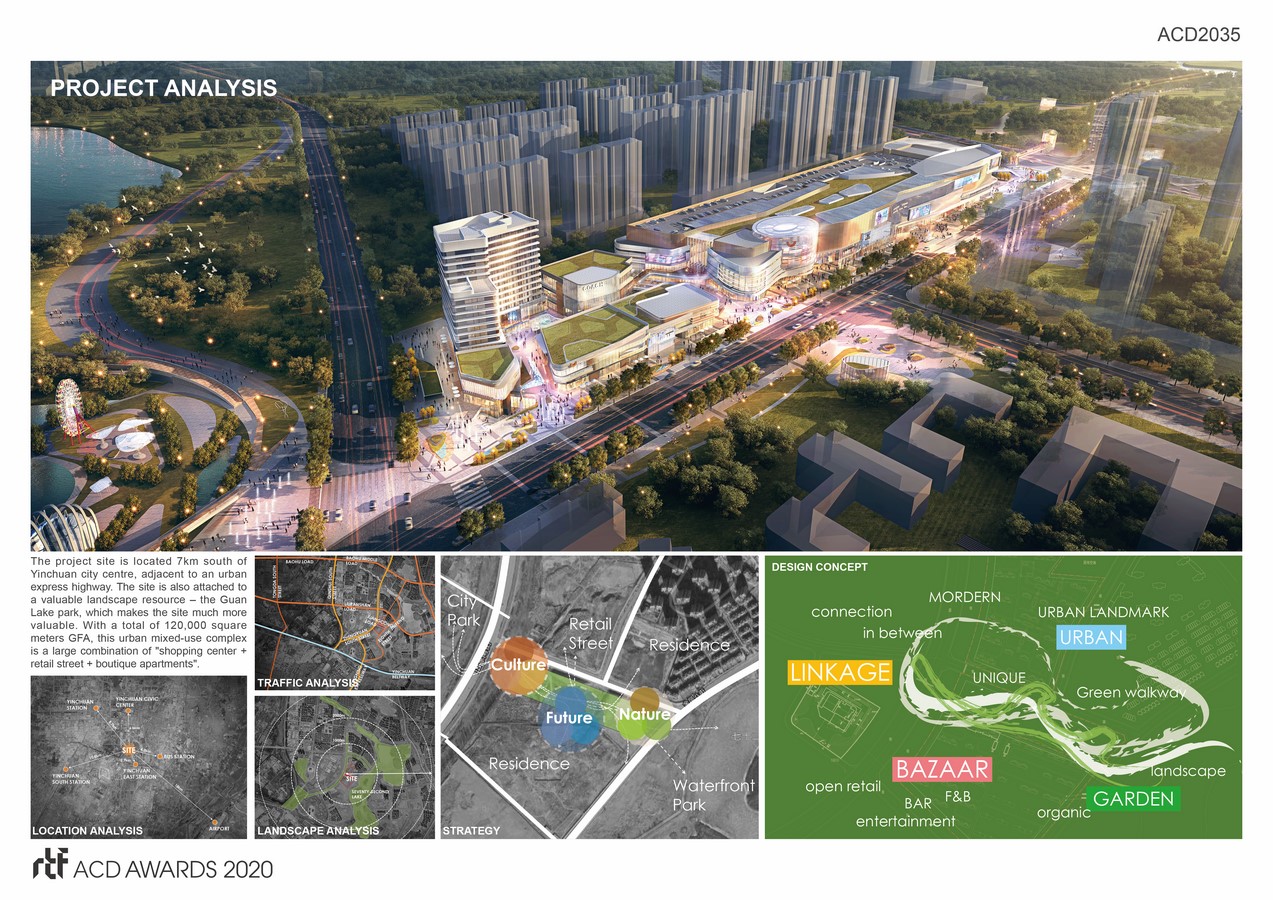 The retail facade design was inspired by the landscape of Guan Lake. The horizontal lines and the blocks depict the scenery of floating islands of wetland, reflecting the unique characteristics of the surrounding natural environment. The facade design of the tower is inspired by "Sparking Wave", the unique expression of horizontal slabs creates a floating wavy effect on the facade, echoing the adjacent Guan Lake landscape. Tower window size is maximized to allow people to capture more natural scenery from outside.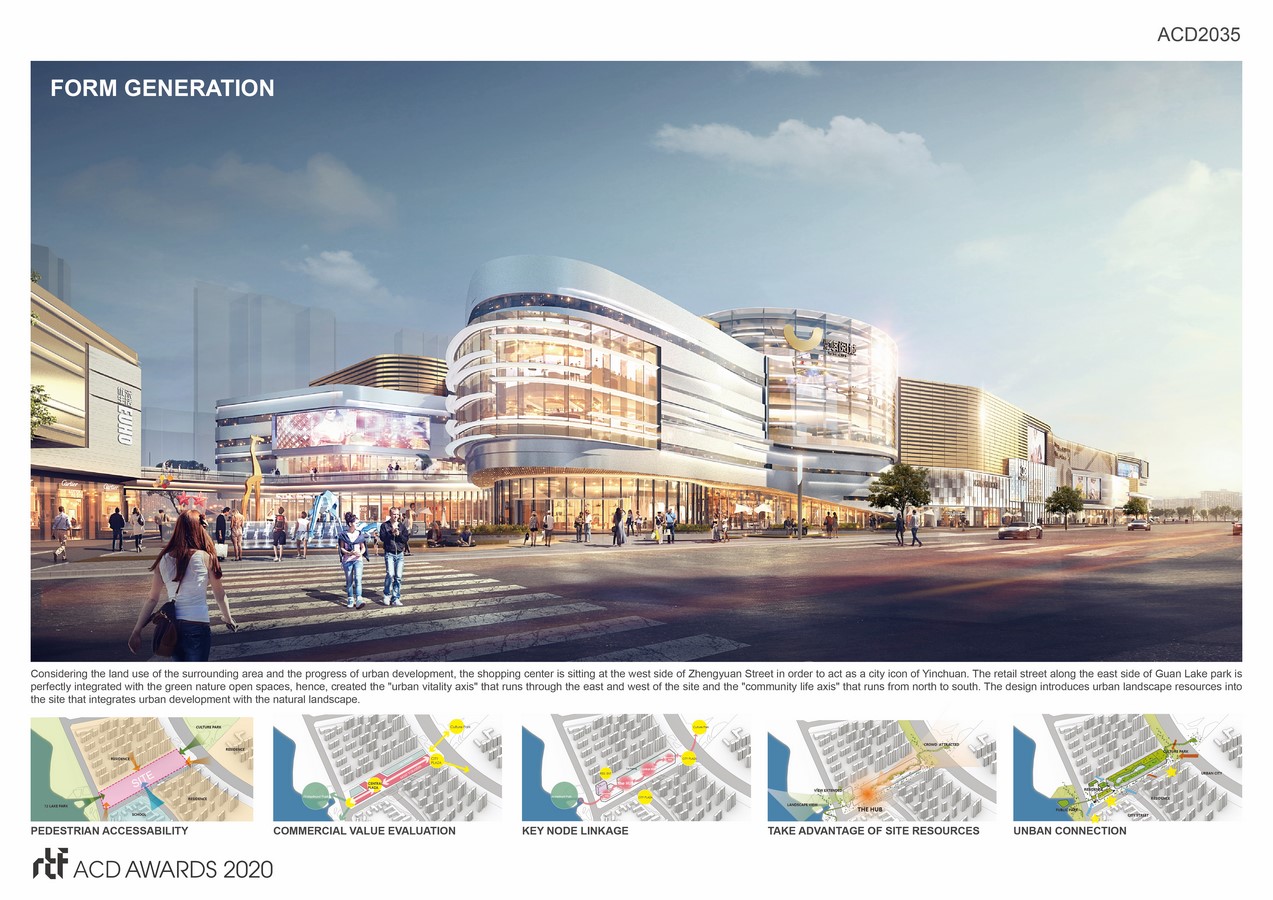 For the retail space design, we decided to think outside of the box and explore more on the commercial value. We experimented with new models instead of the traditional business model. The design comprises different social experience scenarios and interactive public spaces to activate the retail space and activities, aiming to create a popular destination and city landmark for Yinchuan.