Situated in the heart of Memorial Park, the 100-acre Land Bridge & Prairie creates a new high-performing landscape and public greenspace within the rich cultural and ecological Gulf Coast context enhancing the urban wilderness character of the park while providing expanded opportunities for active and passive recreation. Families, students, tourists, and nature enthusiasts are able to learn more about the native ecologies, and carefully planned trails accommodate multiple levels of recreational pursuit, from winding paths for leisurely strolls to hills and scrambles for rigorous interval work. New vantage points of the downtown and uptown Houston skylines on top of the Land Bridge provide an iconic gathering place for sunrise meditation, evening stargazing, and special events.
Rethinking The Future Awards 2023
First Award | Public Landscape Project (Built)
Project Name: The Land Bridge & Prairie at Memorial Park
Category: Public Landscape Project (Built)
Studio Name: Nelson Byrd Woltz Landscape Architects
Design Team: Thomas Woltz, Jeffrey Aten, Kate Snider Tabony, Andisheh G. Tabari, Christian Kochuba, Bradley Odom
Area: 100 acres
Year: 2023
Location: Houston, Texas
Consultants: Walter P Moore, Freese and Nichols, Gandy² Lighting Design, Olsson, METALAB, Tellepsen Builders, Berg Oliver Associates, Gunda Corporation, Texas Project Administration Services, James Pole Irrigation Consultants, Wildlife Habitat Federation, Hunt and Hunt Engineering Corp, Minor Design
Photography Credits: Tellepsen Builders, Nick Hubbard
Render Credits: Miro
Other Credits: Memorial Park Conservancy, Uptown Houston, Houston Parks and Recreation Department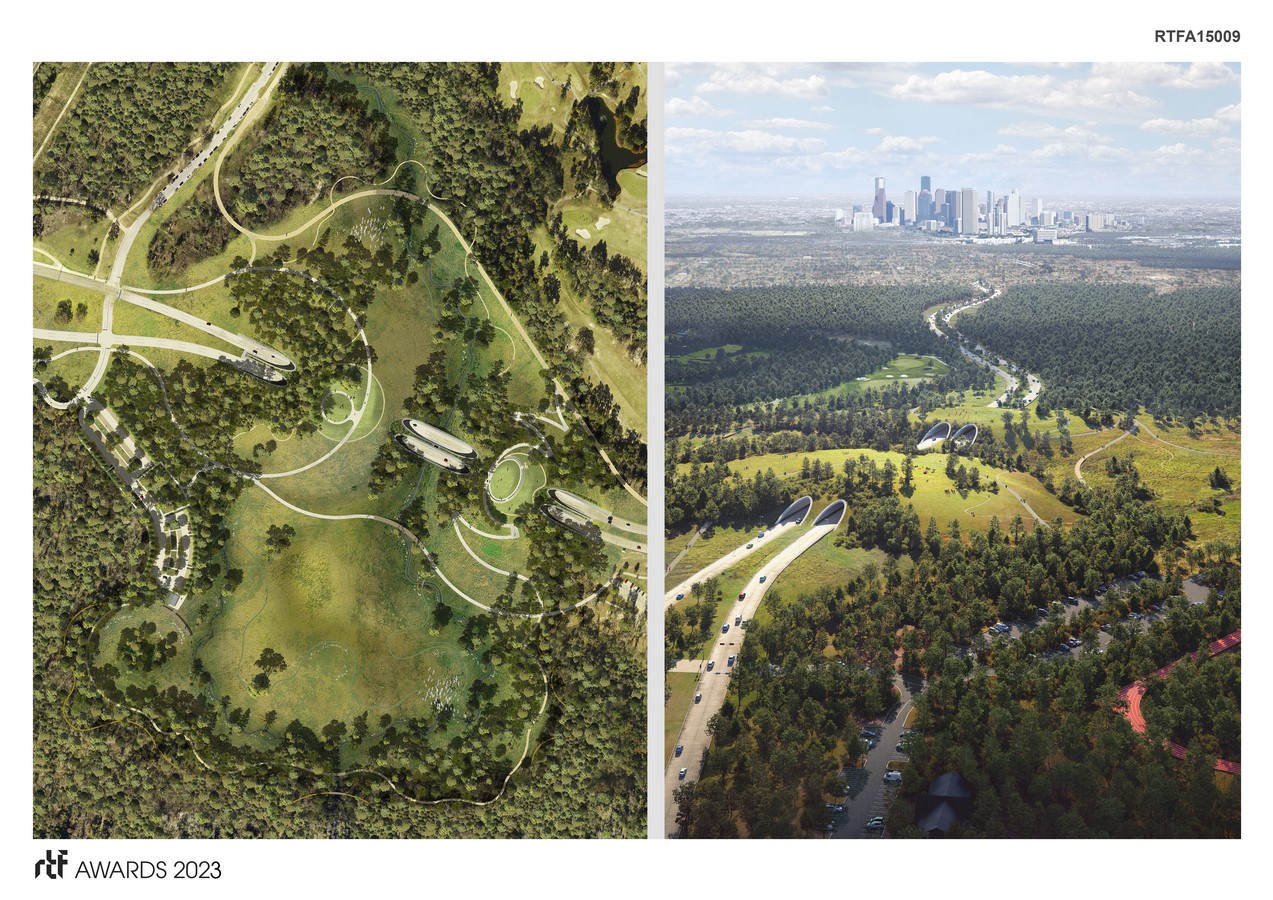 Part of the 2015 Memorial Park Master Plan, the Land Bridge & Prairie is a solution to Memorial Drive – a six-lane roadway built in 1955 that divided the park. The transformative project creates two dynamic connections over Memorial Drive to reconnect the north and south sides of the park, expanding the existing network of trail systems by three miles. Two sets of tunnels, measuring 400 and 560 feet, have been built side-by-side over the roadway. Over 500,000 cubic yards of soil was excavated, creating wetland areas that provide resilient wildlife habitat and robust stormwater function. The excavated soil was bio-inoculated and used to form the land bridge mounds. These mounds support native prairie and savannah plantings, a multi-use trail network, and open gathering space, providing safe passage for park users over the highway and unmatched vantage points of Houston skylines.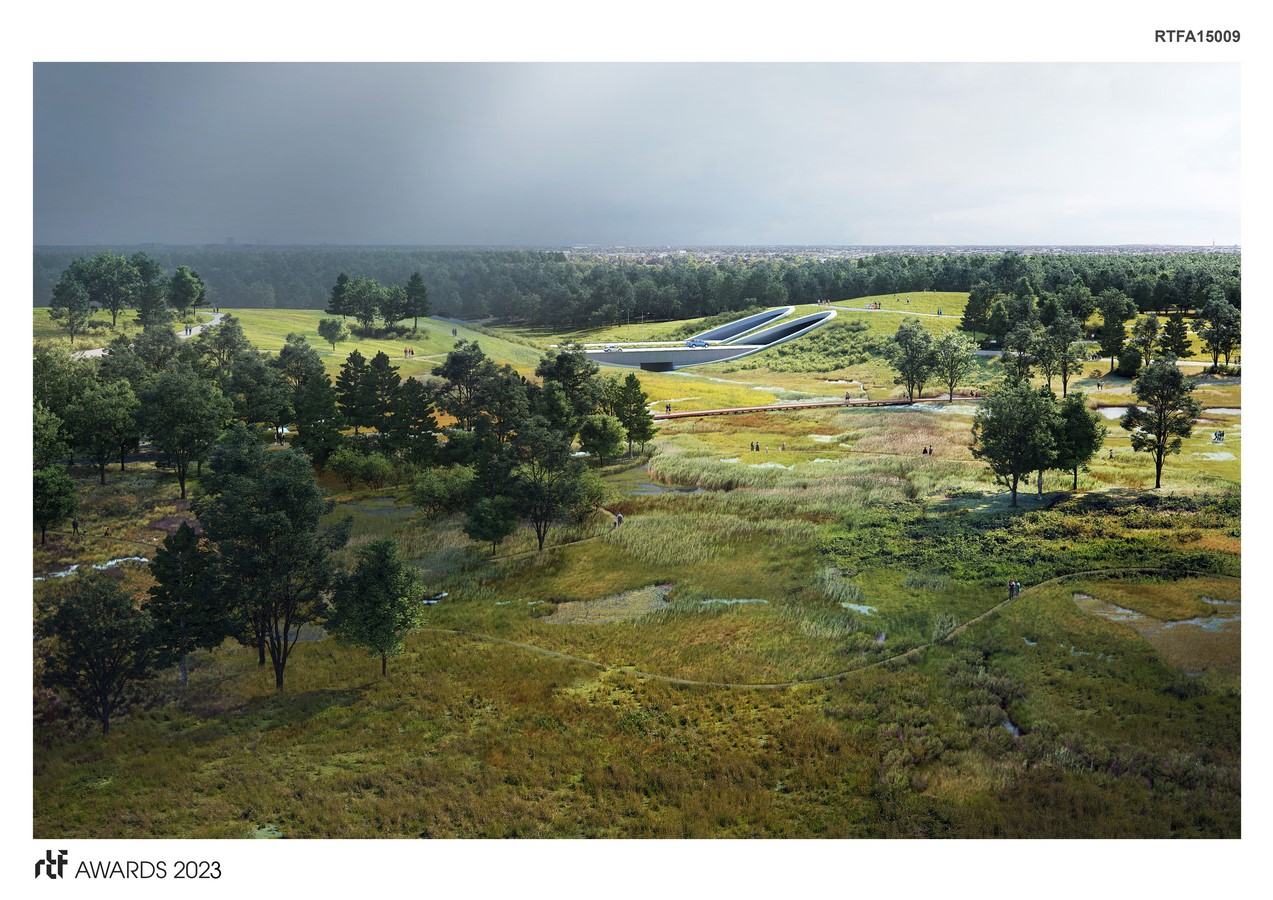 The prairie restoration, which adjoins the land bridge, re-introduces to Memorial Park 45 acres of native Coastal Prairie – one of the most endangered ecosystems in North America, with less than 1% of its historic range remaining today. The newly created Coastal Prairie in Land Bridge & Prairie project will help to strengthen the surrounding ecologies and bring Houstonians an immersive opportunity to experience and appreciate this critical native ecology. The prairie will be home to numerous significant and endangered species of flora and fauna and will provide essential food and shelter for migratory birds and insects. It will provide cumulative benefits for generations.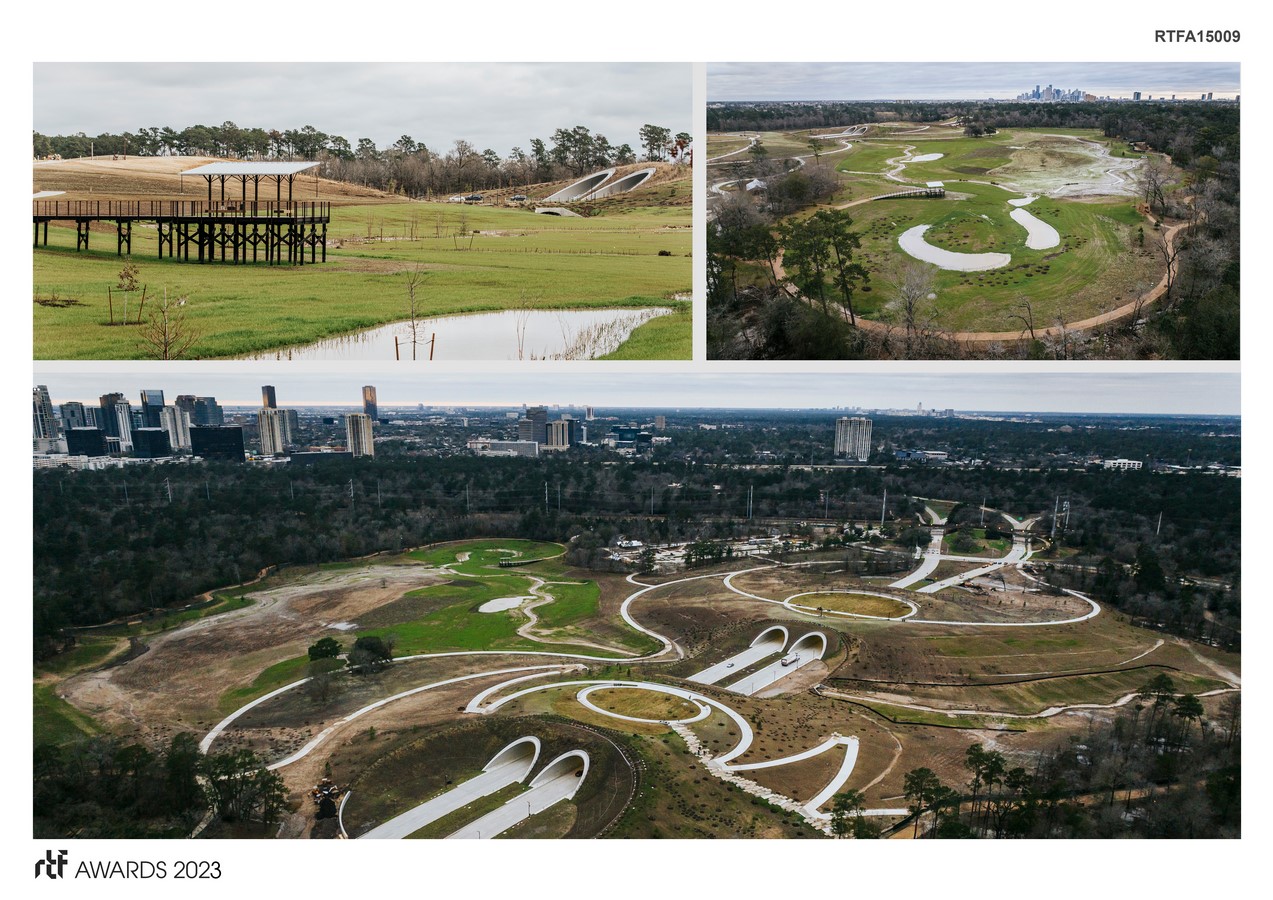 The Land Bridge & Prairie is designed to withstand storms and process stormwater while providing a healthy environment for people and animals. Soils and over 200 native species of trees, shrubs, and deep-rooted Coastal Prairie plants have been selected for resiliency and their ability to slow and store stormwater in carefully calibrated channels and wetlands. A constructed stream bed integrates stormwater management and water quality treatment, as well as functioning as a "habitat" bridge, connecting both flora and fauna over and under the six lanes of Memorial Drive. This soil-deep rehabilitated ecology will sequester atmospheric carbon, provide cleaner air, and improve animal and insect habitat. The project is not just a physical link like most other land bridges; it's a nexus where complex and multifaceted systems – both human and natural – have been holistically conceived as part of a greater vision.