The Eastern Glades now acts at the formal entrance to Memorial Park through a new pedestrian plaza connecting the park with the urban grid. The design of the plaza reveals the site's history: new stone pillars mark the location of an original entrance to Camp Logan, a World War I military training camp.
Rethinking The Future Awards 2023
Second Award | Public Landscape Project (Built)
Project Name: Eastern Glades at Memorial Park
Category: Public Landscape Project (Built)
Studio Name: Nelson Byrd Woltz Landscape Architects
Design Team: Thomas Woltz, Jeffrey Aten, Kate Snider Tabony, Andisheh G. Tabari
Area: 100 acres
Year: 2020
Location: Houston, Texas
Consultants: Lauren Griffith Associates, James Pole, Walter P Moore, Henderson + Rogers, E&C Engineers & Consultants, Berg Oliver Associates, Gandy² Lighting Design, Rico Associates, Olsson, English + Associates Architects, 4B Technology
Photography Credits: Barrett Doherty, Hester + Hardaway Photographers
Render Credits:
Other Credits: Memorial Park Conservancy, Uptown Houston, Houston Parks and Recreation Department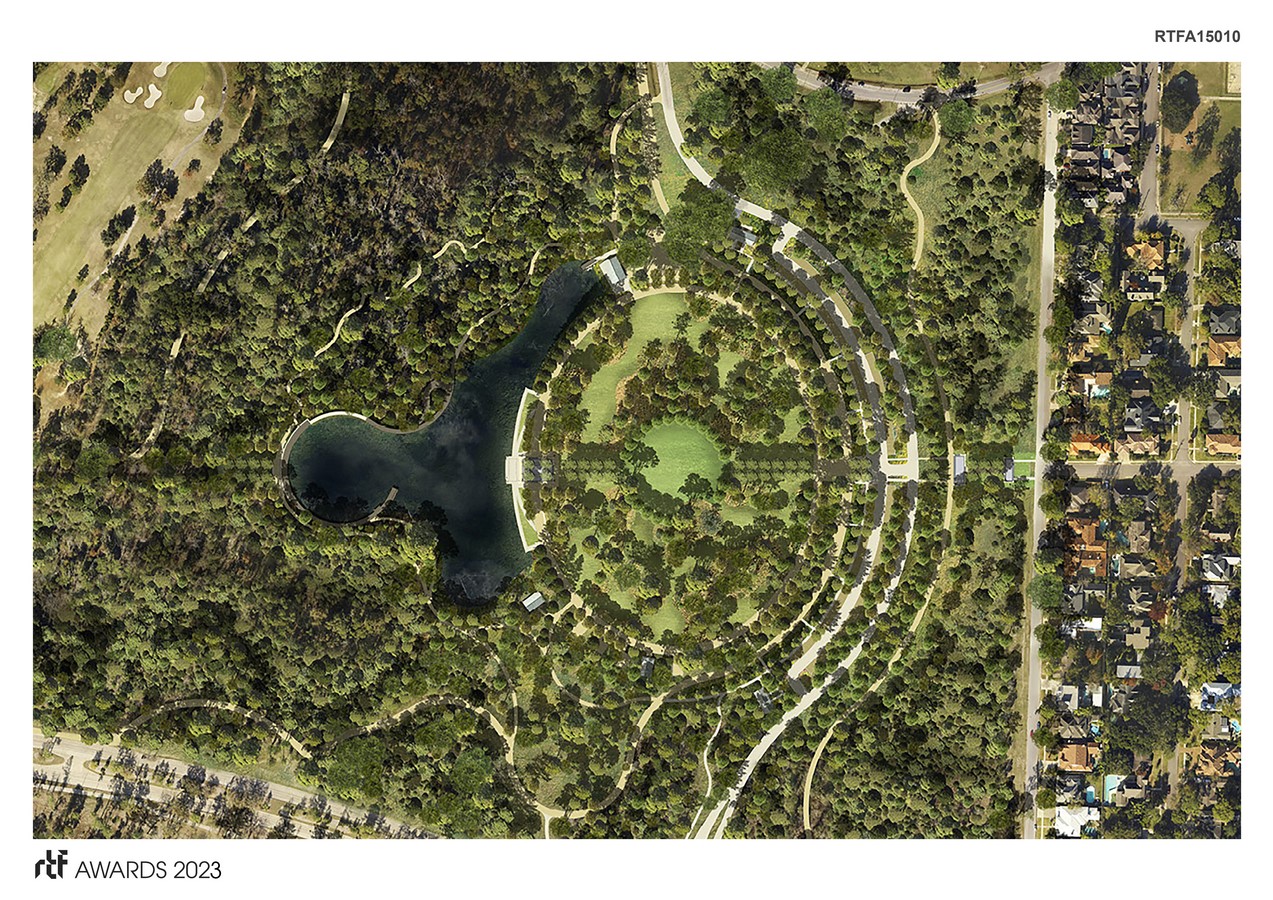 The architectural detailing of the plaza walls, built-in stone benches, and pavilions throughout the park are inspired by the architecture of Camp Logan structures and Houston's civic architecture in the era in which Memorial Park was established. Surrounded by native plantings and set against a forested backdrop, this gateway conveys a ceremonial threshold to Memorial Park, inviting all to enter and explore. The axial entrance opens onto a 9-acre oval lawn, encircled by a pedestrian promenade – a design inspired by elements from the original 1930s park plan. Scattered with trees and pockets of native grasses, this area is ideal for picnicking, gathering, play, events, and relaxation.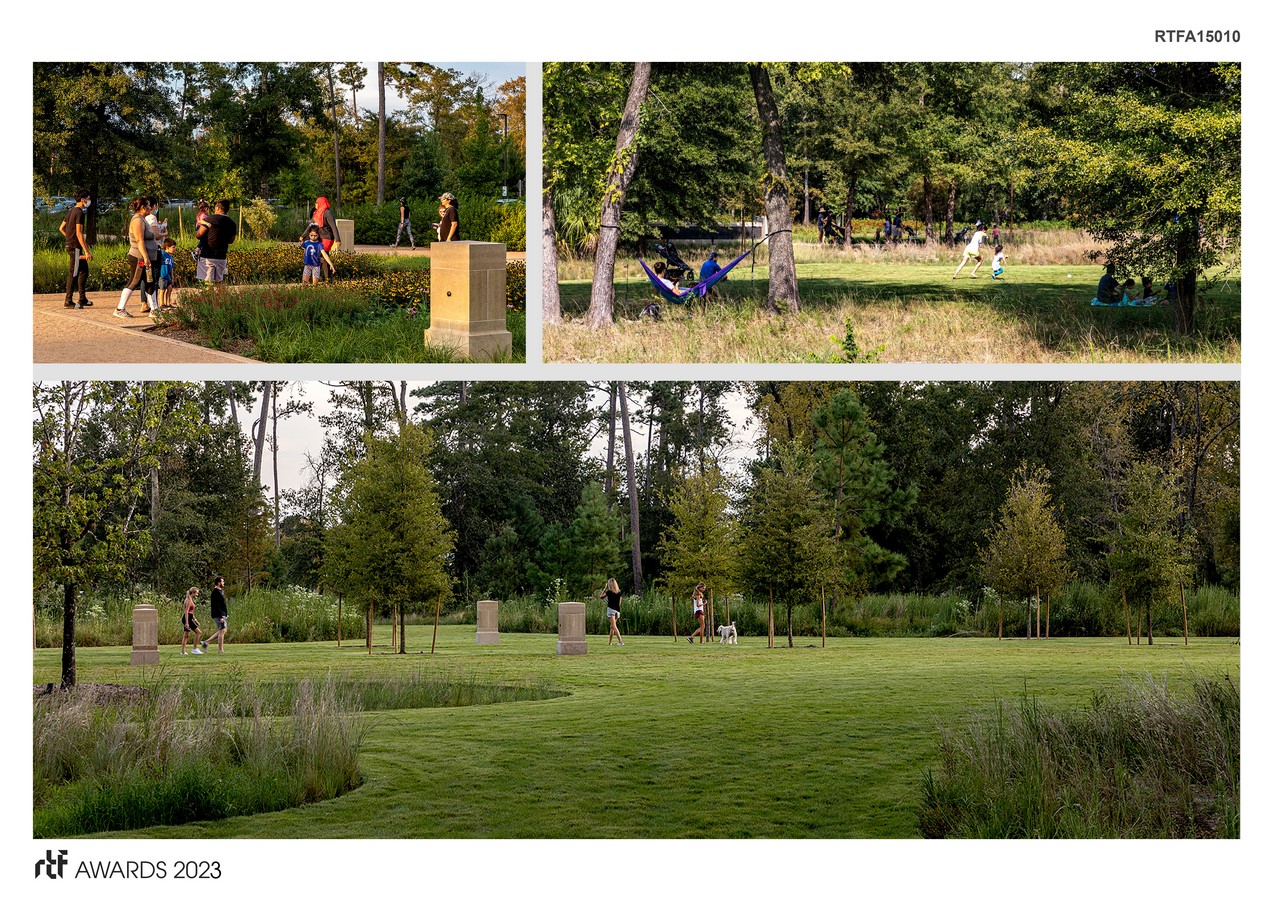 The northern path of the pedestrian promenade leads to a series of boardwalks traversing the Eastern Woods, a 12-acre restored wetland forest. The Eastern Woods plays an important role in habitat restoration and creates a sense of seclusion for parkgoers. It is also a key element in the ecological restoration and infrastructural work of Eastern Glades, which was critial to opening this previously inaccessible part of the park. Phased over multiple years, the ecological restoration involves the removal of invasive species and reforestation with native plantings to establish a healthy forest structure. Native tree and plant species such as Pinus echinata, Pontederia cordata, and Sagittaria lancifolia were planted to restore the forest ecosystem and wetland plant diversity.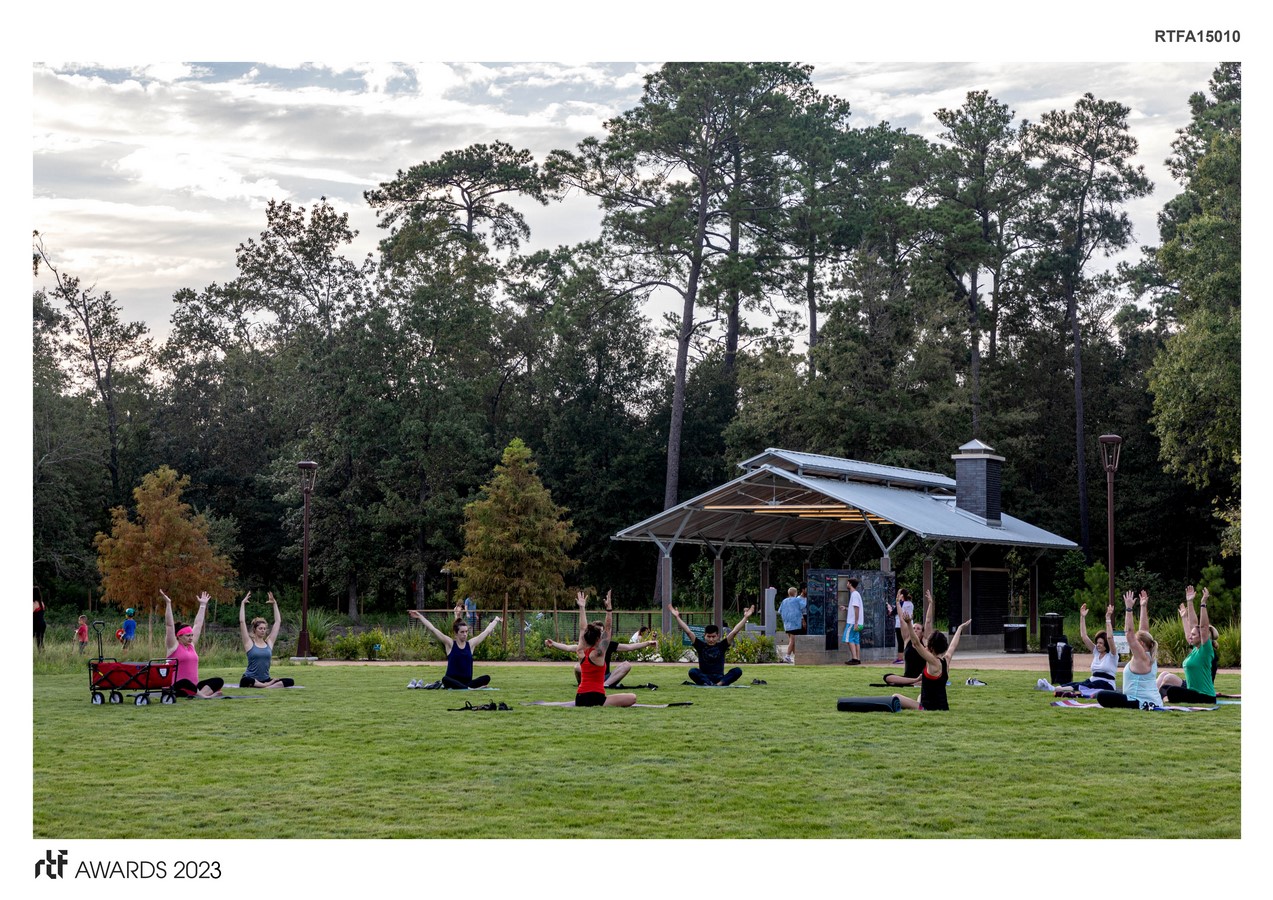 Extending over 5.5 acres, Hines Lake is one of Eastern Glades' most significant features. Together with surrounding wetlands, the lake creates new habitats for wildlife, helps to mitigate flooding, and contributes to the reclamation and reuse of stormwater. A system of bioswales is designed to filter rainwater that flows into the lake, creating a cleaner and higher quality habitat for turtles, fish, frogs, and water birds as well as a beautiful amenity for park visitors to enjoy. Terraces and pathways surround the lake, providing ample opportunities for nature-watching, strolling, and contemplation next to the water's edge. A boardwalk meanders along this more secluded side of the lake, providing an immersive experience in nature. An additional 2.5 miles of trails and pathways weave through varied ecological habitats, offering opportunities to spot wildlife and experience the restorative benefits of immersion in nature.