THE FOREST – Mannheim Germany
IDEA
To create a dynamic and organic open structure in the park for resting and socializing, using the motif of the forest. Constructed of repeating tree like structures to provide protection from sun and rain. Integrated into the canopy of each module are semi-transparent colored photovoltaic elements to provide in a very visible manner clean energy production. The emotive power of the warm color palette is intended to enhance the well being of the user.
Rethinking The Future Awards 2023
Second Award | Public Landscape Project (Concept)
Project Name: The Forest
Category:
Studio Name: AMA
Design Team: Andreas Mede
Area: –
Year: 2022
Location: Mannheim, Germany
Render Credits: AMA
Other Credits: AMA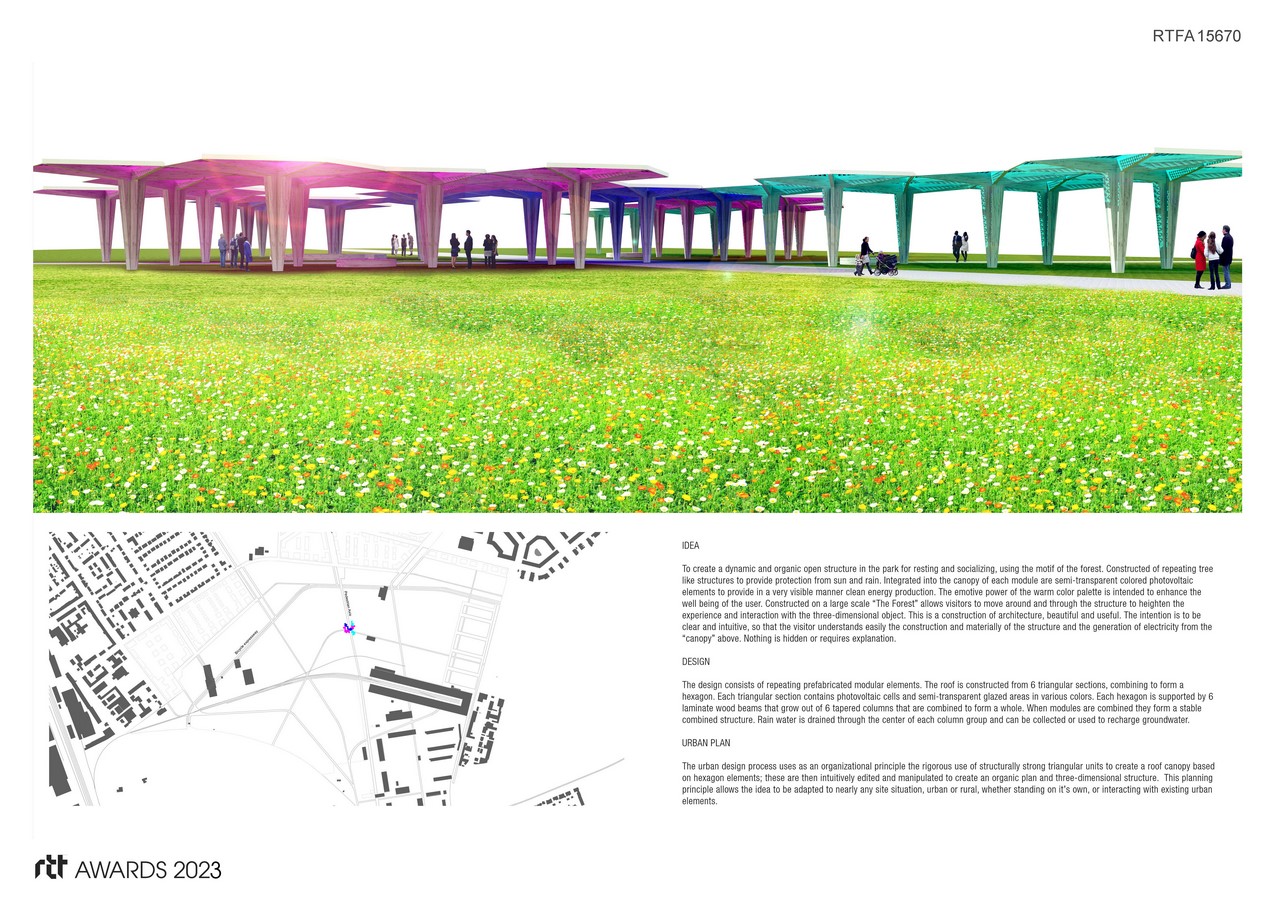 Constructed on a large scale "The Forest" allows visitors to move around and through the structure to heighten the experience and interaction with the three-dimensional object. This is a construction of architecture, beautiful and useful. The intention is to be clear and intuitive, so that the visitor understands easily the construction and materially of the structure and the generation of electricity from the "canopy" above. Nothing is hidden or requires explanation.
DESIGN
The design consists of repeating prefabricated modular elements. The roof is constructed from 6 triangular sections, combining to form a hexagon. Each triangular section contains photovoltaic cells and semi-transparent glazed areas in various colors. Each hexagon is supported by 6 laminate wood beams that grow out of 6 tapered columns that are combined to form a whole. When modules are combined they form a stable combined structure. Rain water is drained through the center of each column group and can be collected or used to recharge groundwater.
URBAN PLAN
The urban design process uses as an organizational principle the rigorous use of structurally strong triangular units to create a roof canopy based on hexagon elements; these are then intuitively edited and manipulated to create an organic plan and three-dimensional structure.  This planning principle allows the idea to be adapted to nearly any site situation, urban or rural, whether standing on it's own, or interacting with existing urban elements.
ENVIRONMENTAL IMPACT SUMMARY
Net Zero Carbon Emissions.
A) Sequestered carbon wood structure (Certified Managed Forests) = 130 tonnes.
B) Carbon to produce glazed roof with integrated photovoltaics = 50 tonnes.
C) Carbon payback photovoltaic cells 3-4 years.
The primary goal of the construction is to offset carbon used for production of elements with carbon sequester and clean energy production, net zero in construction. Project is entirely prefabricated, module, and can be dismantled and relocated including foundations.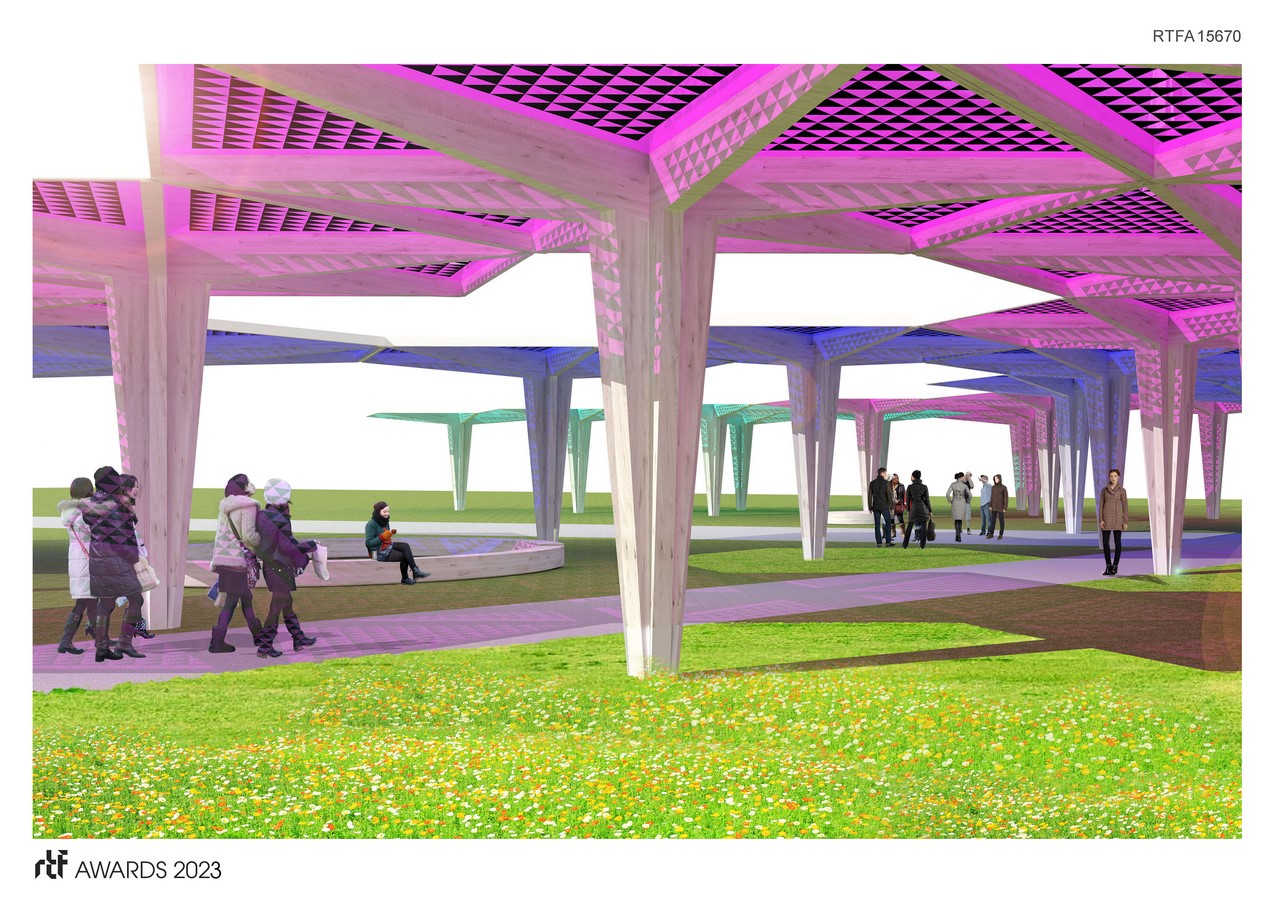 In addition, the project provides clean energy production in operation, with high aesthetic standards.
Timber from sustainable forests, laminated columns and beams. Carbon sequester.
Clean photovoltaic energy production.
Metals used are recyclable and from recycled sources.
Glazing with highest available recycled content.
Helical foundations, no concrete used, light site disturbance, reusable.
Semi-transparent roof allows for plant growth underneath entire construction.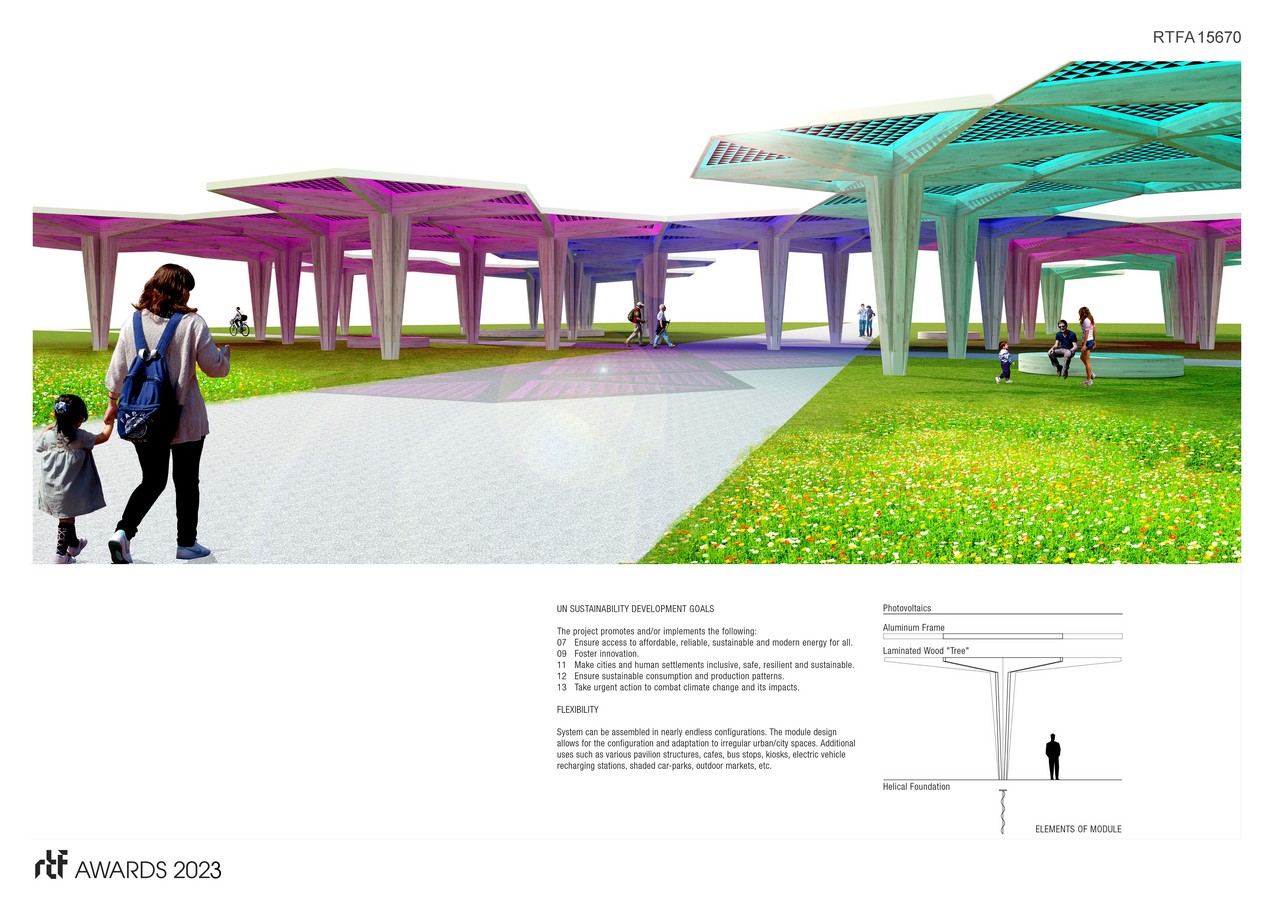 FLEXIBILITY
System can be assembled in nearly endless configurations. The module design allows for the configuration and adaptation to irregular urban/city spaces. Additional uses such as various pavilion structures, cafes, bus stops, kiosks, electric vehicle recharging stations, shaded car-parks, outdoor markets, etc.