Shenzhen Natrual Hisotry Museum is located adjacent to the picturesque Yanzi Lake in the Pingshan District of Shenzhen. The new 100,000 sqm facility will become a world-class natural history museum dedicated to interpreting the laws of ecological evolution, showing the geographies of Shenzhen and its ecology from a global perspective, and actively advocating science. Inspired by nature, the strategy for the site is to create an overlap between Yanzi Hill and Yanzi Lake to form a robust new River Delta that reflects the dynamism and richness of this ecology.
Rethinking The Future Awards 2023
First Award | Public Landscape Project (Concept)
Project Name: Shenzhen Natrual History Museum
Category: Public Landscape Project (Concept)
Studio Name: B+H-3XN-Zhubo consortium
Design Team: Barry Day, Wing Cen, Zikai Zhuang, Jireh Dagdag, Wynne Ng
Area: Shenzhen, China
Year: Under construction, to be completed in 2025
Location: Yanzi Lake, Pingshan District, Shenzhen, China
Consultants:
Photography Credits:
Render Credits: 3XN, B+H Architects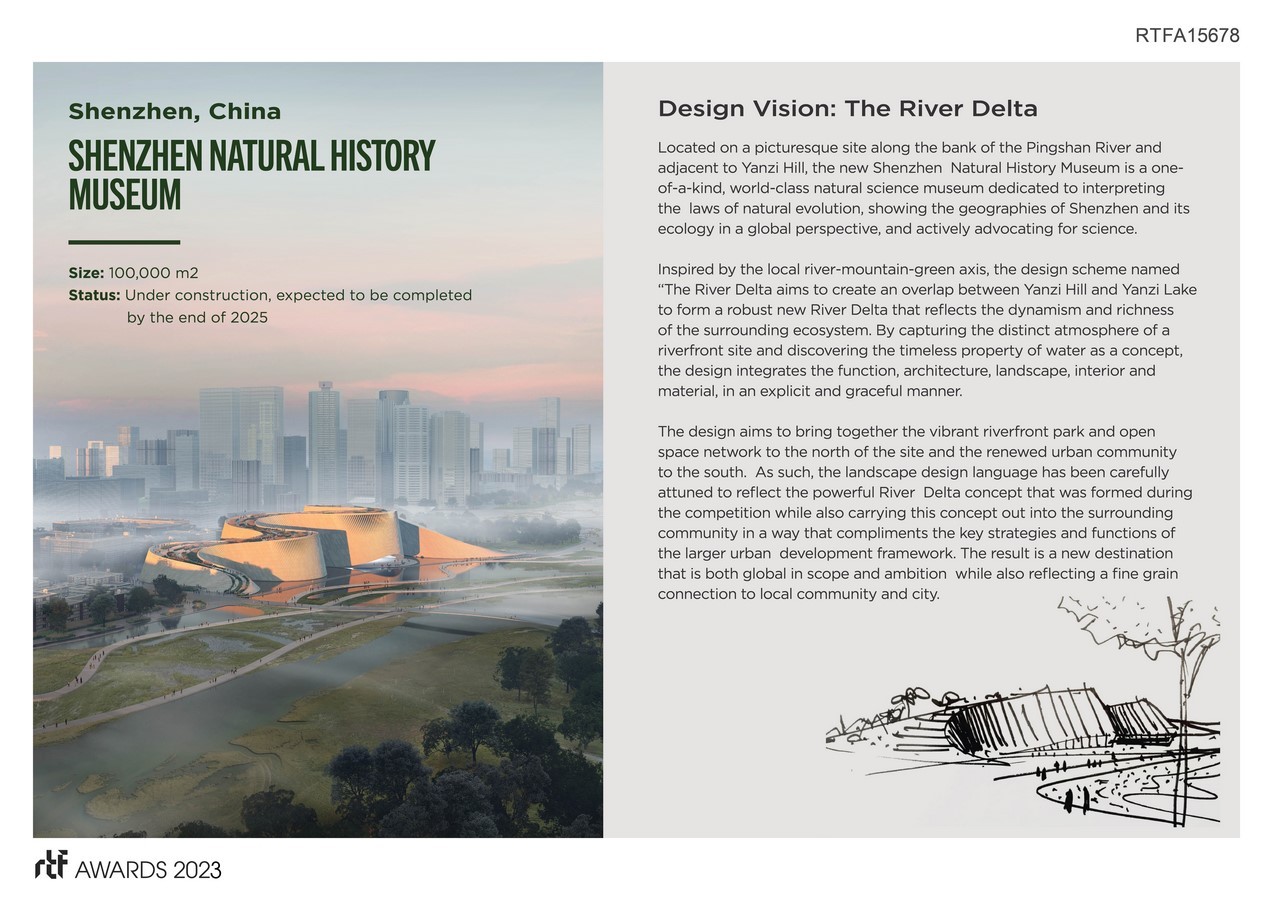 The Shenzhen Natural History Museum, with its central location, will act as both the anchor and cultural generator within this vibrant new urban ecosystem. The structure emerges softly from its natural surroundings and connects Yanzi hill on the north-west with the newly established Yanzi Lake to the east. In a symbiotic process between the built environment and the surrounding nature, the museum borrows its concept from the natural flowing river formations, blurring the boundary between architecture and nature in a continuous dialogue.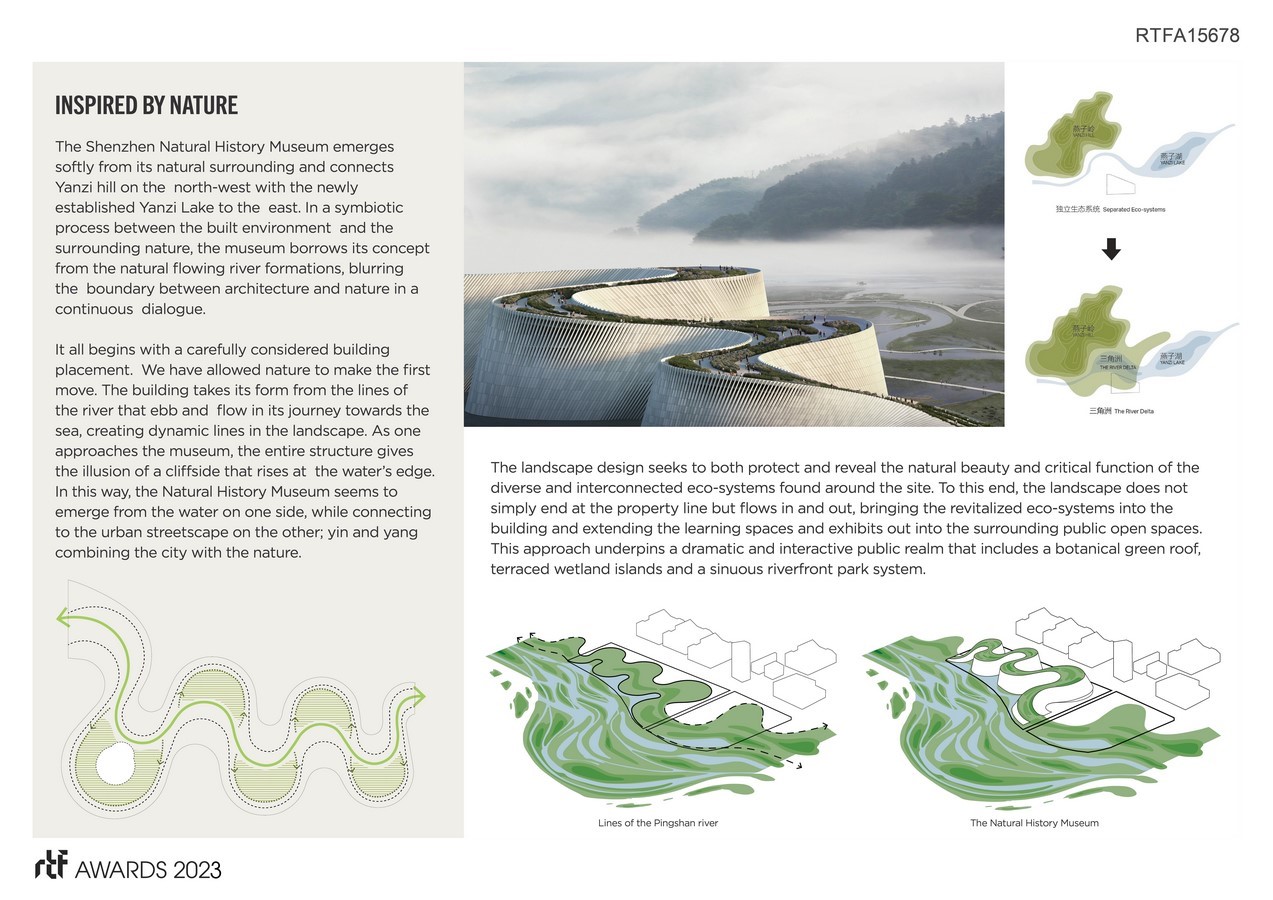 The museum finds its shape along the river's natural lines, as if the river flow slowly eroded through the soft geological layer and finally revealed its core volume. The vertical cliff sides are framed by water at the base and topped by a lush and active public park. Visitors to the museum will embark on a journey through natural history in each of the exhibition spaces. The different stages of nature's history can also inform the interior design vision throughout the museum to create a completely immersive experience for visitors. The landscape design aims to bring together the vibrant riverfront park and open space network to the north of the site and the renewed urban community to the south.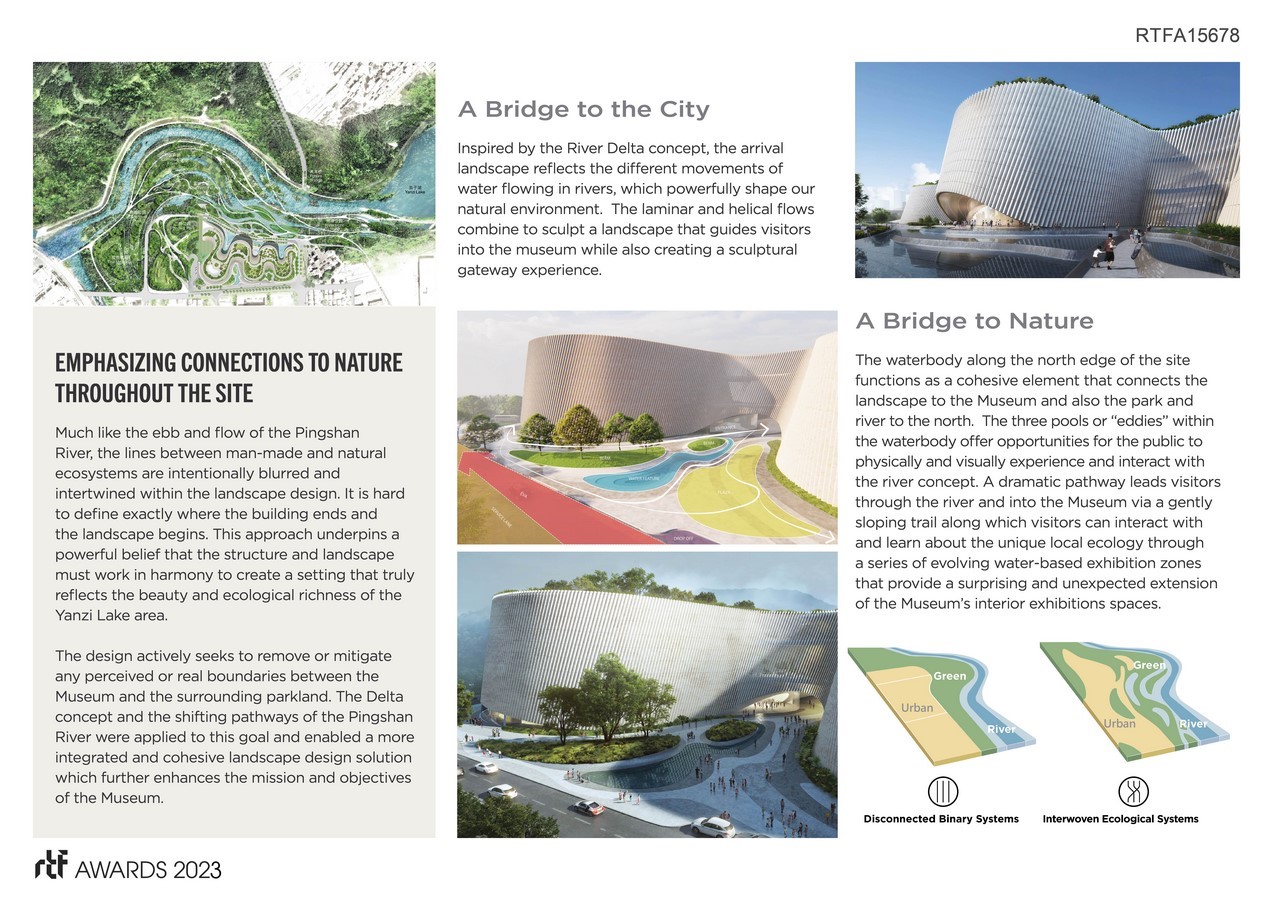 As such, the landscape design language has been carefully attuned to reflect the powerful River Delta concept that was formed during the competition while also carrying this concept out into the surrounding community in a way that compliments the key strategies and functions of the larger urban development framework. The result is a new destination that is both global in scope and ambition while also reflecting a fine grain connection to local community and city. The design concept considers the full life cycle of the building and proposes the use of locally sourced and upcycled materials. The design incorporates a wide variety of sustainable strategies such as water recycling, green roofs, biophilia, and smart technologies, which will contribute to maximizing energy, water, and resource efficiency, and create an environment that promotes well-being.