"Although the form isn't of a typical mosque, it impeccably functions like one, satisfying the need for user segregation, directionality towards Mecca, and the most nuanced program requirements. Made up of layered shells, the largest one doubles as a dome typical in a mosque, also as a mihrab pointing towards Qibla, and a shield against thermal gain that shades the building. The resulting sculptural form will pose as a seashell, a pearl, or a monumental Mihrab all depending on the viewing angle while capturing the essence of Islamic architecture with its minimalist geometric character."
-Studio Bassal
Rethinking The Future Awards 2021
Third Award | Cultural (Concept)
Project Name: The Iconic Mosque
Studio Name: Studio Bassal.
Design Team: Hazem Bassal.
Area: GFA=9,750 sqm.
Year: 2018
Location: Dubai, UAE.
Design Brief as described by Client.
The mosque is to be designed as a large Iconic Mosque which will have capacity to hold regular daily prayers as well as Friday and Eid prayers.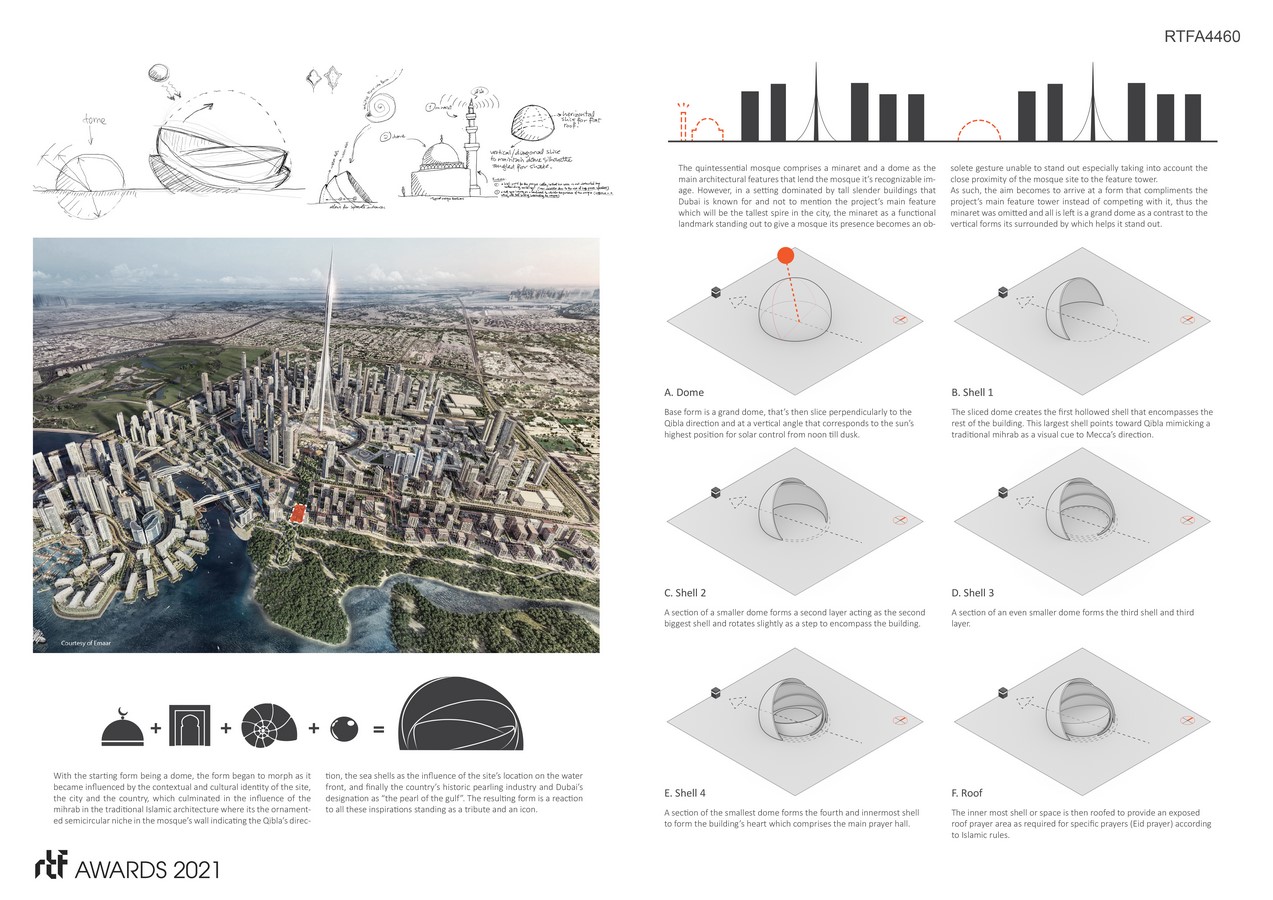 Capacity Requirements
Dubai Creek Harbor total population: 175,000 pax
Worshipper capacity: 7,500pax
The roof of the Mosque should be utilized as an open prayer area that can accommodates 2000 worshippers.
Plot area: 18,504 sqm
Max GFA: 9,750 sqm
Max. Permissible levels: G+1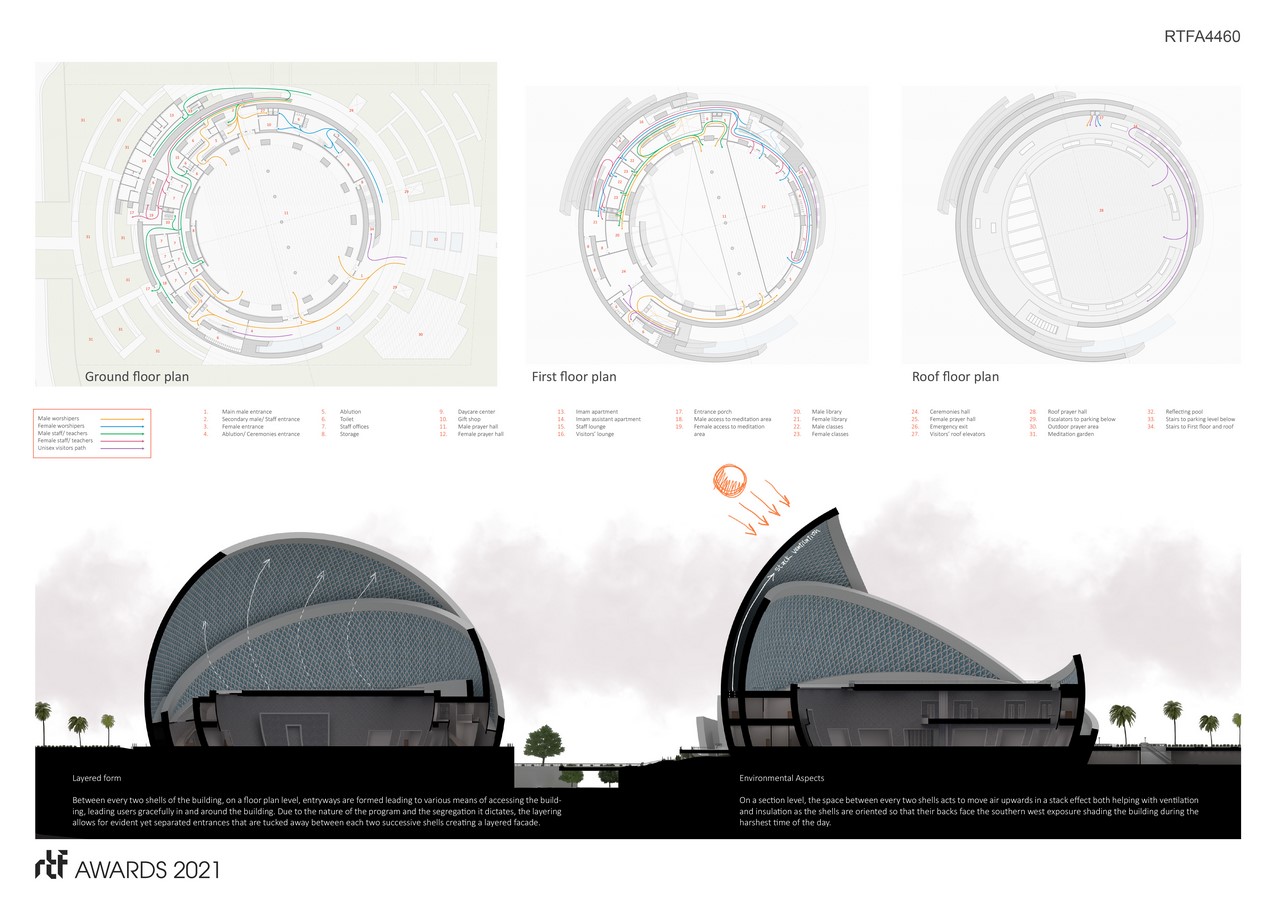 Design Guidelines
The Mosque should be placed in line with the Creek Tower and Linear park axis
The Main Prayer Hall should preferably be rectangular, such that the longer edge is along the Qibla wall
Adequate parking for the visitors to be provided in the basement level below the mosque in accordance with authority regulations.
The mosque plaza should be designed in a way that excess capacity of worshippers can spill out in the plaza space during Friday/ Eid prayers if required. The plaza should also be designed so it can act as a public space & tourist place.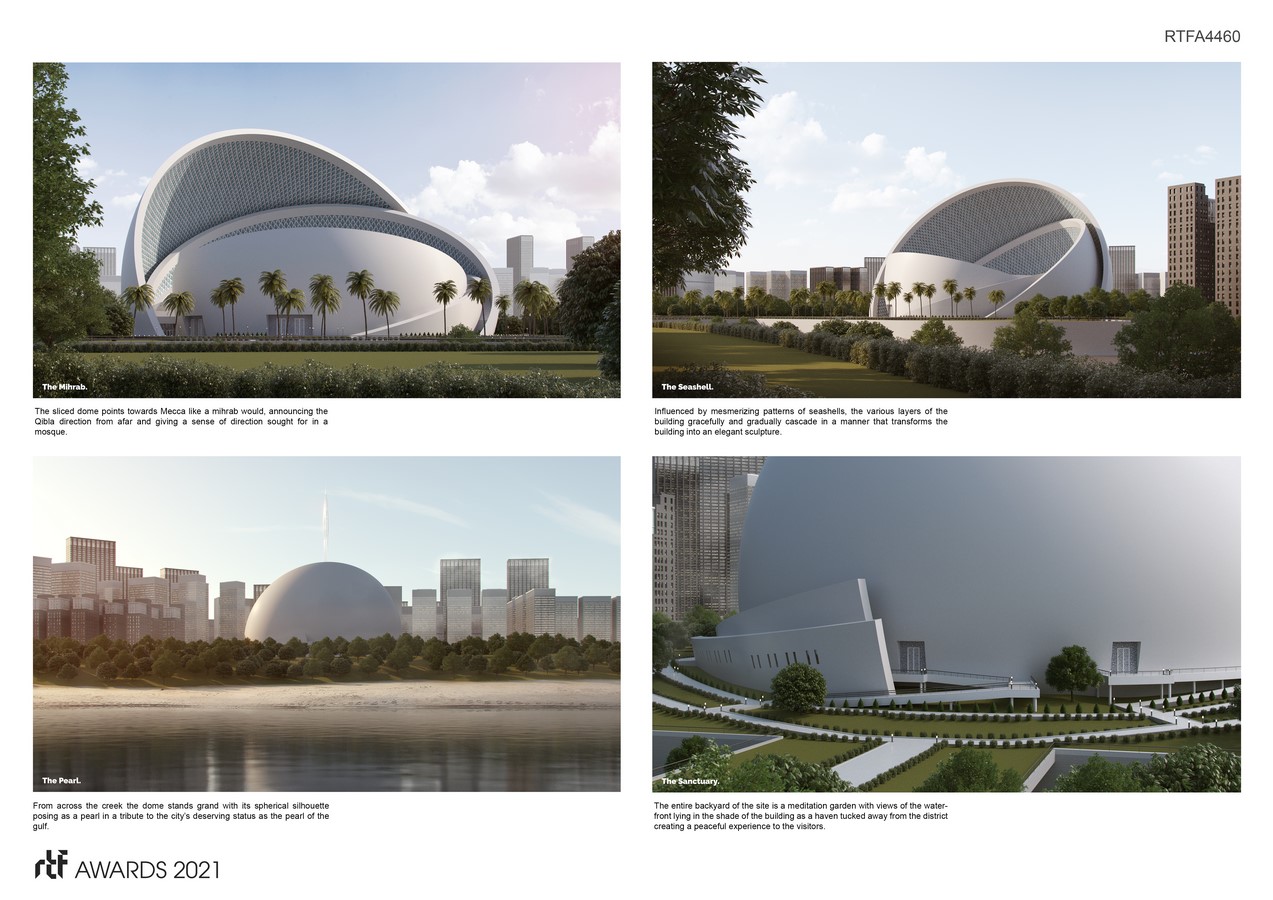 Functionality
The mosque should as a minimum contain the key programmatic components required by Dubai Municipality for an Eid mosque including but not limited to:
Segregated male and female prayer halls – 85% Male & 15% Female
Ablution areas – 180 sqm
Toilets – 180 sqm
Library & Quran teaching rooms – 200 sqm
Imam and Muathen quarters – 3 BHK (roughly 130 sqm)
Ancillary functions such as Imam's office, Admin, Storage – 300 sqm
Outdoor spaces- Gardens/ contemplation areas