Theater Zuidplein houses two auditoriums, a café/restaurant and a branch of the Rotterdam Library. It is part of a region-wide public-private partnership development that will provide Rotterdam-Zuid with an inviting place for leisure, living, staying, shopping and enjoying culture. The central location beside the bus and metro stations easily attracts passersby to take a peek inside, making art and culture accessible to a wider audience.
Global Design & Architecture Design Awards 2021
First Award | Category: Cultural (Built)
Project Name: Theater Zuidplein
Project Category: Architecture: Cultural
Studio Name: De Zwarte Hond
Leading Architect De Zwarte Hond: Bart van Kampen
Design team De Zwarte Hond: Clementien Peeters, Thomas Drenth
Partner Designers: BURO M2R: Martijn Sorée, Roger Teunisse; Studio RAP: Wessel van Beerendonk
Area: The Netherlands
Year: completed in 2020
Location: Rotterdam
Consultants:
Contractor theatre wall: Aldowa
Acoustics consultant theatre wall: Arup
Acoustics and building physics consultant: DGMR
Theatre consultant: Theateradvies bv
Structural engineer: Zonneveld
Building contractor: Hart van Zuid
Services (design and realisation): Hart van Zuid
Process management: Municipality of Rotterdam
Photography Credits: Scagliola Brakkee
Text Credits: De Zwarte Hond
A semi-transparent anodised aluminium veil drapes delicately over the entrance. The entrance area hosts the main public functions such as the library reading tables and the café/restaurant. By day, the semi-open facade creates a beautiful play of light inside, and by night, the facade illuminates from within to highlight the inviting entrance.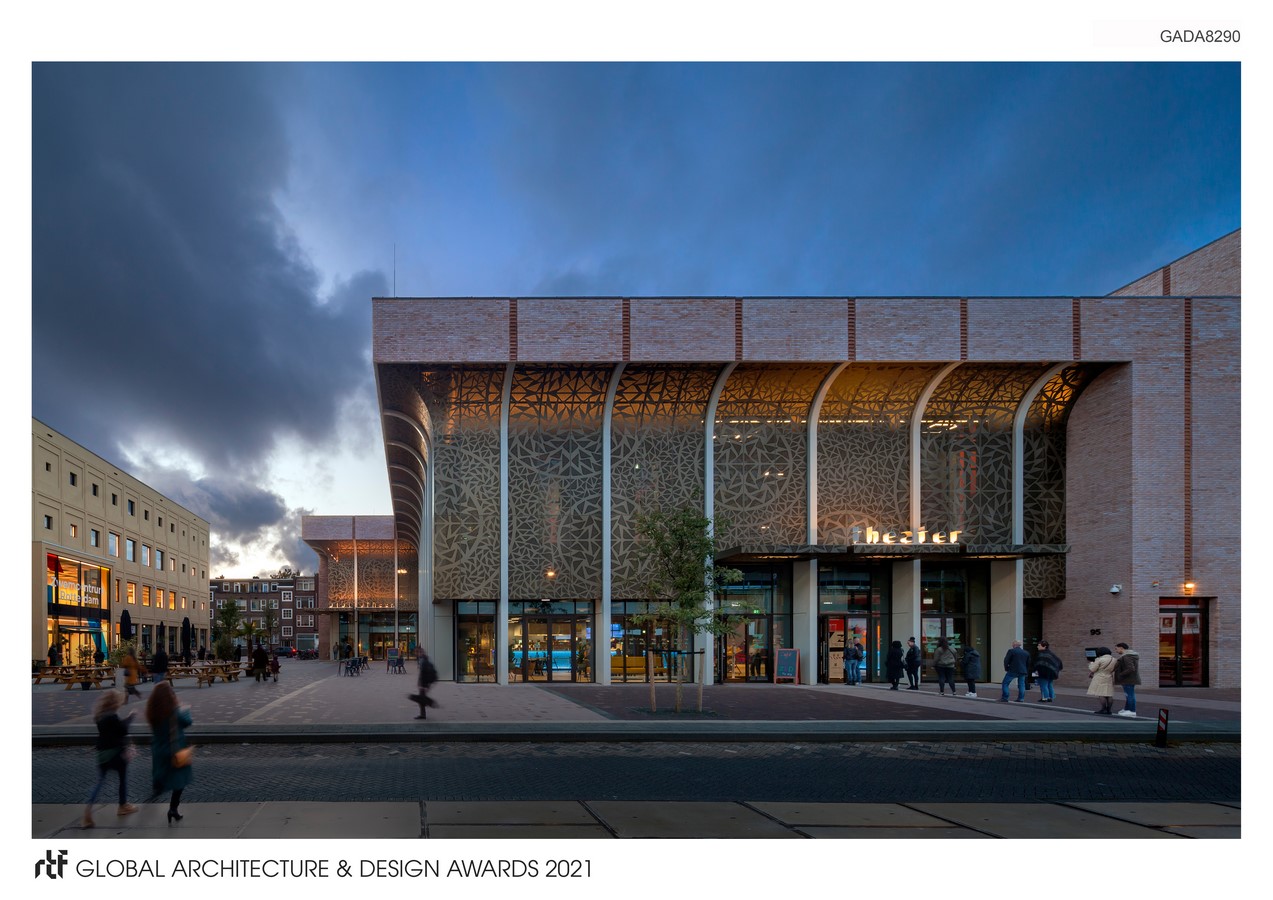 The high lobby forms the heart of the building. Every function is directly or indirectly connected with this space, where there is always something to do and discover. Functioning as a 'living room' for Rotterdam-Zuid, the lobby has an extra stage that hosts popular activities such as children's performances and other community-focused initiatives, bands and DJs and exhibitions.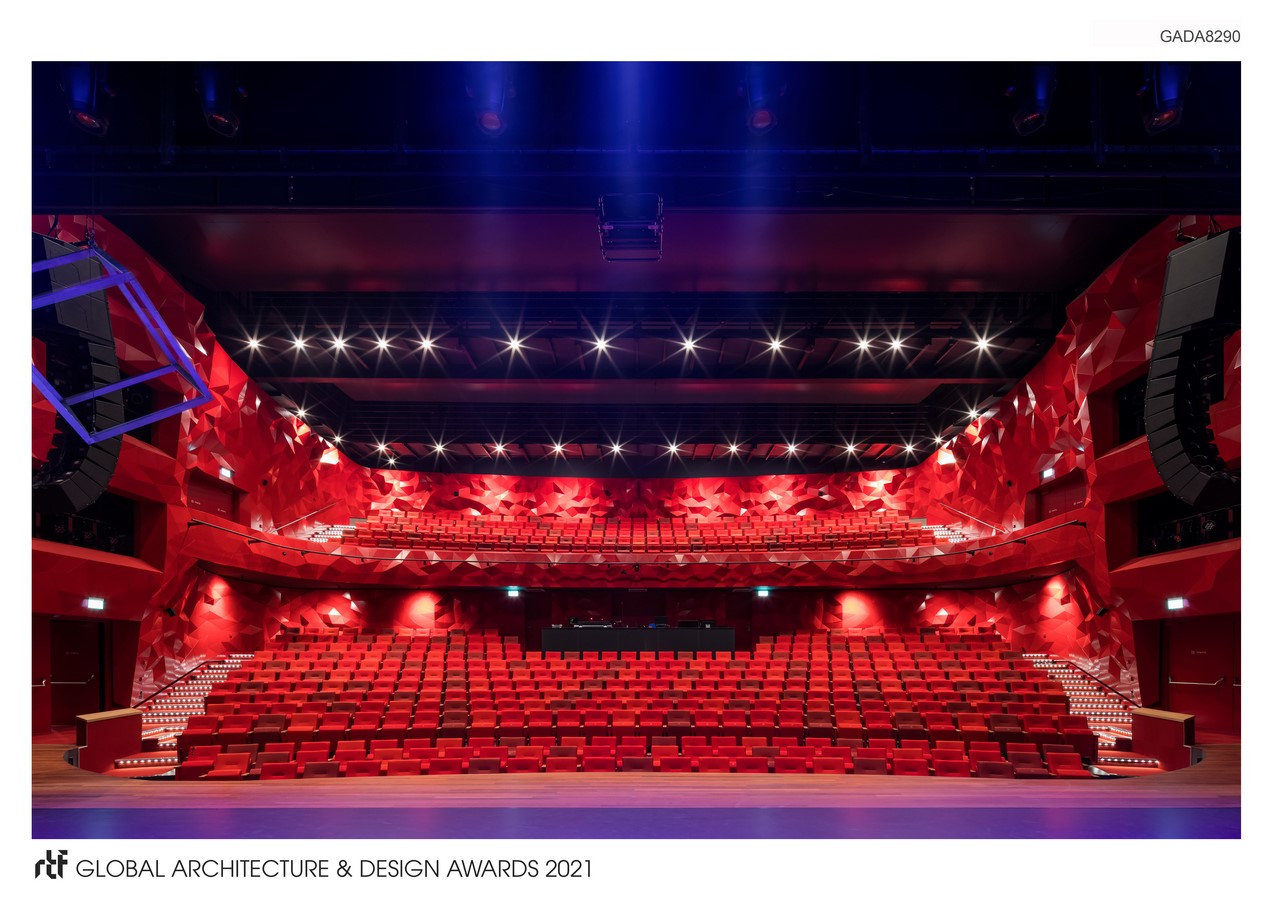 The new public square in front of the building acts as an extension of the lobby and allows the theatre to profile itself even more strongly in the neighbourhood. The 600-seat main auditorium has an acoustic wall that embraces the audience and performing artists in one fluid gesture and is crafted from 6,000 different triangular aluminium composite panels – an unexpected choice of material for a theatre.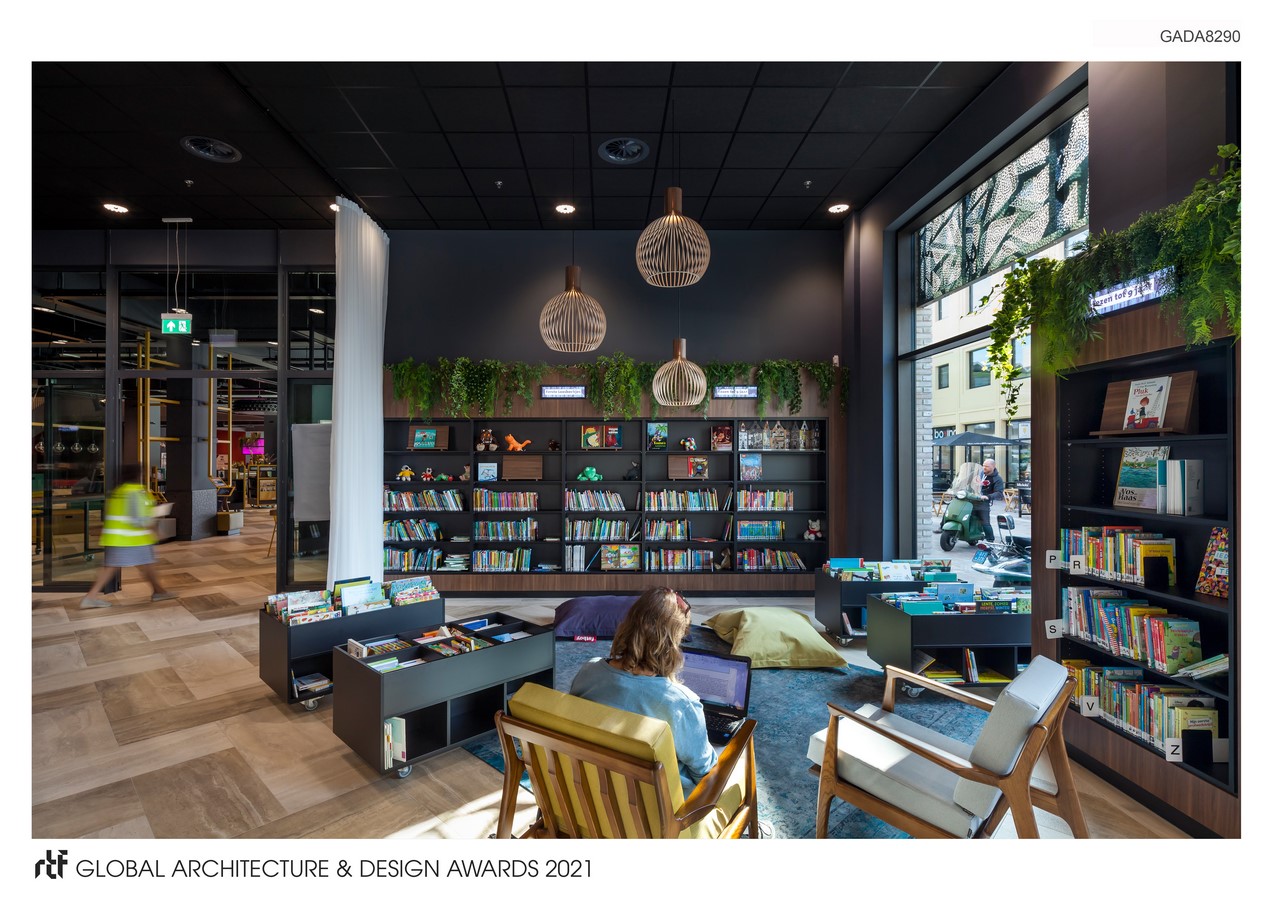 Algorithms calculated the positioning of the panels to create optimum acoustics. Also unique is how the auditorium adapts to standing concerts. The stage – whose surface area exceeds the hall – can easily be converted into a multipurpose space that fits a maximum of 1,000 standing or dancing visitors. This means comfortable fixed seating could be installed in the auditorium.