Fundación Santa Fe Outpatient Care Tower (FSFB OCT) is an interior design project located across a semi-pedestrianized street from Santa Fe hospital's iconic brick plaza and gardens. A receiving courtyard and an array of green stairways interconnect the public spaces of the tower in an ascending interior pedestrian spiral that elevates throughout its 10 levels. Drawing from the brick plaza's spatial qualities, the program's innate demands, a year-long in-depth local research, and scientific evidenced-based design studies, different health-promoting spatial attributes were matched to each medical specialty and tower level. As a result, the project generates a site-specific, appealing and heterogeneous pathway of wellbeing environments.
Global Design & Architecture Design Awards 2021
First Award | Category: Interiors – Healthcare & Wellness (Concept)
Project Name: Fundación Santa Fe Outpatient Care Tower
Studio Name: Aei Spaces
Area: 2,200m2
Year: 2020
Location: Bogotá, Colombia.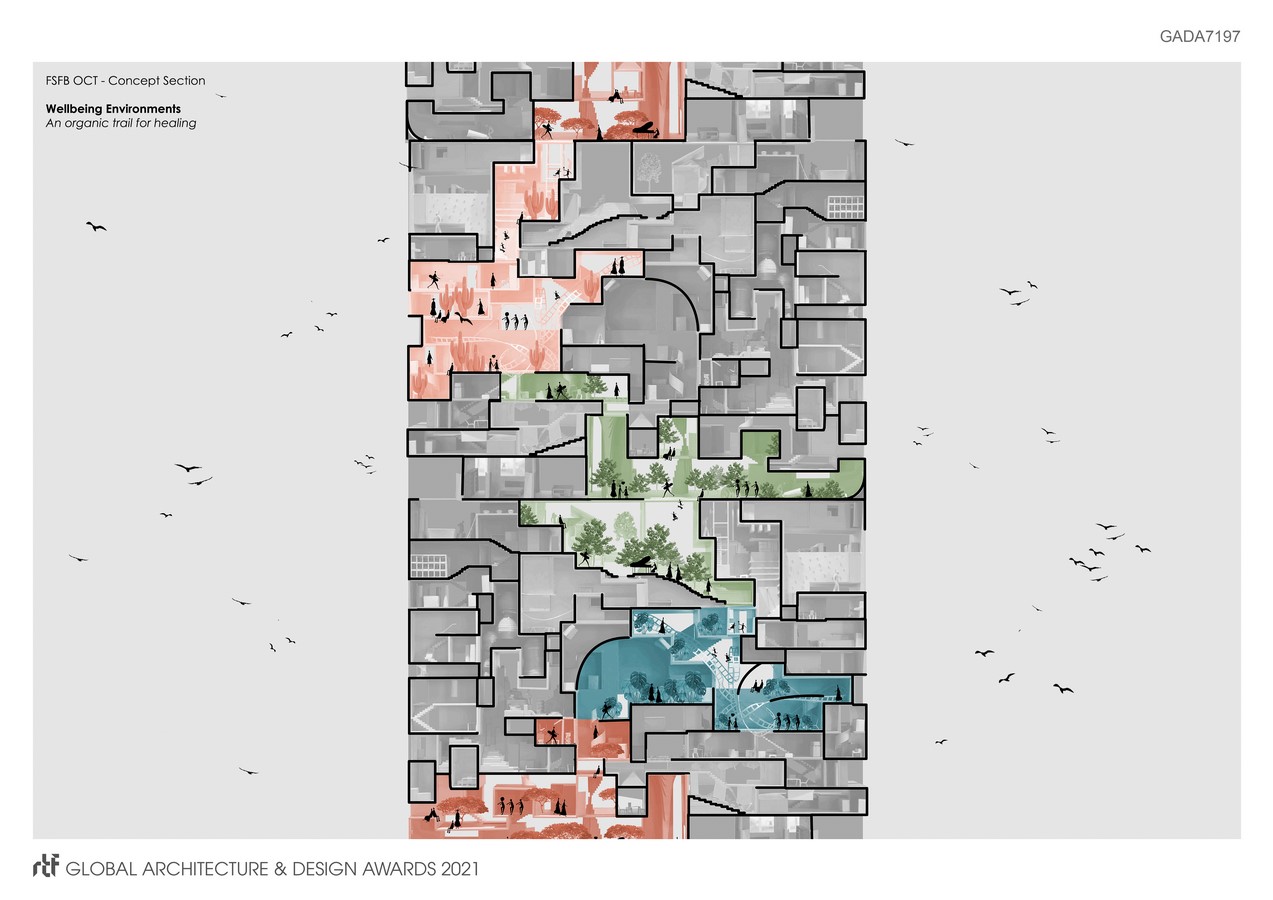 At its core, the design applies 3 general attribute schemes. First, FSFB OCT generates a framework for sensory comfort and wellbeing, composed of calm-promoting pastel colors, allergy-friendly plants, diverse ergonomic waiting positions, sound-controlling ceilings, varied group accommodations, comfortable lighting design, diverse privacy gradients, antibacterial hygienic materials, view-framing via suspended façade ceramic cylinders, and biophilic geometries and patterns, among others.
Second, it employs an intuitive information and service system characterized by the diversification of deliverance strategies, such as person to person assistance, sms-turn services, interactive digital screens, spatial clarity, and graphic and physical signage. Additionally, all personalized assistance is done face to face on a casual, approachable, and humane environment. Third, the project focusses on activity as a means for active healing and engagement. As such, all levels enjoy spaces designed for work, socialization, reading, privacy, and medical education, such as mini-theaters, besides a flexible activity program of changing schedules and areas.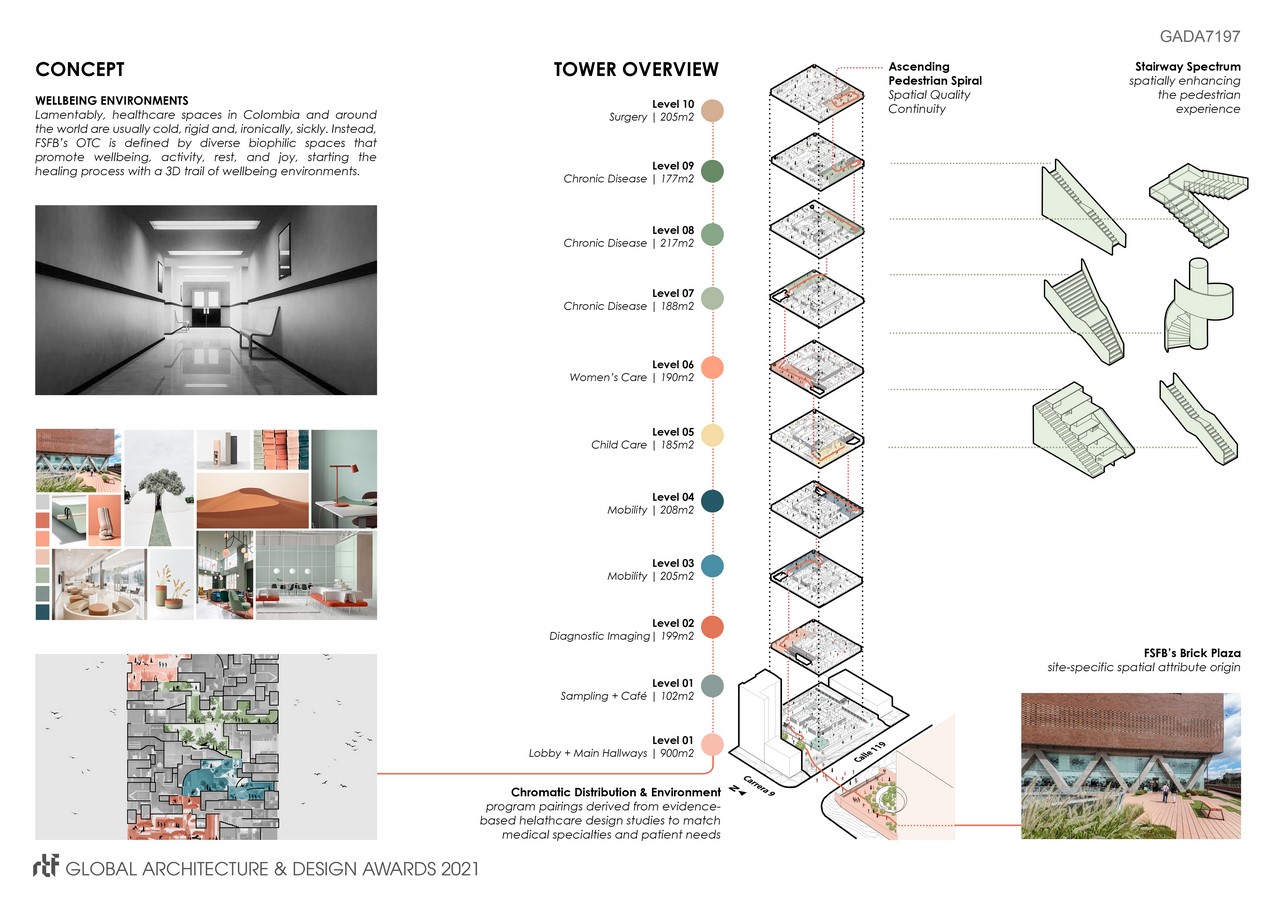 Moreover, as each level hosts a different medical specialty, they hold unique attributes that differentiate their services. First, besides their distinctive plant species, all levels have a unique color extracted from the iconic FSFB plaza and reflected on the flooring and the signage of the information system. And, more importantly, each level offers direct healing services directly associated with their specialty.
For instance, the chronic gastroenterology level is designed with a healthy food garden and store, the child care level is defined by its abstract playground, and the mobility levels' patients can make use of an AI-assisted orthopedic walking track while waiting. Altogether, these attributes are balanced and exploited to configure uniquely appealing atmospheres within the constraints of the project's aesthetic continuity and experience.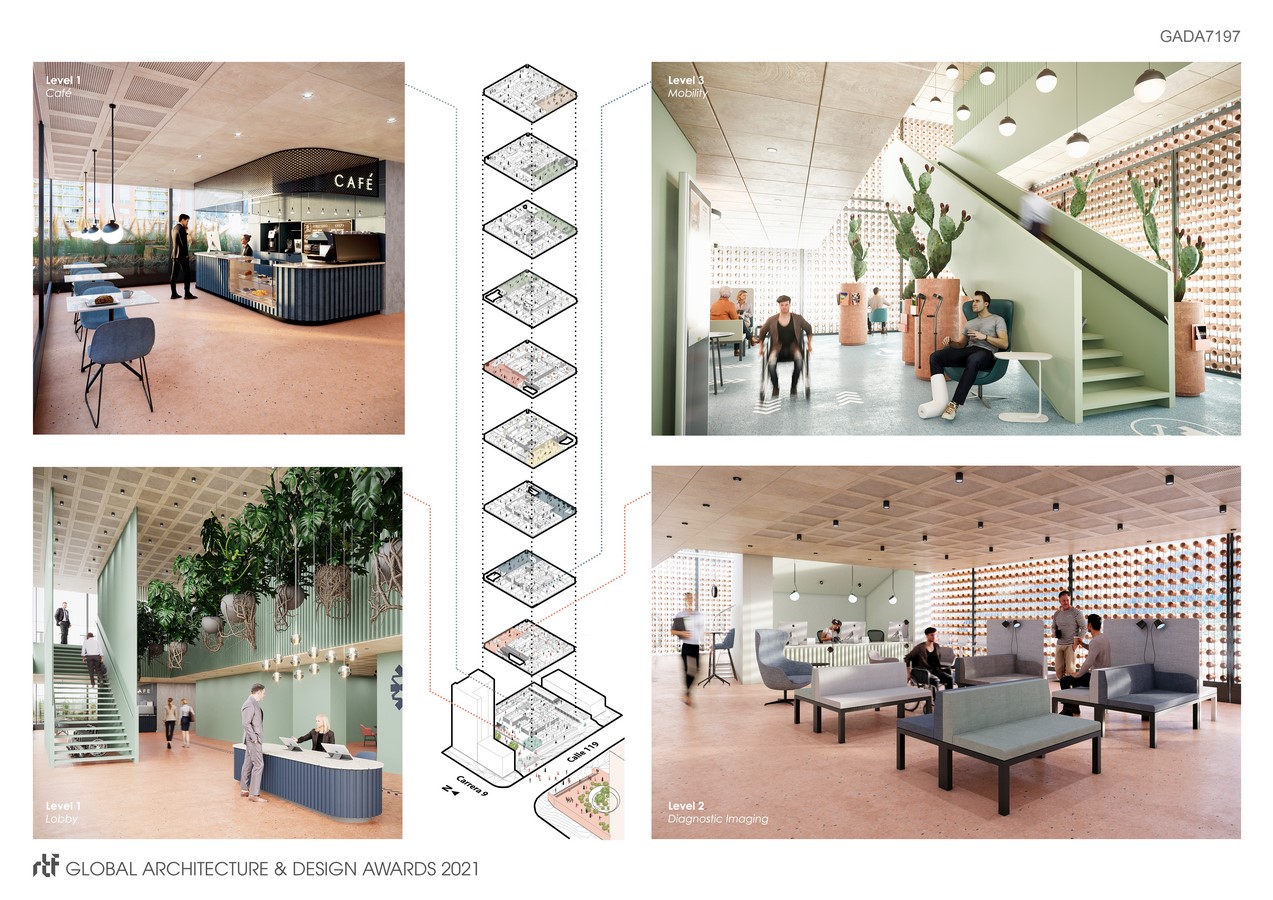 All in all, creating a heterogeneous trail of serene environments designed to promote wellbeing through evidence-based design and biophilia, FSFB OTC challenges the cold stereotype of healthcare spaces in Colombia and offers design as a means for healing and innovation.
Tribute: This project is dedicated to all the generous, interdisciplinary, and insightful people that collaborated with its design via participative workshops, interviews, and conversations. It resonates with the Fundación Santa Fe community, including patients, family members, doctors, service providers and associated design studios, in their aspiration to improve the healthcare outlook in Colombia. Hopefully, FSFB OCT will raise awareness of the value of design and promote the development of well-thought healthcare experiences in Colombia and beyond.