Tucked midblock on Eddy Street between Larkin and Hyde, the steel frame structure is a modern addition to the existing 1962 substation building designed by PG&E to supply power to the northeastern part of the City.
Rethinking The Future Awards 2021
Second Award |  Industrial (Built)
Project Name: Larkin Substation Addition
Studio Name: TEF Design
Design Team:
PRINCIPAL IN CHARGE – Andrew Wolfram, AIA
PROJECT MANAGER – Paul Cooper, AIA, LEED AP BD+C, DBIA
PROJECT DESIGNER – Justin Blinn, AIA, LEED AP BD+C, LFA
Area: 12,200 SF
Year: 2018
Location: San Francisco
Consultants:
PG+E DESIGN SUPERVISION – urb-in
GENERAL CONTRACTOR – Plant Construction Company, LP
LANDSCAPE – Creo Landscape
CIVIL ENGINEER – BKF Engineers
STRUCTURAL – Rutherford + Chekene
MECHANICAL/ELECTRICAL/PLUBMING – MHC Engineers, Inc.
LIGHTING – HortonLeesBrogdenLighting Design
SUSTAINABILITY CONSULTANT – Thornton Thomasetti
FIBER REINFORCED POLYMER (FRP) PANELS – Kreysler&Associates
Photography Credits: Mikiko Kikuyama Photography, mikikokikuyama.com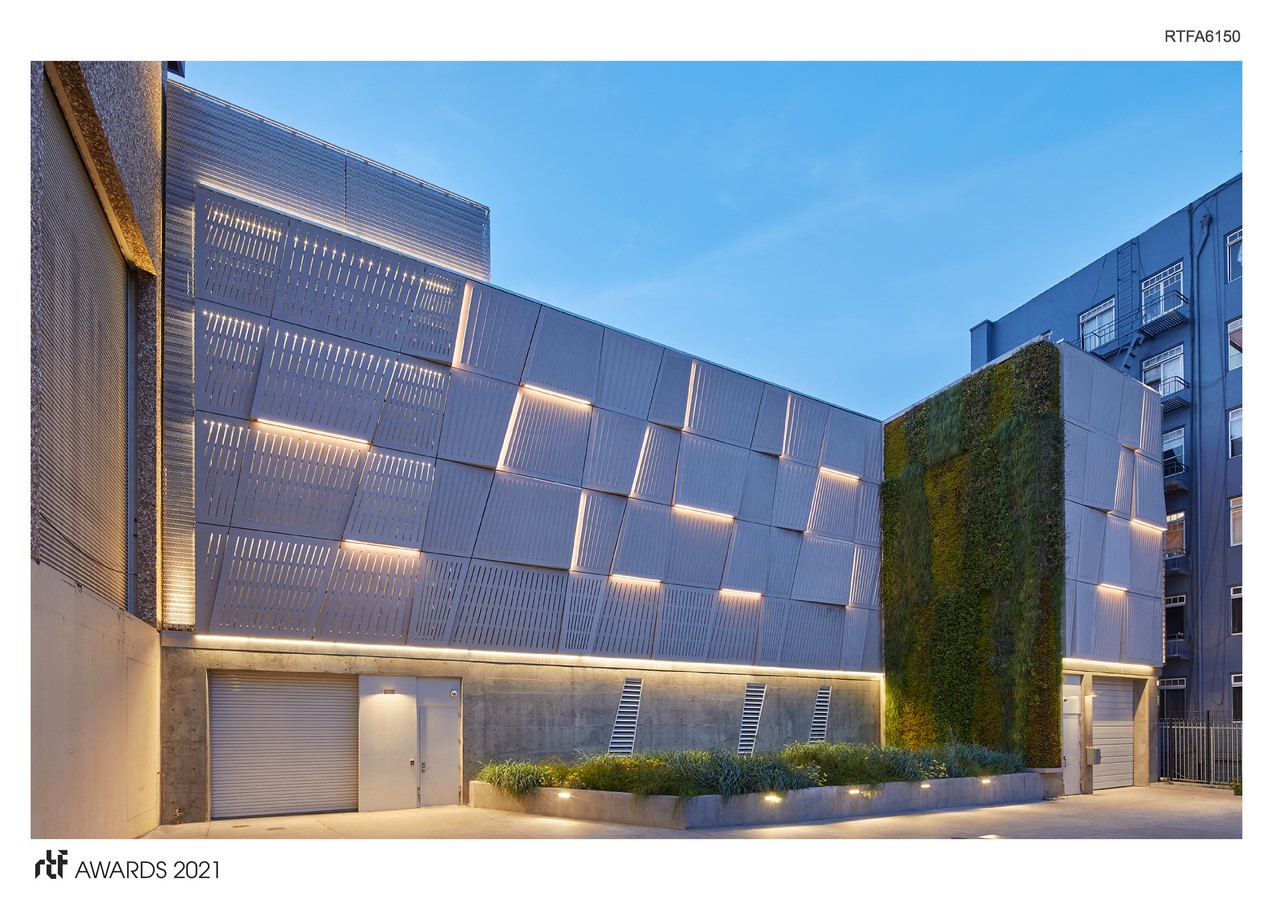 The innovative goals for an industrial building were to be a net zero electric building and to make a positive visual contribution to the somewhat relentless urban cityscape.  The building facade adds to the neighborhood in two main ways: the first being its dynamic and ever-changing qualities; and the second with a biophilic green wall, which adds to a neighborhood with otherwise limited natural beauty.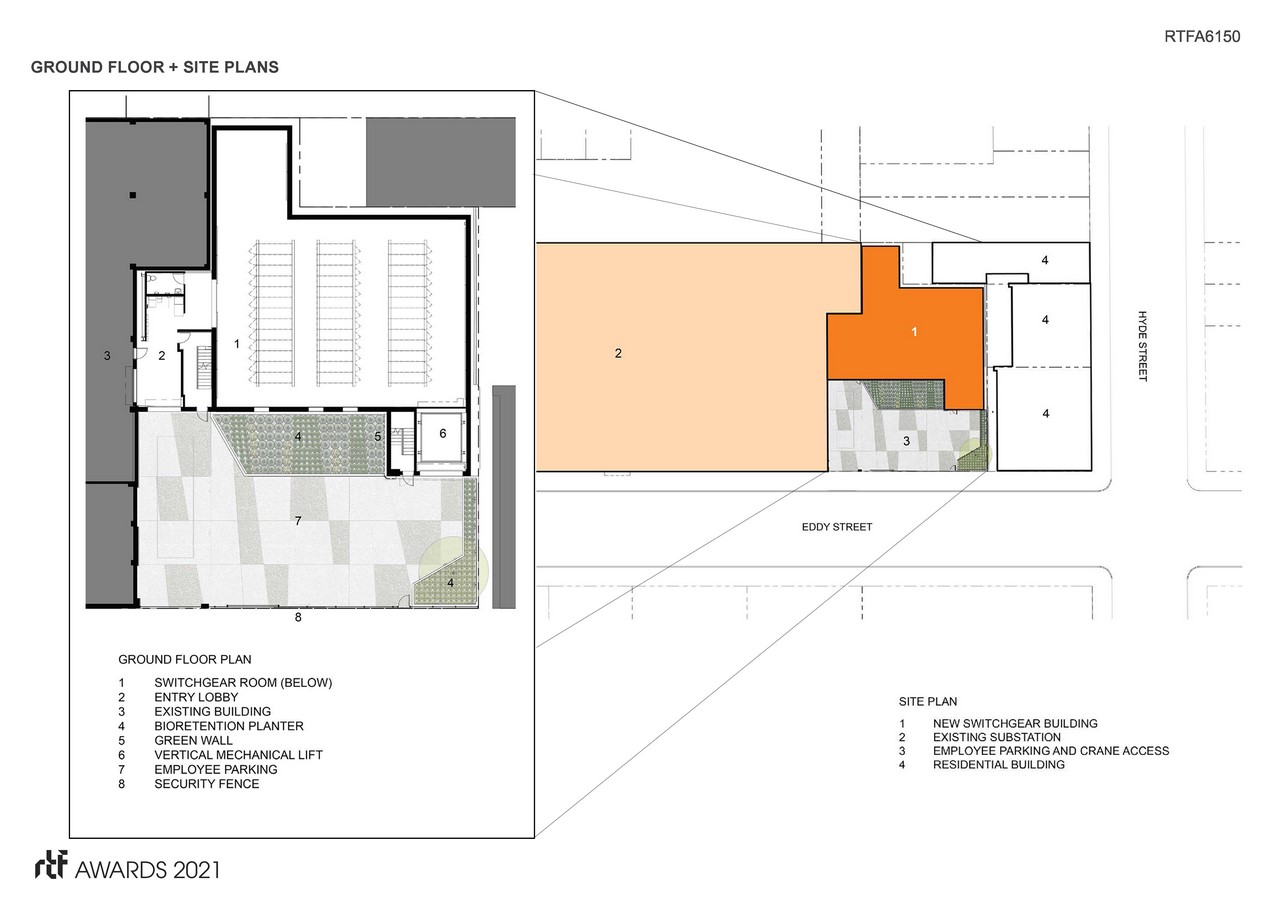 The PG&E Larkin Substation Addition is set to be the first net-zero electrical switchgear utility building to get a rating from the International Living Future Institute's (ILFI) Living Building Challenge. The design team collaborated with ILFI in order to establish a rating system for registering the unprecedented building type. The project had a primary goal of achieving zero net energy for the base building (not including process energy) by limiting space conditioning and lighting energy use in particular. To achieve this, a low-energy approach to space conditioning was utilized: fresh, filtered, outside air was brought into the space and then through natural convection (aided by strategically located exhaust fans at the roof and first floor) ambient air temperature is maintained within optimal ranges for the equipment. Additionally, high efficiency LED lighting is utilized throughout, including at the exterior. The combined energy load is then offset by on-site photovoltaics located on the roof of the building.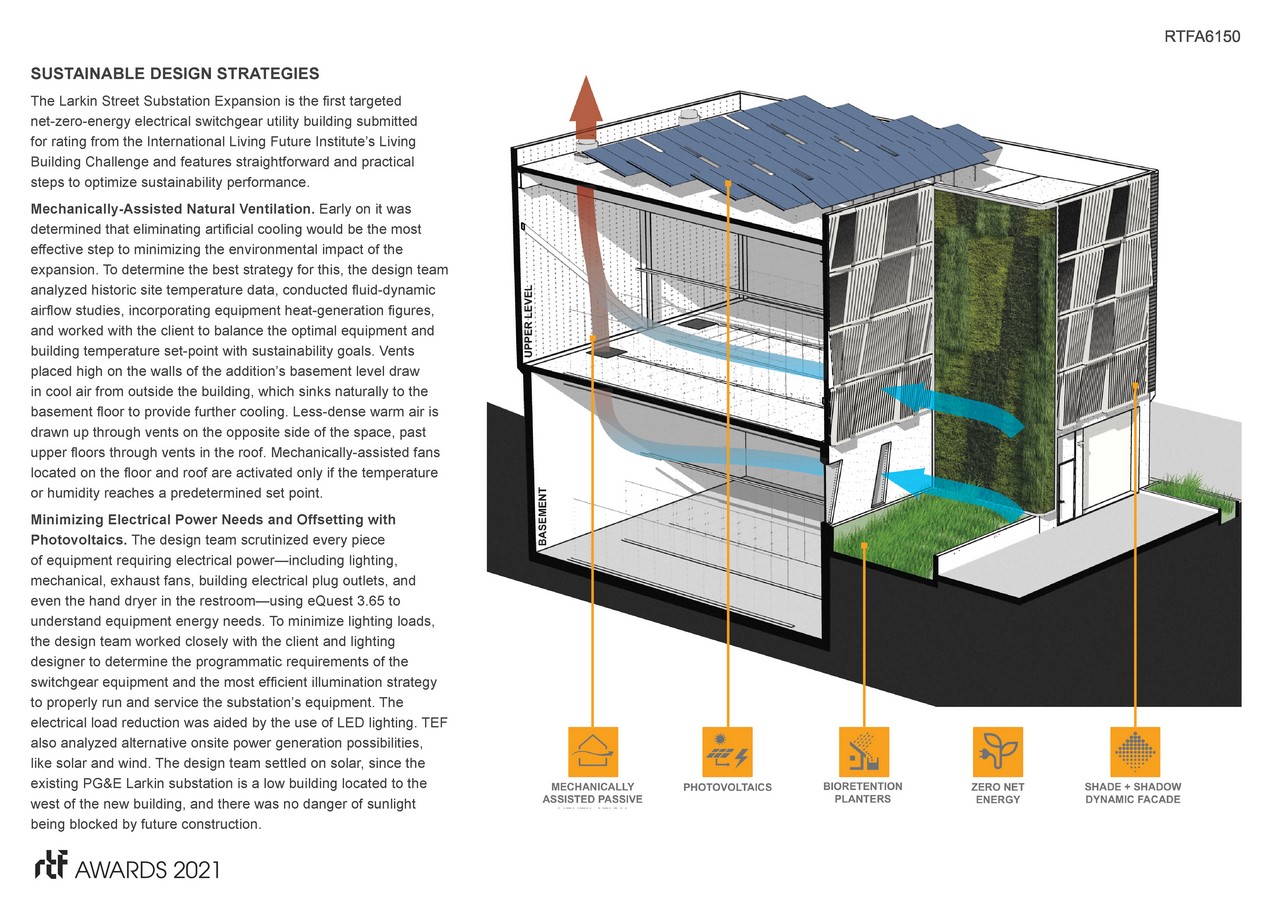 On top, 60 kw solar panel arrays offset the building's energy consumption.  Large vents at the base of the building exploit the City's cool temperatures through natural ventilation that help eliminate the need for artificial cooling and reduce the building's energy load by nearly 40 percent.  Inside, supplemental fans, triggered only at high temperatures, help to cool the building only when needed.  A comprehensive deep dive to understand the electrical needs of each discreet piece of equipment — from mechanical systems to the hand dryer in the restrooms — led to an incremental load reduction.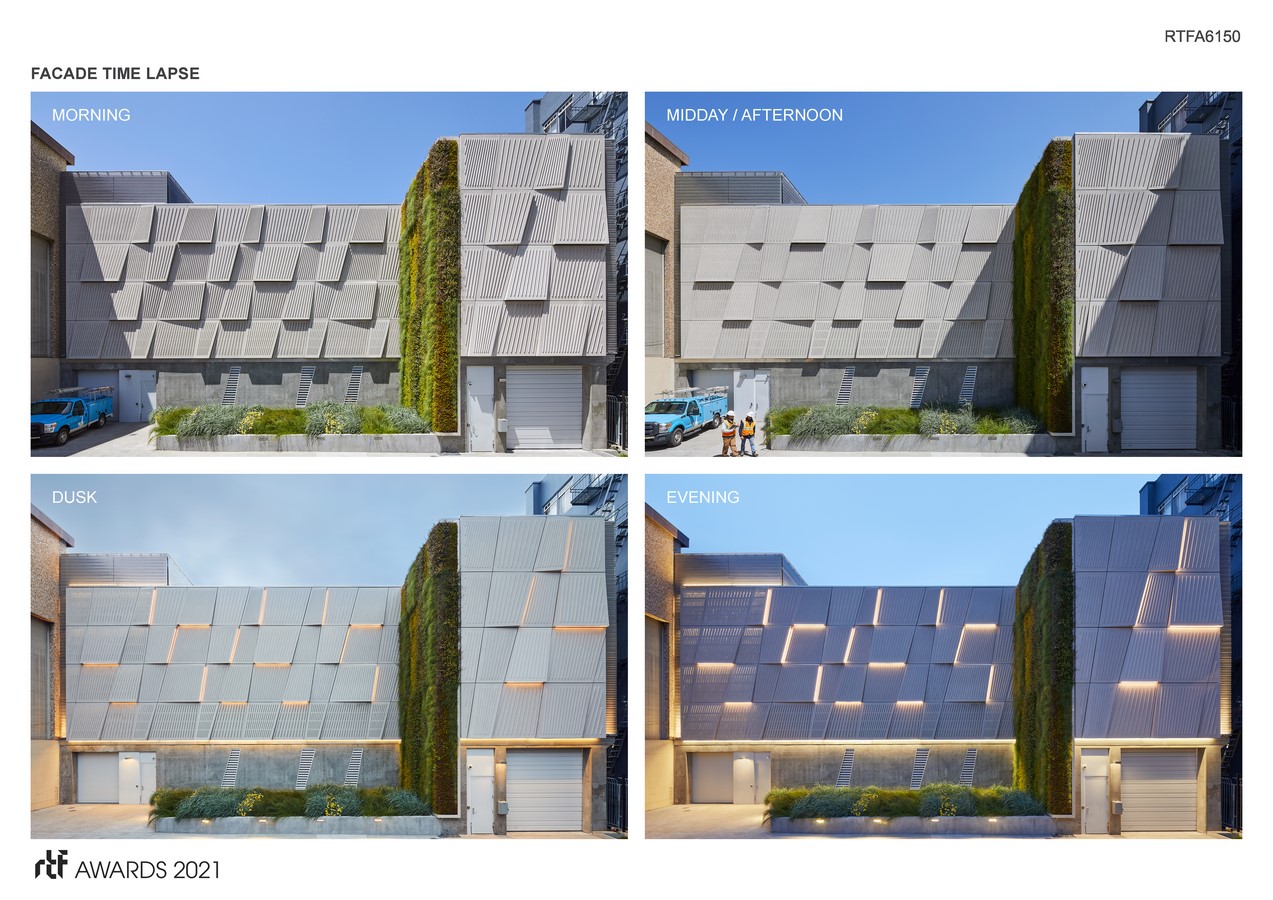 The utilitarian structure features street-facing façades that integrate three types of GFRP panels — sloped, perforated, and ribbed — to form a faceted surface that belies its otherwise modest materiality.  Each panel is individually crafted and unique, with ribs that cast linear shadow patterns in sunlight, creating an ever-changing surface throughout the day and year.  Sloped panels embedded with lighting fixtures pulsate across the building at night, expressing the City's dynamic electrical power grid. The west-facing green wall, planted in a geometric pattern that echoes the faceted concrete walls, provides biophilic relief to the urban block while asserting its contribution to green values. A fine-grained metal mesh provides a transition between the existing and new addition and is also used to bookend the façade.