On the ground floor of Google headquarters in Chelsea, Manhattan, the architecture and interiors of Google's first physical retail location on 9th Ave. and 15th Street are playful and pragmatic, bringing a unique focus to the interplay of good design with human perception.
Global Design & Architecture Design Awards 2021
First Award | Category: Interiors – Retail (Built)
Project Name: Google Store New York
Project Category: Retail (built)
Studio Name: Reddymade
Design Team: Suchi Reddy (Principal), Sally Leung, Megan O'Brien, Suha Samara, Tianbo Liu, Ezra Wu,  Morgane Dugas, David Cook, Merve Simsek
Area: 8,855 square feet
Year: 2021
Location: New York City, New York, USA
Consultants:
Contractor                                           Michilli Inc.
MEP Engineer                                     Rosini Engineering
Structural Engineer                             Stratford Engineering
Accessibility and LEED Consultant      Steven Winters Associates
Lighting Designer                                Reveal Design Group
Acoustic Consultant                             Lally Acoustical Consulting
Expeditor                                             Ganci & Logozzo
Millwork/Fabricator                            Bednark Studio Inc.
Millwork                                              Viridis
Glass Fabricator (Magic Space)          AMG
Cork Furniture                                     Daniel Michalik
Furniture Dealer                                 EvensonBest
Upholstery                                           The Work Room
Neon                                                    Let There Be Neon
Photography Credits: Paul Warchol
Text Credits: Reddymade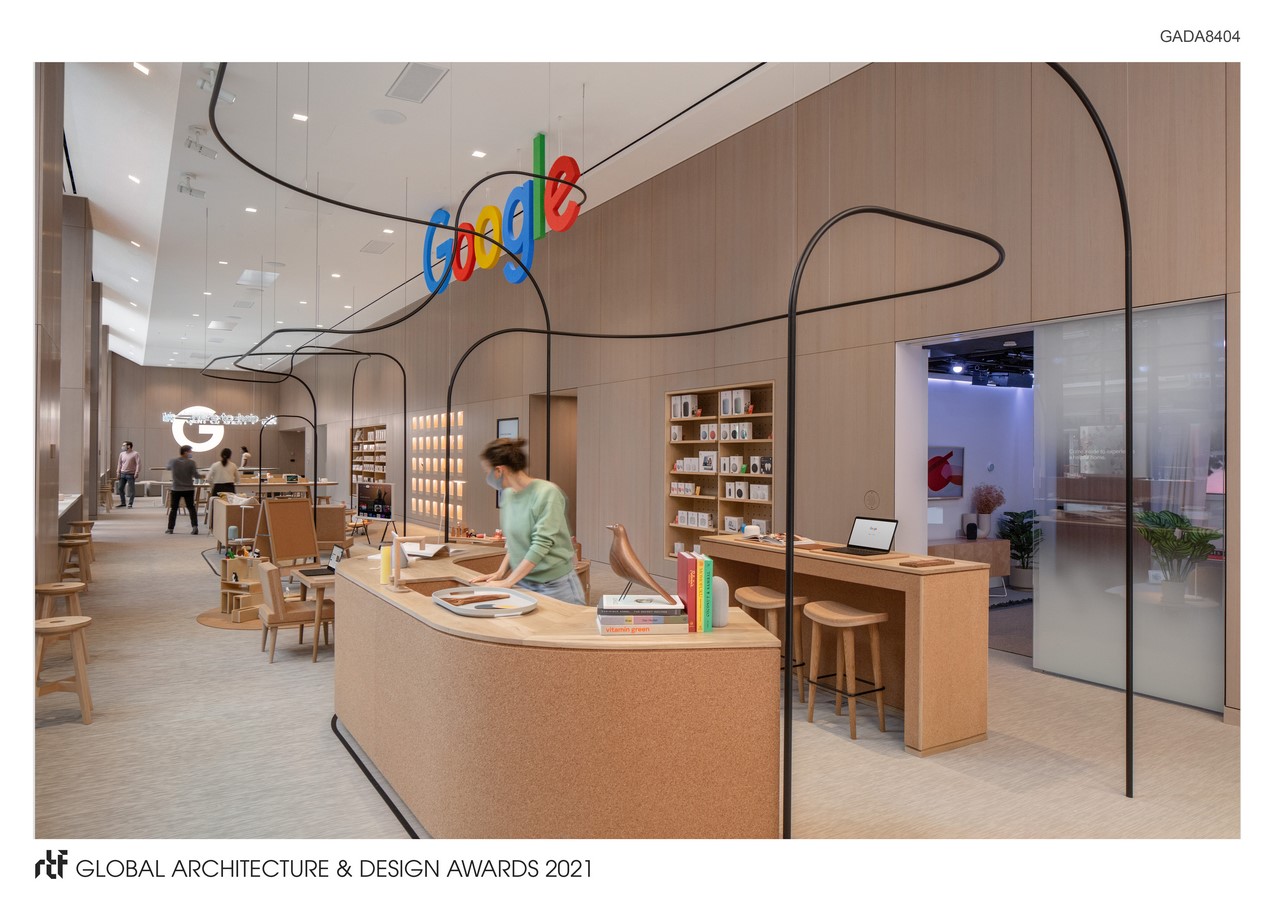 The space re-awakens visitors to the childlike wonder found in the technology and digital innovation on display. Google's first retail space is warm and calming, novel yet useful. Abounding in soft, tactile surfaces such as cork and wood, the design puts the visitor at ease, welcoming those seeking help alongside those pursuing their curiosity. A gravity- defying metal line twists its way through the room, introducing the intuitive whimsy of unexpected connections and free-form play, while defining spaces for living.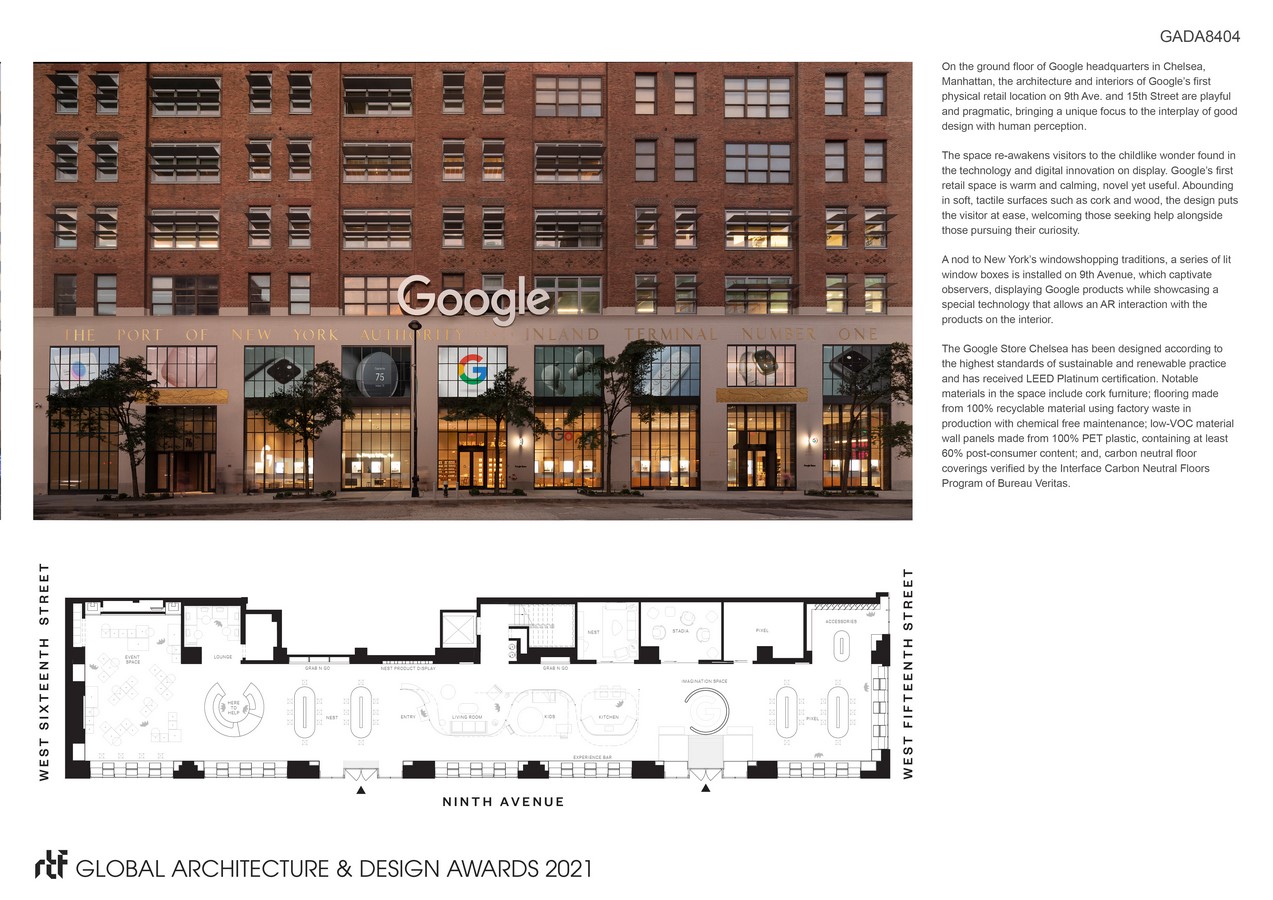 The warm lighting and neutral tones guide the eye to the "Imagination Space," standing at the entry way to the store. A semi-circular node of extruded glass tubing suspended between the ceiling and the floor refract the light and invite visitors to interact with Google's products and technologies on an individual level in human scale and experience the possibilities of technology.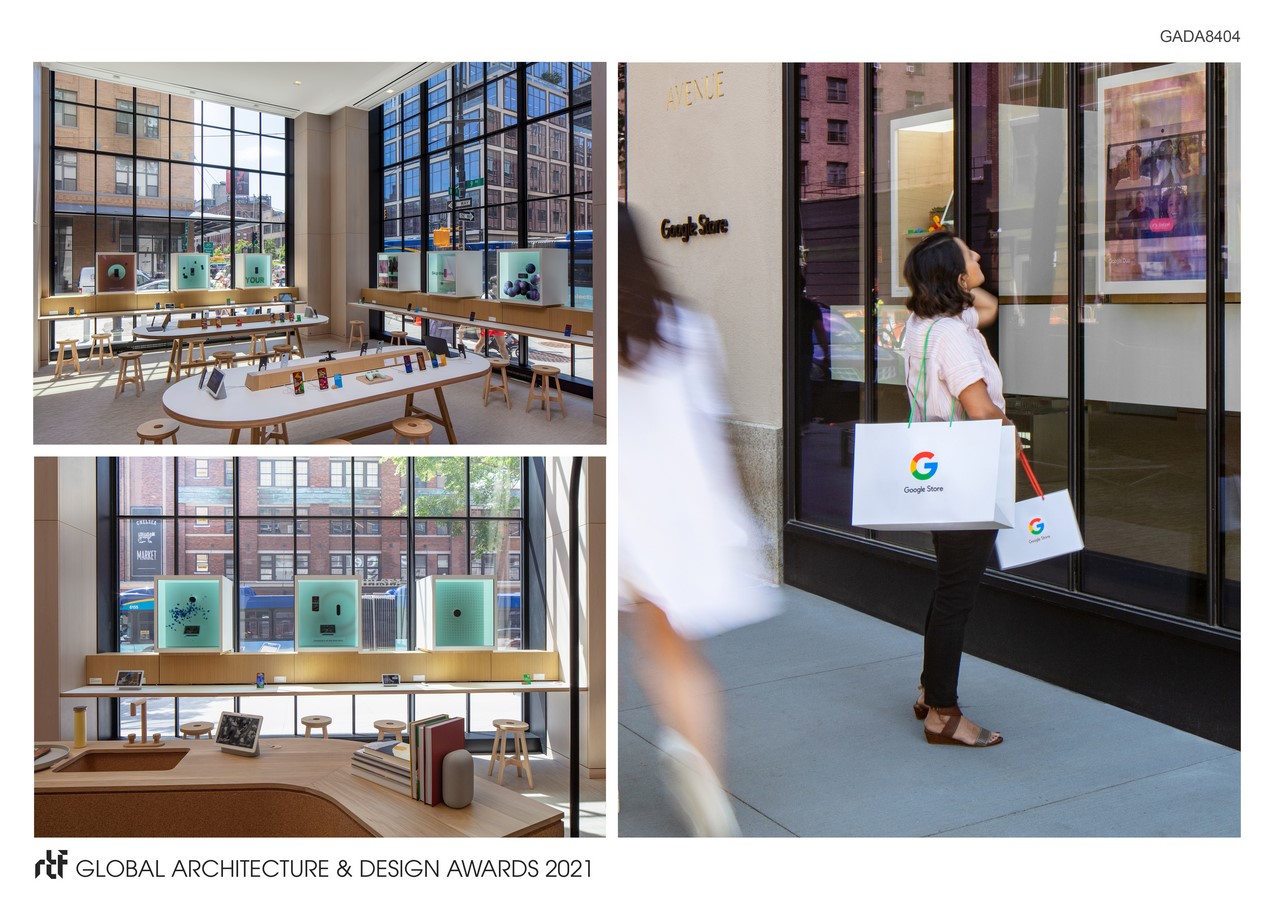 A nod to New York's windowshopping traditions, a series of lit window boxes is installed on 9th Avenue, which captivate observers, displaying Google products while showcasing a special technology that allows an AR interaction with the products on the interior.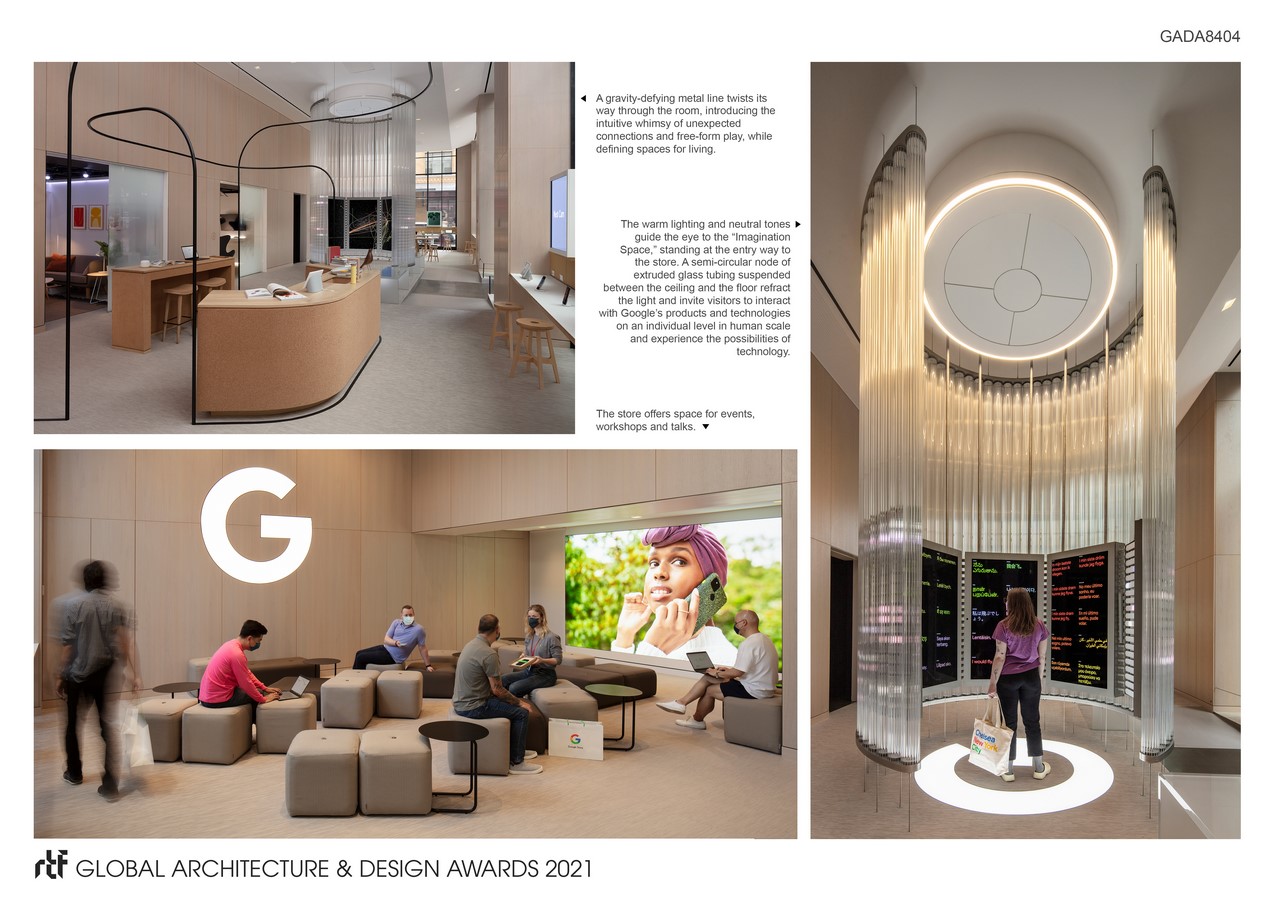 The Google Store Chelsea has been designed according to the highest standards of sustainable and renewable practice and has received LEED Platinum certification. Notable materials in the space include cork furniture; flooring made from 100% recyclable material using factory waste in production with chemical free maintenance; low-VOC material wall panels made from 100% PET plastic, containing at least 60% post-consumer content; and, carbon neutral floor coverings verified by the Interface Carbon Neutral Floors Program of Bureau Veritas.