A RETAIL MALL TURNED LUXURY HOSPITAL
Parkway Health Gleneagles Hospital Chengdu is a 350 bed world-class medical facility committed to providing high-quality comprehensive healthcare in the private sector. Located in the Perennial International Health and Medical Hub, in what was formerly a retail mall, the hospital is conveniently located for patients arriving from the Chengdu East High-Speed Railway Station.
Rethinking The Future Awards 2021
First Award |  Healthcare & Wellness (Interior) (Built)
Project Name: ParkwayHealth Gleneagles Chengdu Hospital
Studio Name: HKS Inc. (Singapore)
Design Team: Yunn-tay Lee, Julia Hager, Kenneth Yeo, Chad Porter, Lacey Aley, Aitong Yu, Glen Teng, Xuan Ren Lim, Yuning Shwe, Sumandeep Singh, Angela Lee, Megha Taneja, Aastha Razdan, Shaoting Liu, Jun Tang, Ji Li, Julia Zhu
Area: 51,500 square meters
Year: 2020
Location: Chengdu, China P.R.C
Consultants: EcoFace International Group, CSWADI 中国建筑西南设计
Photography Credits: William Yao (Blackstation)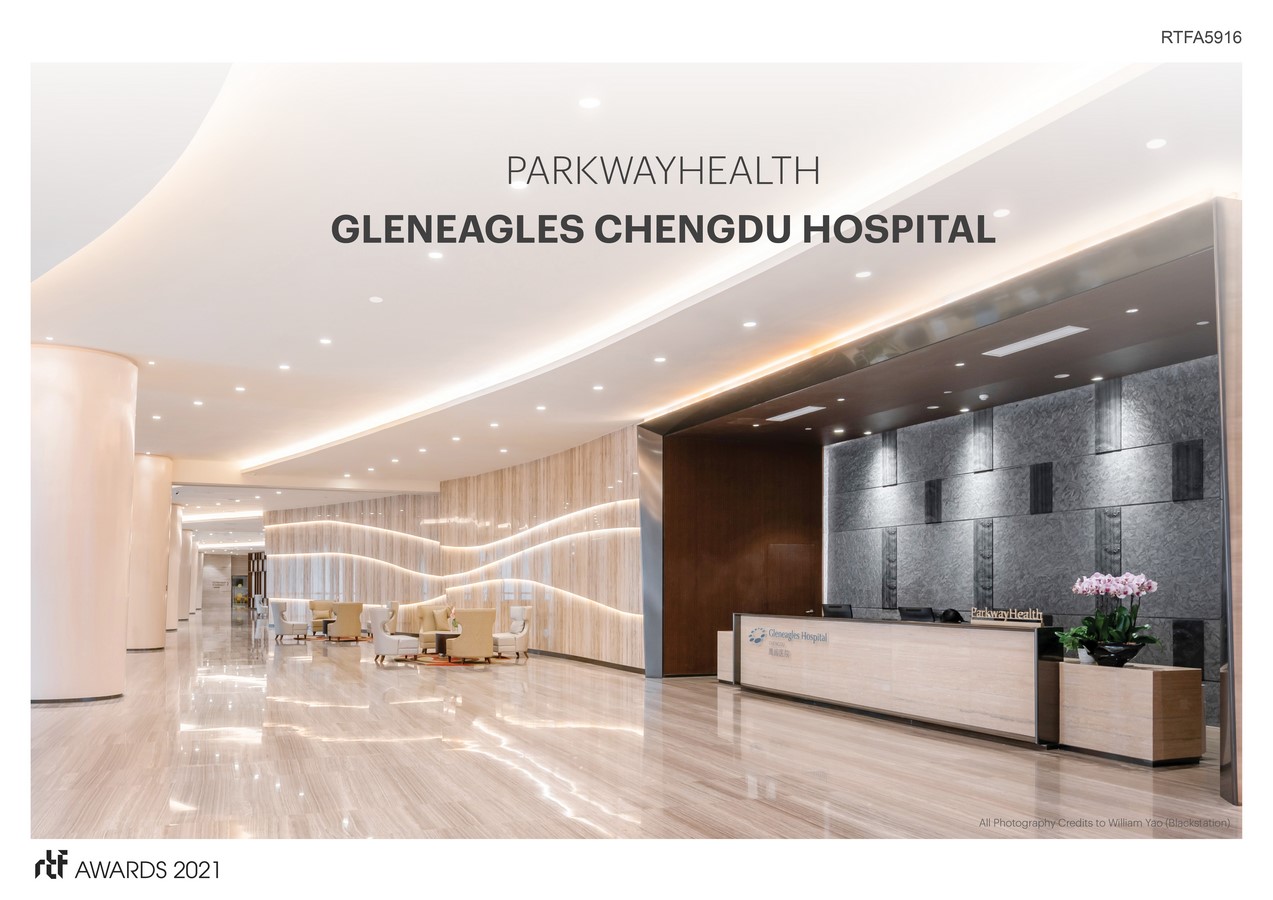 With an emphasize on patient-centric care, the innovative readapted hospital will provide state-of-the-art healthcare facilities for a full complement of clinical services.  The hospital will be the first internationally owned, tertiary health care facility in Chengdu that will serve the residents of western China and the Sichuan province.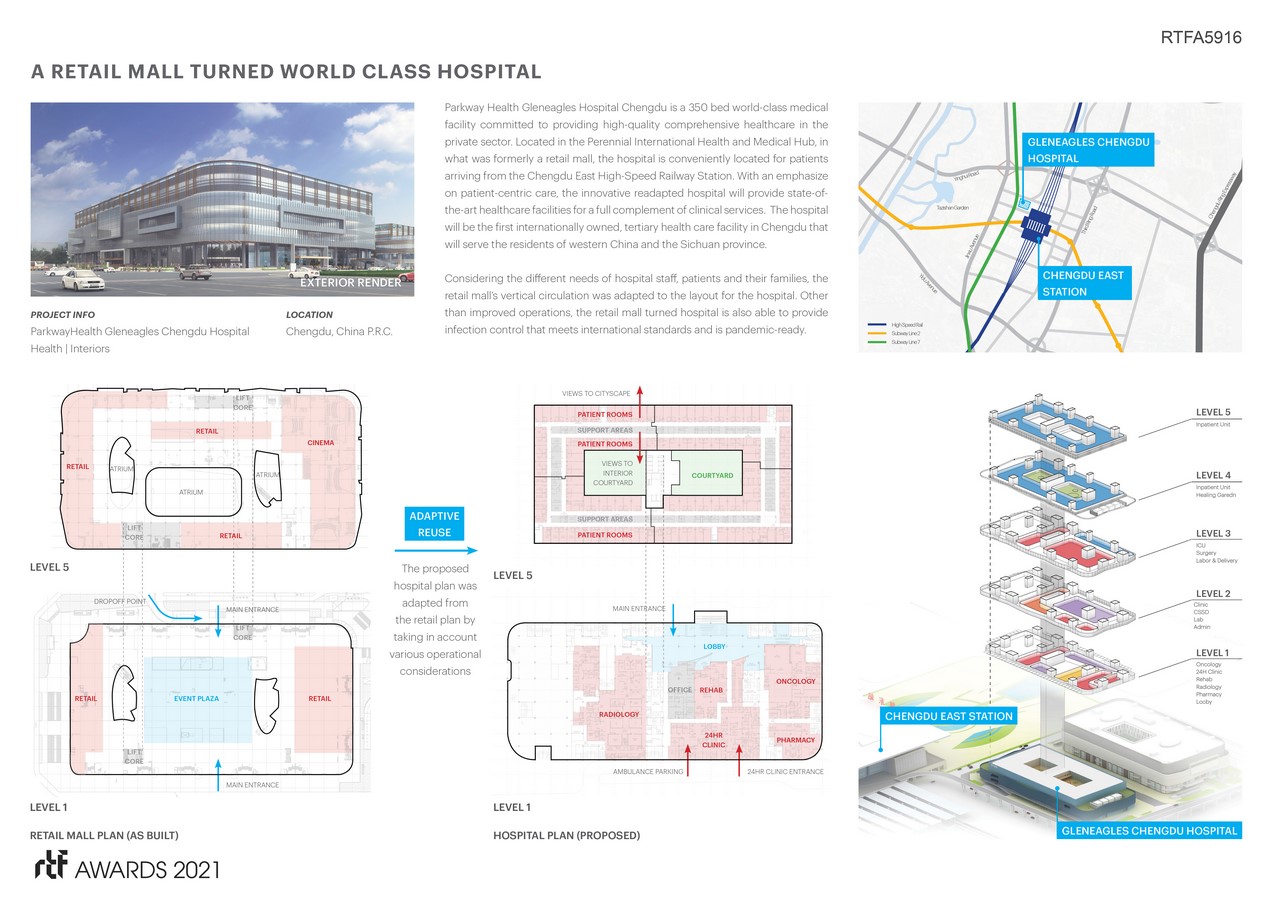 Considering the different needs of hospital staff, patients and their families, the retail mall's vertical circulation was adapted to the layout for the hospital. Other than improved operations, the retail mall turned hospital is also able to provide infection control that meets international standards and is pandemic-ready. Gleneagles Hospital Chengdu is a holistic hospital that is both economically sustainable, culturally respectful to the region and operates at its most efficient, with a tight hand on infection control.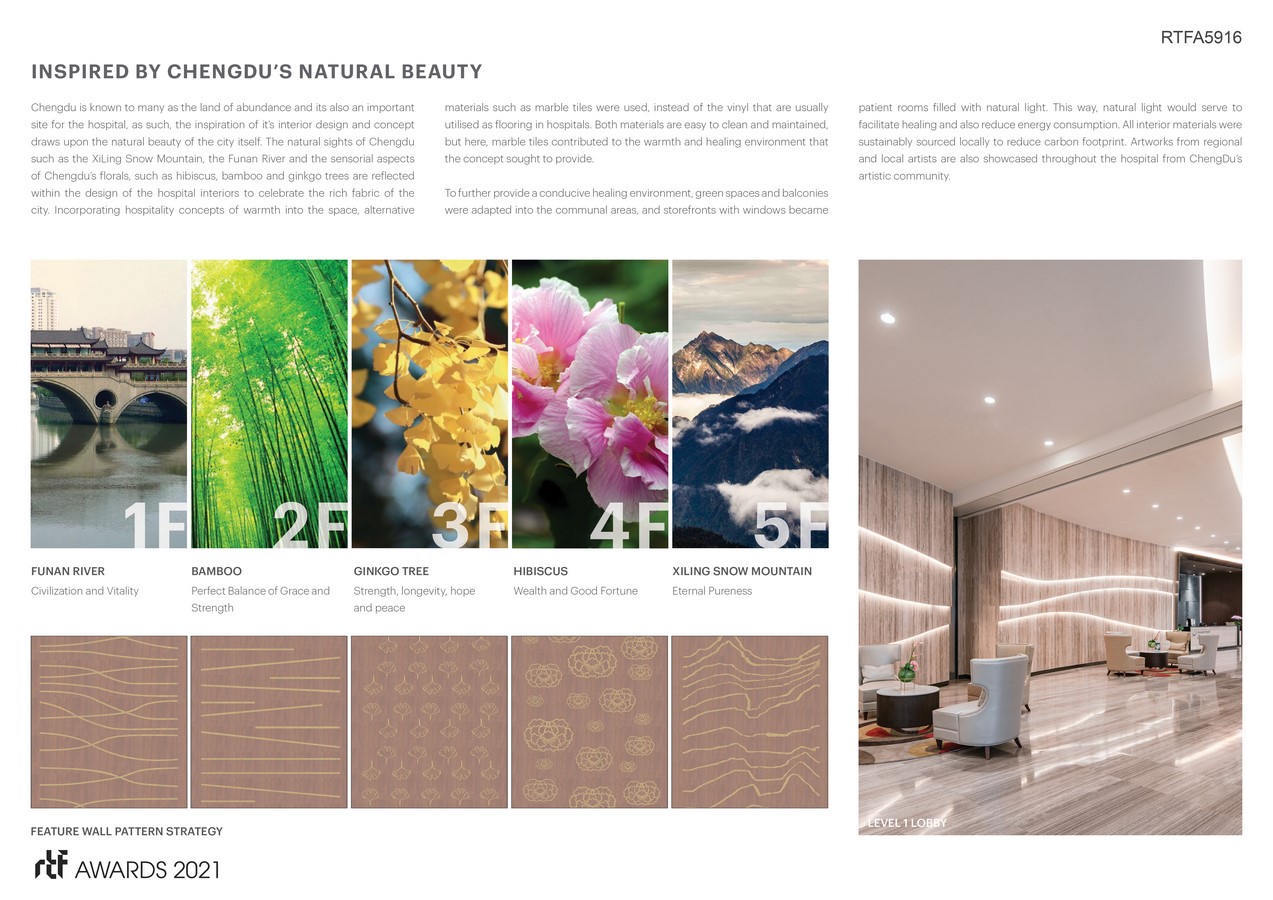 Chengdu is known to many as the land of abundance and its also an important site for the hospital, as such, the inspiration of it's interior design and concept draws upon the natural beauty of the city itself. The natural sights of Chengdu such as the XiLing Snow Mountain, the Funan River and the sensorial aspects of Chengdu's florals, such as hibiscus, bamboo and ginkgo trees are reflected within the design of the hospital interiors to celebrate the rich fabric of the city.
Incorporating hospitality concepts of warmth into the space, alternative materials such as marble tiles were used, instead of the vinyl that are usually utilised as flooring in hospitals. Both materials are easy to clean and maintained, but here, marble tiles contributed to the warmth and healing environment that the concept sought to provide.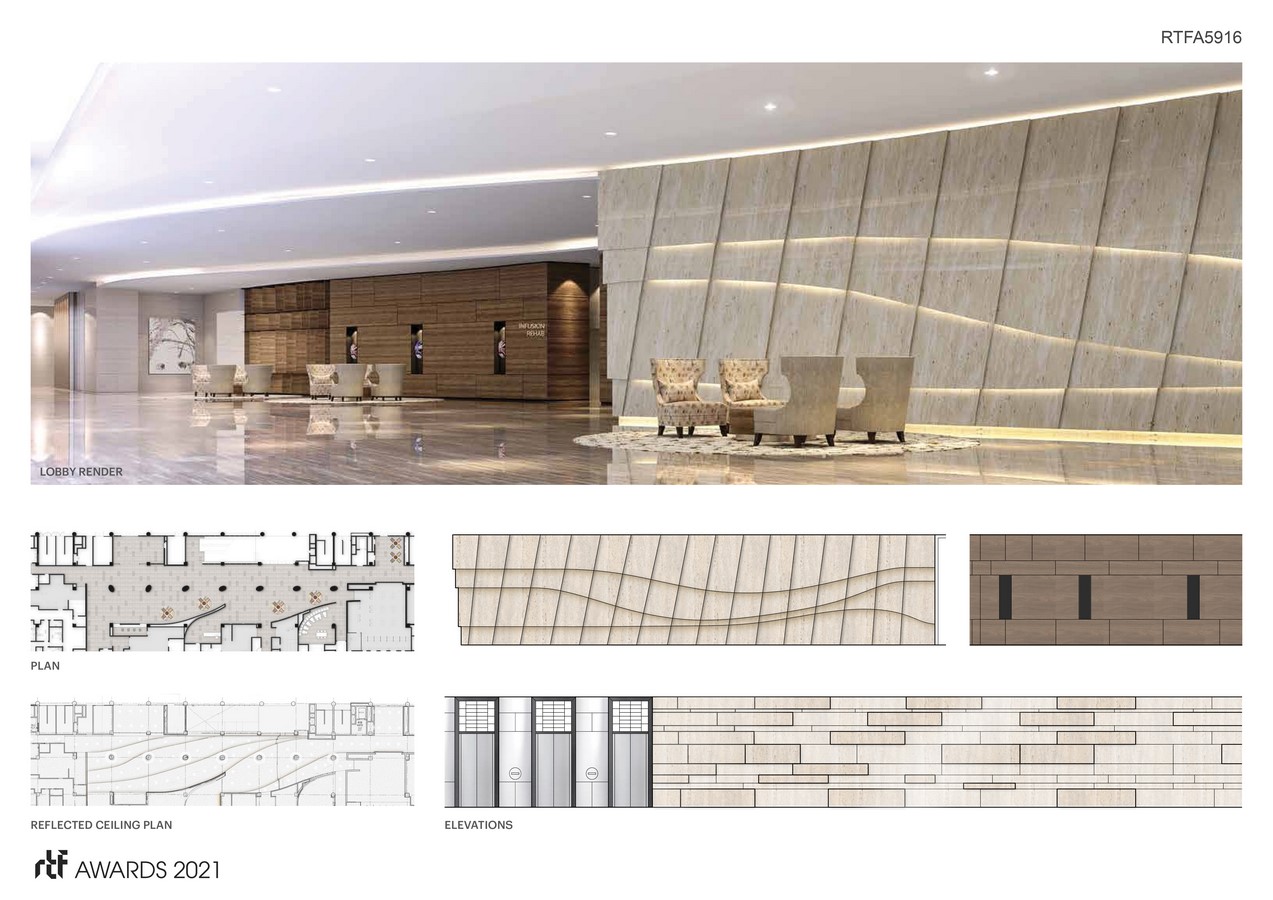 To further provide a conducive healing environment, green spaces and balconies were adapted into the communal areas, and storefronts with windows became patient rooms filled with natural light. This way, natural light would serve to facilitate healing and also reduce energy consumption. All interior materials were sustainably sourced locally to reduce carbon footprint. Artworks from regional and local artists are also showcased throughout the hospital from ChengDu's artistic community.