Sungang MixC Market Hall, a new mixed use development is under construction in Shenzhen, China with anticipated completion by 2022.  This lifestyle destination will provide an immersive gastronomic experience under one roof.
Rethinking The Future Awards 2021
Third Award | Mixed Use (Concept)
Project Name: China Resources' Sungang MixC Market Hall
Studio Name: 10 Design
Design Partners – Ted Givens, Chin Yong Ng
Project Partner – Miriam Auyeung (Chief Operating Officer)
Architectural Team
Sonja Stoffels, Alex Li, Raymond Chan, Benny Leung, Sannie Yip, Violette Chen, Han Tang, Harris Chu, Conrad Yau, Alan Yip
CGI Team
Jon Martin, Peter Alsterholm, Yasser Salomon, Laura Simonsen, Serhii Zvaholskyi
Area: site area
28,847sqm
GFA:
Retail – 78,890sqm ; Office – 103,320sqm
Year: Anticipated completion in Q3 2022
Location: Shenzhen, China
Consultants:
10 Design – Lead Design Architect
CAPOL International – Local Architect
AIM Architecture – Office Interior Designer
China Construction Third Engineering Bureau Co. Ltd – Main Contractor
CUBE – Residential Designer
Kehao – Façade Consultant
LPA – Lighting Consultant
Morphis – Landscape Consultant
MVA – Traffic Consultant
Pinhole – Retail Interior Designer
RBS – Structural Consultant
WSP – MEP Engineer
Photography Credits: Zhang Chao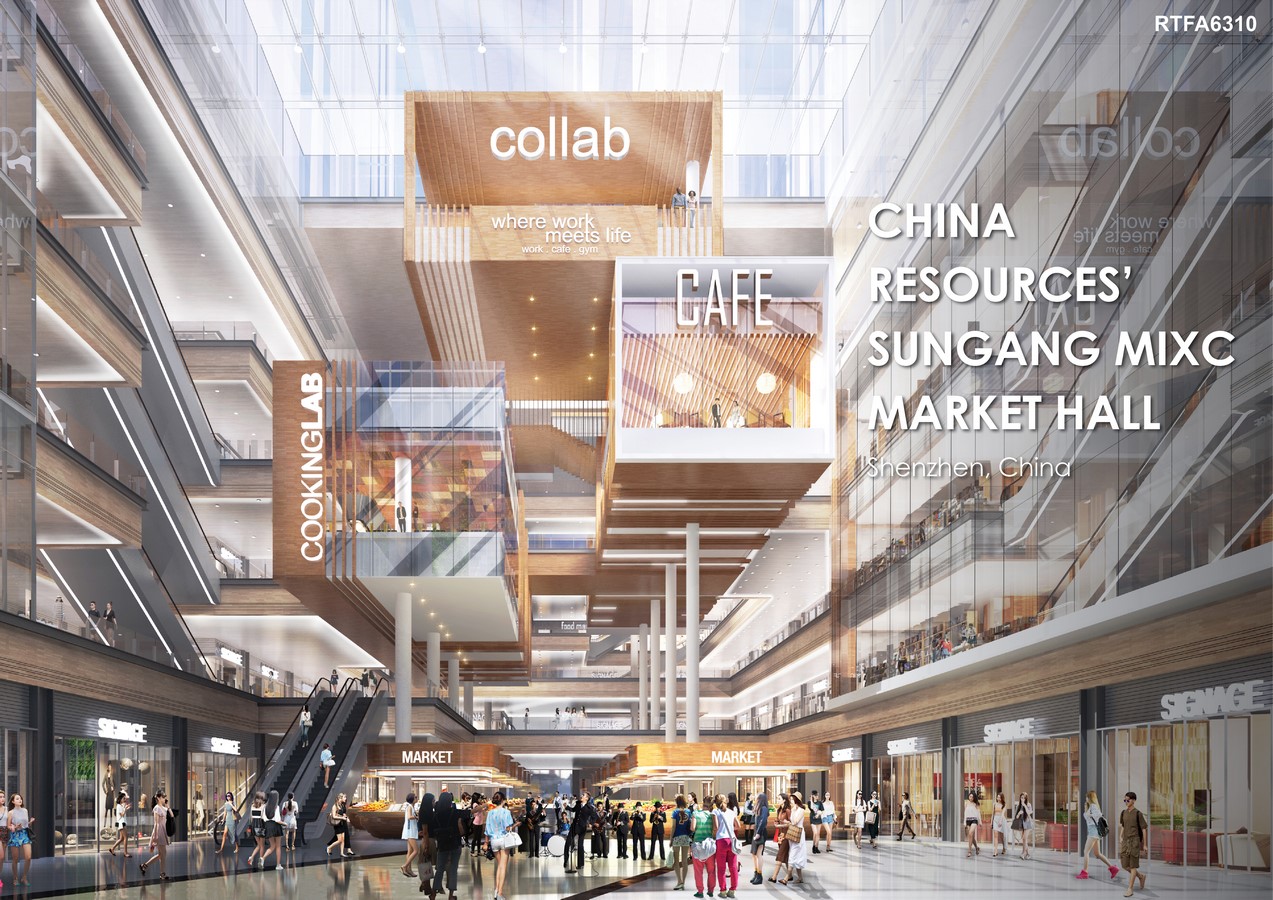 The site used to accommodate a warehouse within the old industrial district and will soon be converted into a new CBD.  MixC Market Hall will mark an important milestone for the ongoing transformation of Sungang, acting as a catalyst to drive urban regeneration in the area.
The development will accommodate 78,890sqm of retail and F&B space, with two office towers above providing 102,320sqm of workspace.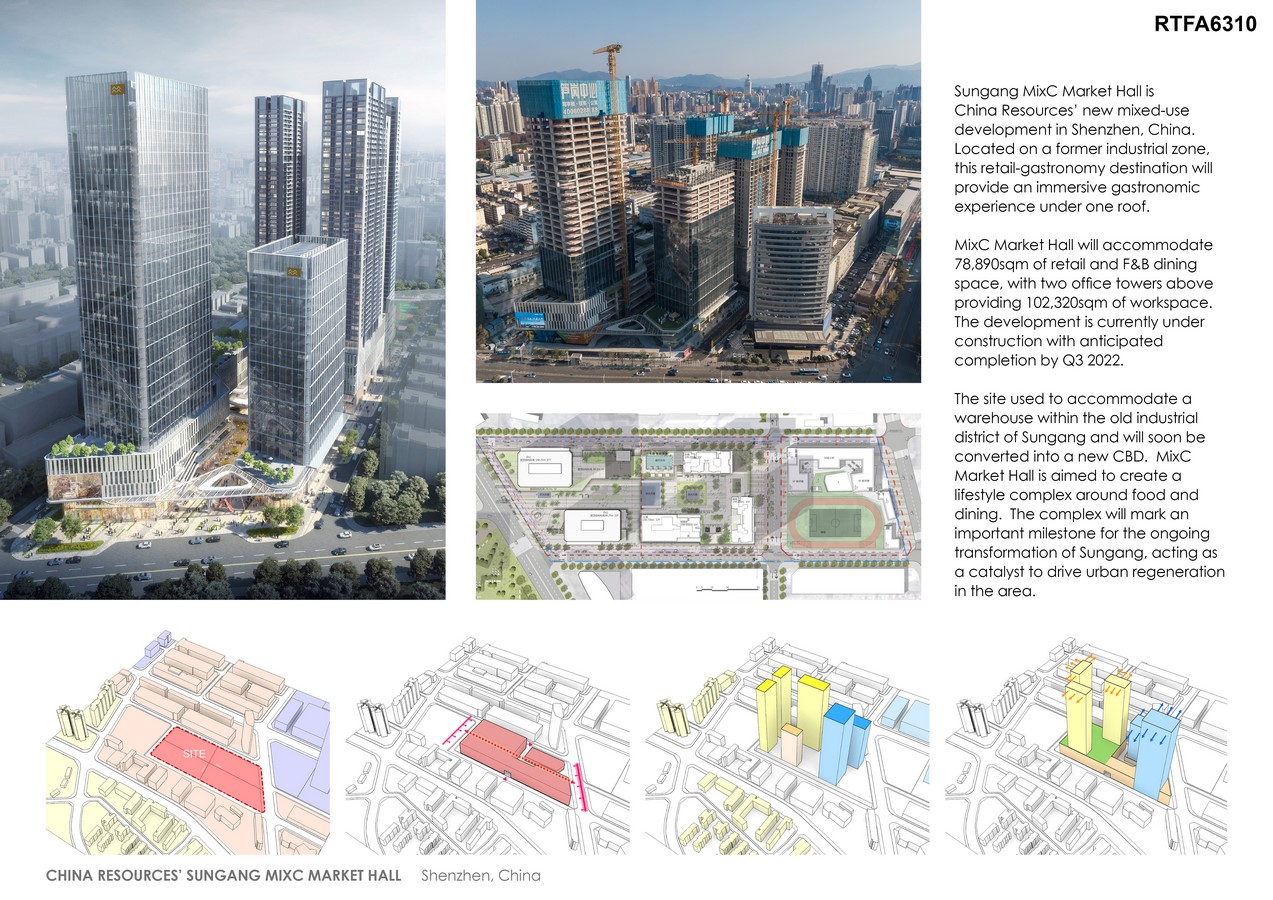 Innovations
This new development is to break away from the conventional shopping mall design and instead draw inspiration from a more traditional market square, creating a central meeting place for public enjoyment.
From the studio's experience of designing world class public spaces, the design team has created a series of spaces at different scales all interconnected.
The frontage of MixC Market Hall is marked by a stainless steel sculptural canopy which leads to a pedestrianised retail street, creating a new and dynamic boulevard for shoppers and diners to enjoy.  The retail street is punctuated with the market hall entrance – the jewel of the landmark.  It is animated by three floating box-shaped structures, the design of which is inspired by food truck containers.  This will create a unique spatial experience to be discovered and explored, providing a richness of dining and other gastronomic experiences.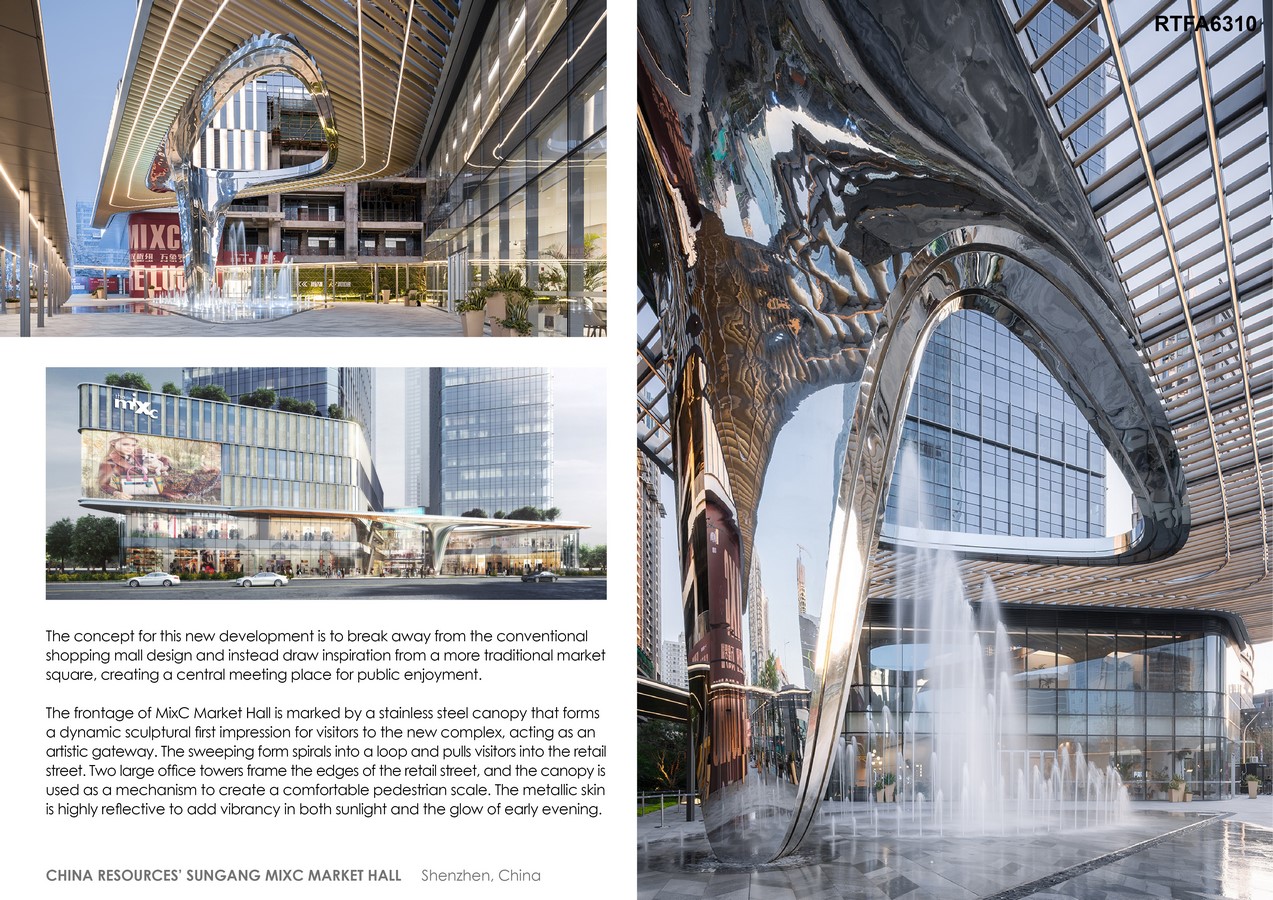 Environmental qualities & sustainability
MixC Market Hall's key environmental strategy is to maximise the use of natural daylight into the interior spaces, thus reducing the need for artificial lighting. The skylights also went through a series of design studies to make sure that they are site specifically designed to avoid causing greenhouse effects. Therefore, this helps save cost and energy by bringing down the temperature during the summer months.
The approach of the retail street at the northern plot allows for cross ventilation to occur hence maximising the comfort for an outdoor dining area. This is accomplished by opening up the north and south street and having an open courtyard.
Façade is also one of the significant elements in our approach in combining both the sophisticated and an energy efficient design. This is implemented by using laminated LOW-E glass for the office curtain wall, improving both solar and thermal performance.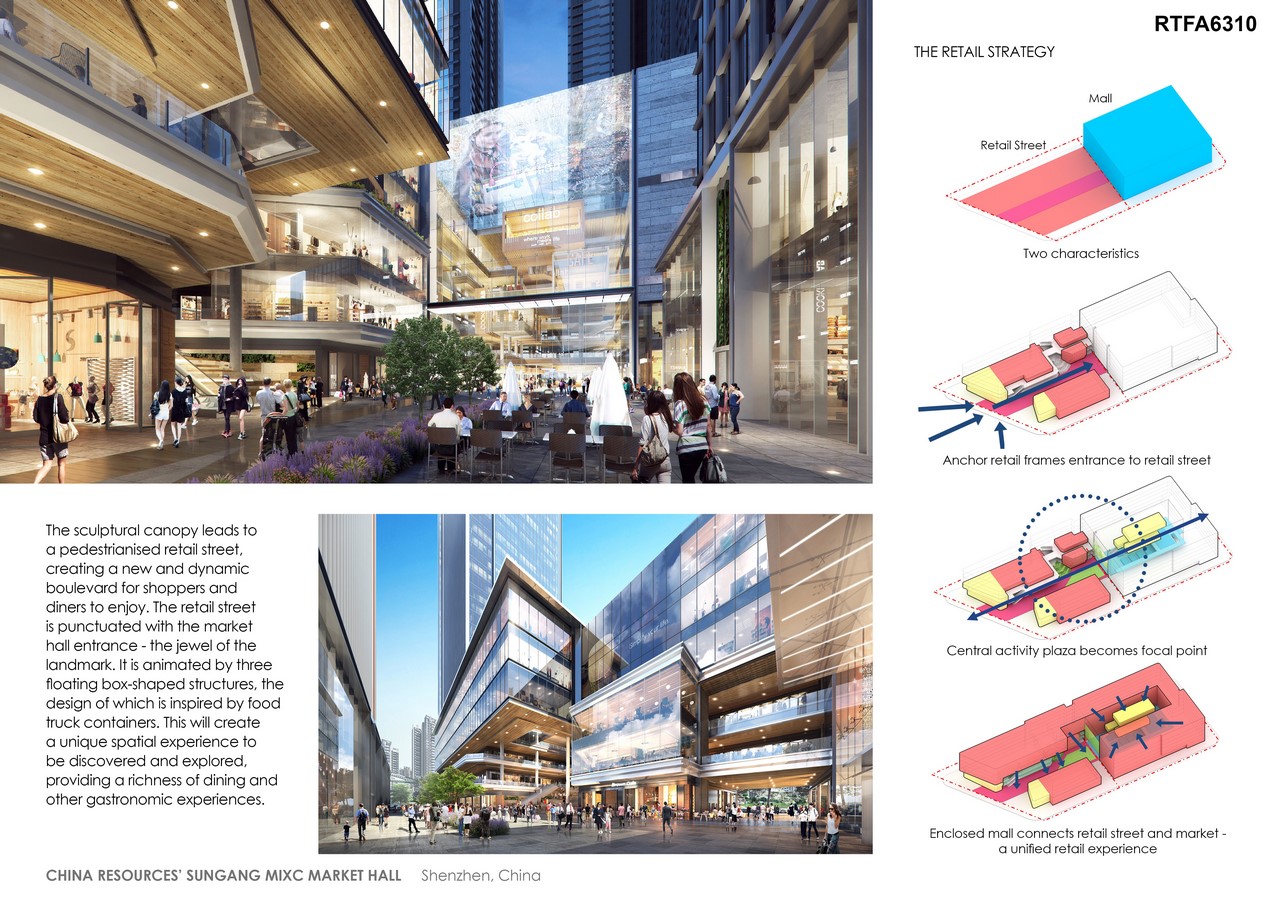 Integration in its environment & benefits to the community
The site is in the upcoming new commercial development area in Shenzhen. It is a well-integrated mixed use TOD development with direct and seamless access from the Metro to the heart of the mall.
The overall layout draws traffic from the basement floor where the Metro is located up to the top floors ensuring maximum usage throughout the day by integrating both retail and public spaces. A grand public plaza outside the Market Hall also serves as the cultural hub for this site.