The Amsterdam Courthouse was built to replace the outdated judicial complex in the up-and-coming Zuidas district in south Amsterdam. With 50 courtrooms and a surface of almost 50.000 sqm, the building is the biggest courthouse in the Netherlands, its exemplary efficiency materializes in a stately yet open functional structure.
Rethinking The Future Awards 2021
Second Award |  Institutional (Built)
Project Name: Amsterdam Courthouse
Studio Name: KAAN Architecten
Area: 50 000 m2 (+10 000 m2 parking)
Year: 2016-2020
Location: Amsterdam, The Netherlands
Consultants: Consortium NACH: Macquarie Capital, ABT, DVP, KAAN Architecten, Heijmans, Facilicom
Photography Credits: Fernando Guerra FG+SG
Other Credits: Client: Rijksvastgoedbedrijf (Central Government Real Estate Agency)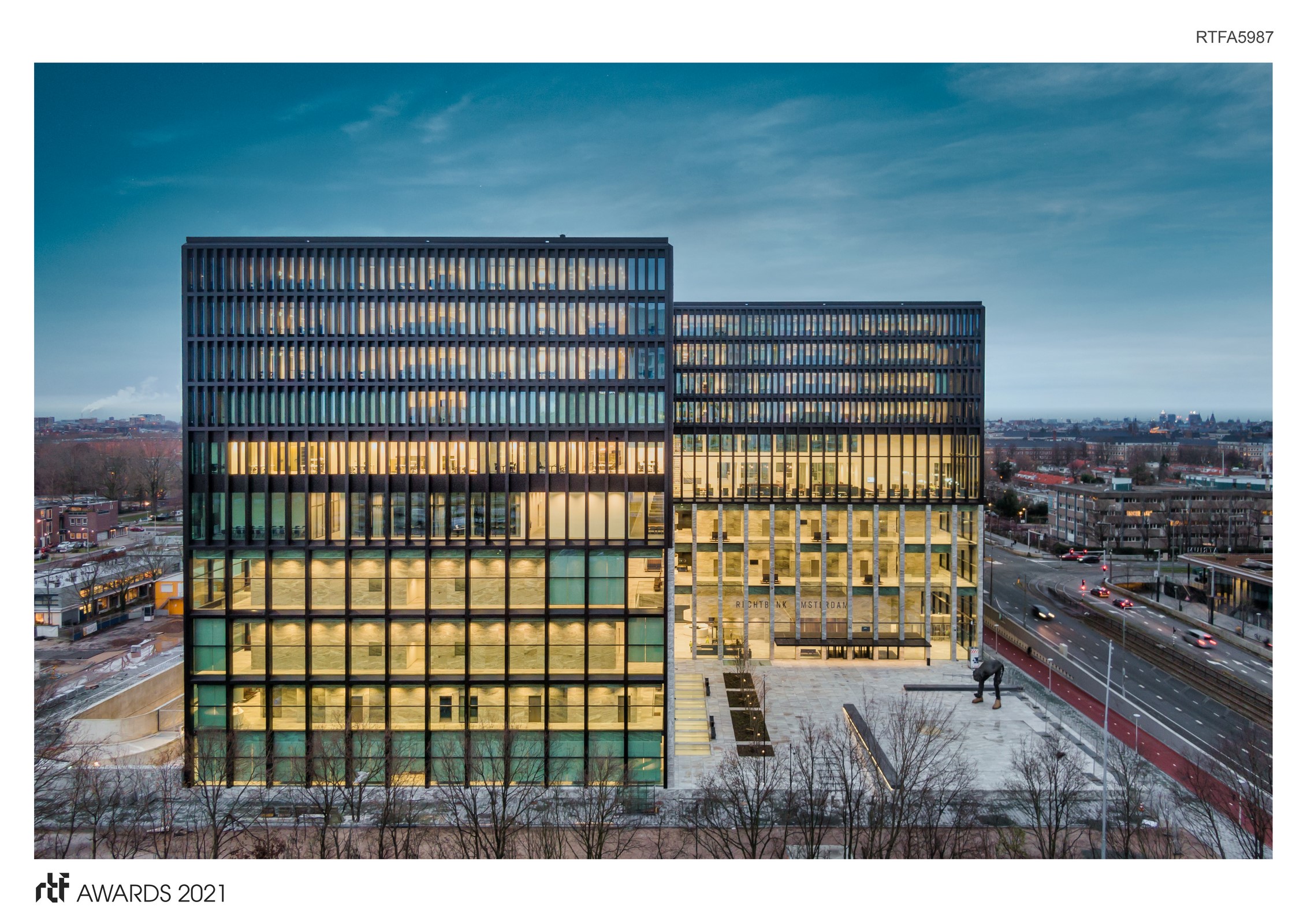 In its design, the Courthouse adheres to the principle that the judicial process is a public matter. Exuding approachable authority, the 50-meter-high building is a stately yet inviting institution for public discourse. A vast square in front of the building offers an unobstructed view to the lower floor dedicated to the public area, through large windows. Passing an elegant canopy on the main square, visitors are welcomed into the ground floor central foyer, equipped with reception desks and a cafeteria. Rising upward, the courtrooms unfold surrounded by spacious foyers where visitors come and go, lawyers consult with clients and reporters. Highest floors are connected through a grand circular staircase, giving way to offices and judges' chambers set around green indoor and outdoor courtyards. Meanwhile, the detention cell area for the defendants is located under the building with separate pick-up and drop-off ramps.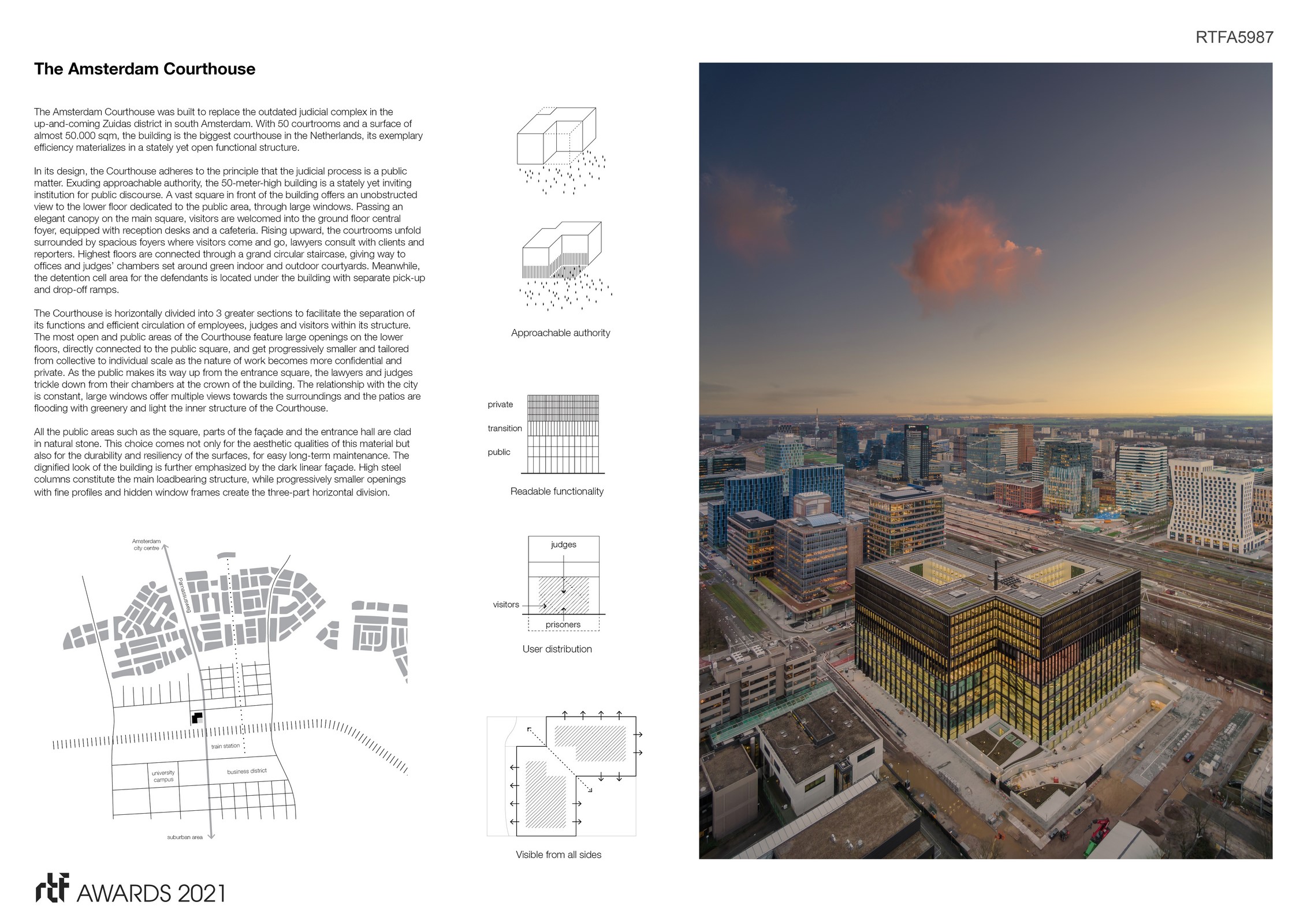 The Courthouse is horizontally divided into 3 greater sections to facilitate the separation of its functions and efficient circulation of employees, judges and visitors within its structure. The most open and public areas of the Courthouse feature large openings on the lower floors, directly connected to the public square, and get progressively smaller and tailored from collective to individual scale as the nature of work becomes more confidential and private. As the public makes its way up from the entrance square, the lawyers and judges trickle down from their chambers at the crown of the building. The relationship with the city is constant, large windows offer multiple views towards the surroundings and the patios are flooding with greenery and light the inner structure of the Courthouse.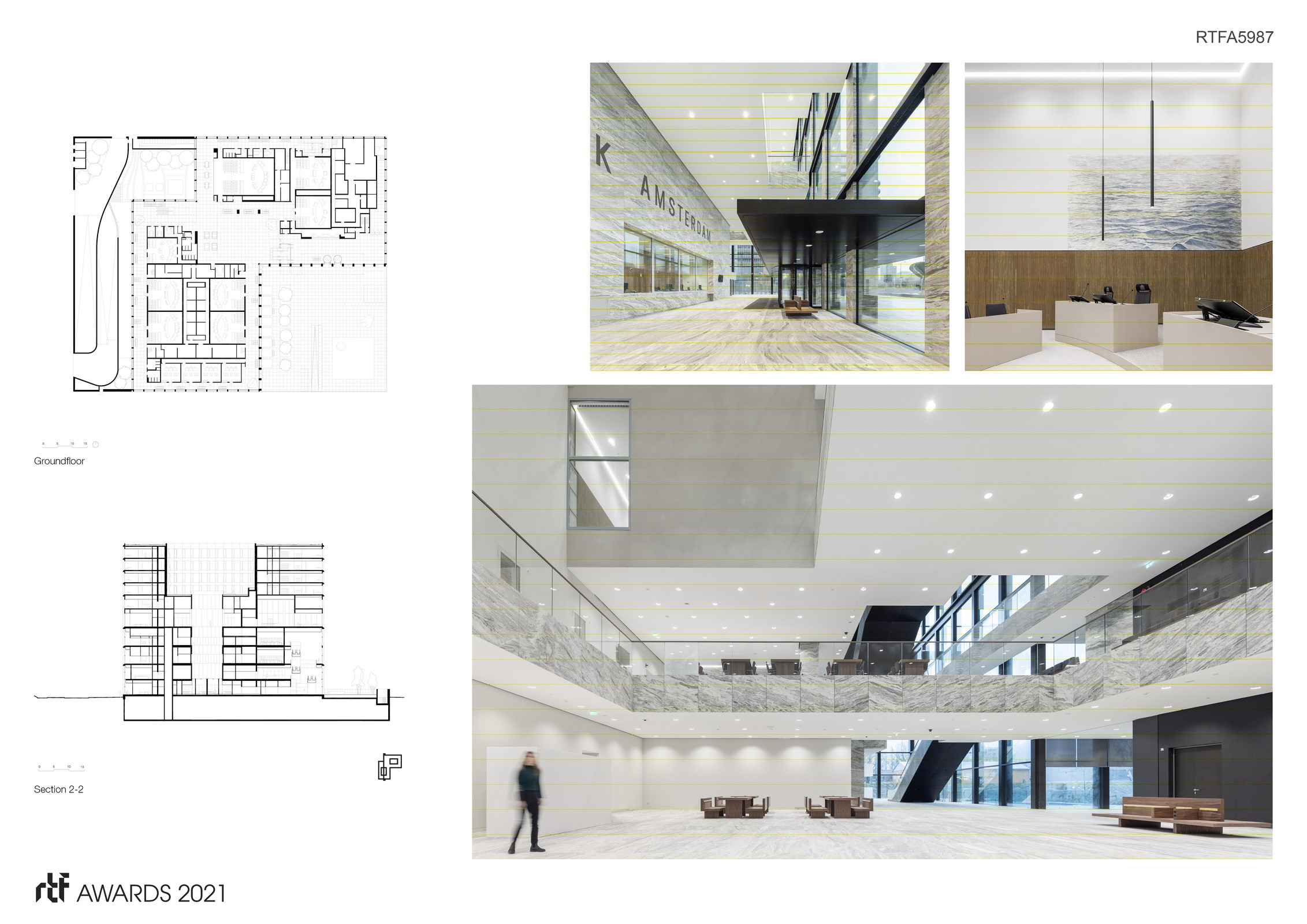 All the public areas such as the square, parts of the façade and the entrance hall are clad in natural stone. This choice comes not only for the aesthetic qualities of this material but also for the durability and resiliency of the surfaces, for easy long-term maintenance. The dignified look of the building is further emphasized by the dark linear façade. High steel columns constitute the main loadbearing structure, while progressively smaller openings with fine profiles and hidden window frames create the three-part horizontal division.
The Courthouse also features specifically commissioned original artwork – most noticeably the entrance square sculpture by Nicole Eisenman, and the courtroom artworks by Jesse Wine and Femmy Otten.