In New York City, animal care involves a range of services, from saving wild animals who find their way into its parks to euthanasia, animal safety, and pet adoption. For this public-funded center in East Harlem, overlapping requirements for more demanding tasks with a welcoming front door for families became untenable. The solution is to renovate an underutilized garage on the premises to create a friendly place for pet adoption (dogs, cats, rabbits). In doing so, we hope to increase adoptions, thus saving many more animals and bringing pleasure to our community. The new facility will also help revitalize the neighborhood with its active street presence. Repurposing the 1930s garage also preserves Harlem's residential scale as new high-rise construction reduces the amount of daylight and the feeling of openness.
Global Design & Architecture Design Awards 2021
First Award | Category: Public Building (Concept)
Project Name: Manhattan Pet Adoption Center
Project Category: Public Building (concept)
Studio Name: Studio Joseph
Area: 2,523 SF
Year: 2022 (in construction)
Location: 323 East 109th Street, New York, NY 10029
Photography Credits: Studio Joseph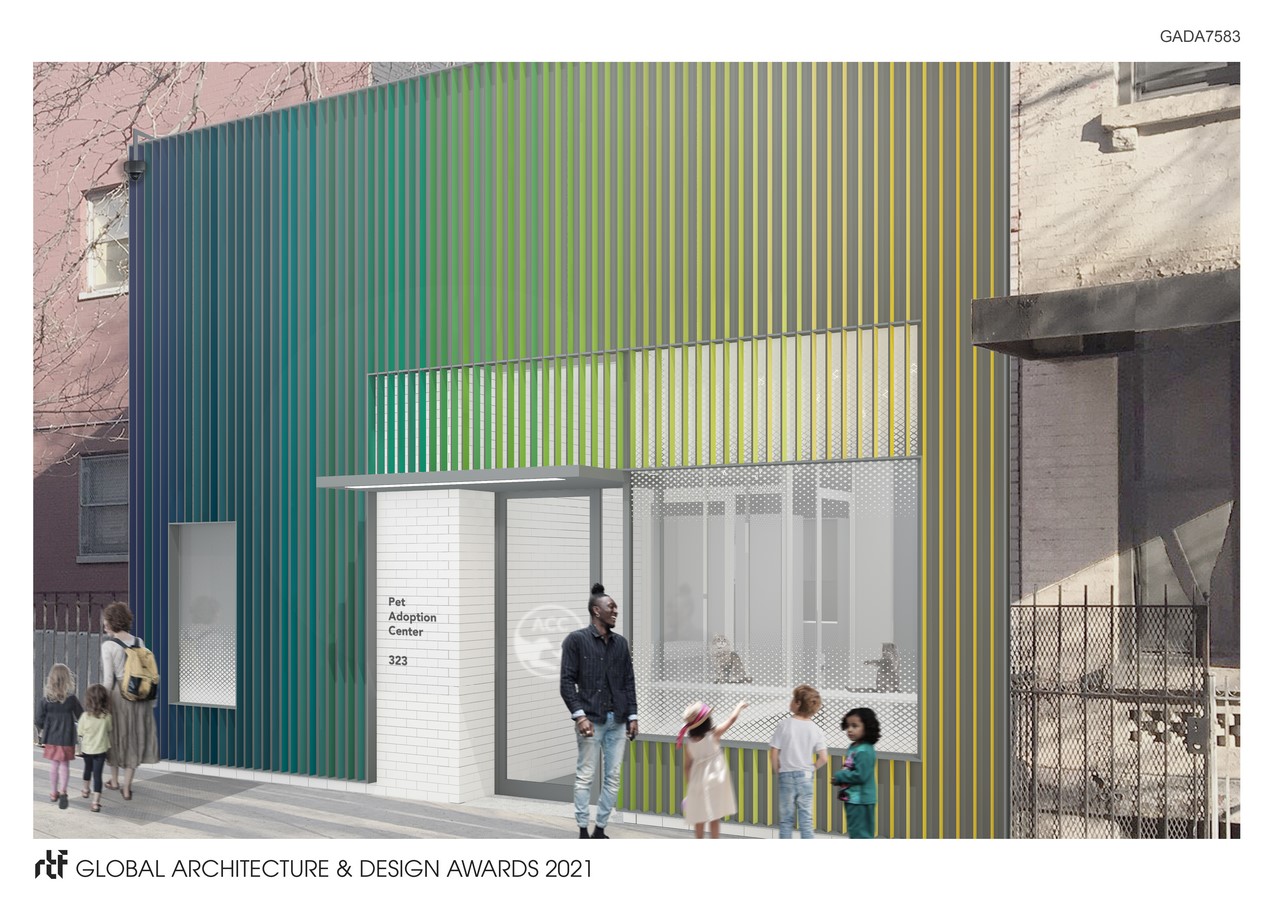 Exterior
The garage's public entry is on East 109th Street. There is a staff entry from the north adjacent to the central part of the facility. Zoning requirements prevented change to the facade's existing openings (garage door, entry door, and a window) as well as the size and location of the three internal skylights. Though the brick walls and wood joist ceiling remain, the structure is being stabilized structurally and "hardened" to meet new code requirements for resiliency.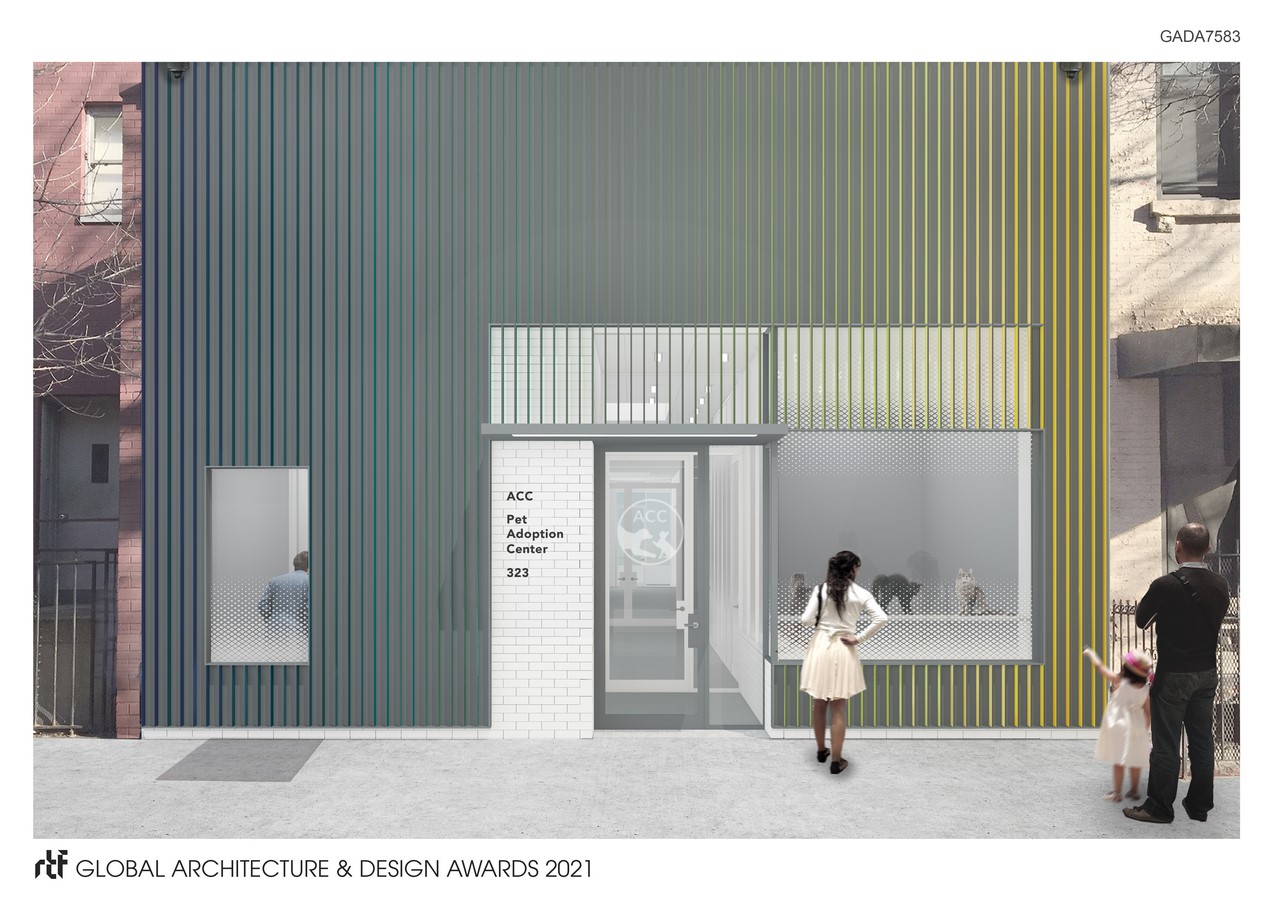 The new facade celebrates pedestrian life, creating an engaging attraction for nearby residents and potential pet adopters. The garage door opening is repurposed as a viewing window into the cat colony. This large area of south-facing glazing brings natural light deep into the building's public spaces. The new façade is a "rain-screen." It has a series of 3 ½" fins that create a lenticular effect as one walks down the street. Twenty-five distinct colors spread over seventy-five individual surfaces, flicker from yellow to dark blue. From the south side of the street, the color is more subdued as part of the optical quality. The existing brick at the entry is painted white.
Interior
The interior design is based on animal safety/best practices though the design intention varies strategically from standard models for pet adoption facilities. We provide a large welcome area for community gatherings where staff sit together with adoptive families at a shared table.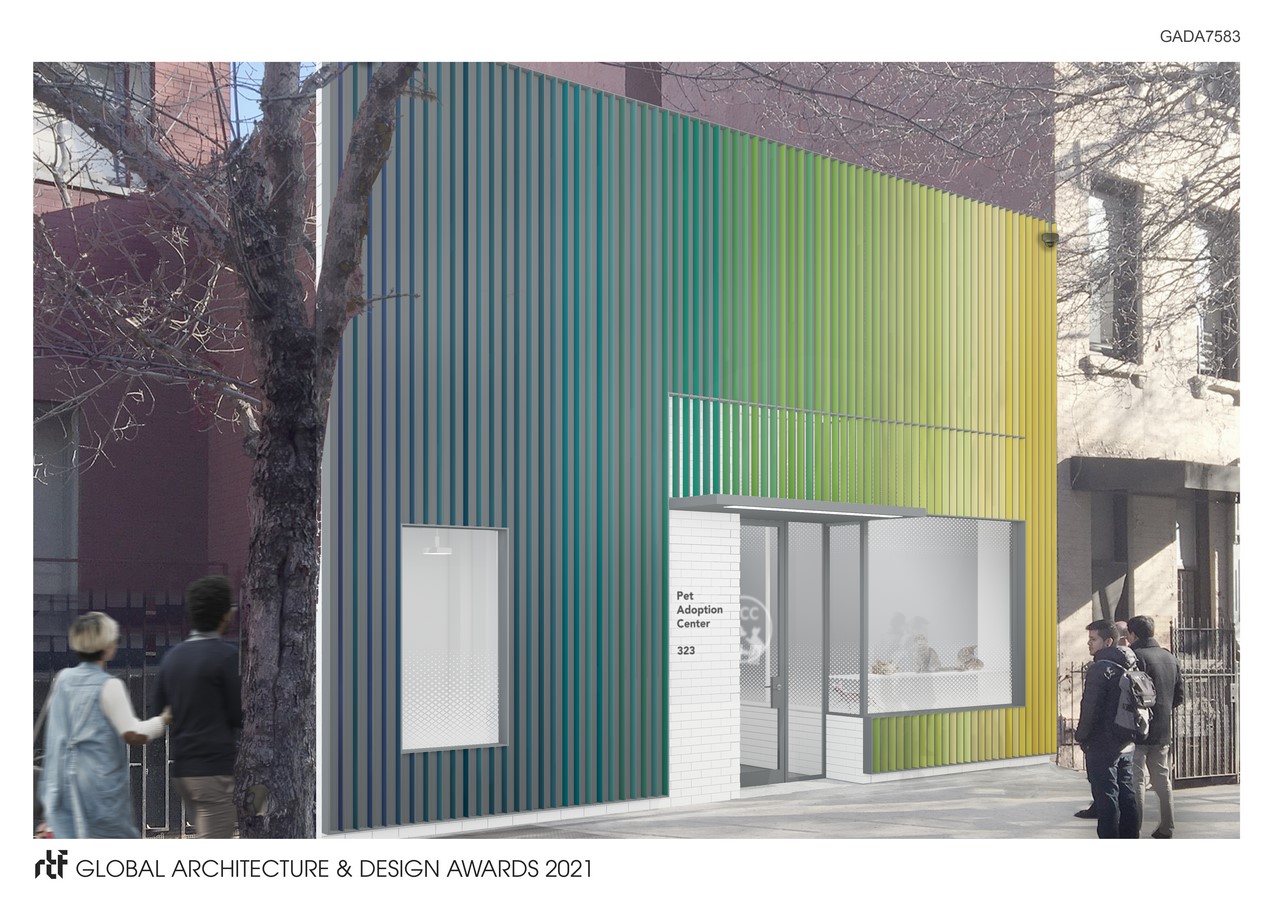 For the animals, a frit pattern on the glass has more opacity top and bottom and clear at eye level (children and adult), promoting animal psychological security. A graphic mural utilizes a fin motif similar to the exterior, portraying a cat or dog. Dogs are isolated from the other animals to lower stress levels for the cats, contain barking acoustically, and provide added security to prevent runaways.
We define ourselves as a community by how we care for those in need. We protect our wildlife and domesticated animals as part of our humanity. Besides, by engaging in adaptive reuse, we make a highly sustainable act to conserve building fabric. The project will be LEED Platinum.