In order to provide a sense of place for this 5800 SF Hamptons home, a courtyard-like arrangement of building elements was created in the otherwise relatively anonymous but developing agricultural setting.
Global Design & Architecture Design Awards 2021
Third Award | Category: Private Residence (Large) (Concept)
Project Name: Water Mill House
Project Category: Private Residence (Large)
Studio Name: SPG Architects
Design Team: SPG Architects
Eric Gartner – Principal
Aries Liang, Evan Homolka – Design Team
Jing Ying Chin – Renderings
Area: 5,800 SF or 540 Square Meters Interior Conditioned Space
Year: In progress
Location: Water Mill Hamlet, Southampton, New York
Consultants:
Photography Credits: SPG Architects
Text Credits: SPG Architects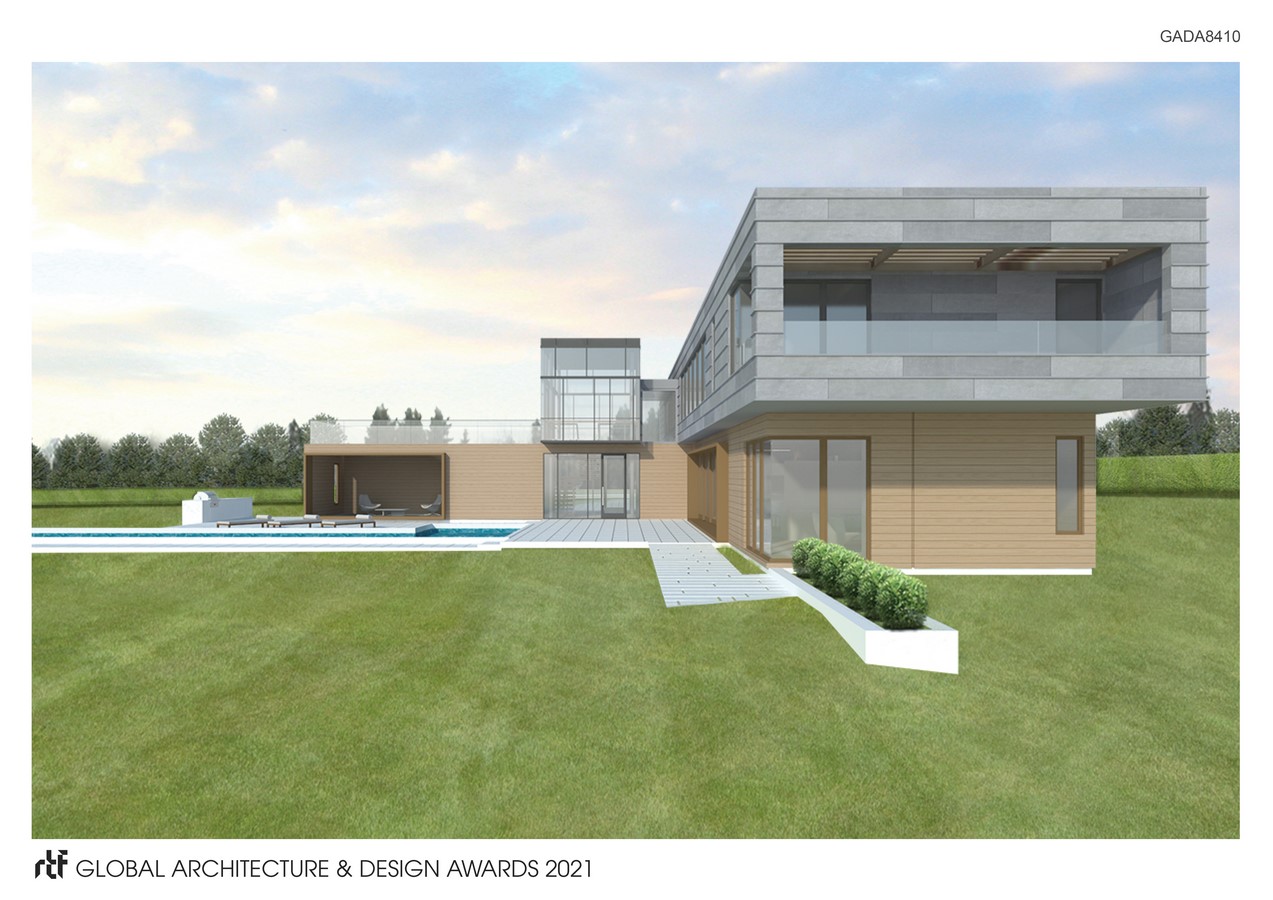 The garage faces the drive and car court and is located outside of the sightlines defined by the home's living spaces.  The private outdoor living area is enclosed on two sides by the house structure and on the other two sides with a typical Hamptons landscaping privet.  House and landscape together enclose and create a private setting for the pool and yard area.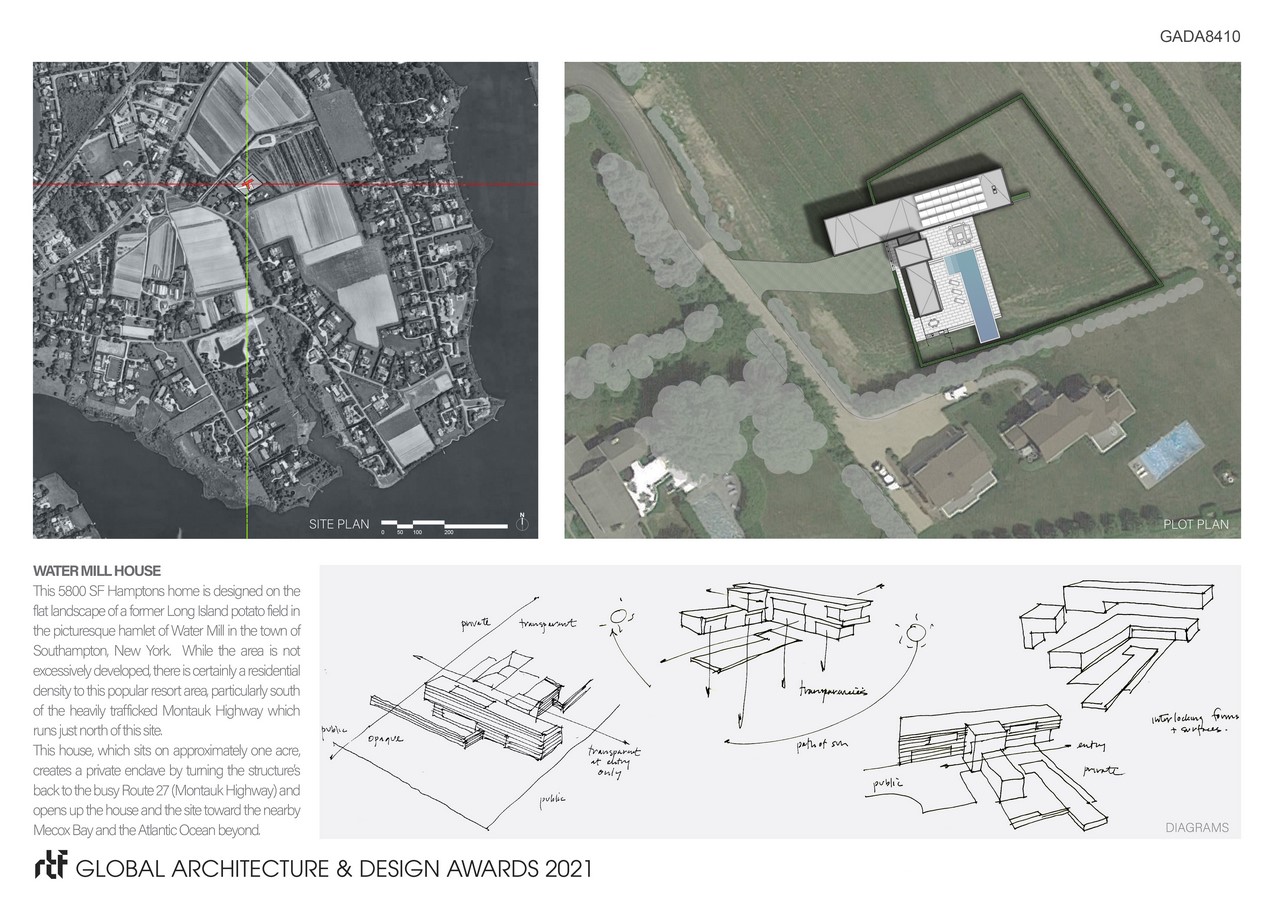 Entry is defined by a two-story transparent cube visible upon arrival beyond the car court and garage.   This form reveals the house and landscaped living areas visible through the glass enclosure.  The two-story glass entry structure includes an arrival hall, a floating stair and a second floor viewing area that unifies the adjacent building components and provides a strong connection between the site's indoor and outdoor elements.  This glass feature reaches over the one-story form that contains the primary living areas.
Each of the L-shaped building configurations interlock in plan and section so that their programmatic interdependence is clearly expressed, with walls and spatial transparencies informing the house's relationship to the site and the broader environment.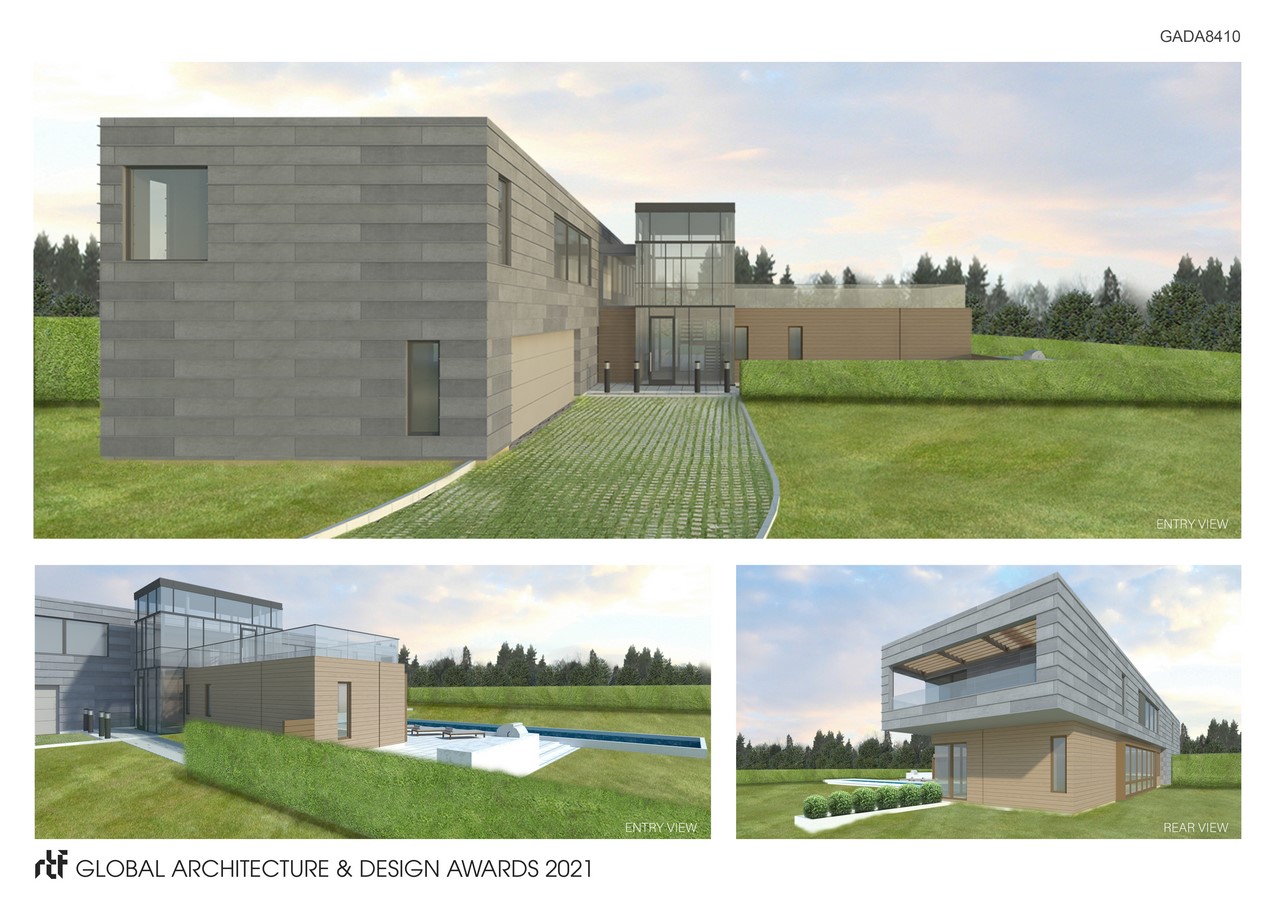 Because the house will function as a weekend and summer residence for a NYC-based multi-generational family, the commodious outdoor living area consists of a large food-prep and dining area, an L-shaped swimming pool and a hard-scaped area for group activities and lounging.  The variety of living areas, both indoor and outdoor, comfortably accommodate an extended family with plentiful options for communal and individual activities alike.  The second floor arrival and outdoor living spaces provide connection to the ocean-side environment just beyond the walls of the property.
The house is sustainably conceived as well.
Solar panels provide a renewable energy source for hot-water heating.  The driveway and parking area are defined by the pervious paving surface, minimizing site run-off.  Roof and hardscape surface water-runoff are also minimized by directing rainwater to an underground water collection system that can be used for landscaping purposes.  The pool employs an AOP system with an ozone-UV combination that creates hydroxyl radicals that sanitizes the pool without unwanted contaminants or chemicals.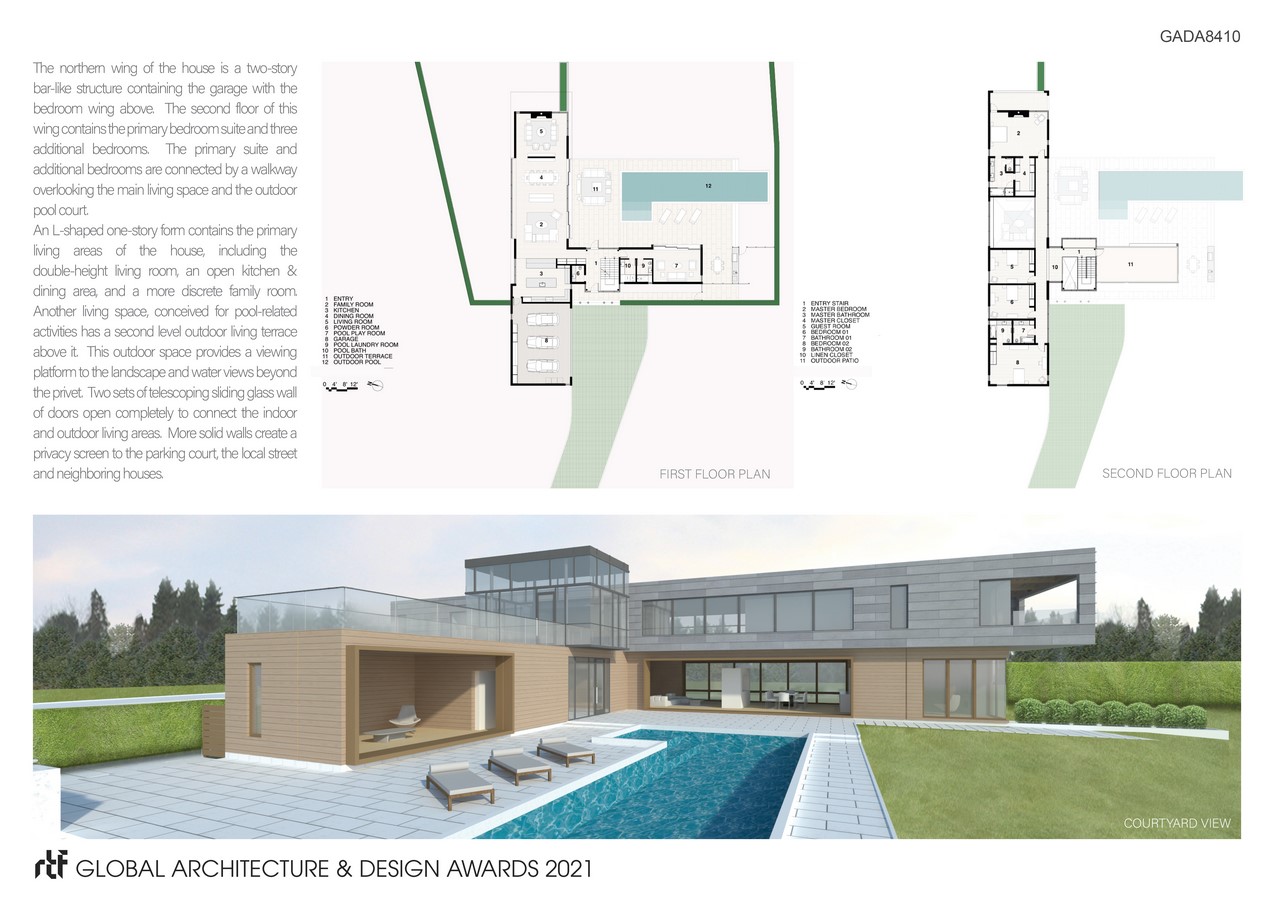 All equipment and appliances are Energy-Star rated, toilets and water-fixtures are low-flow, and insulation values are maximized in the roof, walls and slabs to allow for the responsibly considered larger expanses of thermal insulated glass that help create a unity between the landscape and the house, heightening the connection between indoors and out.
Simple but defined building elements, cohesive planning, and a strong connection between the house and the broader environment create a home that provides for a richly layered living experience and creates definition in the built environment that can serve as a model of site development for undistinguished building sites in an otherwise spectacular environment, but this design provides the owners with an elevated sense of their real day-to-day needs and desires.