In North Ekkamai, a medium-density residential area of Bangkok, the project locates in a young and vibrant mixed-use neighborhood consist of low-rise residentials, restaurants, crafted shops, start-up offices and international schools with lush greenery. Developer aims to propose a new collective housing standard as an alternative to suburban house offering an opportunity to live in the city.
Global Design & Architecture Design Awards 2021
First Award | Category: Housing (over 5 floors) (Concept)
Project Name:            SIAMESE TWINS EK22
Project Category:        Architecture Category: Housing (over 5 floors) (Concept)
New Design Talent Category: Housing (Concept)
Studio Name:              MAGLA
Design Team:              Methus Srisuchart (Director Architect)
Chakkarat Wongthirawat (Architect)
Yosita Paraphitak (Architect)
Parima Imsanguan (Architect)
Wanchai Samabenja (Architect)
Martina Muratori (Interior Designer)
Ginggal Metchanun (Director Landscape Architect)
Chatchawan Chomchuen (Landscape Architect)
Tinakakorn Wongou (Landscape Architect)
Area:                           8827 sqm.
Year:                            2020
Location:                     Ekkamai 22, Bangkok, Thailand
Consultants:                Structural Engineer: Supat Suwanarkan
Mechanical engineer: WEP
Other Credits:             3D visualization: DOF and 3D Park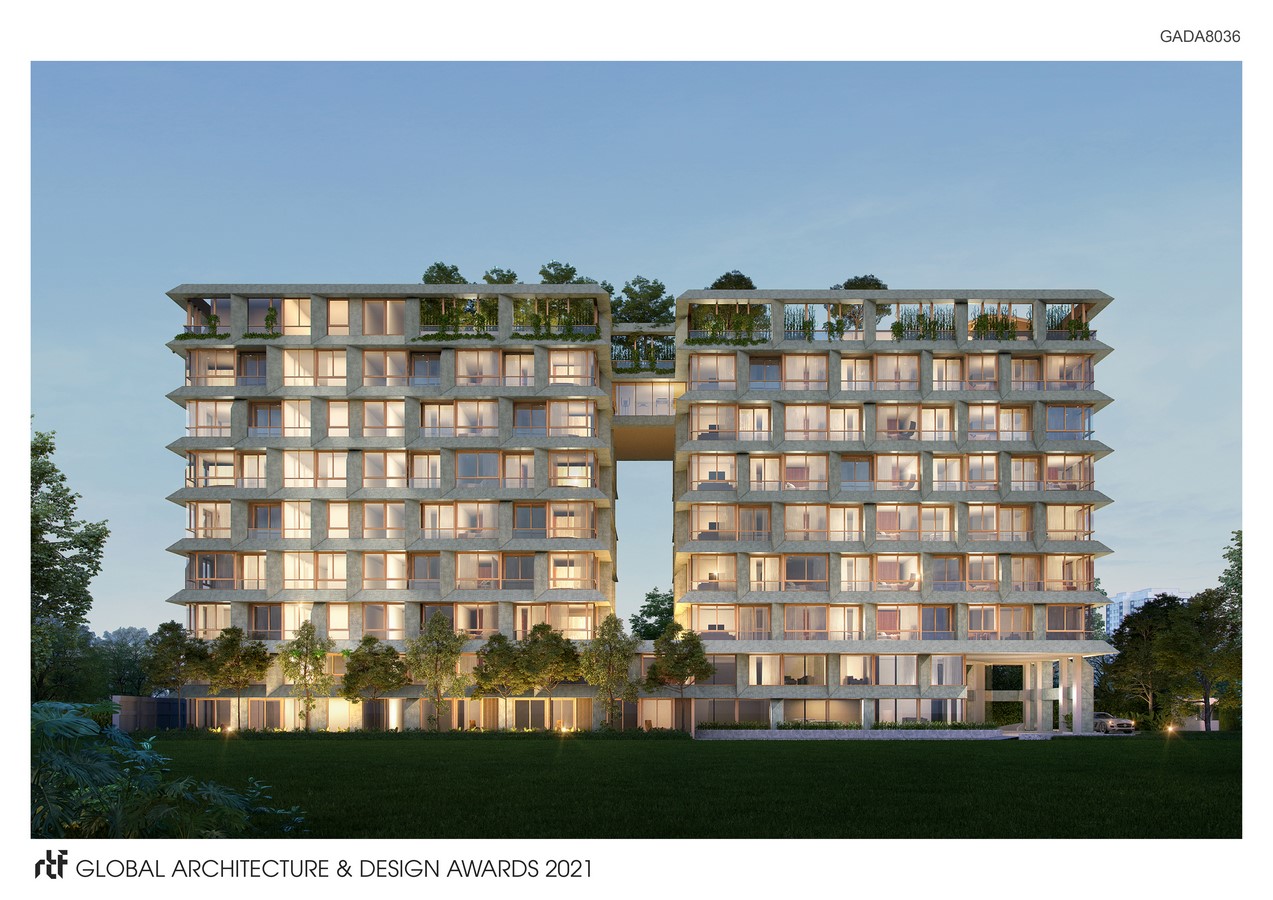 To integrate collective housing program with tropical climate and neighborhood environment, we explore the concept of "Natural Hybrid" and employ ideas inspired by nature with pragmatic approach through four strategies: Siamese twins, Porous façade, Green hybrid and Haptic material.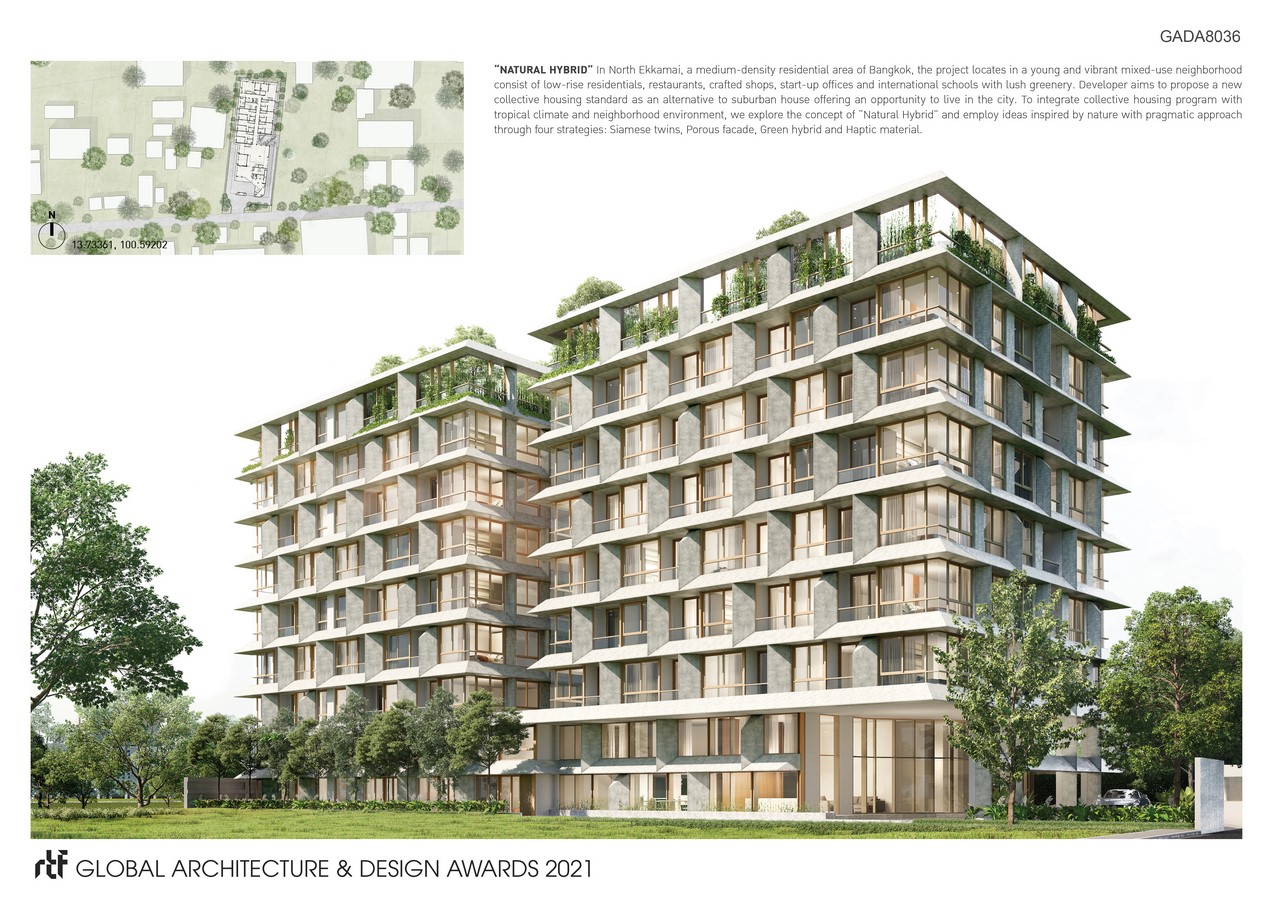 We arrange programs between collective and private with the concept of Siamese twins. We divide the residential volume into two identical masses which allow better ventilation, reduce density and provide more privacy. The project comprises of 90 residential units with 4 typologies and 15 rooms sizes. In each floor, eight out of fourteen are corner units. The corner units have been carefully planned to achieve the most benefit from this location. On the ground floor, each duplex unit has a private garden emphasizing the quality of living at home. The separate masses conjoin at ground floor and top floor, where public facilities are shared: large living room, co-working space, kids' area, fitness and roof garden. The building becomes a vertical village containing collective lives within.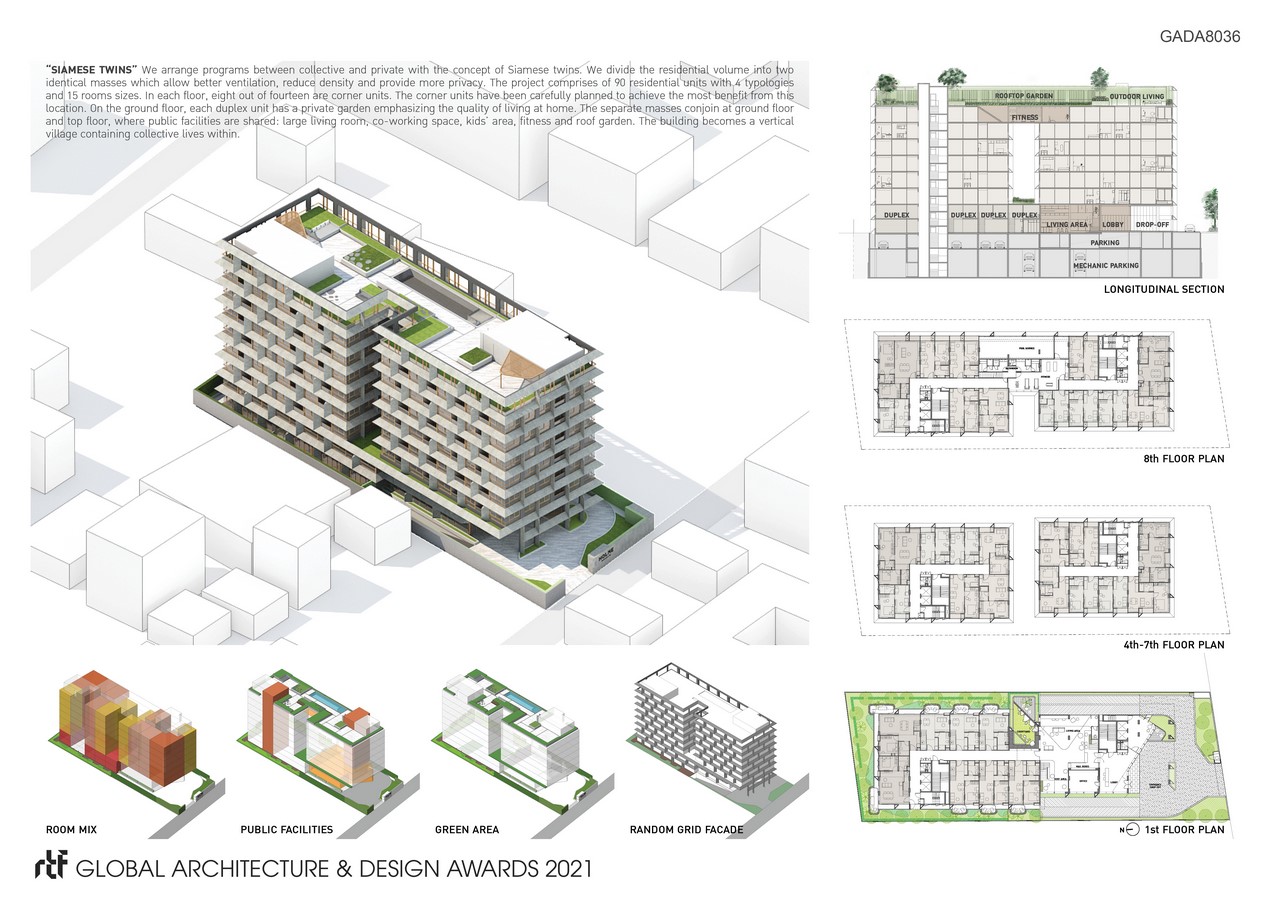 In response to tropical climate of Bangkok, we proposed a porous facade with operable windows and terraces to allow inhabitant to enjoy natural light and ventilation at will. To improve overall thermal quality of the facade, we utilized a random grid pattern of triangle profile louver to wrap over the building. The louver profile inspired from vernacular roof, works as a shading device for tropical sun light and rain. The air gap becomes an insulation that prevents direct sun light and ventilates heat radiation at the same time provides space for service functions.
With an inspiration from an agricultural landscape pattern, we propose the garden as a hybrid ecological system comprise of a collage of hardscape and softscape patches. We research and select collections of native plants not only for their visual aesthetic but also for thermal comfort function as to cool down and filtrate urban polluted air. The substrate layer of green roof system also works as an insulation preventing heat getting through the roof. An irrigation system is provided by rainwater collected in an underground tank, which also helps to store surface water in rainy season relieving flood problems.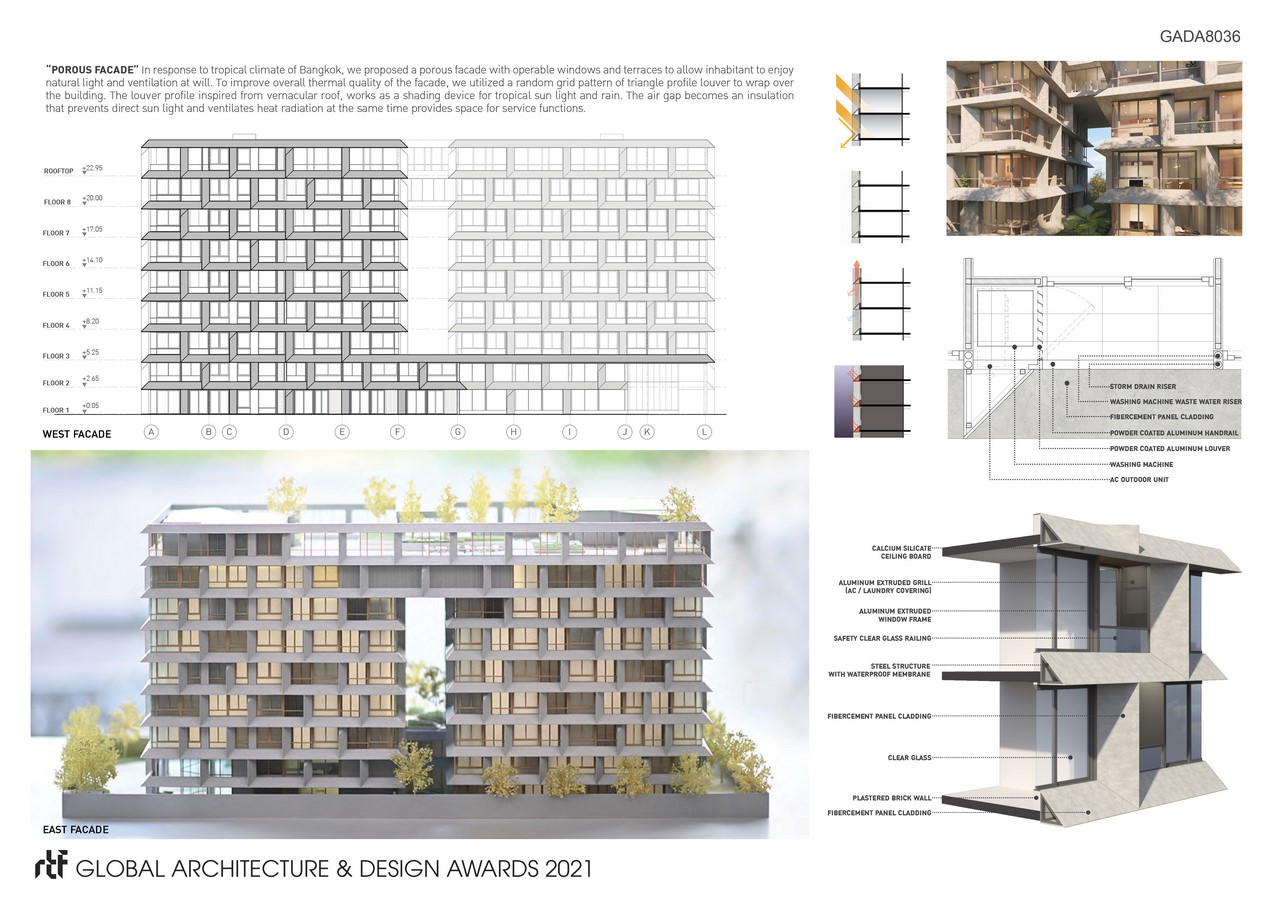 Distinguishing itself from current real estate development in Thailand, the project aims to promote a different idea of luxury by introducing rustic textures and the natural characteristics of materials arousing the sense of touch. Warm tone walnut wood and natural grey stone surfaces have been carefully selected for their textures and shades to establish a primitive sense of Home. The space will be a living canvas waiting for further interpretations by its inhabitants.