In 2012 the owners, a couple and their young daughter, purchased the parcel of land with the intention of building a modest home for their small family designed according to passive solar principles. They were attracted to the site because of its coastal location, the protection from prevailing winds provided by the coastal dunes and its sunny northerly aspect. The site is situated on the fringe of a low density residential area and is framed by coastal vegetation with views across the adjacent wetland near the mouth of the Carlton River in southern Tasmania.
Global Design & Architecture Design Awards 2019
Second Award | Category: Private Residence (Built)
Studio: River House – small family house and office
Architect: Michael Shrapnel & Agnes Nienhaus
Country: Australia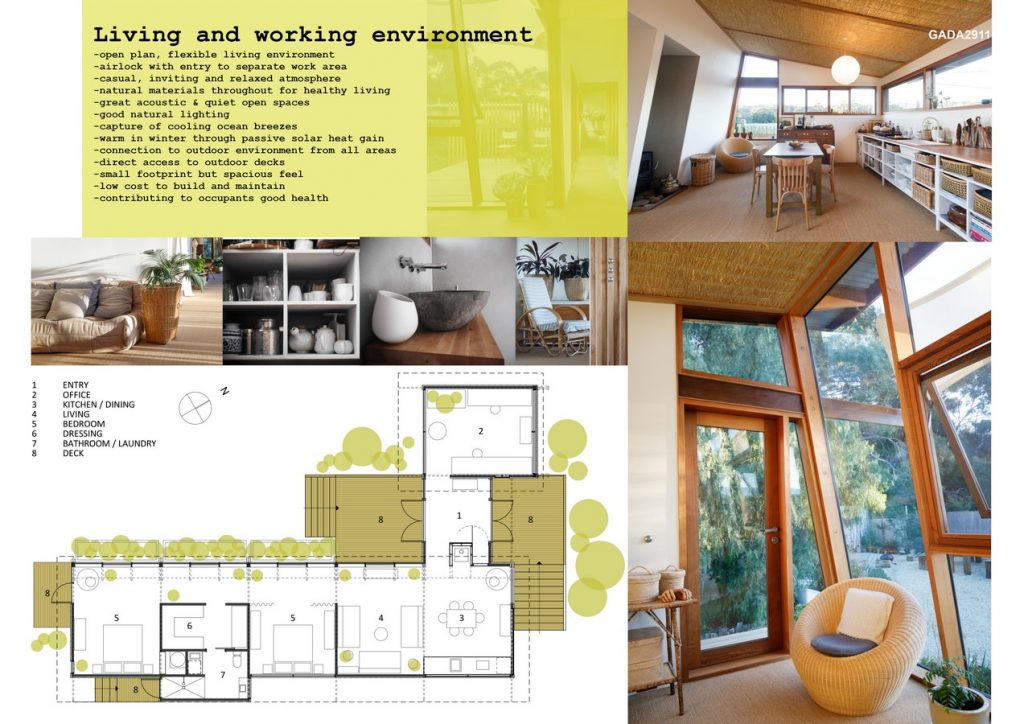 The couple had recently established their own architectural design practice and were keen to create a home based office where they could live and work without the need to commute to the nearest urban centre. With sustainability as the core principle of their design practice the brief was to create a truly sustainable dwelling that would demonstrate their shared philosophy, knowledge and experience and attract clients that had similar ideals and aspirations.
The site
The site is predominantly gentle in slope but rises steeply towards the rear of the property with the commencement of the coastal dune system. This section of the site is densely vegetated with local coastal flora and established eucalypt trees.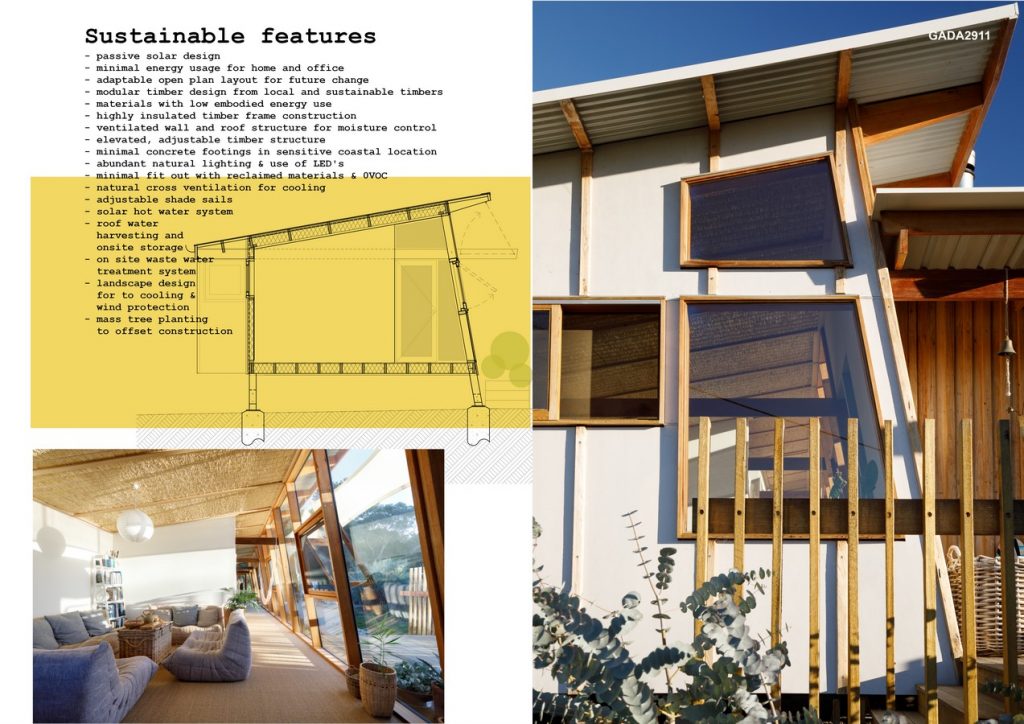 The lower section of the property is grassed and features one large established pepper tree in good health, providing shade and an attractive focal point for the new garden.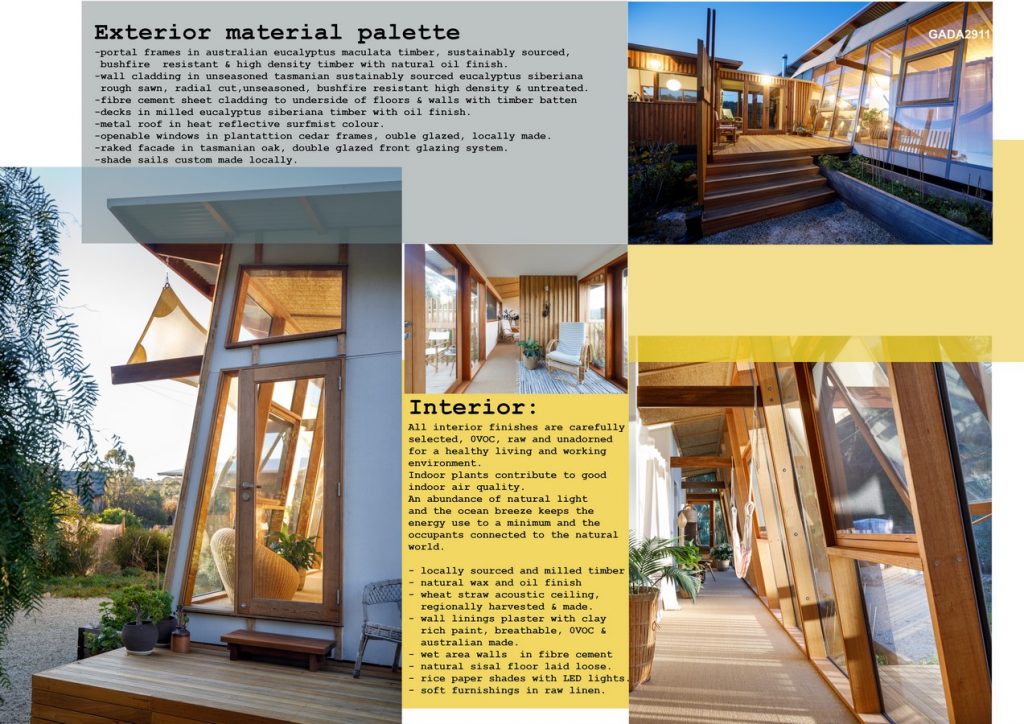 Key design intentions
Passive solar design.
A healthy building in which to live and work.
A small building footprint, both physically and environmentally.
Interconnection between interior spaces and surrounding garden.
Interconnection with the broader coastal and wetland natural environments.
Use of natural materials, especially timber, internally and externally.
Use of regional and local materials with low embodied energy.
Use of non-toxic interior materials, products and finishes.
Minimal material wastage through the implementation of modular construction system.
Minimal ongoing energy use by applying passive solar principles and natural ventilation.
Minimal ongoing energy use through modest electrical fit-out.
Minimal fit-out – create an aesthetically beautiful and functional shell to be inhabited with owner's eclectic mix of old and new belongings.
Establishment of both native and food producing gardens with abundant tree planting to offset use of timber in construction.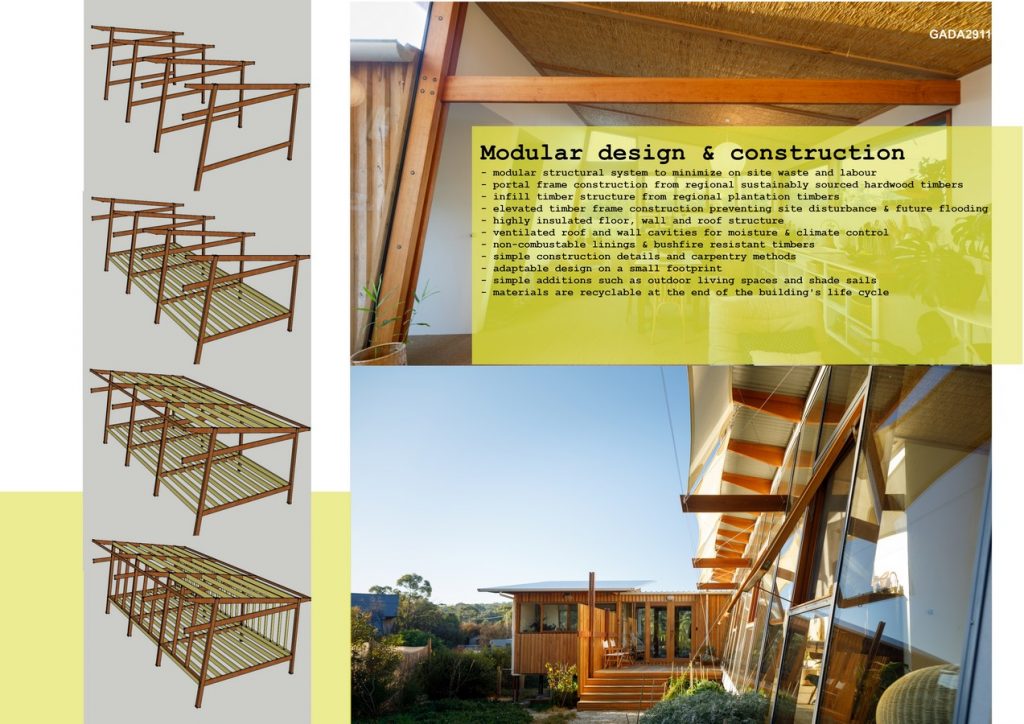 Budget
Construction Budget:              $265,000
Fitout and infrastructure:       $  55,000
Total budget:                           $320,000 (Australian dollars)