The magnificent gardens surrounding Victoria's Parliament House were established in 1856, the same year that the Parliament of the fledgling state of Victoria opened.
Global Design & Architecture Design Awards 2021
Second Award | Category: Landscape Design (Built)
Project Name: Parliament House of Victoria
Project Category: Landscape Design – Built
Studio Name: TCL
Design Team: Perry Lethlean, Lucas Dean
Area: 1.5 acres
Year: 2018
Location: Melbourne, Australia
Consultants: Collaboration with Paul Thompson, Peter Elliott Architecture and Urban Design, Irwinconsult
Photography Credits: Dianna Snape, Adam Gibson
Text Credits: TCL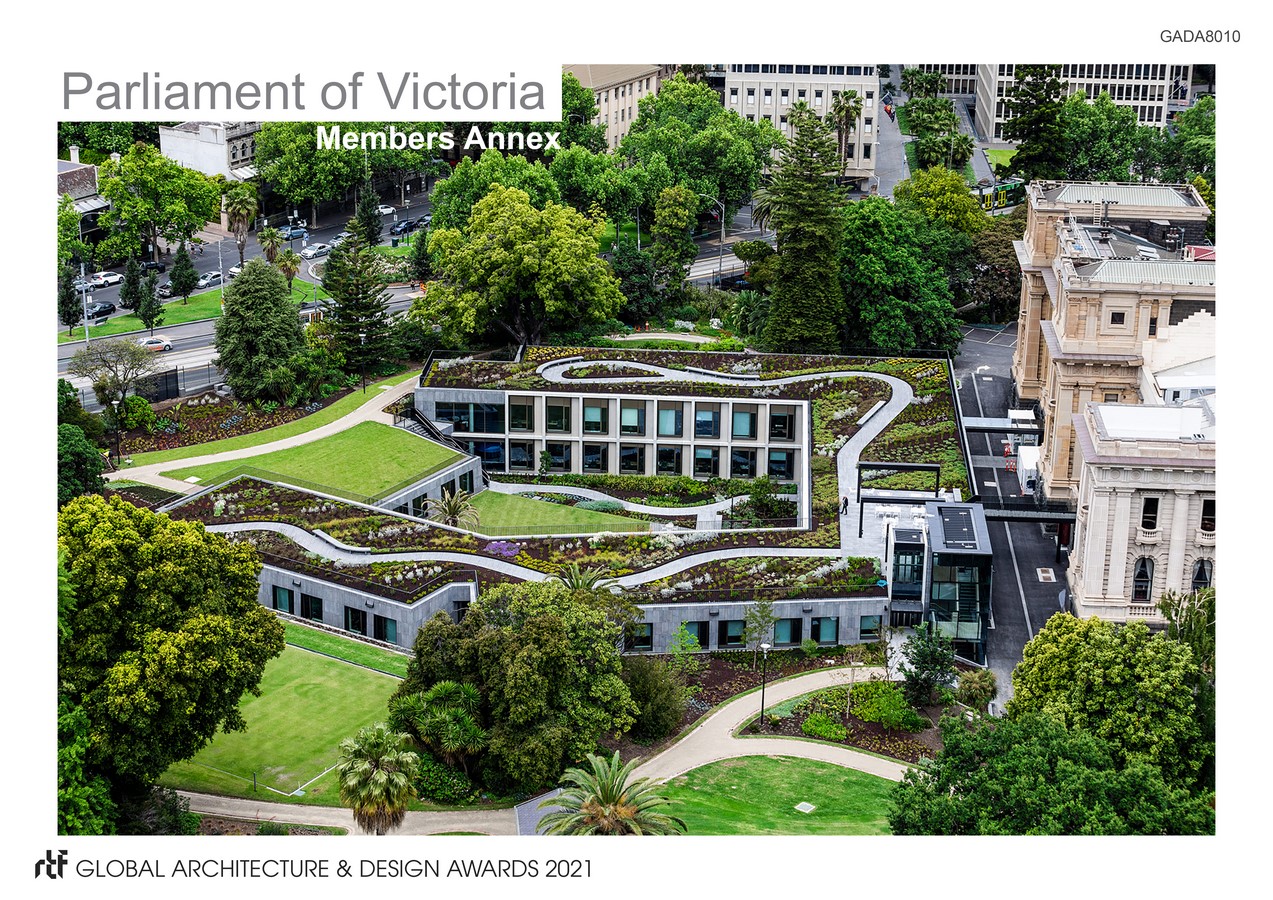 Within this garden, Peter Elliott Architecture and Urban Design has designed a new Members Annex building that provides much-needed office accommodation for 102 members of parliament and their support staff.
The new annex has been conceived as a companion building to Parliament House, set in a garden, where one hundred percent of the footprint has been crowned with two new flourishing gardens (designed by TCL) that merge a beautiful building into its extraordinary landscape setting.
Arranged to protect established trees, maintain and frame valued views to St Patricks Cathedral and St Peters Church, the pincer-shaped building frames a large central courtyard garden that visually links with the existing eastern garden as one large flowing space.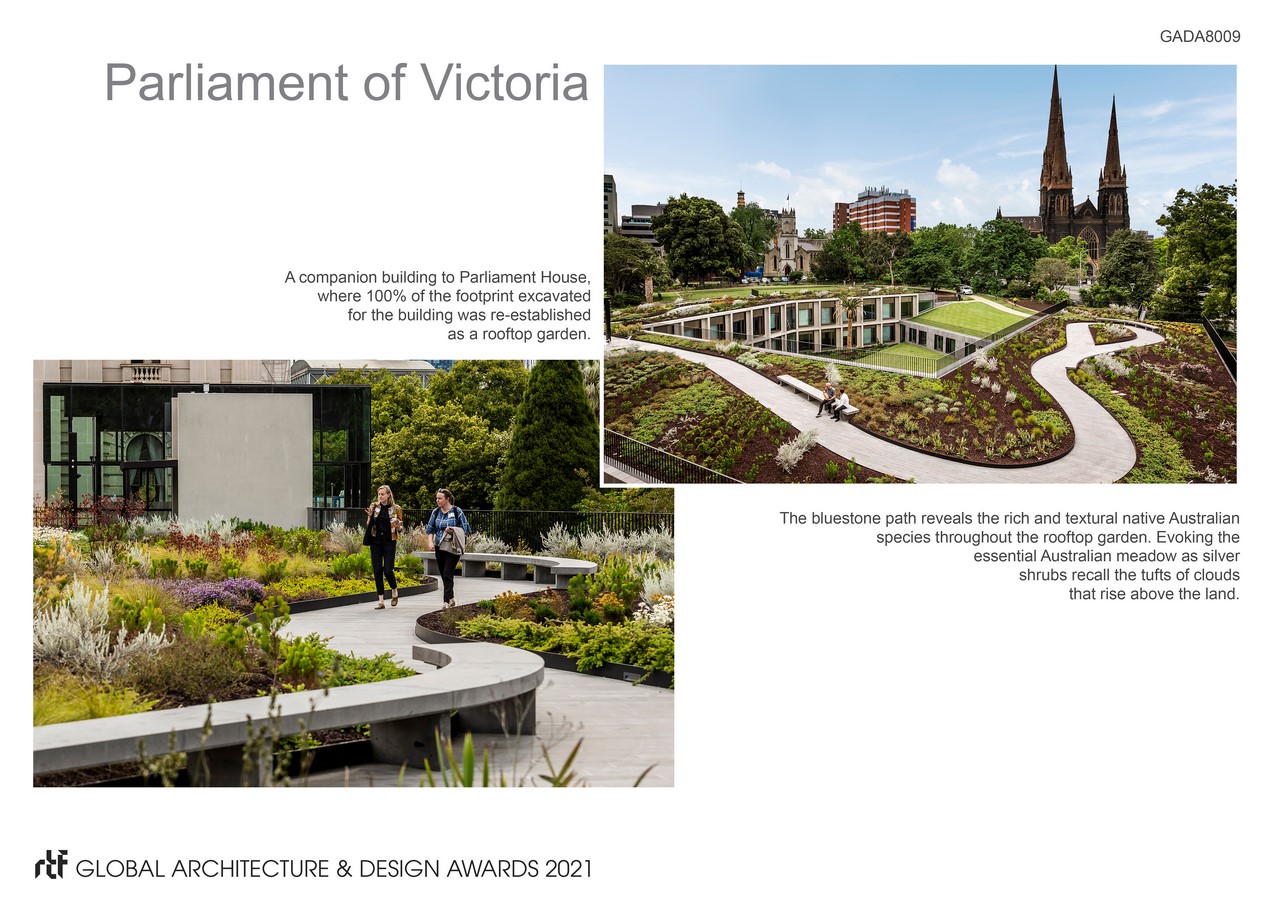 The courtyard is composed of a central lawn for events, announcements and celebrations, a paved terrace that caters for informal uses and enveloping gardens. The plantings, informed by the expertise of horticulturalist Annette Warner, reference the existing heritage garden – one of the finest examples of Victorian-style gardens in Australia – and utilises its emblematic planting palette to create modern compositions of overlapping textures. These plants are scaled to provide privacy for the parliamentary offices while allowing for a beautiful outlook.
Framing this courtyard is one of Melbourne's largest rooftop gardens that links with the broader garden setting. This garden, informed by the expertise of renown planting designer Paul Thompson, provides a new layer to the heritage garden context by evoking images of an Australian meadow to emphatically place this contemporary building as a living illustration of the beauty and importance of indigenous landscapes.
The roof garden features a serpentine bluestone path that weaves through drifts of silver Eremophila nivea and Eremophila glabra, that structure a rich mosaic of native shrubs, grasses and wildflowers. These drifts of striking silver shrubs are sculpted to evoke drifting clouds and to provide an informal yet repetitive foreground to the distant views to St Patricks Cathedral.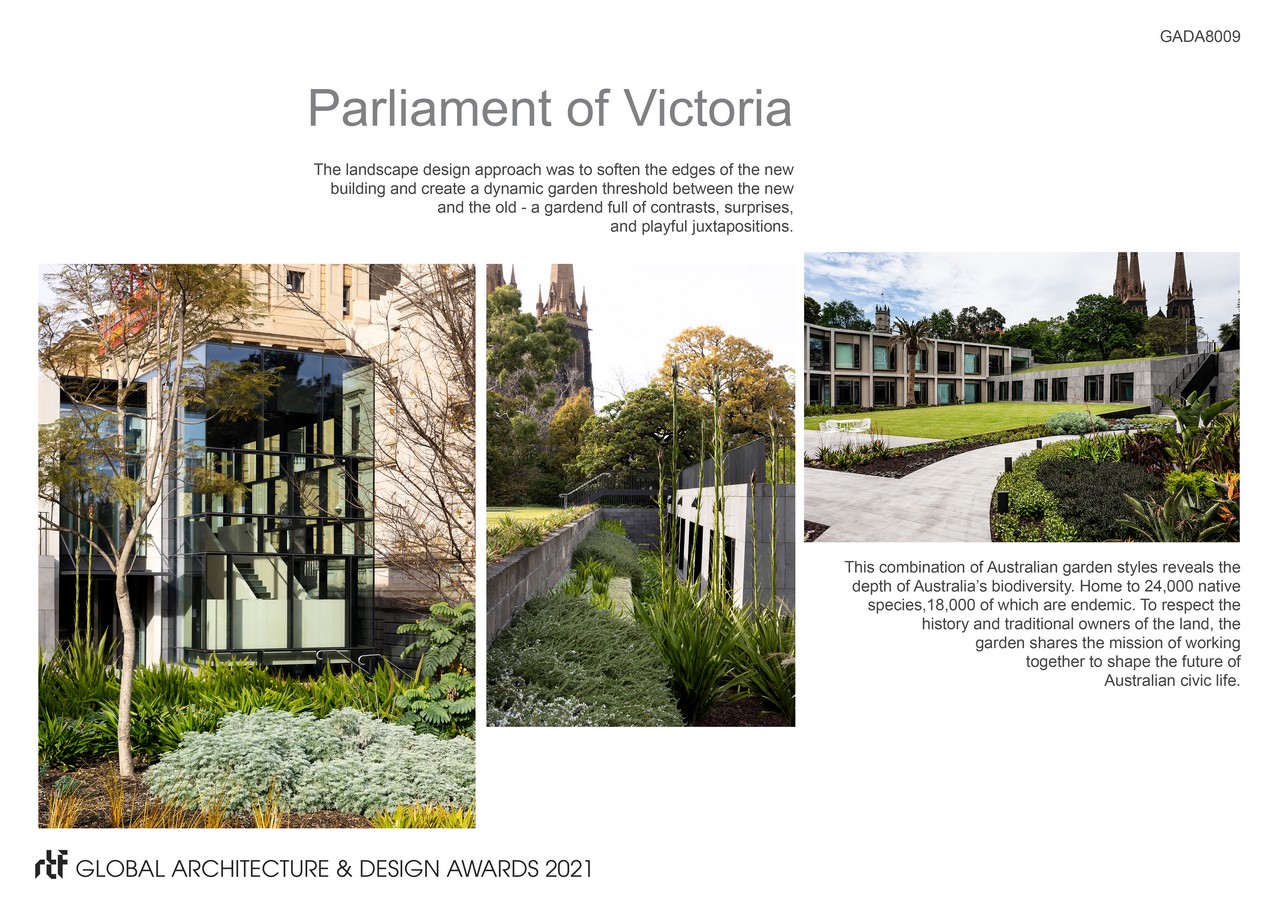 The garden provides a powerful new setting to the ensemble of 19th century buildings and illustrates the beauty and importance of indigenous landscapes, and their potential use in civic contexts and significant public buildings.
Design collaboration with Peter Elliott was a successful hallmark of the project and ensured the landscape and architecture were seamlessly integrated amidst the project's valued and important context. Equally the collaboration with the Parliamentary staff, in particularly the horticultural team, was critical to ensure proposed planting palette were compatible with nuanced site conditions and that the sculpted design intent was communicated for long term maintenance regimes.
Working within such an important heritage landscape required detailed research, informed arboriculture advice and ongoing and iterative collaboration with the Parliament of Victoria and Heritage Victoria.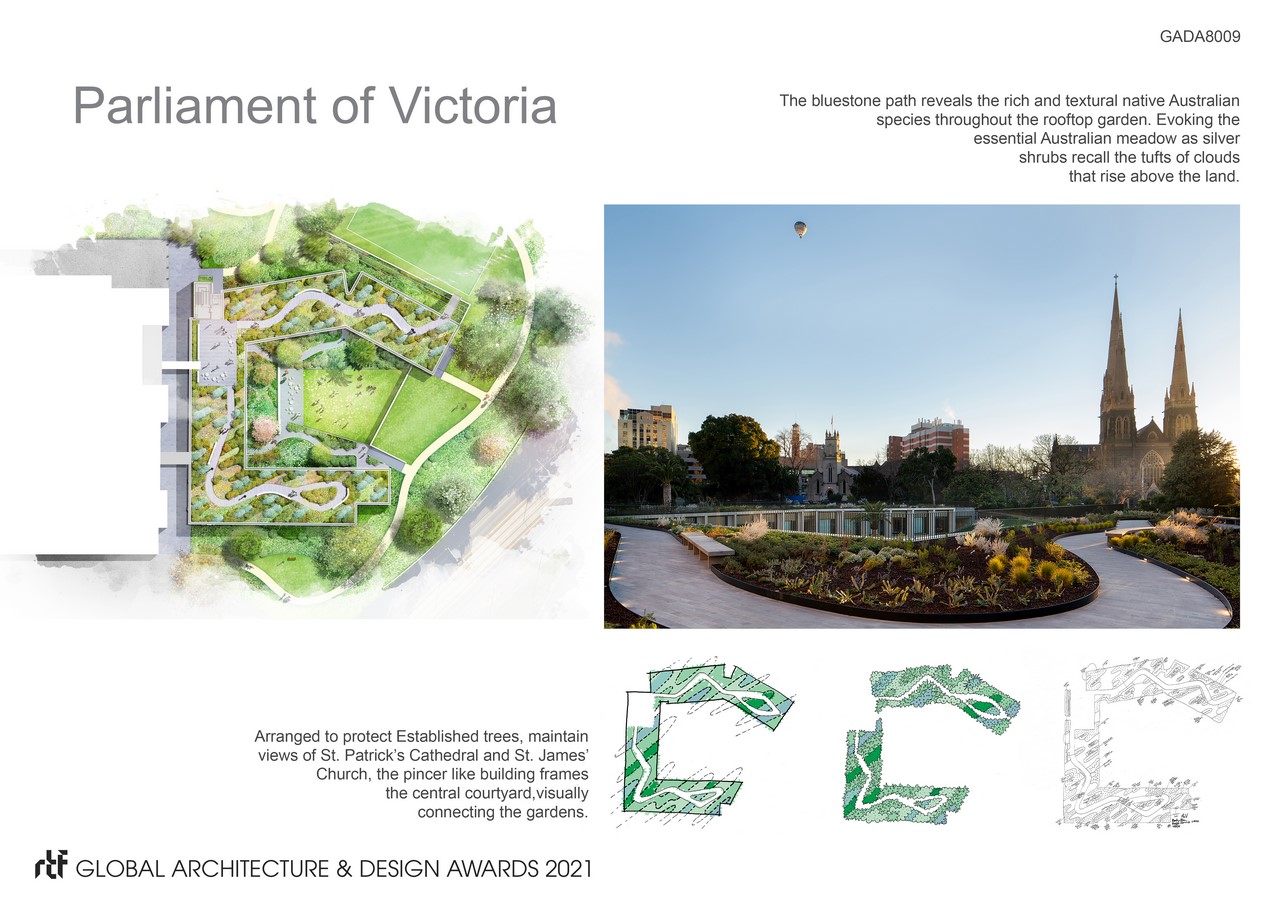 The Parliament House Annex project is a result of paying respect to its powerful context, to the creative potential of indigenous landscapes, and to the process of collaborative design.