The epitome of sustainability—in both a desert environment and a commercial development context—the design of the Eco-Residences 2 neighborhood synthesizes a human-centered, biophilic approach with a dramatically reduced environmental impact.
Rethinking The Future Awards 2021
First Award |  Urban Design (Built)
Project Name: Eco-Residences 2
Studio Name: CBT (Role: Master Planner and Architect)
Design Team:
Kishore Varanasi
Devanshi Purohit
Brian Bishop
Sae Kim
Noelle Roderick-Drewicz
Hee Park
William Savage
Area: 10 Hectares / 100,840 square meters / One million square feet
Year: November 1, 2020 (this date was used in the BSA Award)
Location: Masdar City, Abu Dhabi, UAE
Client: Abu Dhabi Future Energy Company – Masdar
Client Contact:
Mr. Chris Wan, Design Manager
Masdar City
cwan@masdar.ae; +971.50.7215860
Consultants:
Lead Architects: CBT Architects
Lead Engineers: Buro Happold Engineering
Landscape Designers: CRJA (aka IBI Placemaking)
Executive Architects: EHAF Engineers
Architects / Engineers of Record / Sustainability: AECOM
Main Contractor: Sixco
Air Tightness: Intertek.
Acoustics: AcousticLogic
Lighting Design: Sladen Feinstein, Lighting Design
Technical Advisors: GHD
Cost Consultants: JLL
Data Consultant: Windstream Holdings, Data Consultant
Fire Life and Safety: Design Confidence / Profire
Specifications: Wil-Spec LLC,  Specifications Consultant
Tensile Structures: Specialty Structures
Wayfinding / Signage: Joseph Advertisers
Photography Credits: Phil Handforth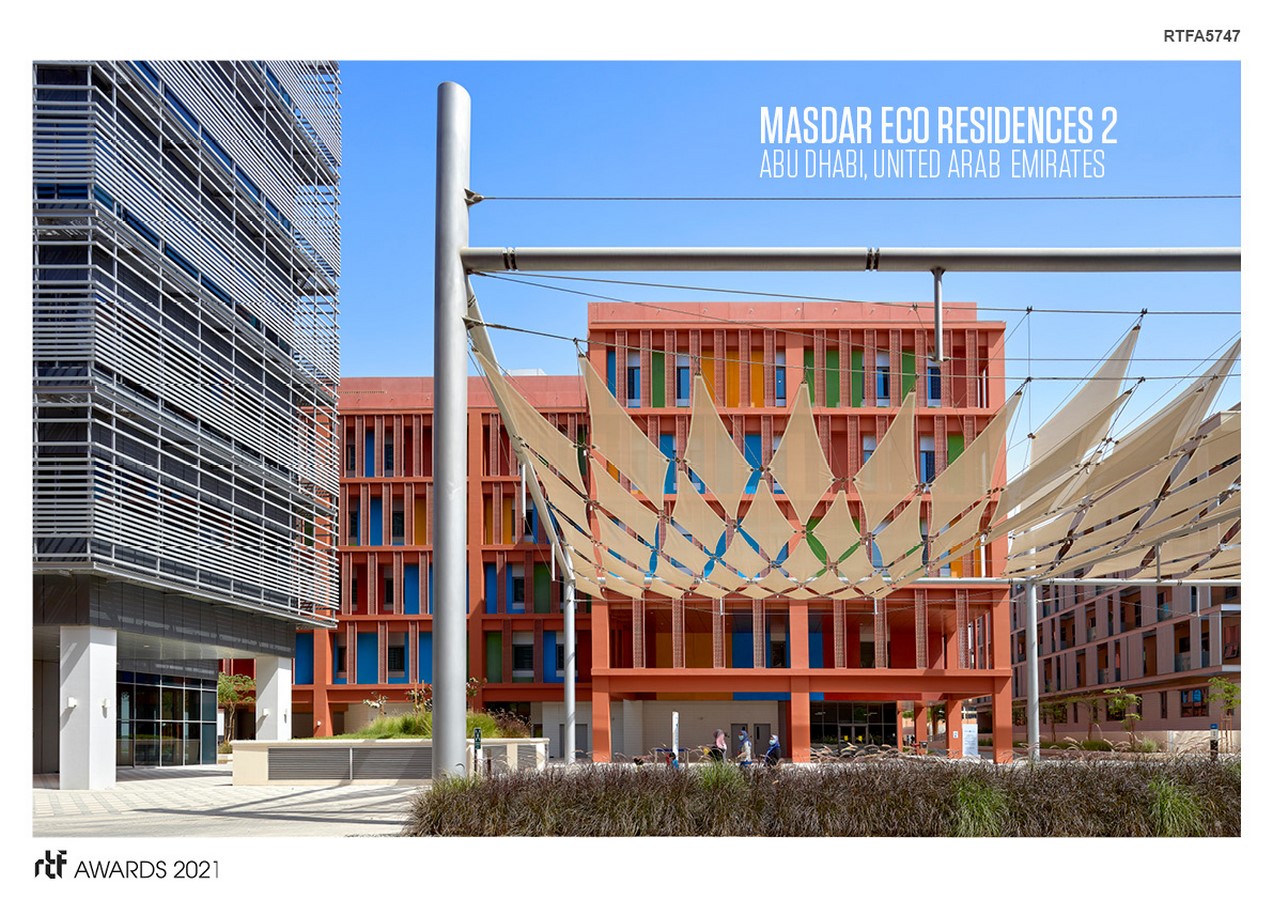 Part of Masdar City's Phase One development, this innovation-focused mixed-use district is adjacent to the Mohamed bin Zayed University of Artificial Intelligence (MBZUAI), the world's first research-based institution dedicated to artificial intelligence. Here, across just 5.62 hectares, a world-class institution, corporate housing with a young demographic, incubator offices, retail and restaurants, and welcoming public space converge within a five-minute walk.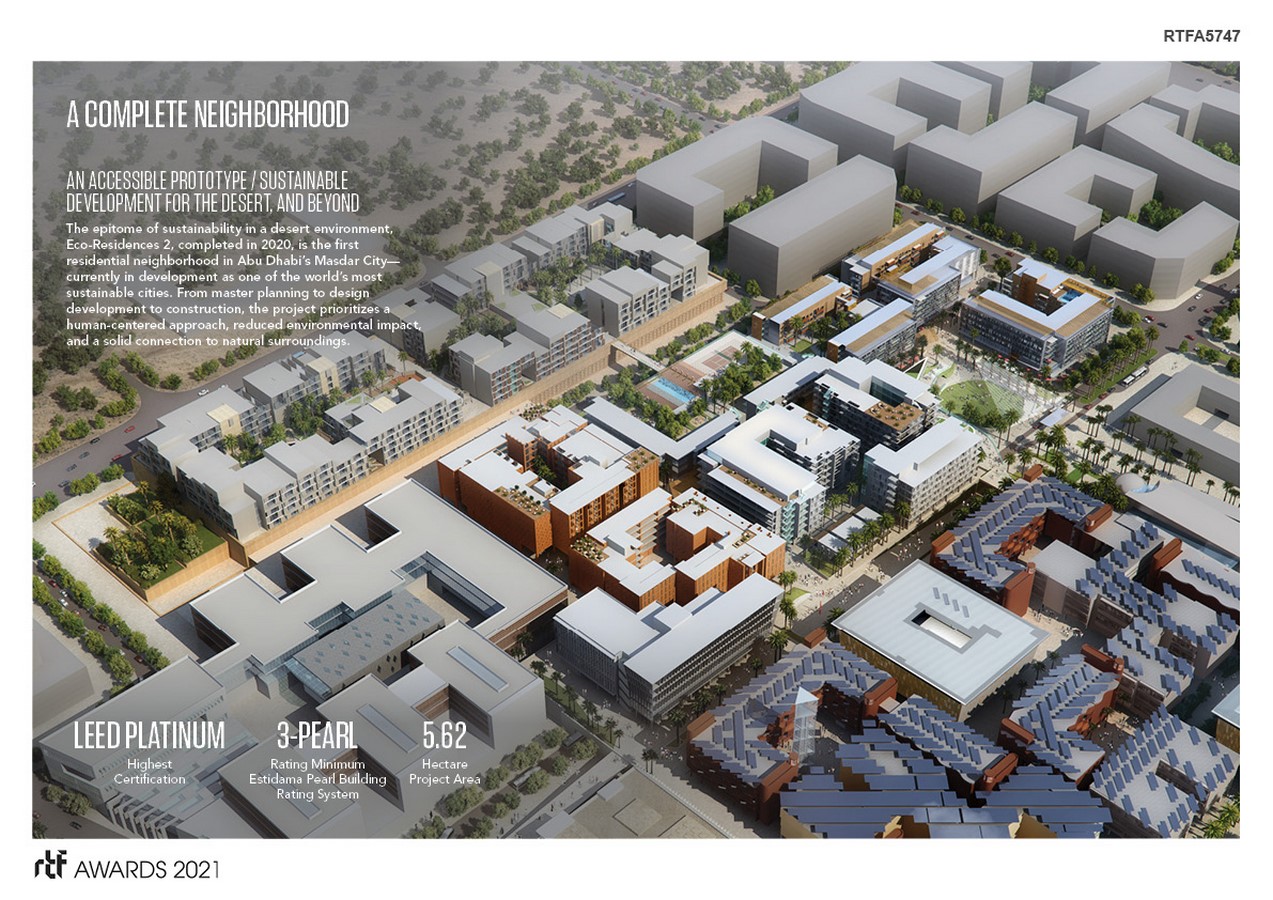 Establishing valuable city-building precedents for the region's future, Eco-Residences 2 is the first of eight residential neighborhoods in Masdar City. Nestled between the MBZUAI campus, Siemens Middle-East Headquarters and a future development site, the district's urban realm is well-connected, encouraging active and sustainable lifestyles and community building at all scales.
Completed in 2020, LEED Platinum-certified and Estidama PBRS 03-Pearl rated, the neighborhood conserves energy and water, minimizes GHG emissions, promotes biodiversity, and limits the use of high-embodied-energy materials while creating an attractive and inspiring environment.
A Complete Neighborhood
Nine low-rise, high-performance buildings frame comfortable walkways and courtyards ("sikka" and "baraha"), solidifying and expanding Masdar City's vision. Prioritizing human-centered design within a framework of market feasibility, the designers shaped a fine-grained, pedestrian-friendly, environmentally sustainable residential neighborhood. Integrating a research-development cluster with open spaces, it features 878 residential units, 5,700-square-meter retail space, a pool deck, and a central plaza; the district's Incubator Building—crisp in its metal-wrapped sun-shading façade—hosts start-ups, small-and-medium-sized enterprises, and regional multinationals.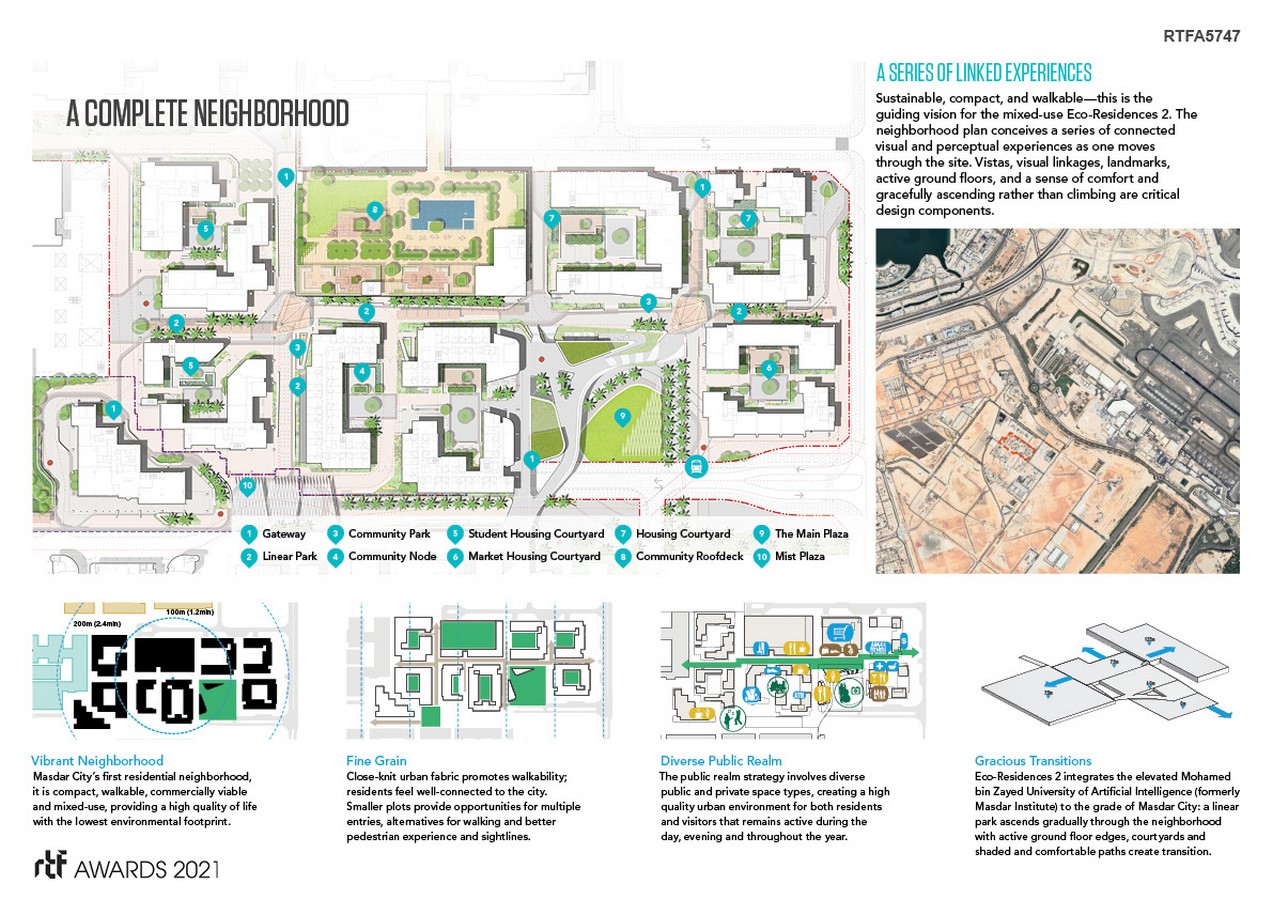 A Comfortable Micro-Climate
A compact and walkable neighborhood, its design focuses on environments at many scales—from shaded pathways to wind-catching courtyards and small plazas to expansive public space. The district, envisioned as a series of connected visual and environmental moments, emphasizes vistas, visual linkages, landmarks, active ground floors, and comfortable environments.
Guided by a philosophy of passive sustainability, the design's careful orientation and close positioning of the buildings reduces direct solar heat gain, a significant problem in this climate. A fine-grained courtyard typology creates shaded and private environments.
Wind movement also shapes the district's design. Intentionally directed breezes clear the urban environment, removing day-time humidity and cooling the courtyards and walkways overnight, preventing heat build-up.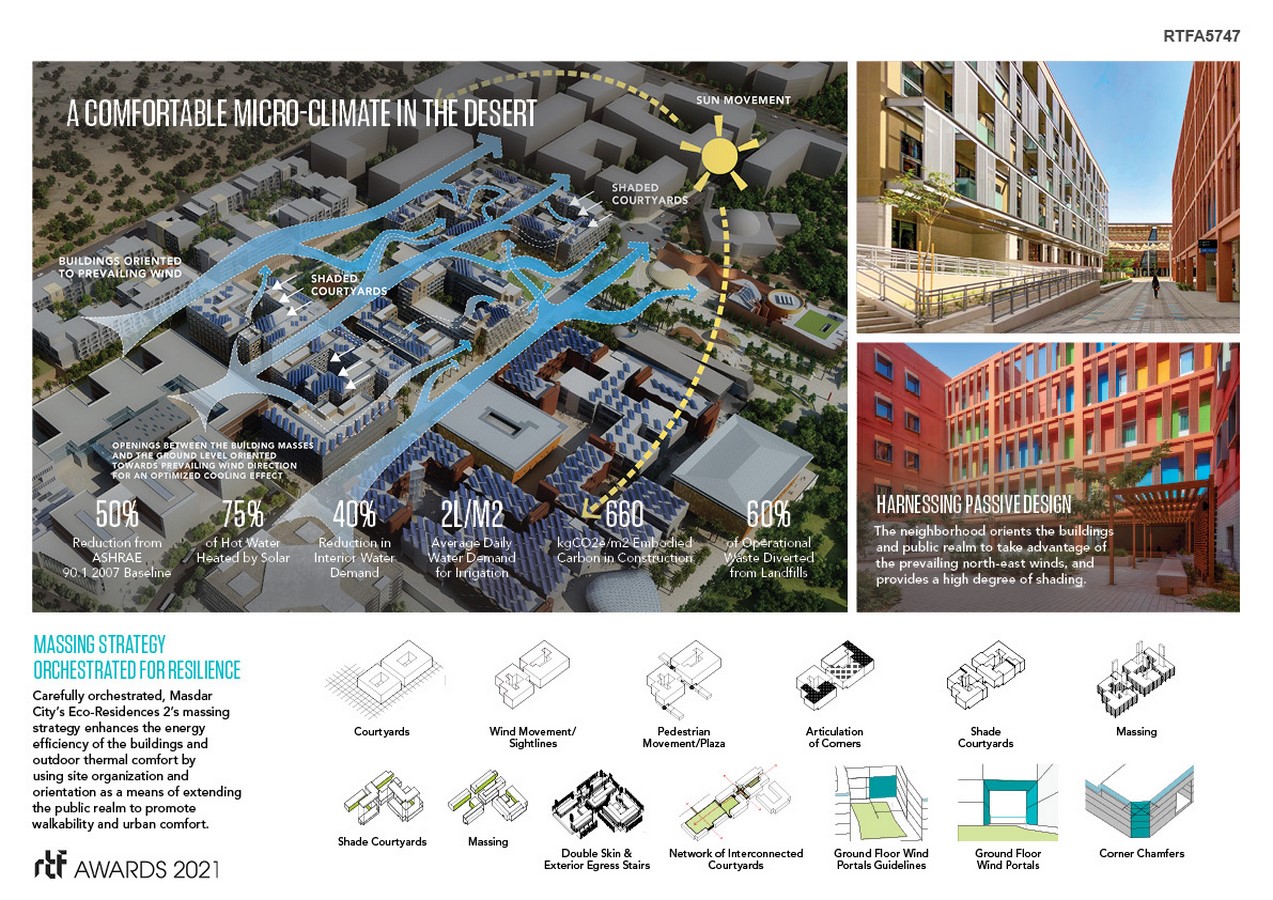 Low-Carbon Buildings
The buildings meet the highest levels of energy conservation and carbon reduction. With over 55% reduction in energy demand over ASHRAE 90.1 2007 baseline, these buildings are highly efficient compared to stringent international energy codes. Also, high-embodied-energy materials are minimized through the carbon footprint of materials during design and construction phases, with a total Embodied Carbon, site-wide, of 666kg CO2/m2—one of the lowest in the MENA region.
Careful attention to building orientation, exterior envelope design, and interior uses aids in keeping direct sunlight from building interiors and reflects solar radiation while still allowing daylight inside. Geographic siting influences the buildings' architectural vocabulary: southeast and southwest facing exteriors feature deep brise-soleil with balconies for night use, smaller windows on the northwest side reduce afternoon heat gain.