The Beveren Civic Center is located on the central artery in the heart of the City of Beveren, twenty minutes west of Antwerp. The project is the new central municipal administration building containing all city hall departments, public service administration, and the police headquarters.
Rethinking The Future Awards 2021
Second Award |  Public Building (Built)
Project Name: Beveren police station and civic center
Studio Name: ORG – Organization for Permanent Modernity
Design Team: Alexander D'Hooghe, Natalie Seys, Luk Peeters, Steve Swiggers, Sanne Peeters, Wim Francois, Birgit Clottens, Britt Van Rompaey, Rolf Van Der Leeuw, Aaron Weller, Yoon Young Cho, Ryan Maliszewski, Theo Issaias, Yen Van Der Voort, Andrew Corrigan, Michiel De Potter, Shirley Shen, Nida Rehman, Scott Ferebee, Adam Galletly, Ysaline de Lobkowicz, Ellen Raes
Area: 19.000 m²
Year: 2008 – Ongoing
Location: Beveren, Belgium
Consultants: Sweco
Photography Credits: ORG – Organization for Permanent Modernity, Filip Dujardin, Heinrich Altenmüller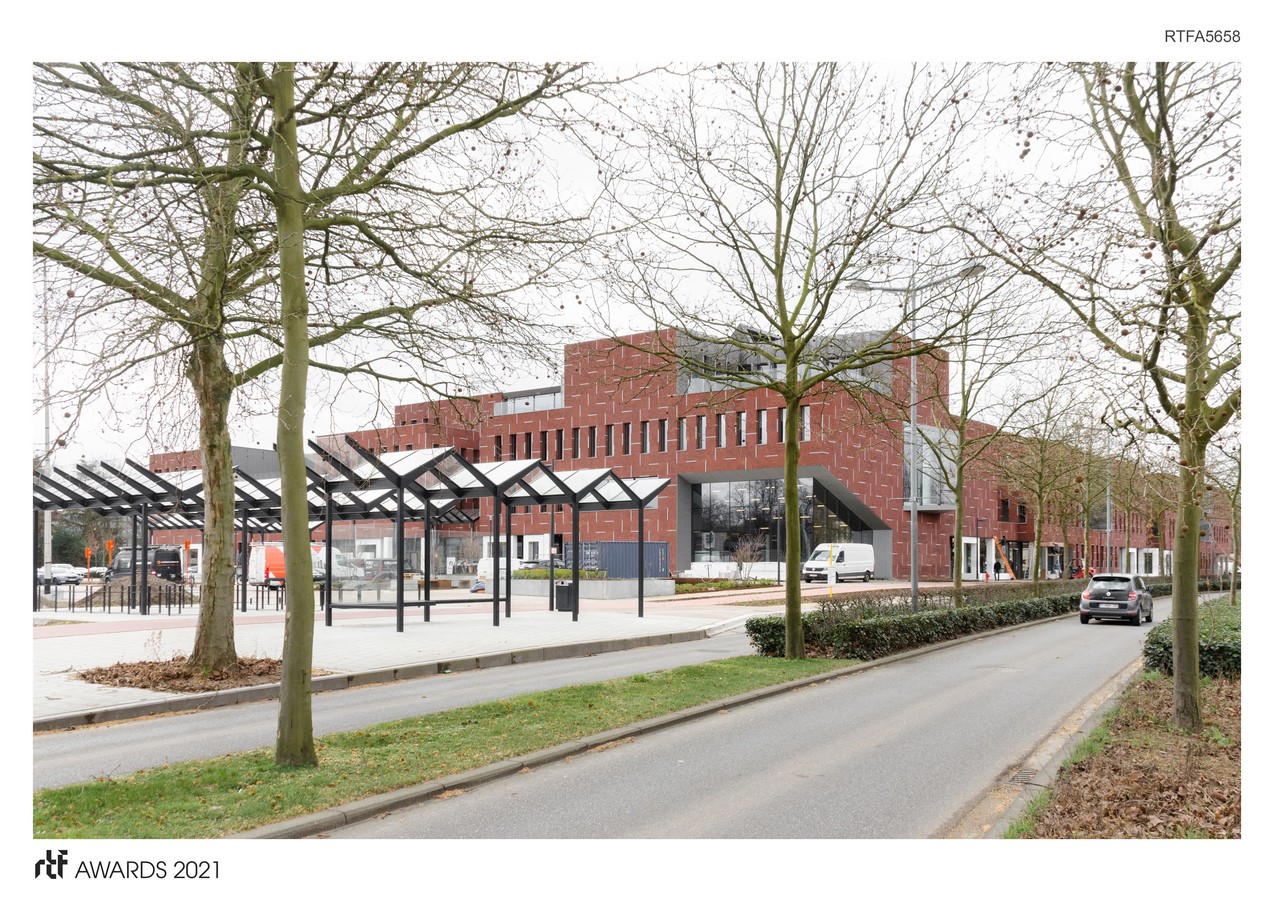 The police station and city hall departments are each housed on one leg of an L-shaped building. At the junction of both is an entry volume, which contains the representative functions of the civic center: assembly hall, public auditorium, and public "service market". The entry façade opens onto and helps define a new civic square.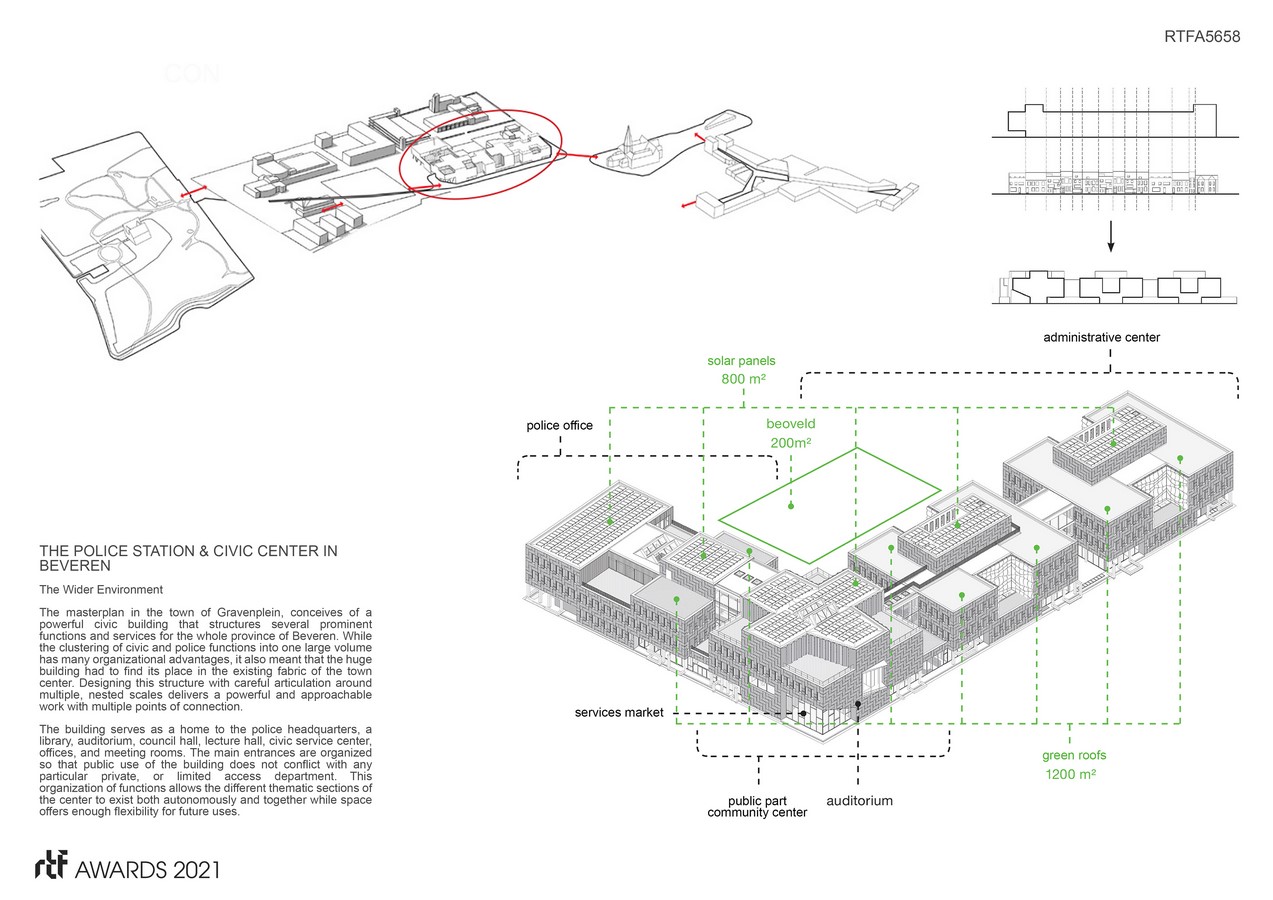 The strategic positioning of the building resulted in a compact L-shaped building footprint with deep floor plates (approx. 30 m. or 100 ft.), and large spans to allow for flexible plan arrangements. The massive building (19,000 s.m. or 204,500 s.f.) is broken down into four distinct volumes to fit the scale of the urban context (row-houses), and to ensure all interior spaces have access to light and view.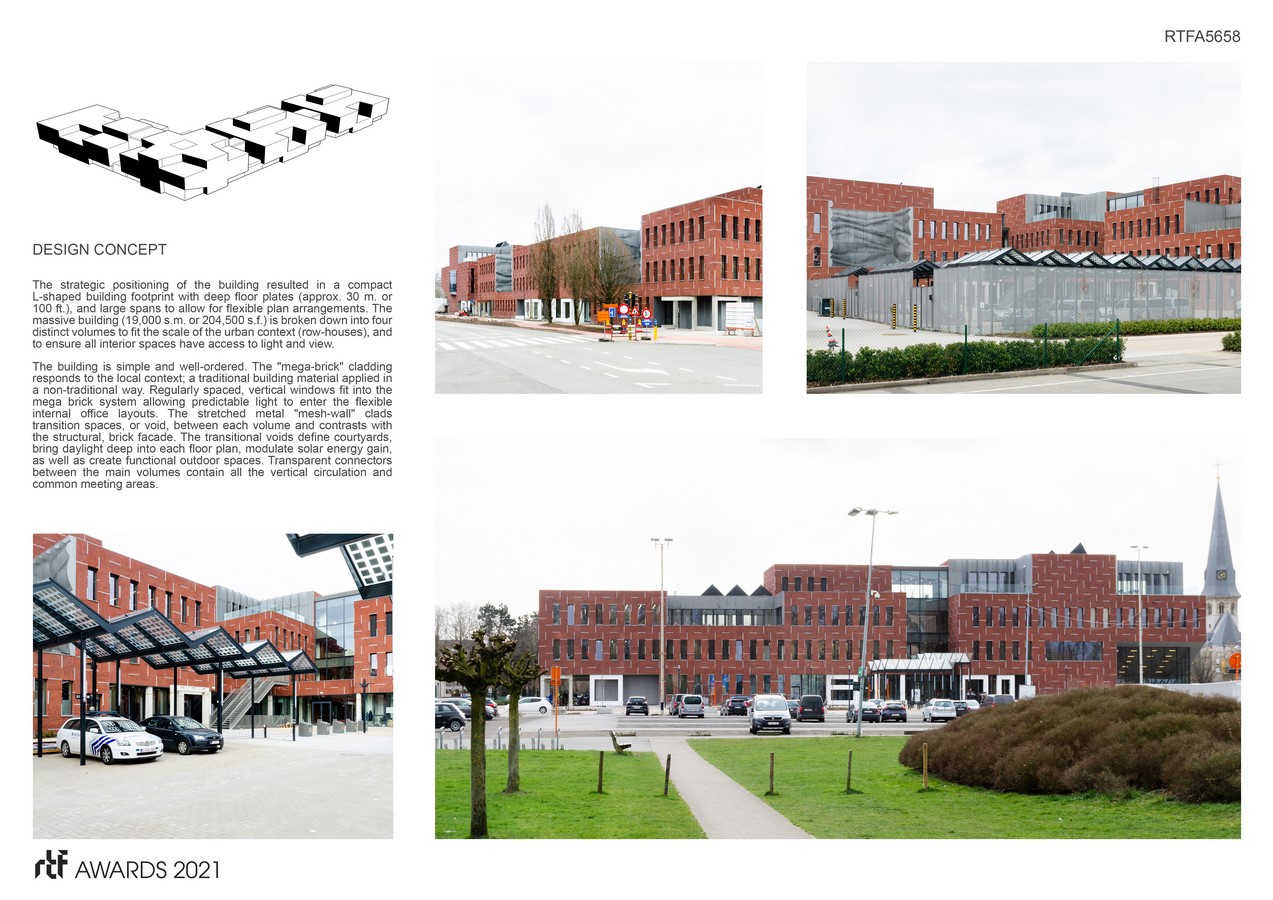 The building is simple and well-ordered. The "mega-brick" cladding responds to the local context – a traditional building material applied in a non-traditional way. Regularly spaced, vertical windows fit into the mega brick system allowing predictable light to enter the flexible internal office layouts. Stretched metal ("mesh-wall") clad void spaces between each volume, and contrast the rational brick façade. These voids define courtyards, bring daylight deep into each floor plan, modulate solar energy gain, as well as create functional outdoor spaces. Transparent connectors between the main volumes contain all the vertical circulation and common meeting areas.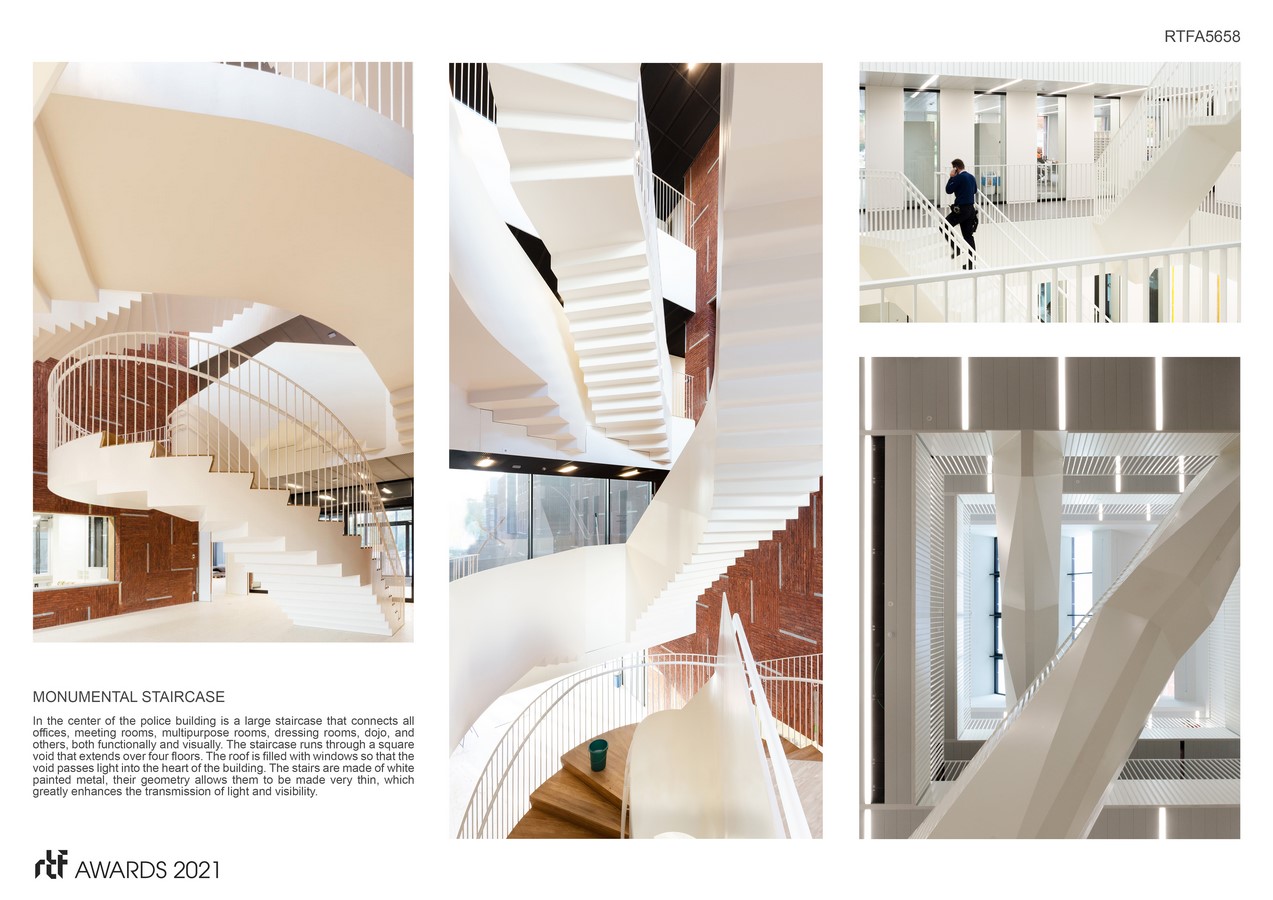 The building is a low-energy building, nearly carbon neutral. Much of the energy savings come from passive solar, wind, and water strategies; as well as active heating, cooling, and energy technologies such as borehole thermal energy storage, chilled ceiling systems for low-temperature heating and cooling, solar panels on the roof, and integrated solar cells in the glazed parking canopies.