Wulidun Vanke Wave project locates in Hanyang District, with a total GFA of 25,774 sq m. The project is connected to Exit C of Wulidun Station of Metro Line 4, which offers the project a convenient access to the city. The goal of this development is to become the iconic "City Garden" of Wuhan, providing visitors a refreshing shopping experience.
Architecture, Construction & Design Awards 2020
First Award |  Interiors Retail (Concept)
Project Name: Vanke Wuhan Wulidun Shopping Mall Interior Design
Studio Name: L&P Architects
Design Team:  Gang Li, Kris Ni, Ye Keda, Muenpong  Suwankart, Xiuyun Jia, Yanbo Peng, Hamp Mao, Dachao Qian, Xiangkai Qin
Area:  25774 sq m
Year: 2020
Location: Wuhan, PRC
Consultant: Lighting – LDPI Inc.
Photography Credits: L&P Architects
Other Credits: Client – Wuhan Vanke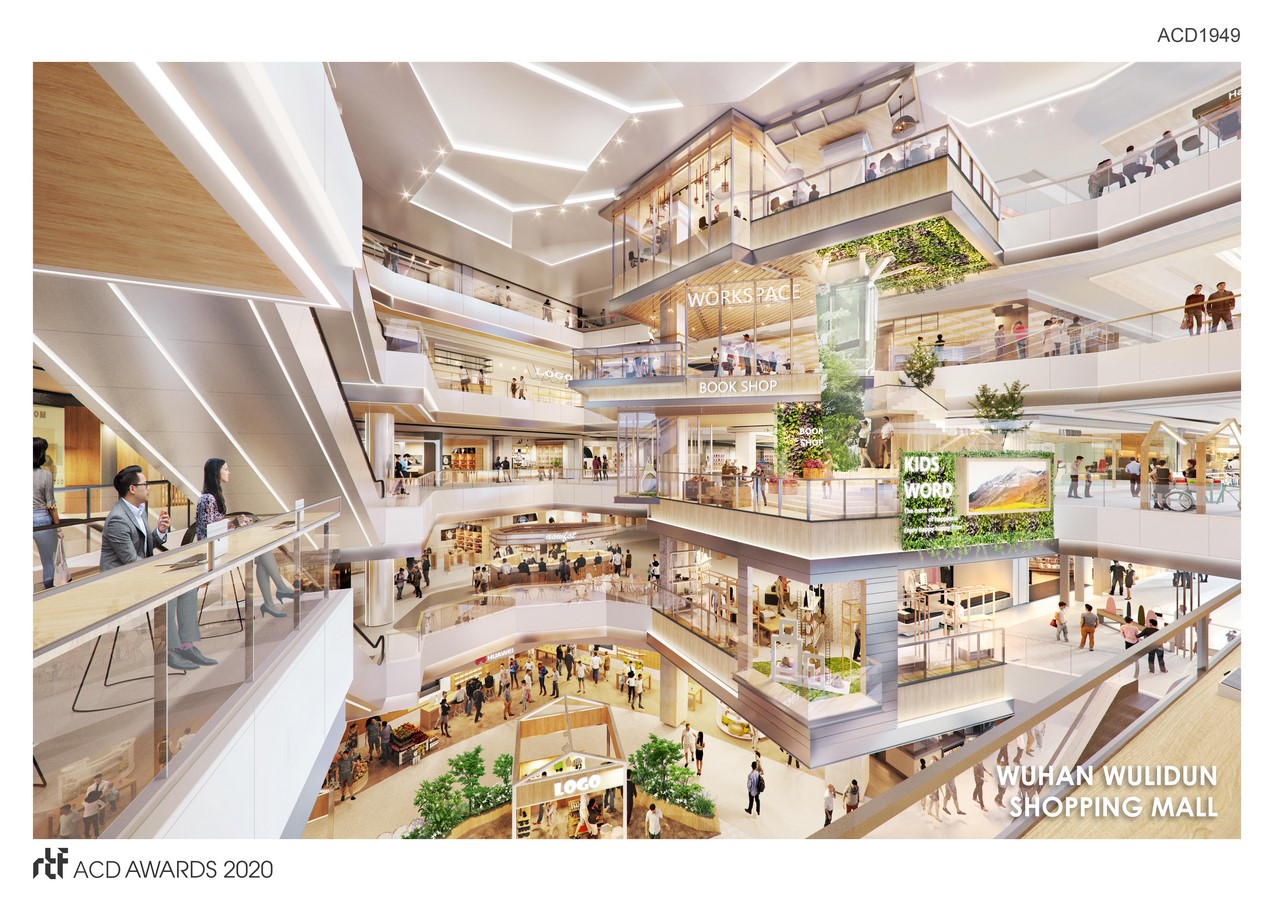 "Urban habitants need a place to recharge so that they can receive energy and explore more!"
Green nature can always bring people the greatest comforts, therefore, we proposed an idea of "Feel the nature and enjoy your leisure time." We developed our design language with abstract elements deriving from trees and then reinterpreted that into our architectural spaces.
Diverse retail programs are separated and located at different floors and sections with highly innovative natural scenes as the partition theme, providing visitors an exciting "urban garden tour".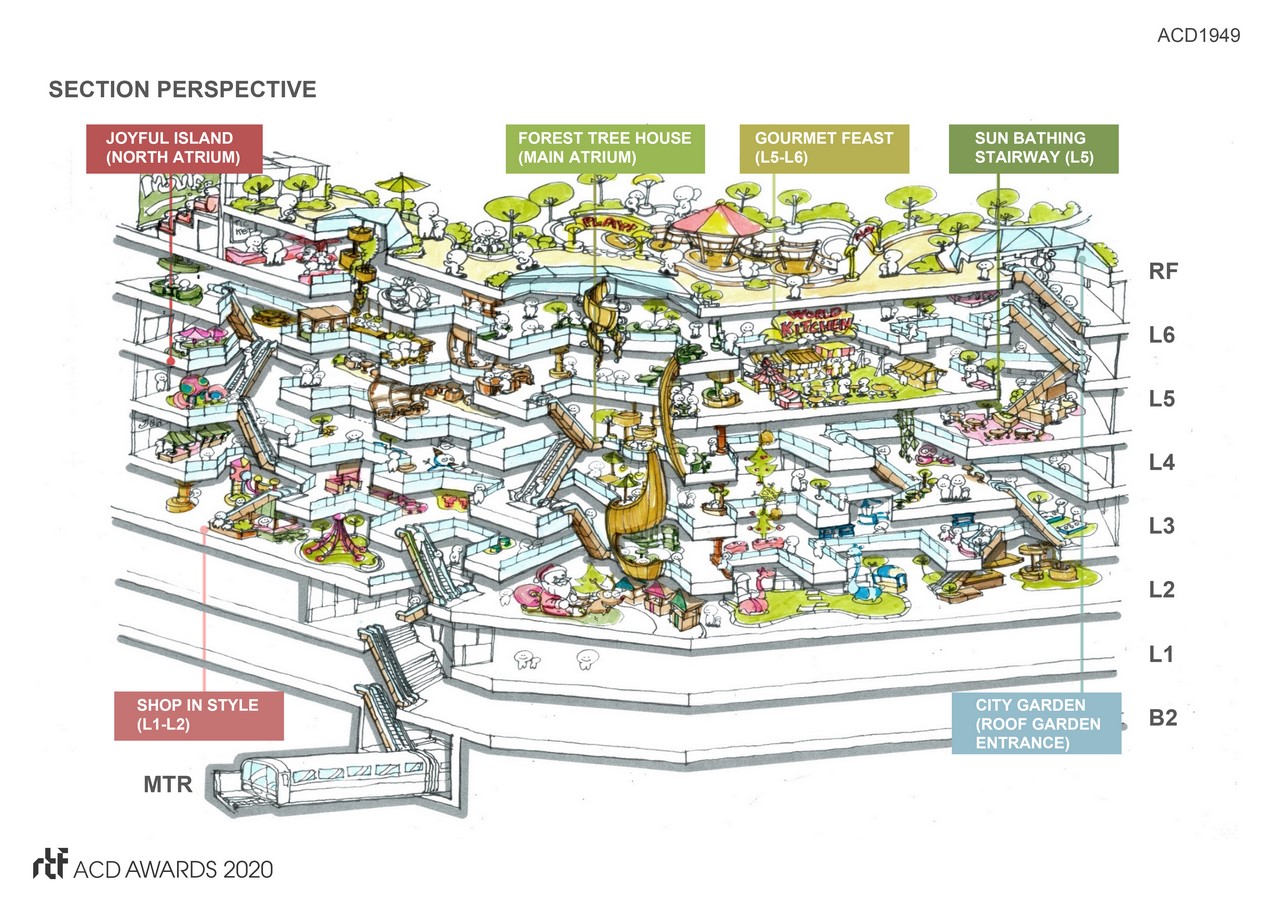 Forest Tree House (Main Atrium)
The tree-branch style polyline element was developed to become the theme to tie the main atrium and its ceiling all together. The interaction between people and space was therefore created by the layers. Balconies at different floors trace an interesting outline for the atrium; selected retail tenants at the balconies will draw visitors' attention, making them curious to explore around. The simple and classic floor design with selected materials not only presents the polyline concept but also works as a pattern to guide people.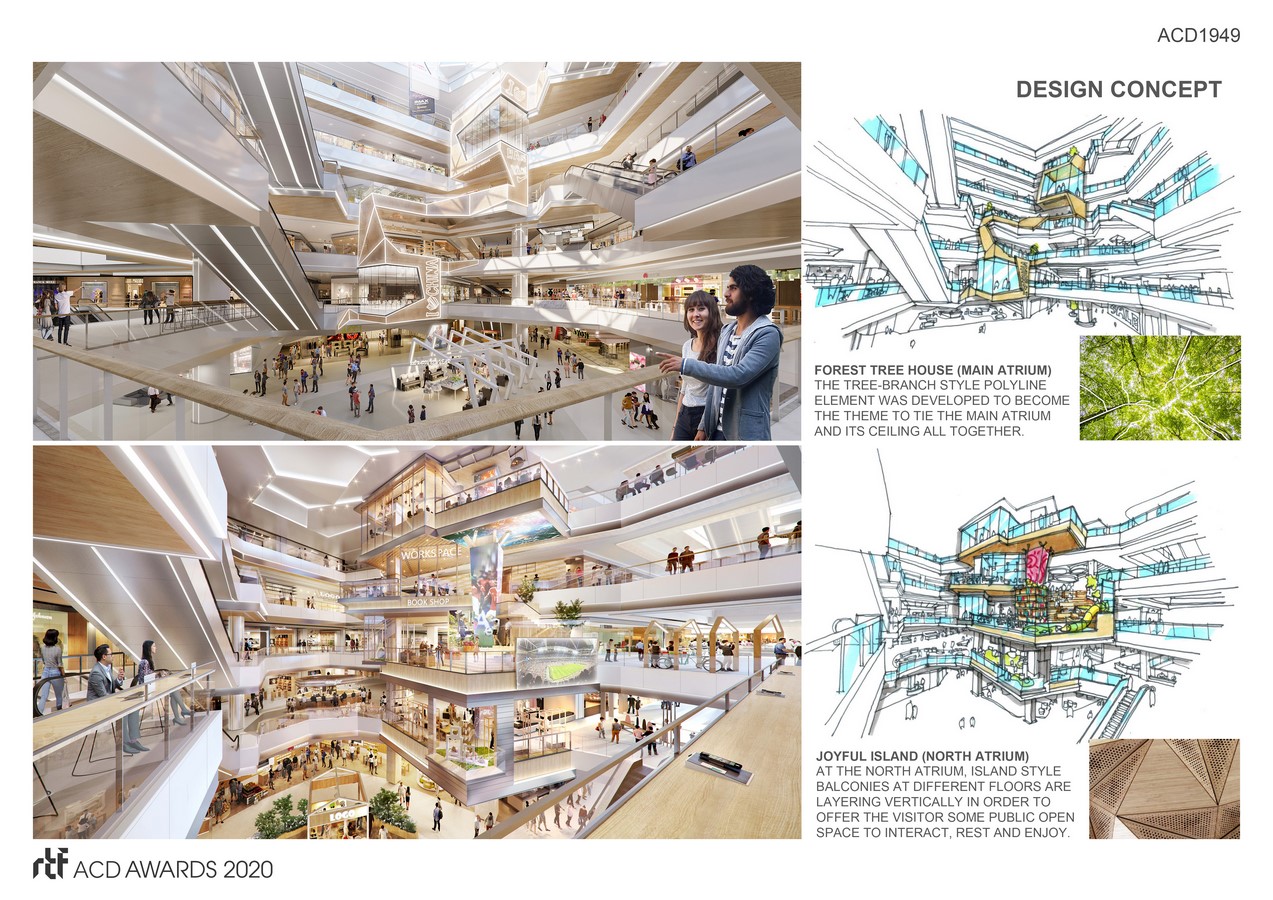 Joyful Island (North Atrium)
At the north atrium, island style balconies at different floors are layering vertically in order to offer the visitor some public open space to interact, rest and enjoy. In between the islands, the visual connection can build up a relationship between spaces and people – it's about "to see and to be seen".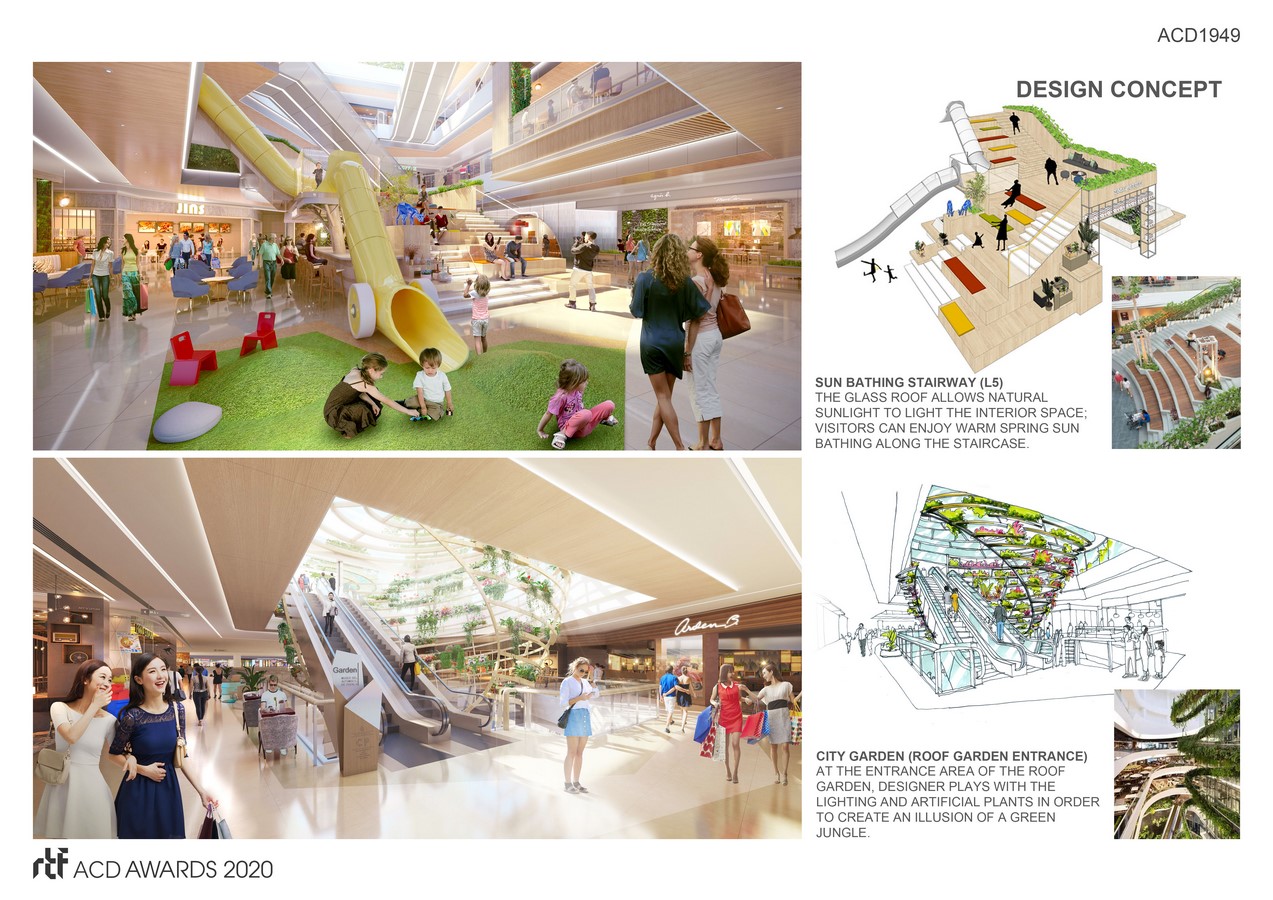 Sun Bathing Stairway
Another featured interior space is located at the southern atrium of L5. The glass roof allows natural sunlight to light the interior space; visitors can enjoy warm spring sun bathing along the staircase. Selected featured tenants are located around the staircase while enhancing the shopaholic mood of the visitors after a moment of rest. The natural sunlight becomes a nature magnet to attract visitors to explore more at the upper levels.
Shop in Style
Glamorous fashion boutiques are grouped at L1 – L2, designer highlighted the chic and fashionable atmosphere to provide visitors an enjoyable shopping experience.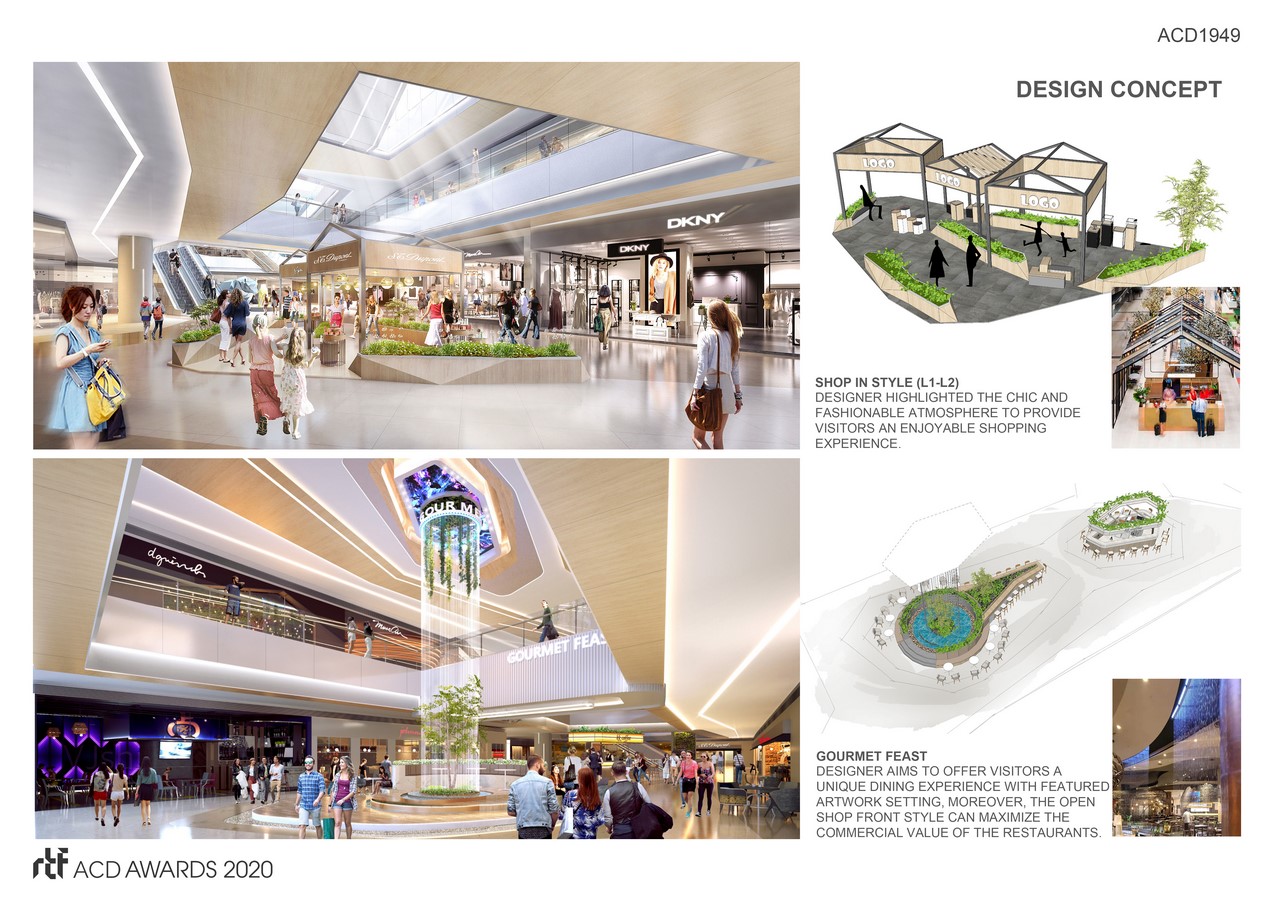 Gourmet Feast
Designer aims to offer visitors a unique dining experience with featured artwork setting, moreover, the open shop front style can maximize the commercial value of the restaurants.
City Garden
At the entrance area of the roof garden, designer plays with lighting and artificial plants in order to create an illusion of a green jungle. Featured art installations were placed at the visual focal point to highlight the space.
Wulidun Vanke Wave aims to create a one-stop shopping mall for the city, meanwhile, setting up a new model for the retail industry. It promotes the latest smart technologies and environmental friendly ideas while offering visitors brand new shopping experiences.