Equity, diversity, and inclusion are critical to the success of our practice. Across the firm, we are constantly making strides toward providing a workplace that eliminates barriers to opportunity and recognizes shared responsibilities by eradicating biases in our own office and our interactions with consultants, contractors, and clients.
Rethinking The Future Awards 2021
First Award |  Women in Construction Award (Construction)
Project Name: Women in Architecture
Studio Name: Arrowstreet Inc.
Design Team: Arrowstreet Inc.
Location: Boston, MA, USA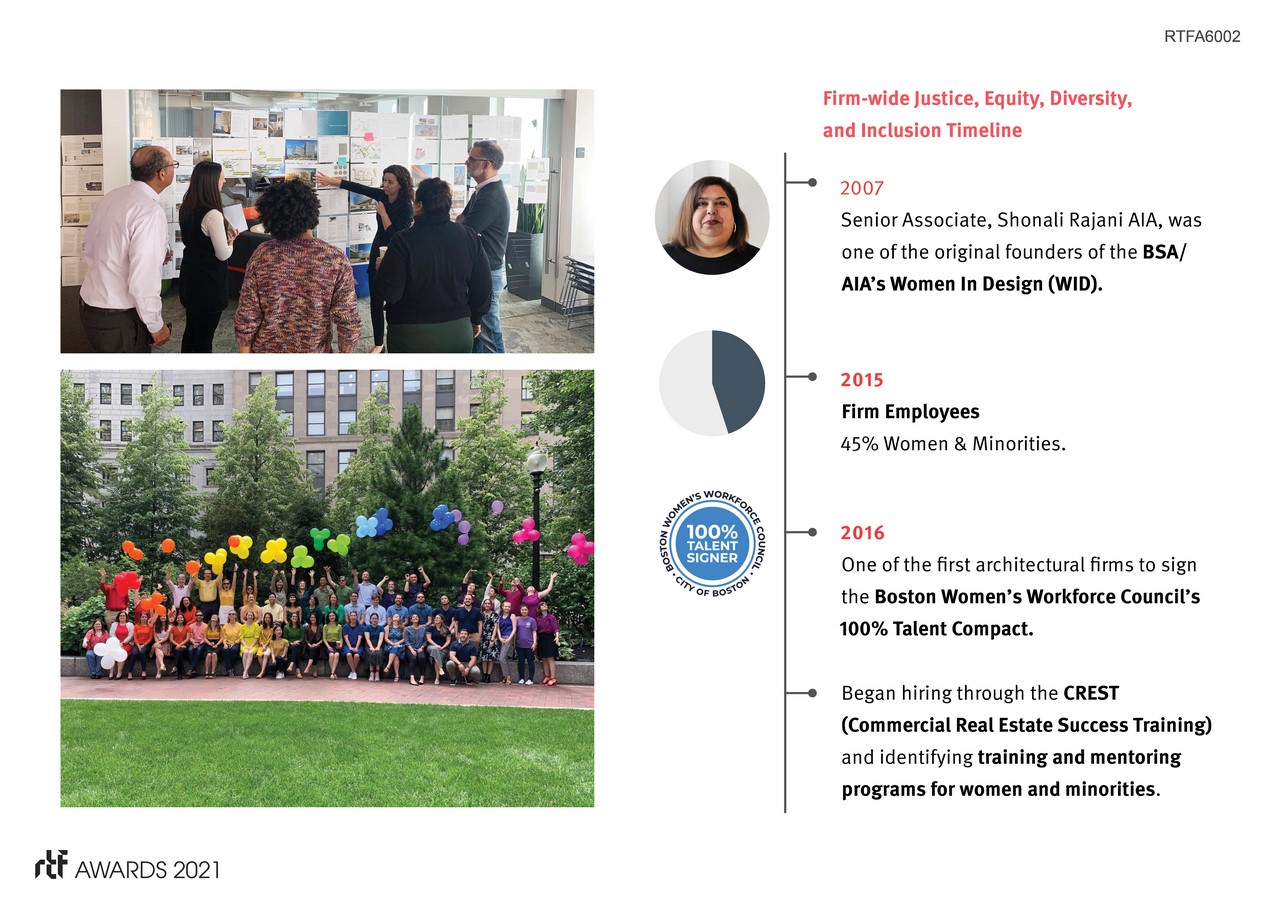 Recently, the firm shifted to a majority of women and minority staff; currently 59%, up from 45% six years ago.
In 2019, the firm appointed its firm female president since its inception in 1961. She takes an active role in local organizations to support young female designers and evaluate industry-wide strategies to attract and retain diverse talent.
This year we signed a multi-year contract with the DEEP Team – Disruptive Equity Education Project to evaluate our firm's culture and practice. This collaboration will evolve our training and practice to foster an environment focusing on diversity, equity, inclusion, and belonging.
Since 2015, we have offered training and mentoring programs for women and minorities at critical points in their careers. These programs have included national and local organizations, such as ULI's Pathways to Inclusion initiative, CREW Boston Leadership Academy, High Performing Women In Design, and the Boston Chamber of Commerce Women's Leadership Program.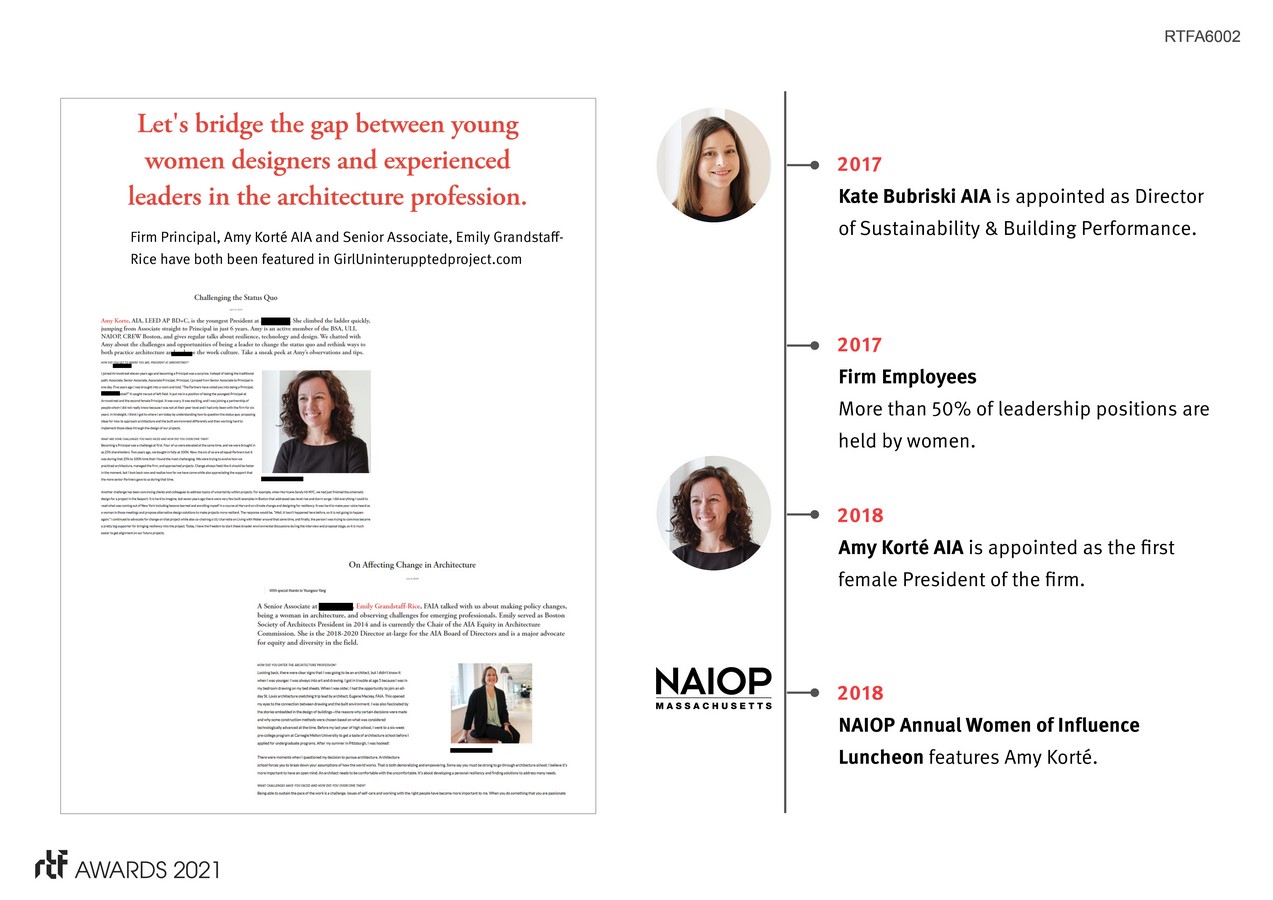 Building a diverse pipeline of future architects and designers, both for ourselves and the entire profession, is a pillar of our diversity initiatives. Over the past four years, we have hired summer interns and full-time designers through the CREST (Commercial Real Estate Success Training) Program and recruited from historically diverse schools. Once hired, we create opportunities within our projects for young designers to understand the profession and accelerate their careers.
In 2016, we were one of the first architectural firms to sign the Boston Women's Workforce Council's 100% Talent Compact. The Compact aims to make Greater Boston the premier place for working women in America by closing the wage gap and removing the visible and invisible barriers to women's advancement. We are in the process of completing the JUST Certification for mid-2021, a transparency platform for organizations to disclose their operations, how they treat their employees, and where they make financial and community investments. We recognize that businesses play a critical role in reducing the national pay gap. Furthermore, we conduct annual company-wide pay analyses across occupations, reviewing hiring and promotion processes to mitigate unconscious bias and structural barriers.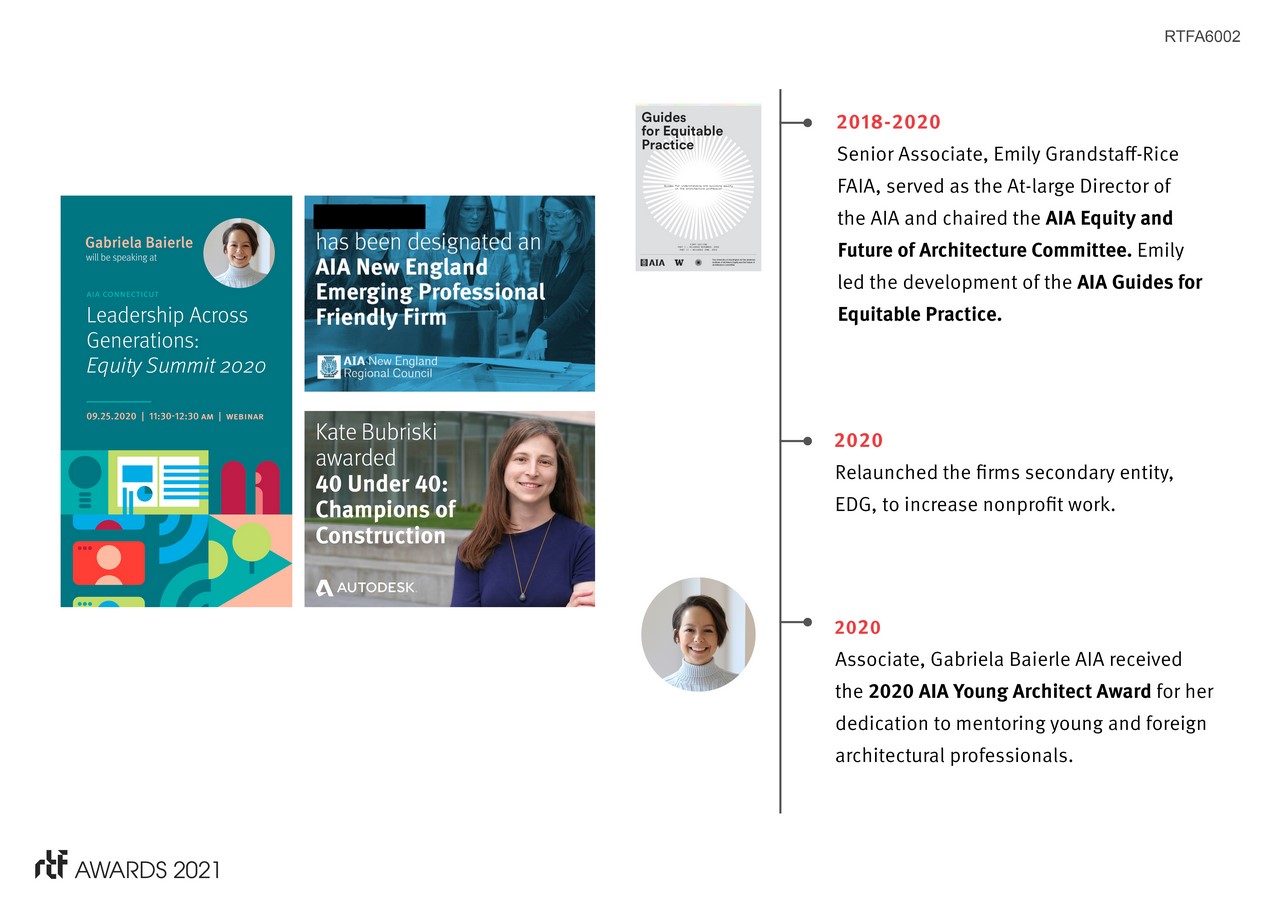 In our current projects, we ask consultants to report their internal diversity ratios at all levels of the organization. We use this data to track how companies improve their diversity over the course of the project and what advancement opportunities are offered to young and mid-level professionals. One of our goals as a firm is to better represent the diverse communities we work in by listening to, spending time in, and directly engaging with them. We also use The Just City Essays and research whitepapers as a guide to influence project designs and to question how we, as architects, can address injustice, issues of equity, inclusion, race, and access within our projects.