The Williams Lake First Nation administration building is a dynamic two-storey hybrid mass timber facility located in the central interior of British Columbia. It is the administrative home for the 857 members of the T'exelcemc, or Williams Lake First Nation (WLFN), offering a full range of services, including education, healthcare and economic development, for the community.
Architecture, Construction & Design Awards 2022
First Award | Office building (Built) 
Project Name: Williams Lake First Nation Administration Building
Project Category: Office building (Built)
Studio Name: Thinkspace Architecture Planning Interior Design
Design Team: Ray Wolfe, Ron Hoffart (retired), Cameron Ashe, Arno Compas, Justin Carlos, Leanne Soligo
Area: Canada
Year: 2021
Location: Williams Lake, British Columbia, Canada
Consultants: Lauren Bros. Construction; Elemental Structural Engineers; Rocky Point Engineering, Jarvis Engineering, True Consulting, Bench Site Design
Photography Credits: Brit Kwasney Photography
Other Credits:
The building, which serves as headquarters for the Nation's elected leadership, also includes council chambers, cultural exhibit space, and an archeological laboratory.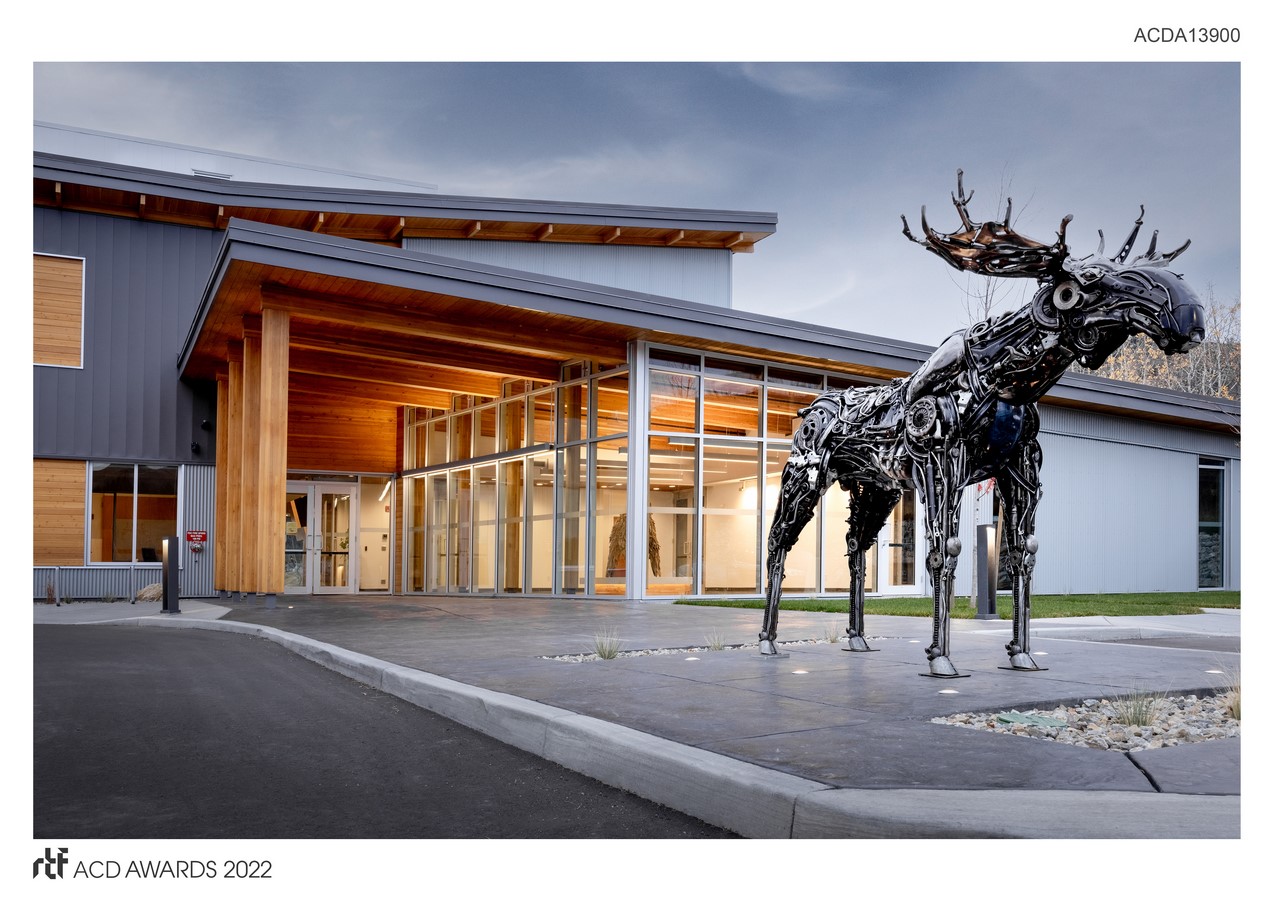 This 17,700 sq ft building was designed to be spatially efficient. Despite its modest size, the use of transparency, light, and thoughtful programmatic distribution ensures an impressive presence. The design challenge was to represent past values and place making, while simultaneously creating a warm and modern feel that embodies contemporary WLFN values and identity. Selecting an exposed mass timber structure and choosing to use wood extensively throughout the space makes that vision come to life.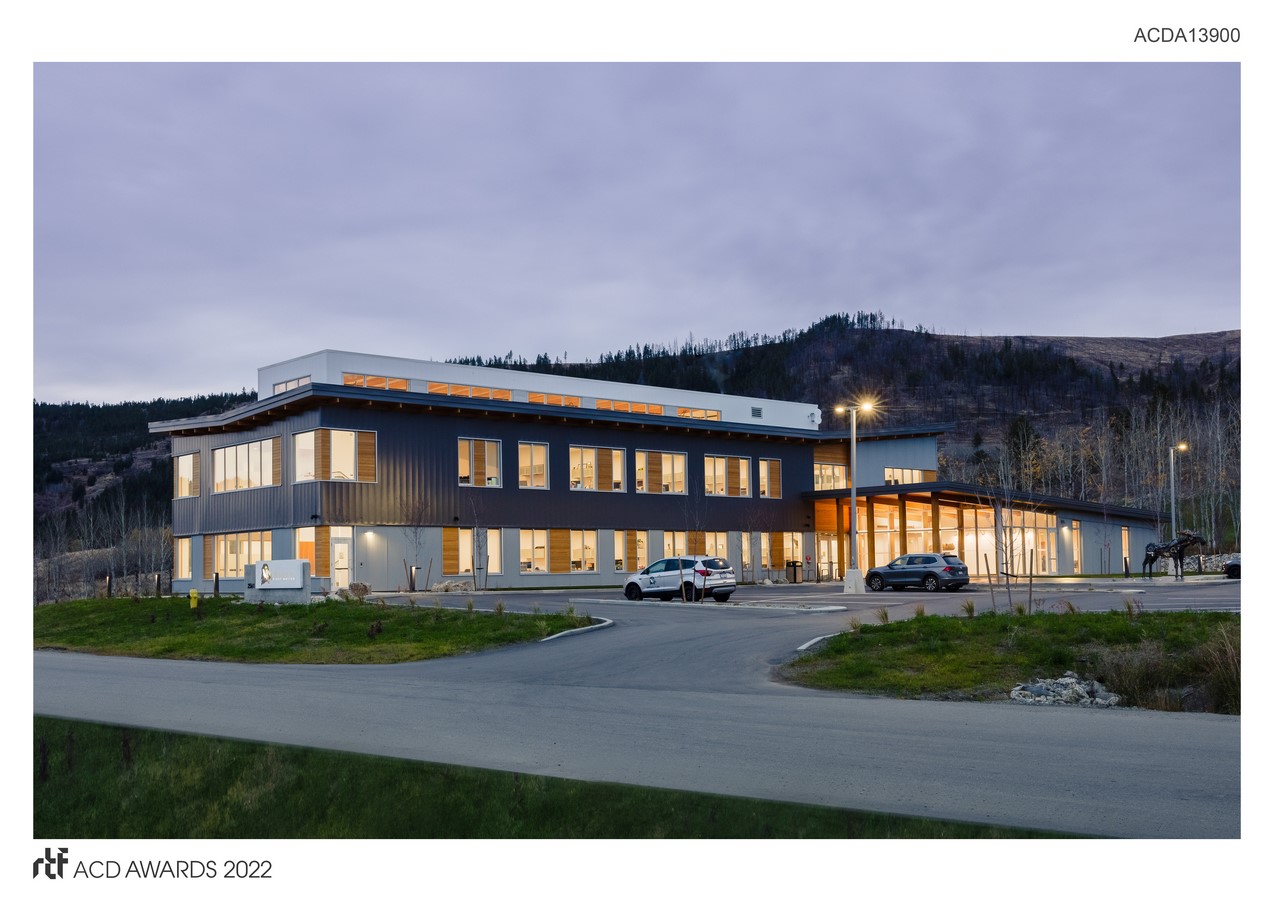 The wood landscape inside and outside the building acts as an armature, providing ready-made framing for artwork and cultural objects. Careful attention to detailing and connections creates a clean aesthetic, complementing and supporting the desire for a modern, efficient building that is representative of the T'exelcemc identity.
The building planning diagram combines an interconnected two-storey linear atrium with a one-storey gallery, council chamber, and research wing. The parti for the massing and program allows the two interlocking volumes to create a clear and identifiable entry that connects indoors and outdoors while still making the exhibit space at the entryway a focal point.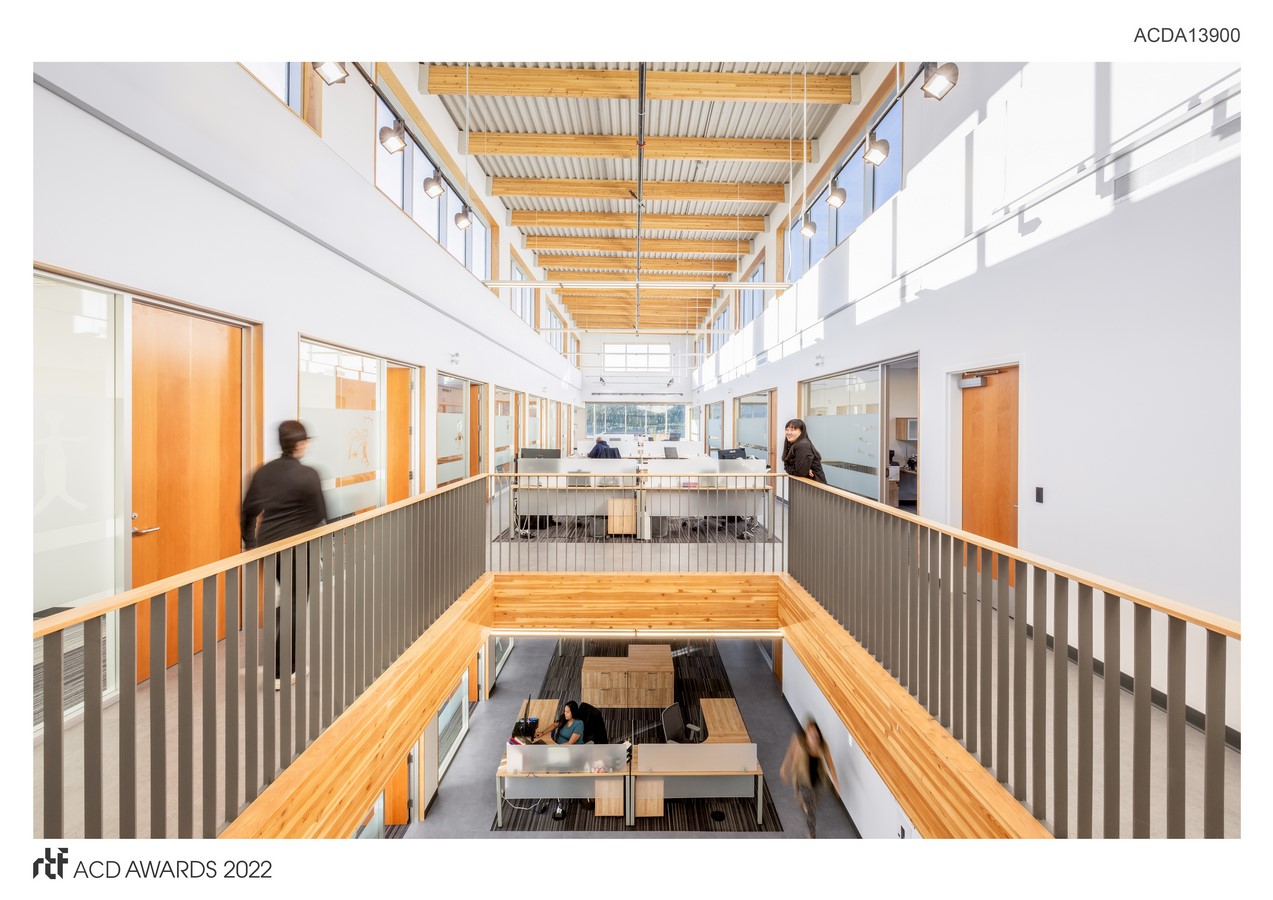 An open design in the administration space allows for transparency, light, and artwork dispersed throughout the building's volumes, thanks in large part to the atrium. Clerestory glazing brings natural daylight to both levels of the administration zone. The workspace is flexible and adaptable, and consists of both open and closed offices. Wood is always visible, and part of the day-to-day experience for staff.
Wood was chosen for the building for cultural, aesthetic, biophilic, and constructability reasons, but also because of its sustainable properties. Locally- and regionally-sourced wood products significantly reduced the building's carbon footprint, and will sequester CO2 for its lifespan. In terms of operational sustainability, the building incorporates state-of-the-art mechanical and HVAC design, complete with dynamic heat recovery, maximized ventilation, and sophisticated control systems. Lighting controls and LED fixtures exceed ASHRAE standards while simultaneously reducing energy consumption. High-efficiency windows naturally expose southern sunspaces and create a warm environment while reducing the need for additional lighting or energy draw. Xeriscape landscaping will reduce water consumption, conserve natural flora, and contribute to local animal habitats. The pond beside the building was preserved after turtles, a sacred species for the T'exelcemc, were discovered there.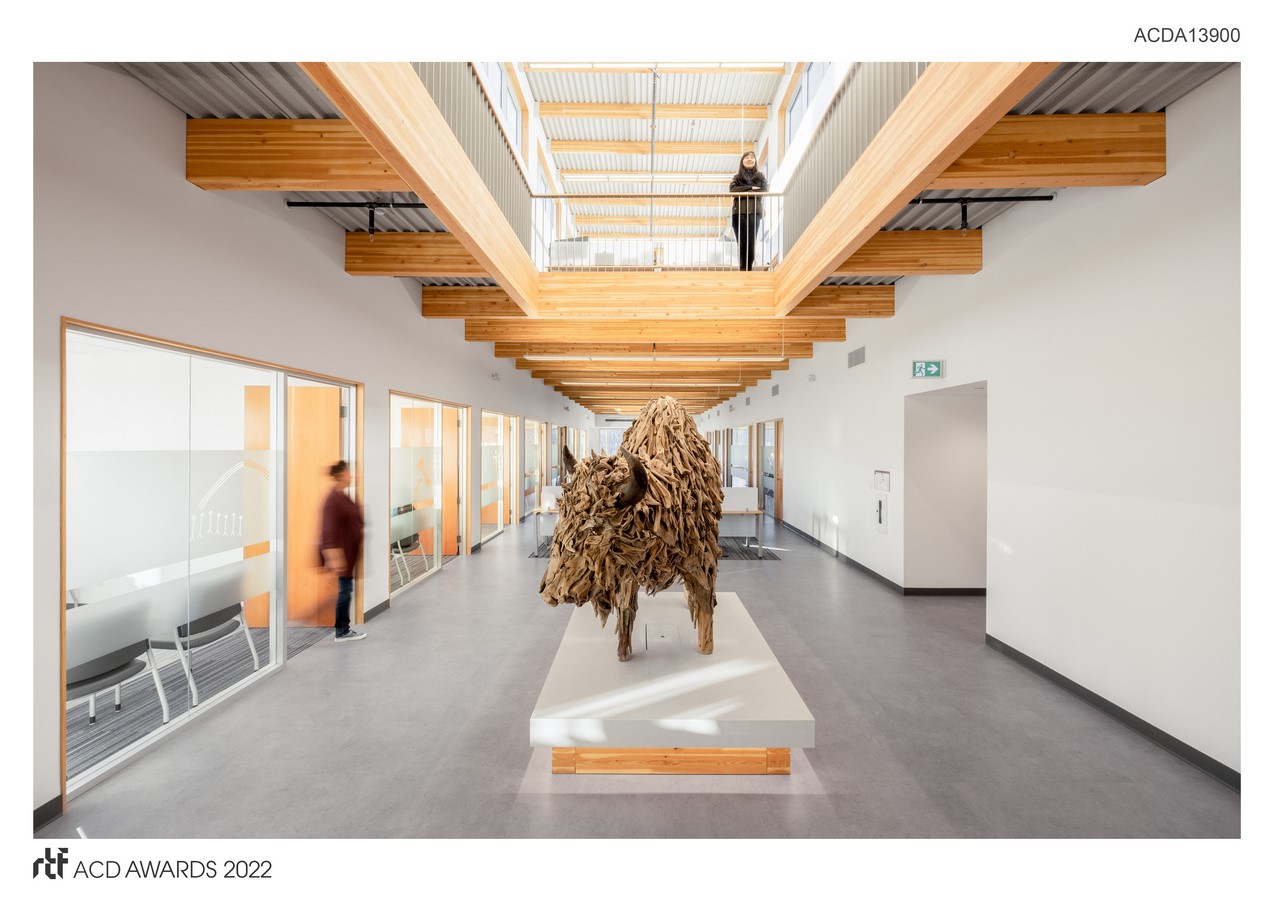 This innovative, inspired building serves a highly functional purpose, but it also makes a profound statement. It speaks to the pride the Williams Lake First Nation has in its heritage and culture, an awareness of the land and natural resources, and the importance of defining its own identity within a physical context.