The existing Shenzhen Children's Hospital has been a landmark in the Futian area of Shenzhen since it was established in 1998. The new building, located to the west of the existing campus, creates a 'once-in-a-lifetime' healthcare facility to deliver top-quality care for children, and provide a new home for advanced research and learning in paediatric medicine.
Rethinking The Future Awards 2023
First Award | Interior (Healthcare / Wellness) (Concept)
Project Name: Shenzhen Children's Hospital Science & Education Building
Category: Interior – Healthcare / Wellness (Concept)
Studio Name: B+H Architects & ECADI consortium
Design Team:
Project Leads: Coco LIN, David STAVROS
Design Management Team (Project Construction Unit – Shenzhen Public Works): GU Xinghai, XU Wei, QU Bo, LIU Qi'an, YAO Yilin
Chief Designers: Stephanie COSTELLOE, Simone CASATI
Architecture Design: HAN Peishu, Darren LEE, Jean Sebastien Bourdages
Medical Planning: Sumandeep SINGH
Interior Design: Luigi Della MORTE, Hongye CHEN, Olivia Cao, Catisha Arguelles, Joe MAK
Landscape Design: Barry DAY, Wing CEN, ZHUANG Zikai
Area: Shenzhen, China
Year: Under construction, expected to be completed in 2026
Location: Yitian Road, Futian District, Shenzhen, Guangdong Province, China
Consultants:
Photography Credits:
Render Credits: B+H Architects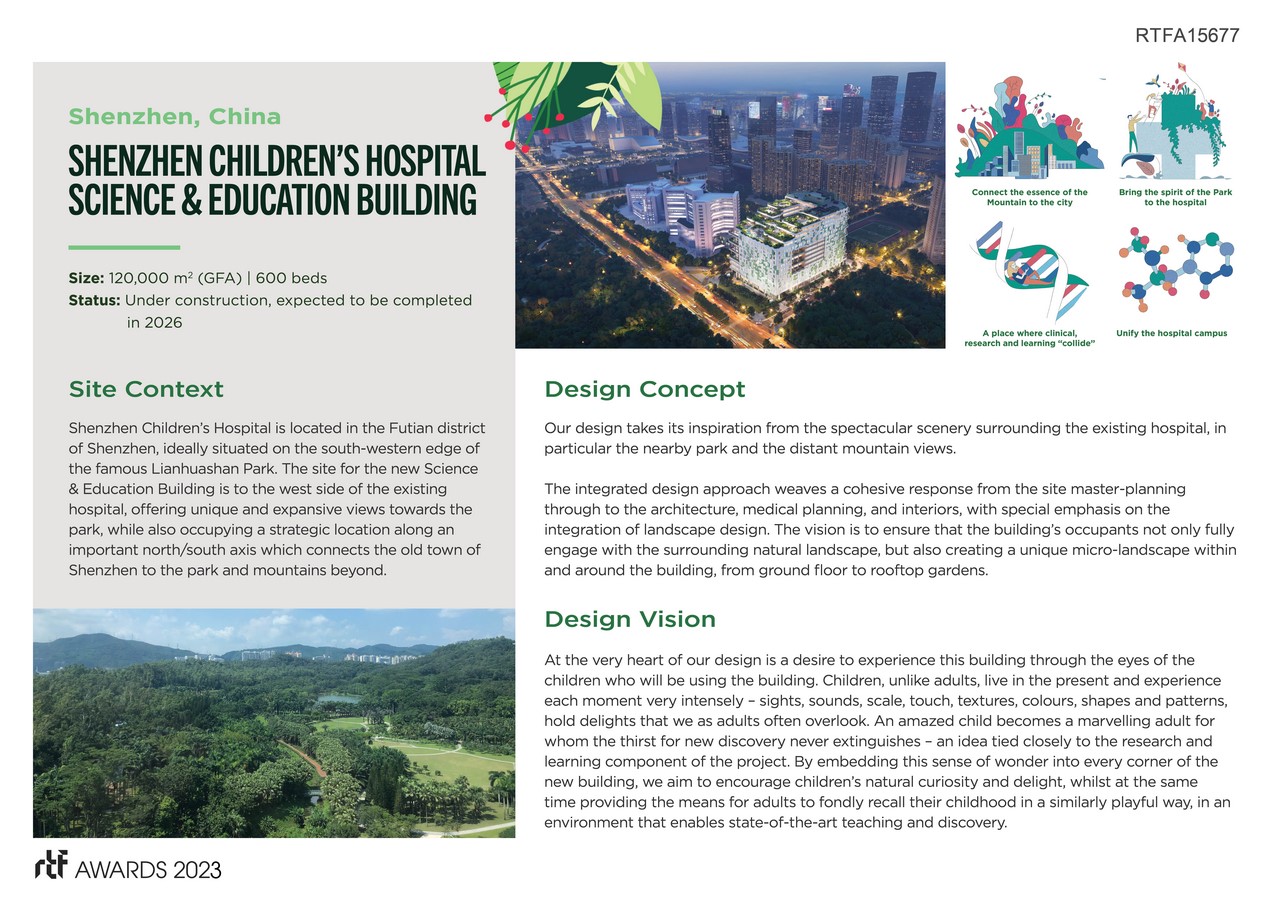 At the very heart of the design is a desire to experience this building through the eyes of the children who will be going there. Our design aims to instill a sense of wonder in every corner of the project, which would celebrate their unique and joyful view of the world – whilst also encouraging adults to interact with the environment in a similarly social, playful and collaborative way.
The integrated design approach weaves a cohesive response from the site master-planning through to the architecture, medical planning, and interiors, with special emphasis on the integration of landscape design. The vision is to ensure that the building's occupants not only fully engage with the surrounding natural landscape, but also creating a unique micro-landscape within and around the building, from ground floor to rooftop gardens.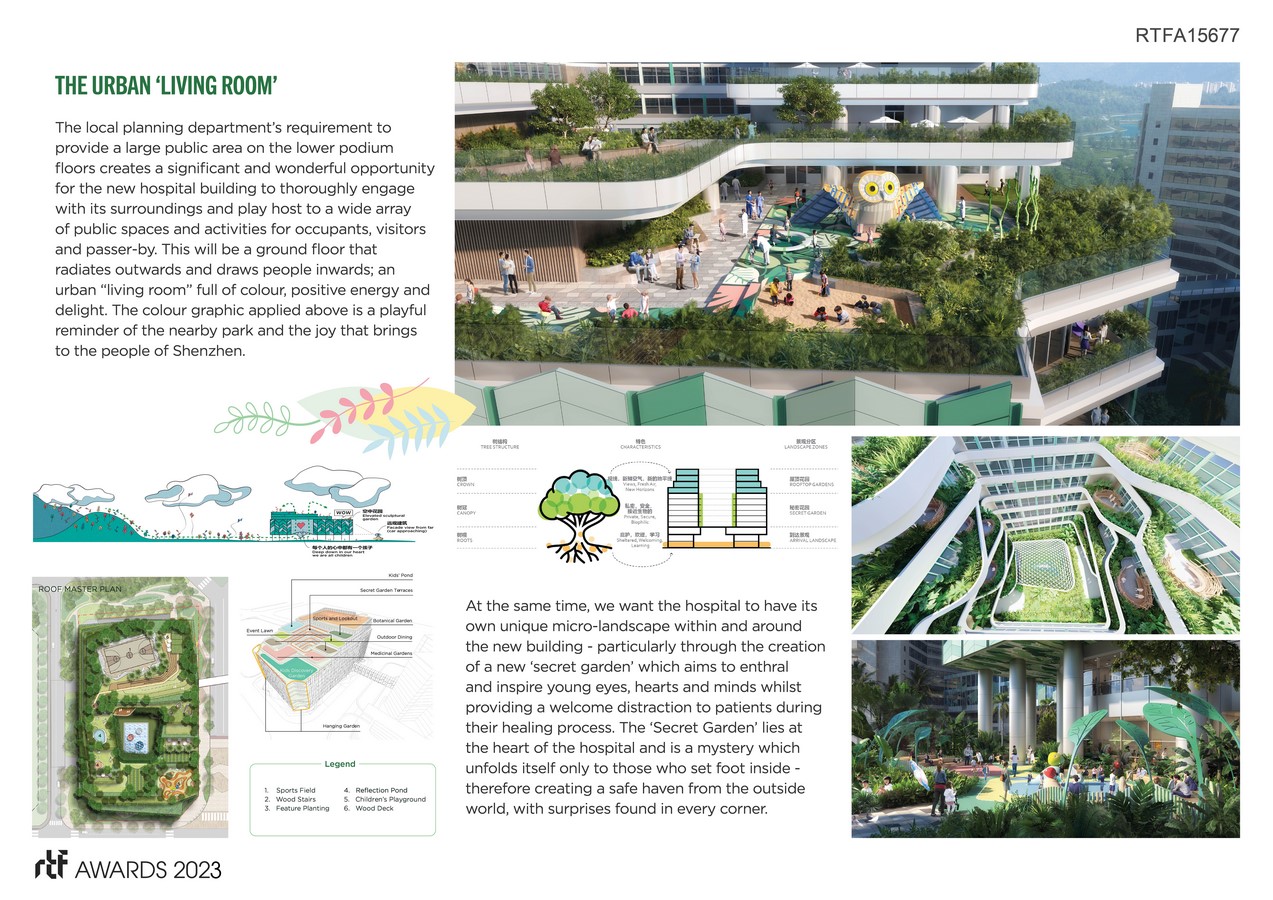 At the very heart of the design approach, was a desire to pay close attention to what is seen and experienced from a child's perspective. By embedding this sense of wonder into every corner of the new building, the design aims to encourage children's natural curiosity and delight in celebrating and cultivate their unique and joyful view of the world, whilst at the same time providing the means for adults to fondly recall their childhood, and to interact with the environment in a similarly social, playful, and collaborative way.
The building design also celebrates the ground-breaking clinical, science, and research activities that will happen within, as well as a cluster of social and interaction spaces for staff at the northeast corner that creates a 'social window' connecting to the park.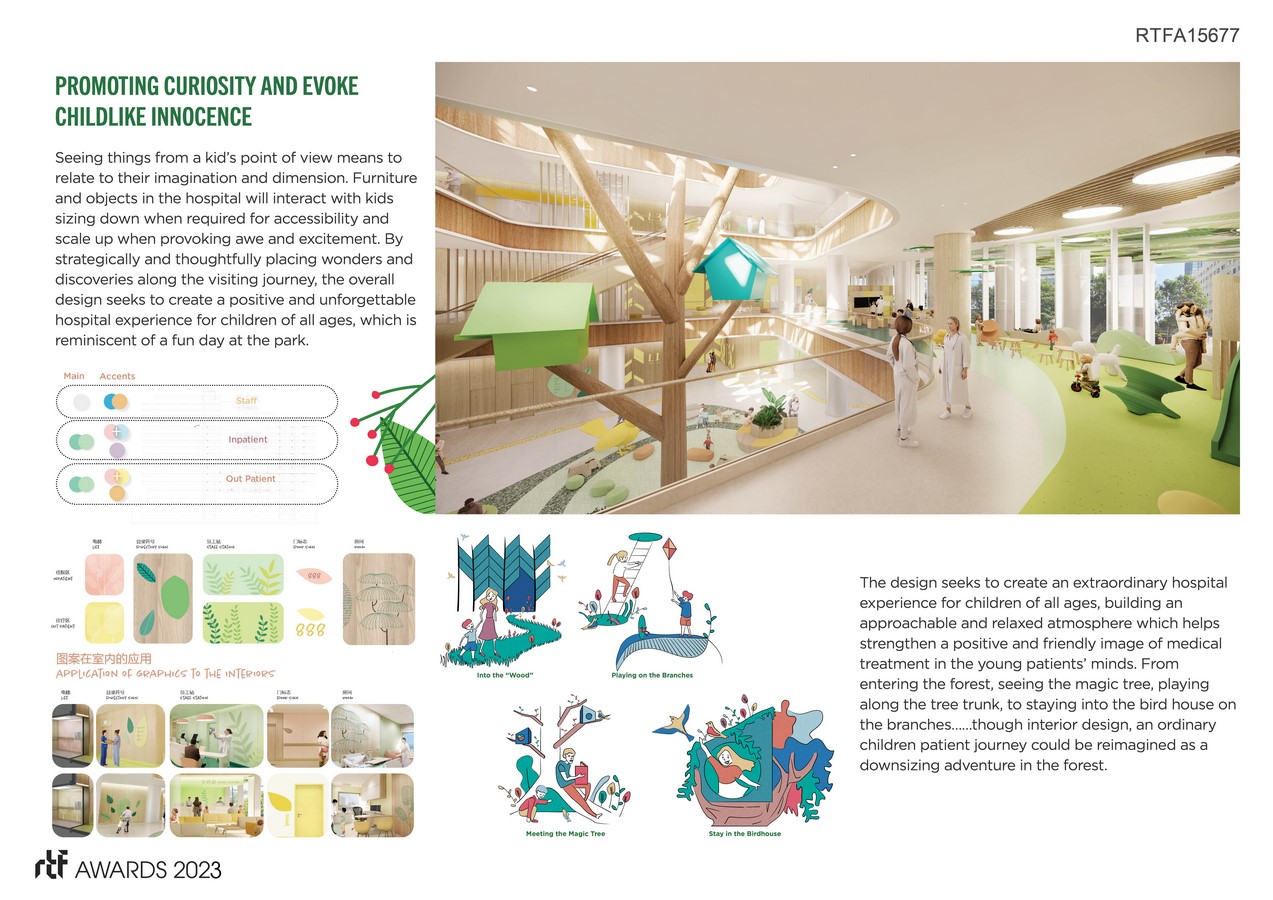 Collaboration is prioritized between clinical staff, researchers, and students. Research is placed on the same floors as inpatient wards, providing proximity to patients with a 'lab bench to bedside' approach. At the junction of the ward and research zones, a 'collaboration zone' is located which houses formal and informal education and social spaces for staff to mingle, share, and learn together.
Vertical connections are streamlined and ensure smooth operations with a high-volume outpatient clinics placed at the lower floors to reduce lift traffic, while staff living spaces are located on the upper floors.