The building is a lifestyle luxury hotel which is located on the Cala Gració and surrounded by lush hills. The architects were inspired by the Japanese philosophy of wabi-sabi and have taken inspiration to reflect a focus on earthy tones and natural materials. The hotel comprises 184 guestrooms and suites, a 140m2 signature suite, a standalone four-bedroom villa with a private pool, ocean-view penthouses, two hotel pools (and a further semi-private pool serving the six swim-up rooms), two restaurants, and an intimate spa. The hotel unit was created in two phases, plot 1 and plot 2.
Rethinking The Future Awards 2023
First Award | Interior (Hospitality) (Built)
Project Name: Hotel OKU Ibiza
Category: Hospitality (Built) & Interiors: Hospitality (Built)
Studio Name: MG&AG Arquitectos Asociados
Design Team: OKU Hotels
Area: IBIZA
Year: MAY 2021
Location: SANT ANTONI DE PORTMANY
Consultants: Fernado Garcia, Gabriel Pons
Photography Credits: GEORG ROSKE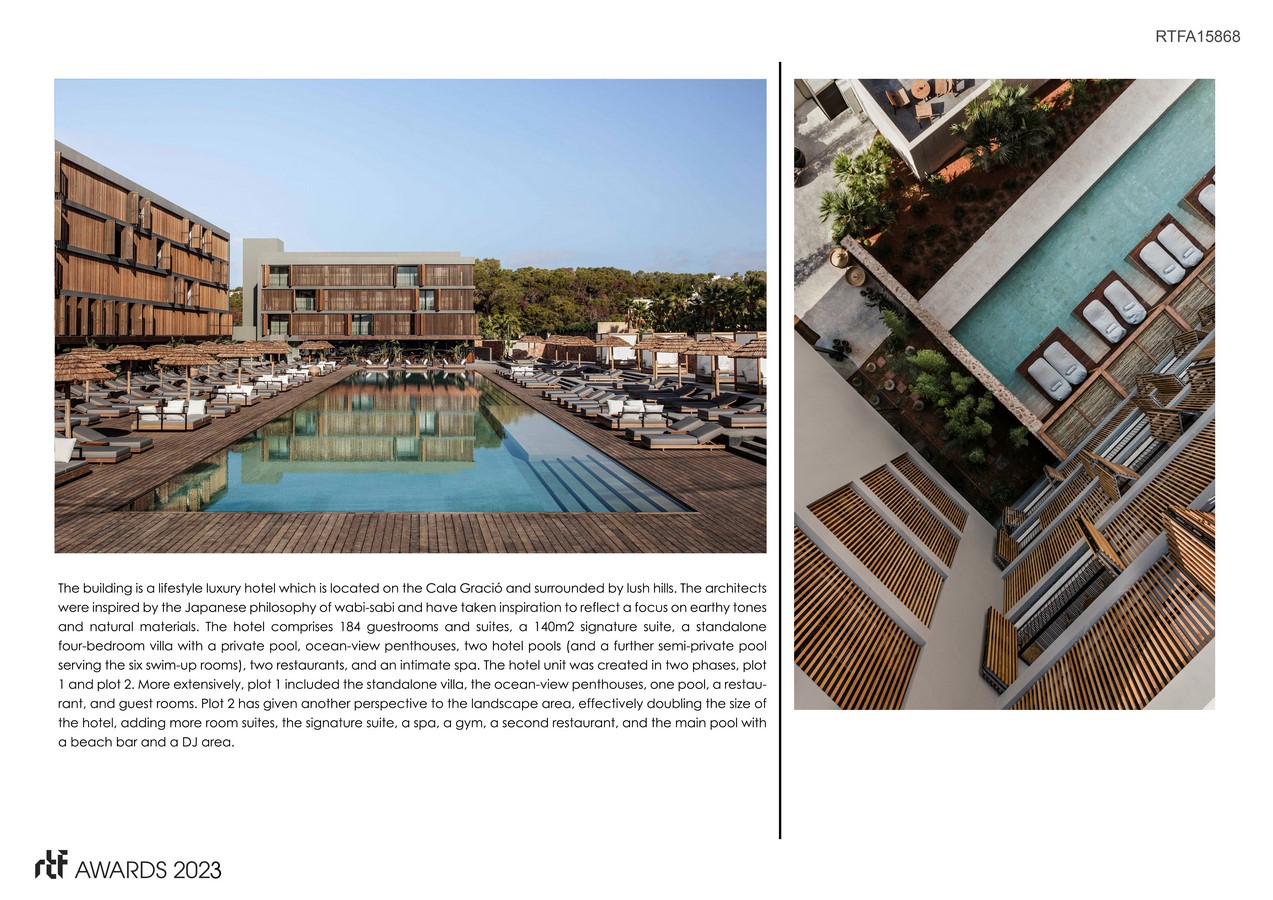 More extensively, plot 1 included the standalone villa, the ocean-view penthouses, one pool, a restaurant, and guest rooms. Plot 2 has given another perspective to the landscape area, effectively doubling the size of the hotel, adding more room suites, the signature suite, a spa, a gym, a second restaurant, and the main pool with a beach bar and a DJ area.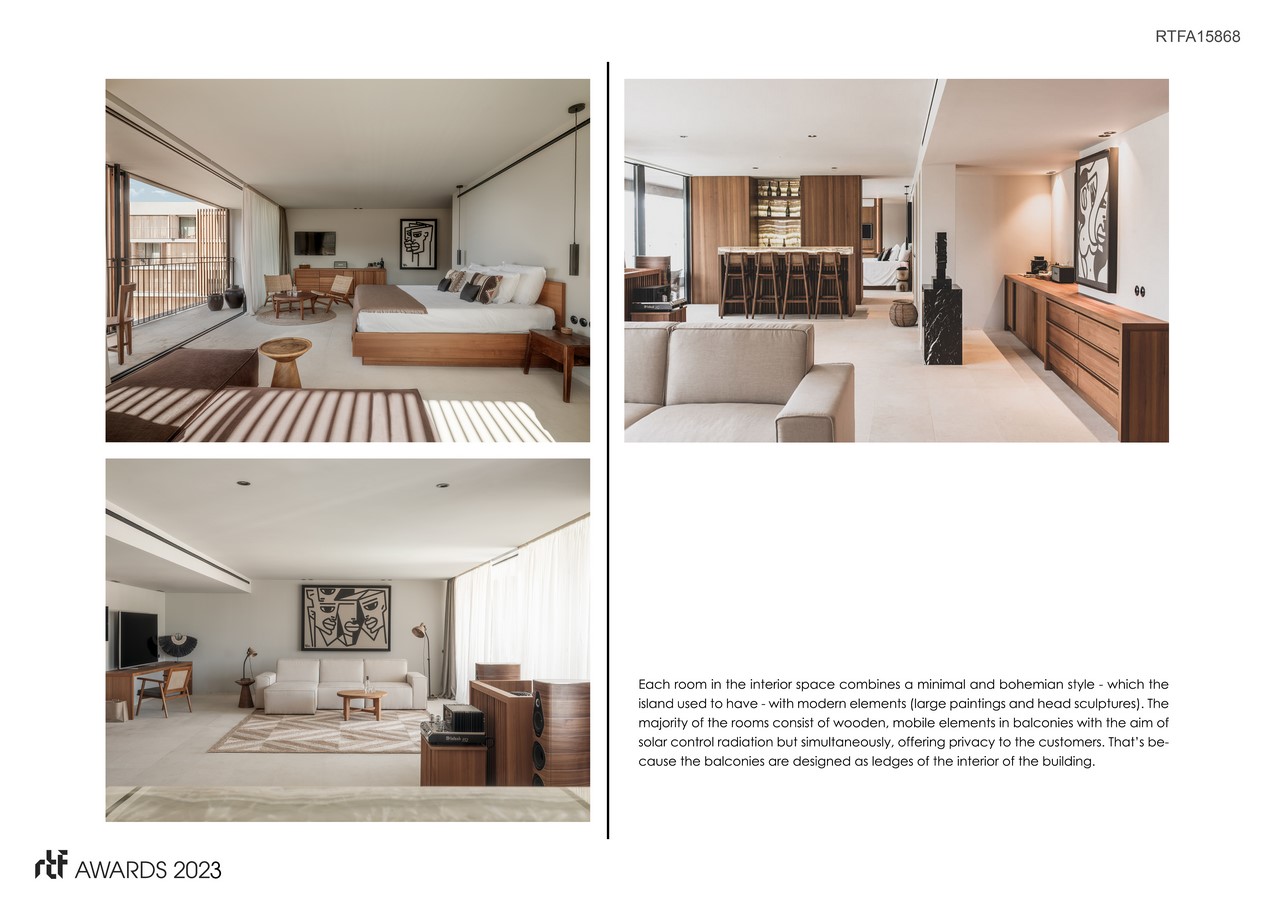 Each room in the interior space combines a minimal and bohemian style – which the island used to have – with modern elements (large paintings and head sculptures). The majority of the rooms consist of wooden, mobile elements in balconies with the aim of solar control radiation but simultaneously, offering privacy to the customers. That's because the balconies are designed as ledges of the interior of the building.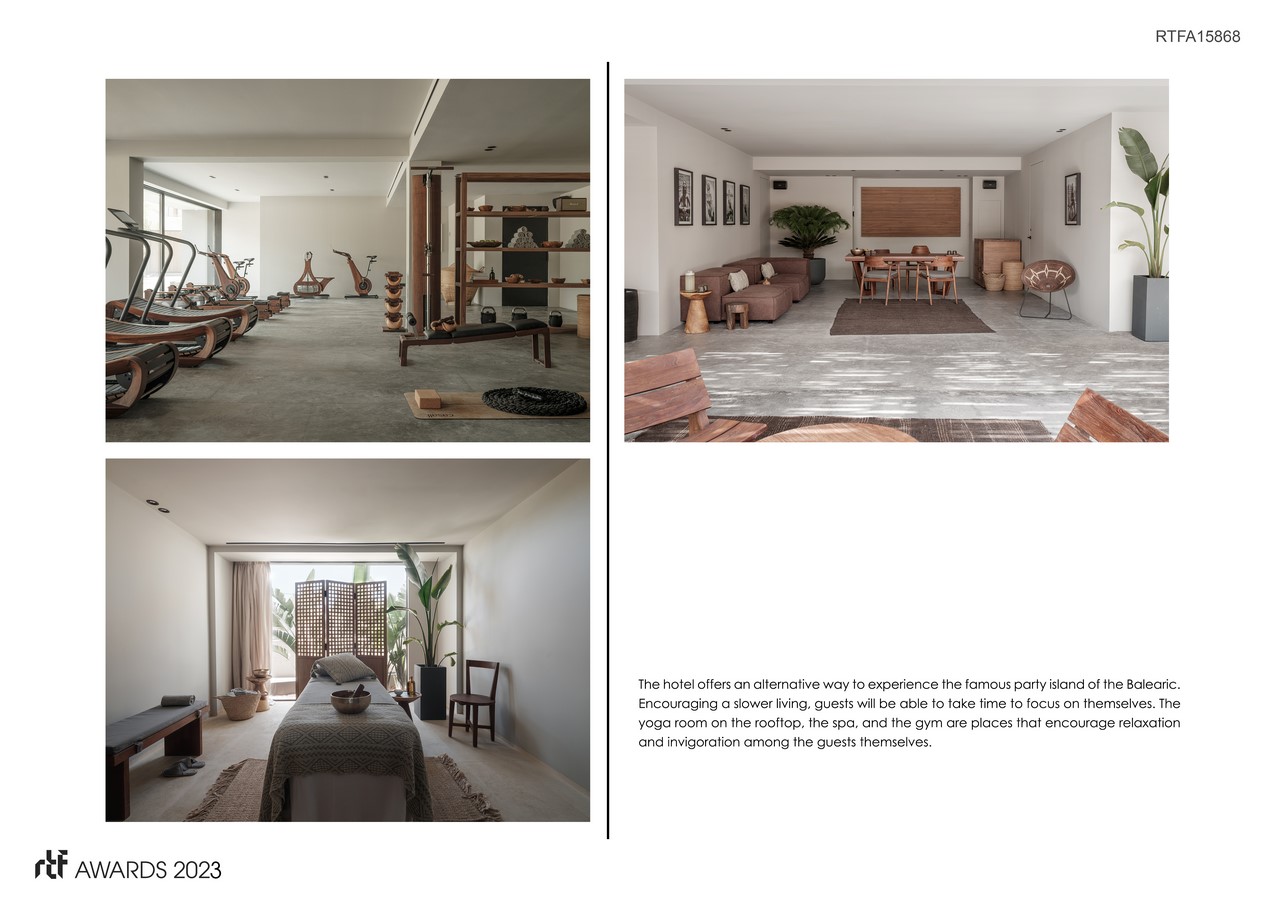 The hotel offers an alternative way to experience the famous party island of the Balearic. Encouraging a slower living, guests will be able to take time to focus on themselves. The yoga room on the rooftop, the spa, and the gym are places that encourage relaxation and invigoration among the guests themselves.