Our population is growing at 75million per year and our field farms are shrinking at an alarming rate. AeroDome project is a global effort to sustainably grow super organic crops year round at a very low cost, making it affordable for everyone. This is the future of farming.
Rethinking The Future Awards 2021
Second Award |  Commercial (Concept)
Project Name: AeroDome
Studio Name: AmaDesCo Ltd. (Amalgamated Design & Contracting Ltd.)
Design Team: Branko Mizerit
Area: Commercial
Year: 2021
Location: Halifax, Nova Scotia, Canada
Consultants: Branko Mizerit
Other Credits: Branko Mizerit
AeroDome is a first of its kind innovative project, merging two patents:
CIVAR patent (Compounded Interactive Vortex Acceleration Recovery energy tower), which is a building generating its own energy and
VECTAR patent (Vertical Enclosed Carousel Tower Aeroponic Ranch) which is a multi-story carousel type automated commercial Aeroponic vertical farm.
A 16 story CIVAR patented energy recovery building, emitting zero CO2 emissions uses Solar, Wind, Geothermal, as well as Incineration heat as its energy source. Its patented technology is based on:Ventura effect, Chimney updraft effect, Exhaust fan principle, Vortex principle and Sailing principles. This building can generate approx. 3.5 to 4.5 Megawatts of energy to run the farm and other multi occupancies within the building.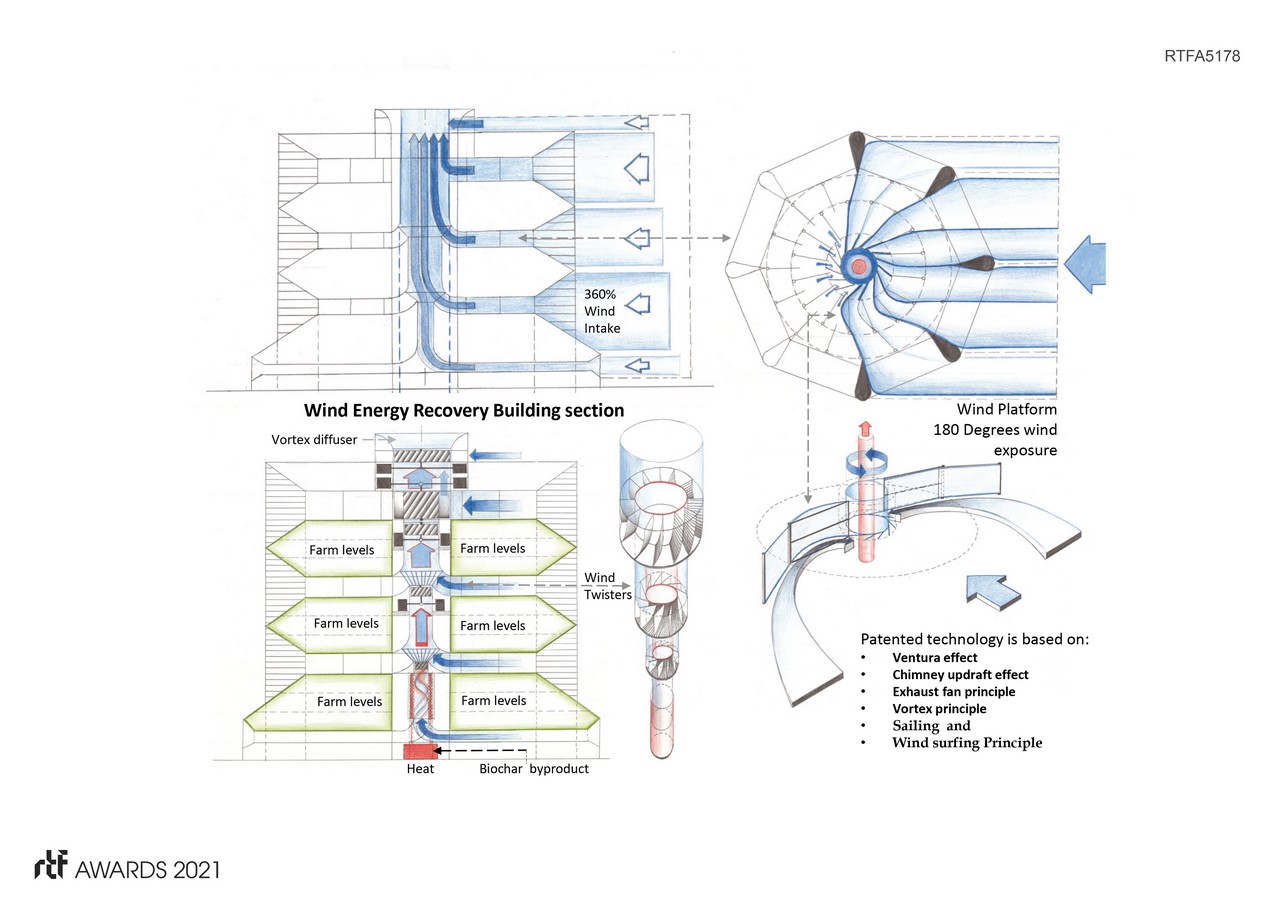 Transporting large field farms into tall but very small footprint buildings, the VECTAR patent pending carousel Aeroponic farm concept is changing the presently vertical farm growing and harvesting process to be run like a manufacturing plant. Completely protected from outside weather, storms etc., and located in or near any large city, AeroDome farm grows 100% GMO and pesticide free crops in vertically stacked trays 365 days per year, at an extremely low production cost, creating affordability for everyone.
The AeroDome farm building is 180 feet in diameter, occupying approx. one acre of land, has 350,000 square feet of crop area. With its guaranteed 14 to 20 Harvests per year, it offers a crop production of a 375-acre field farm, using 95% less water and zero fuel.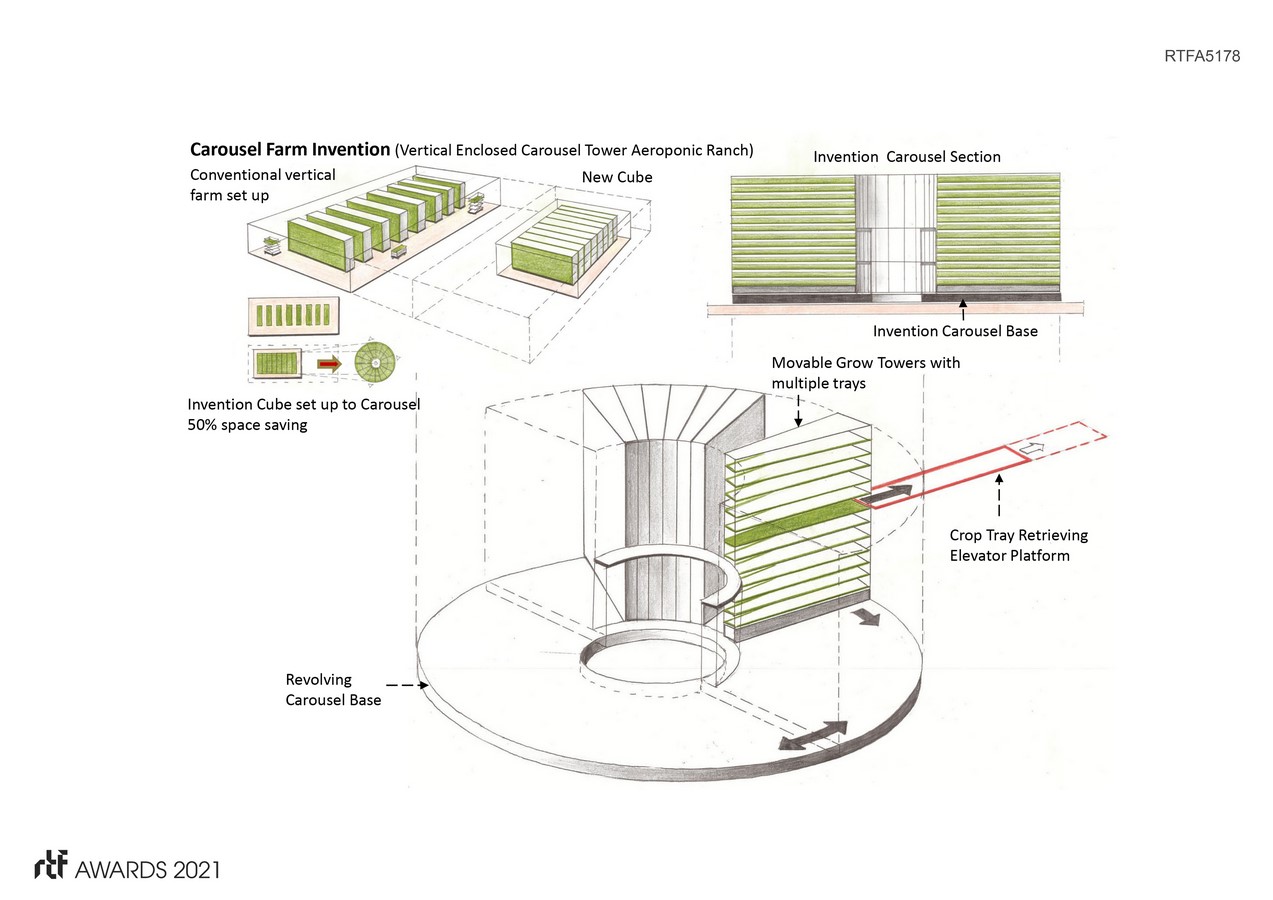 Vertical Farm Main Space allocations and Production:
Vertical Aeroponic farm
Harvesting and Packaging platforms
Four season fruit tree farm
Four season Strawberry farm
Mushroom farm
Biochar production
Building's Main Space allocations:
AeroDome wholesale store
Food court
Bistro with Probiotic coffee and food stations
Public function room for presentations and conferences (seats 200)
25 offices and meeting rooms
Sky Dome restaurant on 16th floor (seats 200)
Open Roof Sky deck on 17th floor, with a bar and BBQ area (seat 65)
Sky Deck look out areas
The AeroDome project merges CIVAR and VECTAR patents into one project, offering a solution to today's vertical Aeroponic farming industry to grow 100% GMO and pesticide free crops at very low costs, and creating zero CO2 pollution doing it. AmaDescois the design company producing the drawings and documents for construction of the building. Patents, AeroDome and AmaDesCo are owned by the applicant.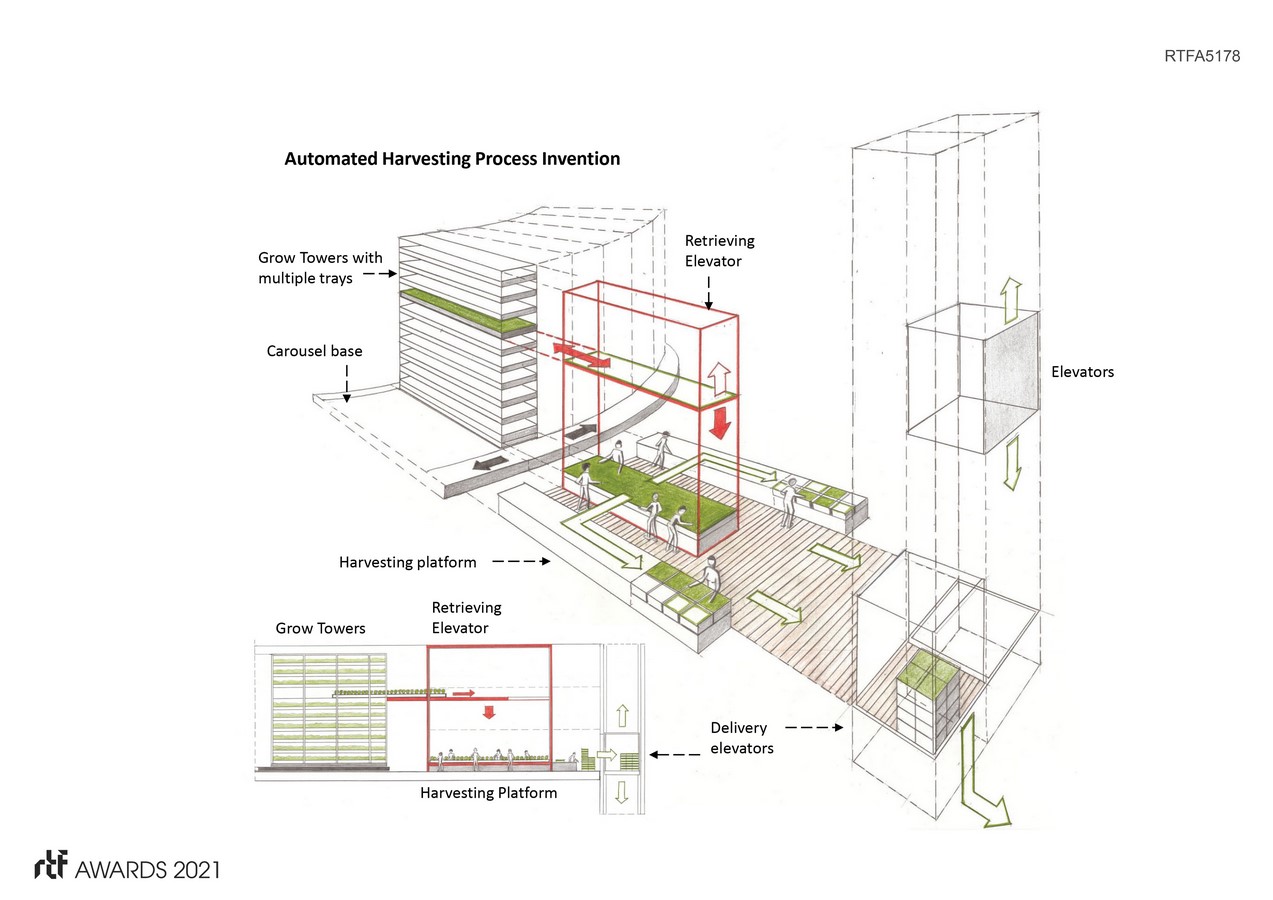 Over the next two years, a team of scientists, engineers and production experts will be working on AeroDome project to bring it to a construction ready stage in 2023. A documentary film is planned to document this undertaking and circumstances surrounding this endeavour.