The site of "Creative Circle" Phase 1 (retail street + low-rise offices, built) and Phase 2 are connected. The goal of the Phase 2 development is to make Phase 2 as the catalyst to refesh and upgrade the entire "Creative Circle" development.
Global Design & Architecture Design Awards 2021
Second Award | Category: New Design Talent – Commercial
Project Name: Qujiang Creative Circle Phase 2 Super-Tall Tower
Project Category: Commercial, Mixed-Use, Office Building
Studio Name: L&P Architects
Design Team: Gang LI, Zhewei FENG, Ling CHEN, Luke BONOMELLI, Richard XU
Area:  221,000 m²
Year: 2021
Location: Xi'An, China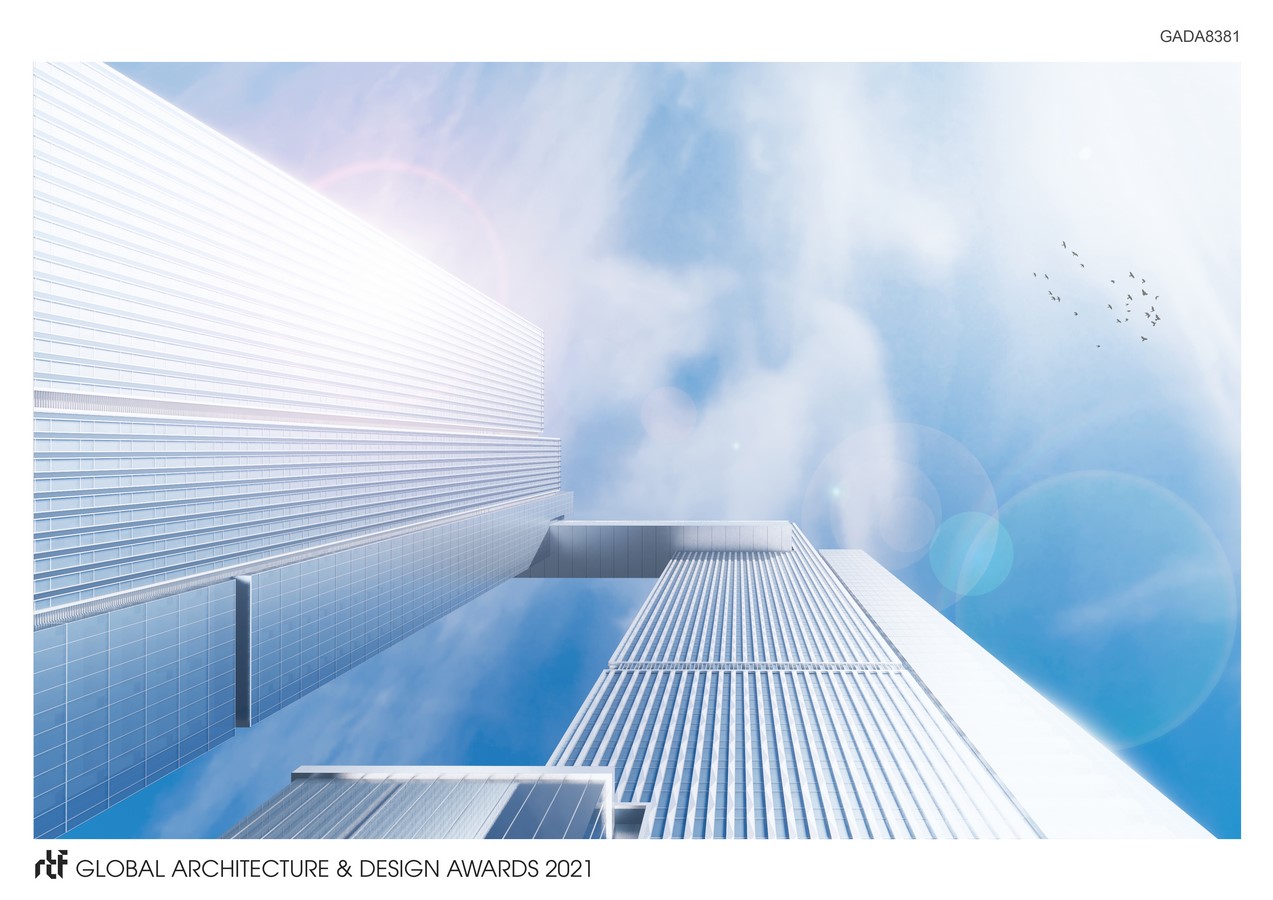 After a careful marketing study, we defined 6 major elements about the Phase 2 development:
–           Create a landmark project at city level
–           Design for a top-end working and living experience
–           Build a unique and bespoke space in the sky
–           Upgrade the lifestyle and consumerism in the local area
–           Provide high quality facilities and services for residents
–           Introduce smart building elements
Reasonable Site Planning and Efficient Vertical Circulation
The site level of Phase 2 is the same as the highest high level of the civic roads, but it is about 8m higher than Phase. The site planning and design tries to make use of the height difference, adding retail space at Phase 1 height level, and meanwhile designing ramp locations following the height difference. For master planning of the site, it creates 3 major zones (Public, Buffer and Private) that relates to the drop-off space of each program.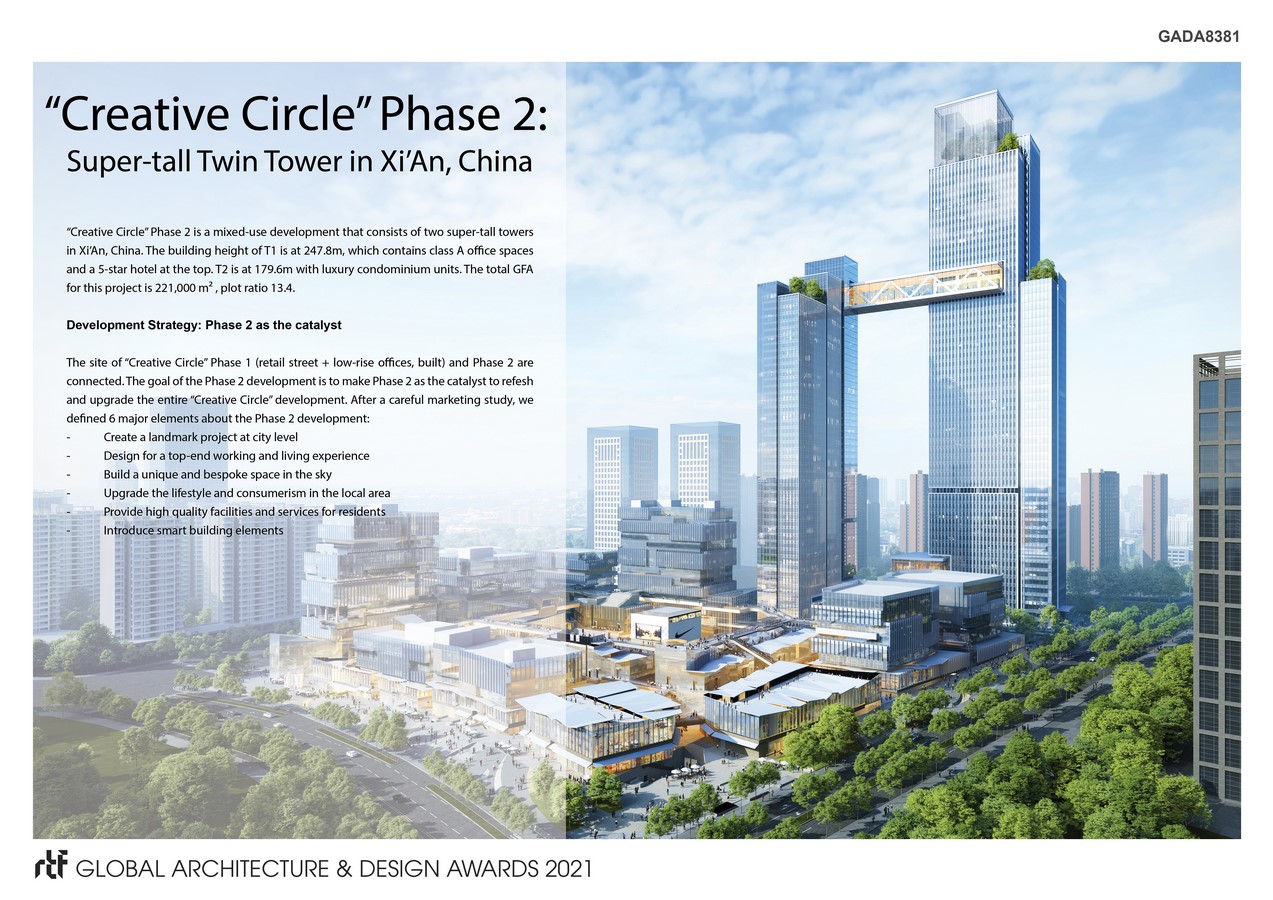 This project includes a 247.8m tall tower as T1 and a 179.6m tower as T2. T1 contains office space and hotel space. Office spaces are at the lowest 4 zones. Hotel ballroom locates and the bottom of the tower, above the hotel ground floor lobby space. Hotel guests will take a shuttle elevator to get to the sky lobby level and check-in. Afterwards, they took the guest elevators to get to each hotel guestroom levels. For public visitors who want to get to the tower top space to enjoy dining, they will also take a shuttle elevator from the sky lobby to tower top. T2 is a tower at 179.6m with luxury condominium units. For each typical floor, there are 4 units.
The Vertical Metropolis with Amazing Space in the Sky
Both towers were connected in the sky by a sky bridge. It connects hotel the sky lobby at T1 and the tower top amenity space at T2. Apartment residents and hotel guests can access the sky bridge from both ends, sharing the amazing space together.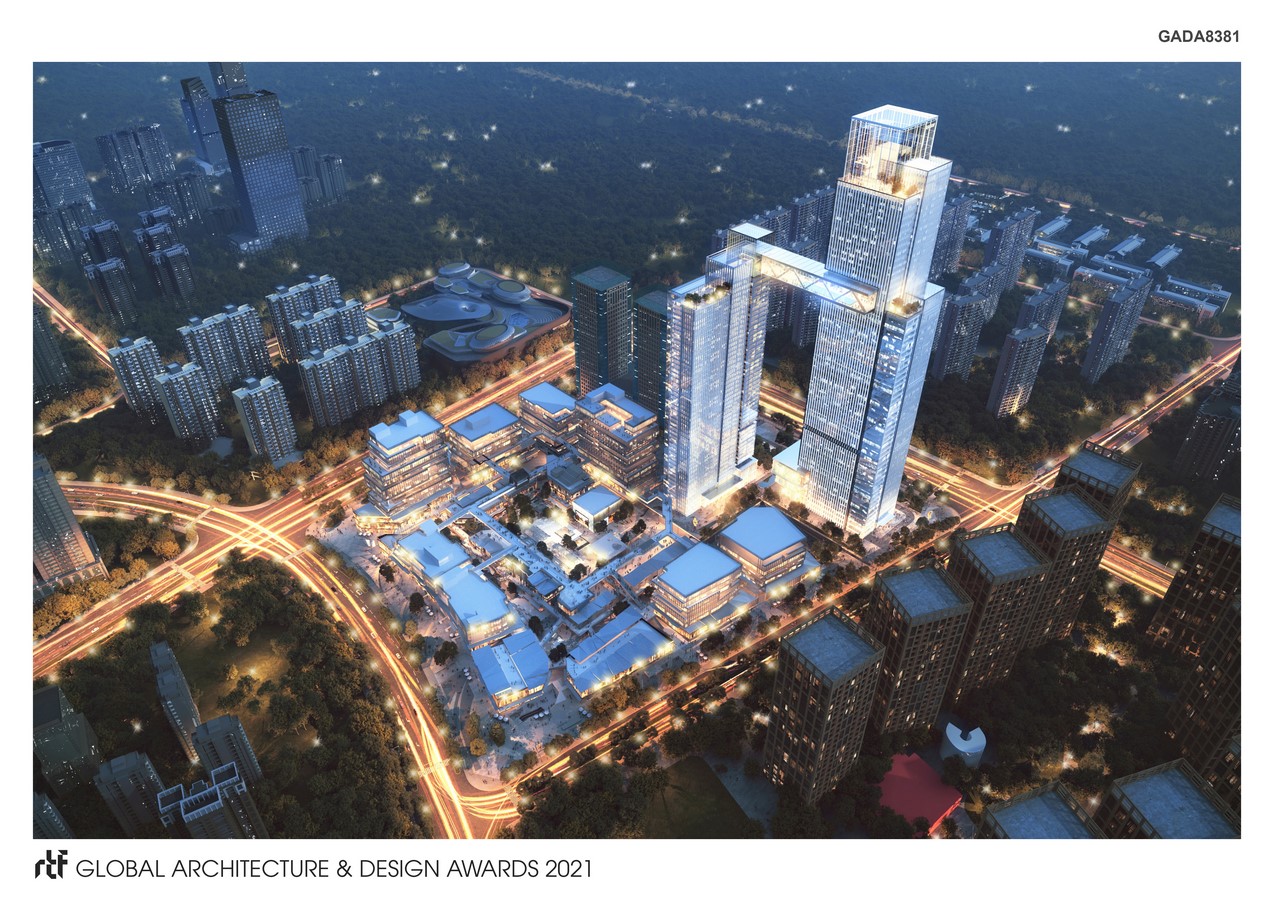 Inside the space of the space bridge, it was a "Sky Club" with swimming pool, SPA and a gym. The space maximized the view value of a supertall tower and tries to create a unique experience for people who come the do the exercises in the air.