Every tech firm wants a collaborative work environment—it's the nature of tech that people work in teams—but Slack had a specific model in mind for its San Francisco office. In early programming meetings, the metaphor that repeatedly surfaced was the culture of collaboration that people share in wilderness situations—hikers meeting on a mountain trail, campers at a campsite. Slack saw a correlation between the sharing of information, the sharing of resources, the reflexive support that people extend to each other in the wild and the everyday interactions of work.
Rethinking The Future Awards 2020
First Award | Commercial (Built)
Project Name: Slack Headquarters
Studio Name: Studio O+A
Principal: Primo Orpilla
Dan Kretchmer (Director of Projects)
Dani Canepa, Millie Kwong (Senior Designer), Brianna Bernstein (Project Designer), Amy Kwok (Project Designer), Nikki Hall (Designer), Marbel Padilla (Project Designer), Amy Young (Project Designer – Brand), Chase Lunt (Project Designer), Elizabeth Vereker (Design Director – Brand)
Area: 180,000 square feet
Year: 2018
Location: San Francisco, CA
Consultants: ESD (MEP) Holmes Structure (Structural) Salter, (Acoustics) Niteo (lighting designer) Gary Bell and Associates (Permit Expeditor)
Photography Credits: Garrett Rowland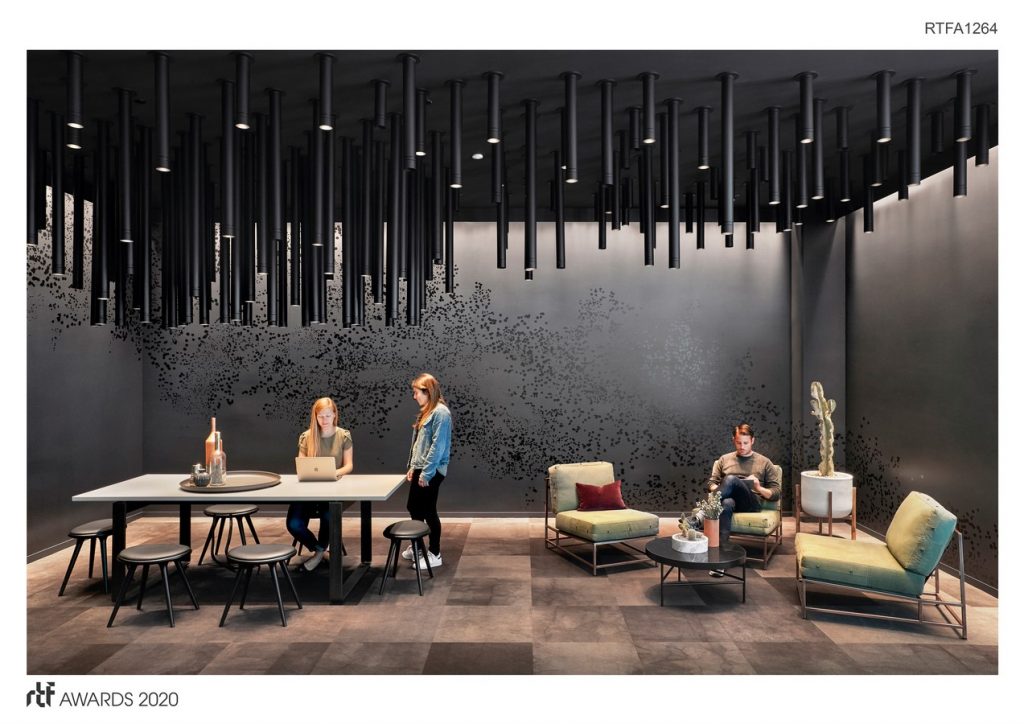 The firm took that metaphor and ran with it. If every workday is a hike along a trail whose end we can't predict, why shouldn't the workplace reflect that uncertainty?  The design made an asset of irregularity. Typical design practice on a multi-floor project is to repeat the basic floor plan on every floor, thus consolidating electrical and plumbing and making wayfinding easier. But a wilderness trail, like a workday, twists and turns in surprising ways. The design for Slack deliberately altered the floor plans and placed design highlights in unexpected places on each floor.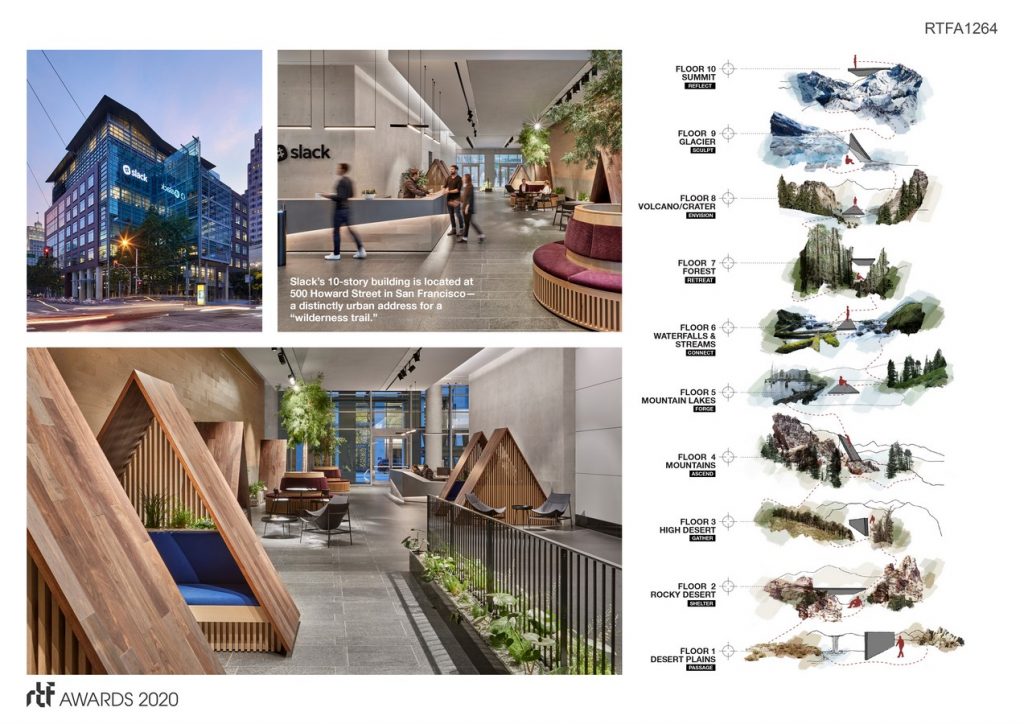 Using the natural landscape as inspiration, designers achieved a wide range of visual and experiential variety without sacrificing cohesion. The palette on this project was nature's palette—warm desert hues, sunlight on water, shadowy greens, glacial white. The result for Slack's employees was an environment of endless variation, a mix of stimulating and restful impacts that echoed the changing rhythms of the day.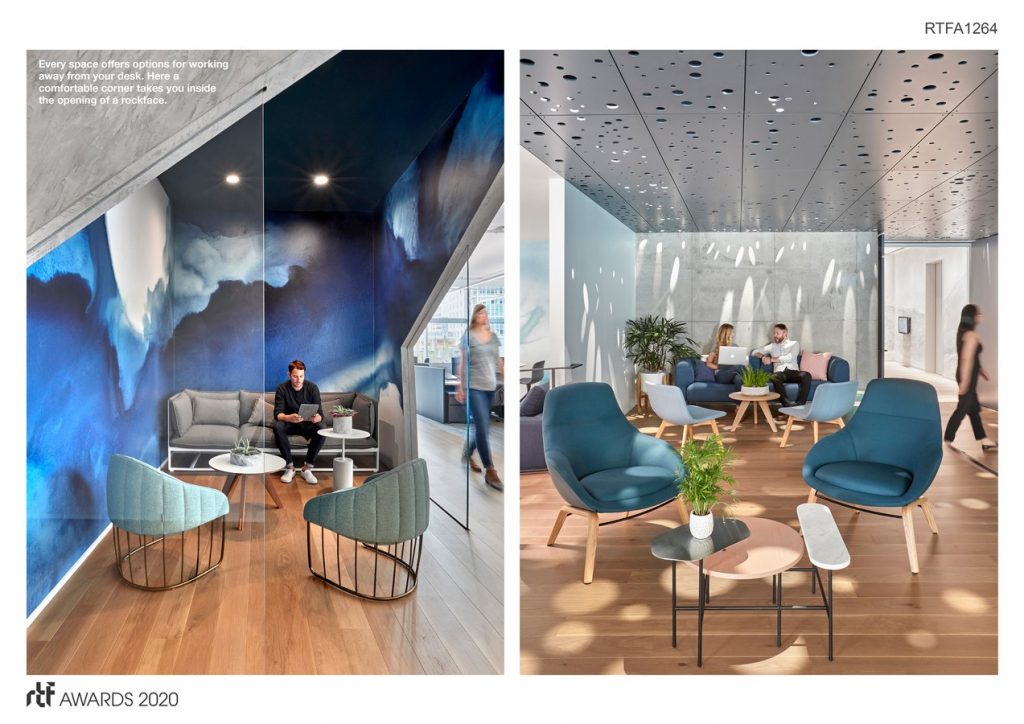 Also the changing light. The use of light on this project was its boldest ever. Working with lighting consultant Niteo, the design team assembled a repertoire of effects, both subtle and eye-catching: natural light through big windows crawling across a room; light for enclosed spaces keyed to circadian rhythm; filtered light replicating dappled sunshine through a canopy of trees, stage-worthy light suggestive of a night sky in the desert. As with the floor plan and the palette, the diversity of light in this project contributed to its larger theme of a wide canvas, always changing.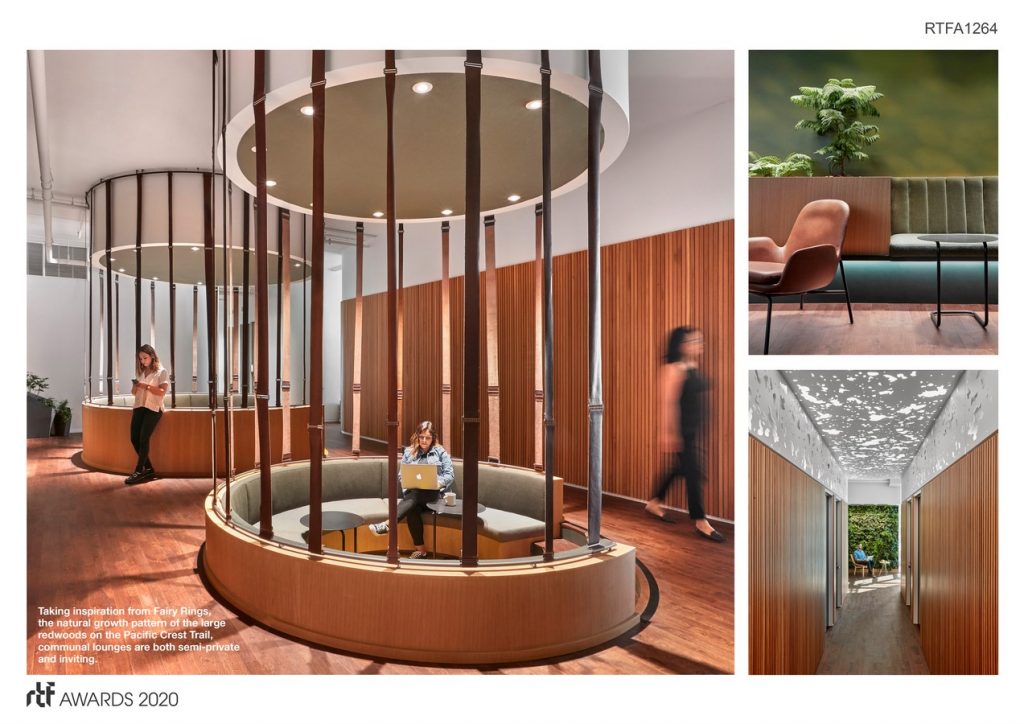 Ultimately what the firm and Slack sought to achieve in this office was a model environment for employee well-being. With its landscaped terrace and choice of cafes, its places of respite, its photography, and art, Slack's San Francisco office takes an expansive view of how work helps people grow, how it builds character and contributes to pride. At the end of a day in the wilderness, people usually have a measure of their own resourcefulness and a pretty good idea of what they have learned. Slack's wild-at-heart office replicates that process.
ARCHITECTURE, CONSTRUCTION & DESIGN AWARDS 2020 IS HERE
Over more than half a decade Rethinking the Future has been a leading organization committed to providing an international platform to not only recognize and acknowledge design talents from all over the world but also to celebrate and share the knowledge that created through a plethora of awards, events and academic dialogues in the field of architecture and design.