ECO2 combines state-of-the-art sustainable technologies to reconnect what will be a new vision for a resilient desert community. Located at the 19th Ave Superfund landfill site the project will mend the Rio Salado into an economic backbone for the region.
Rethinking The Future Awards 2020
First Award | Commercial (Concept)
Project Name: RIO ECO2 VENTURE
Studio Name: Krause – Architecture + Interiors
Design Team: Michael Krause, Kartika Rachmawati
Area: 7,000,000 SF
Location: S 19th Ave Landfill (S. 19th Ave and W Lower Buckeye Rd.)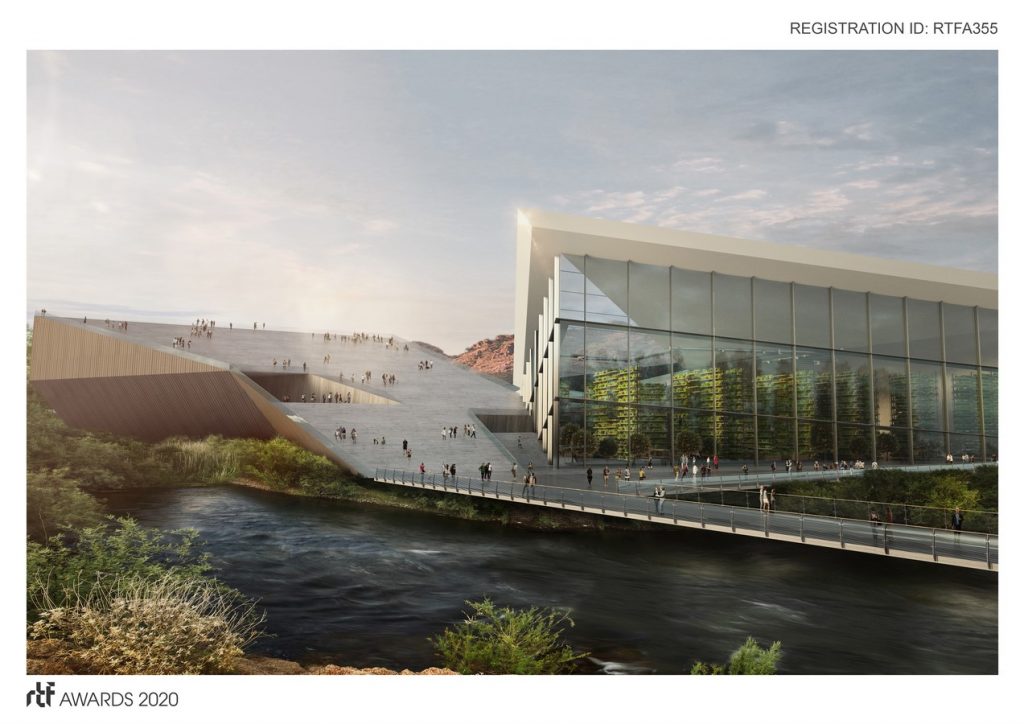 ECO2 looks to tie together the lessons of past inhabitants to build an Arizona that embraces technological advancements and acknowledges the challenges of living in an environment on the bleeding edge of a warming climate where water and sustainable strategies are determining factors in development. As contemporary cities and deserts grow, a common issue around the region is how to repurpose underutilized land/resources for urban development. ECO2 provides an insurance policy for the region while showcasing how urbanity and agriculture can be interwoven to enhance the relationship to people and the land.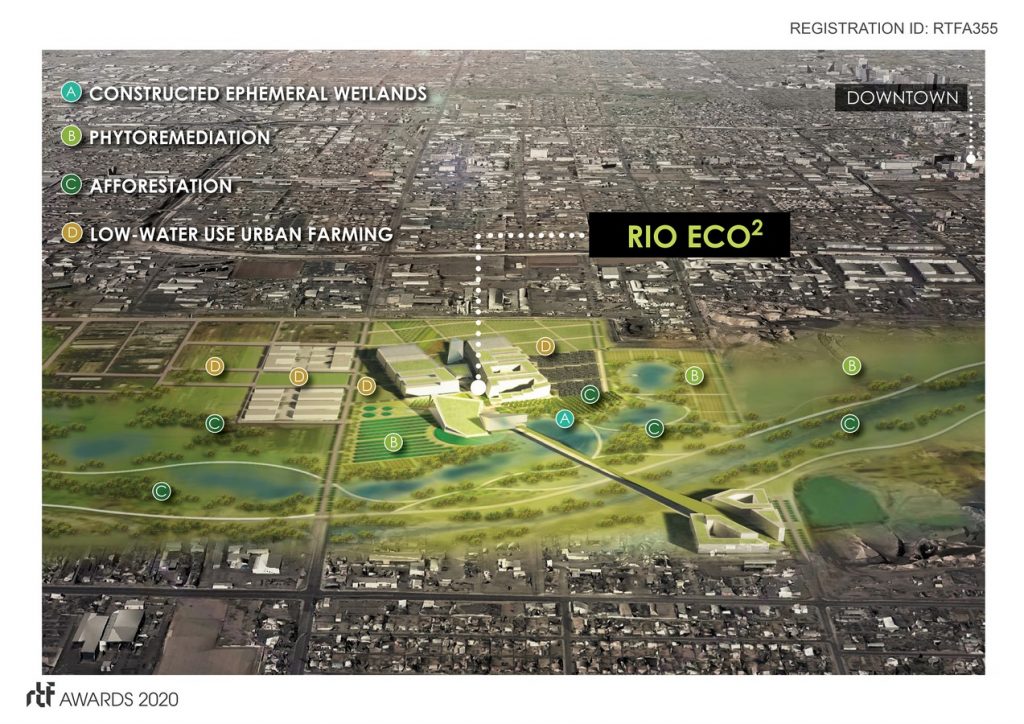 Designed to encourage creative pursuits in:
The innovation of research
Scientific advancement for agricultural products
Processes in sustainable food technology
Offering a high quality of living
Integrated landscape systems that will weave into the fabric of the larger regional plan for Rio Salado.
The mixed-use, low-rise, high-density development will be the first modern community in the world to operate without fossil-fueled vehicles at street level. The development seeks to build an attractive pedestrian environment sheltered from the climatic extremes by harvesting Wind, Solar, Algae, and Urban Research Farming.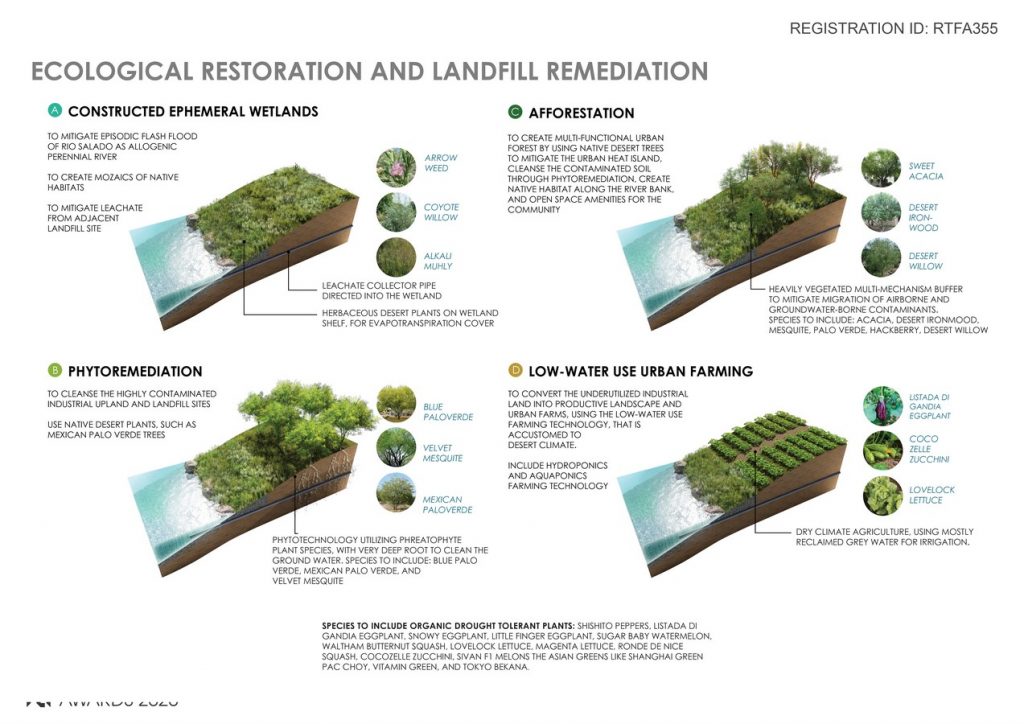 ECO2 is an urban restoration effort seeking to become a completely green infrastructure for the Rio Salado west corridor. Accomplished by a network of constructed wetlands, hydrological ecosystems, native habitats, implementation of phytotechnology for landfill remediation and afforestation using native desert phreatophyte species to clean the groundwater and reduce urban heat island. In addition, the planned conversion of the underutilized land into a productive and ecologically regenerative landscape using sustainable urban farming practices to include hydroponic and aquaponic technologies. ECO2 provides a regional example of repairing landfills into an economically beneficial and thriving community.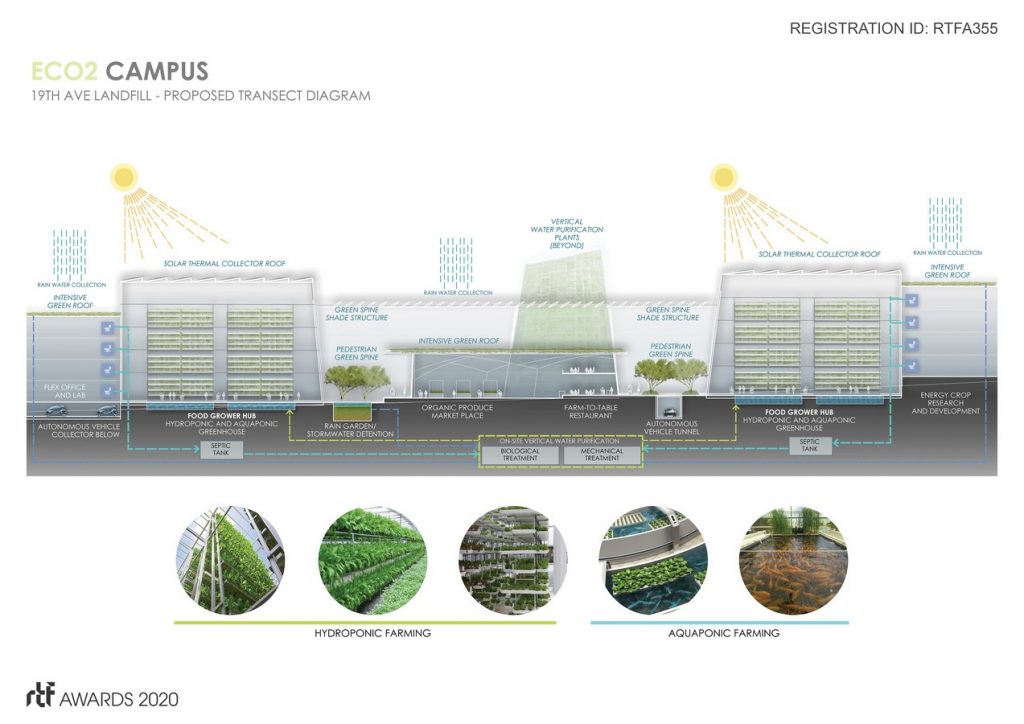 At the heart of which is GrowHaus 2.0 an education and neighborhood resource center for the advancement of new ideas and to produce agriculture in extreme environments. The building will strengthen the development and surrounding communities providing a bespoke link to future ideas along the Rio. A robust public realm is planned for the green spine that runs through the development of celebrating agriculture as a key component of its urban growth. What we aspire to represent showcases a Holistic Net Positive approach to create a mixed-use, dynamic, active environment that is far removed from the sprawling Phoenix that we see today. A new type of development is created on what is the environmental edge of increasing temperatures and water shortages. It is imperative that future growth consider food and water security as a priority. The plan for ECO2 offers an approach which shows that agriculture can coexist with development, that sustainability can be timeless, that water can be re-used and harvested, that it's hot and getting hotter and the space between buildings belongs to the pedestrian, not the car.
ARCHITECTURE, CONSTRUCTION & DESIGN AWARDS 2020 IS HERE
Over more than half a decade Rethinking the Future has been a leading organization committed to providing an international platform to not only recognize and acknowledge design talents from all over the world but also to celebrate and share the knowledge that created through a plethora of awards, events and academic dialogues in the field of architecture and design.