The Shed is an 18,500 m² arts center dedicated to commissioning, producing, and presenting original works of art, across all disciplines, for all audiences.
Rethinking The Future Awards 2020
First Award | Cultural (Built)
Project Name: The Shed
Studio Name: Diller Scofidio + Renfro, Lead Architect and Rockwell Group, Collaborating Architect
Design Team: Diller Scofidio + Renfro, Lead Architect
PARTNERS: Elizabeth Diller (Partner-in-Charge), Ricardo Scofidio, Charles Renfro, Benjamin Gilmartin
PROJECT DIRECTOR: Robert Katchur
LEAD DESIGNERS: David Allin, Matthew Ostrow
PROJECT ARCHITECT: Charles Berman
TEAM: Michael Samoc, Matthew Johnson,  Soerynn Kim, Rosannah Harding, Laura Haak, Anahit Hayrapetyan, Sarosh Anklesaria, Mario Bastianelli, Evan Tribus, Lisette Vargas, Katrina Collins, Lilian Fitch, Michael Hundsnurscher, Jonathan Parker, Michael Robitz,  Alex Knezo, Jack Solomon, Andreas Kostopoulos, Kazuhiro Adachi, Alina Agorokhova, Barry Beagen, Ryan Botts,Annie Coombs, Jason Dannenbring, Andrew Domnitz, Seto Hendranata, Robert Loken, Lindsay May, David Maynor, Meaghan Michael McElderry,Bre Rouse, Merica May Jensen, Benjamin Smoot
Rockwell Group, Collaborating Architect
PARTNER: David Rockwell
PROJECT MANAGER: Evan Tribus
PROJECT ARCHITECT: Catherine Yatrakis
STAFF: Julia Choi, Cody Davis, Timo Kuhn
Area: 18,500 m²
Year: 2019
Location: New York, NY
Consultants:
Levien & Company: Owner's Representative
Sciame Construction, LLC: Construction Manager
Thornton Tomasetti: Structural Design, Façade Engineering and Kinetic Engineering Services
Jaros, Baum & Bolles (JB&B): MEP and Fire Protection Consultant
Hardesty and Hanover: Kinetic Systems Consultant
Vidaris: Energy Modeling Consultant
Tillotson Design Associates: Lighting Consultant
Akustiks: Acoustics / Audio / Visual Consultant
Fisher Dachs: Theater Consultant
Cimolai: Structural Steel Fabricator
Vector Foiltec: ETFE Fabricator
Code Consultants, Inc.: Code Consultants
Van Deusen & Associates: Vertical Transport Consultants
Ducibella Venter & Santore: Security Consultants
Other Means: Graphic Design and Wayfinding
Entek Engineering: Façade Maintenance
James R. Gainfort AIA Consulting Architects PC: Waterproofing
Construction Specifications Inc.: Specifications
Photography Credits: Iwan Baan, Timothy Schenck, Lawrence Sumulong, Dan Bradica, Stephanie Berger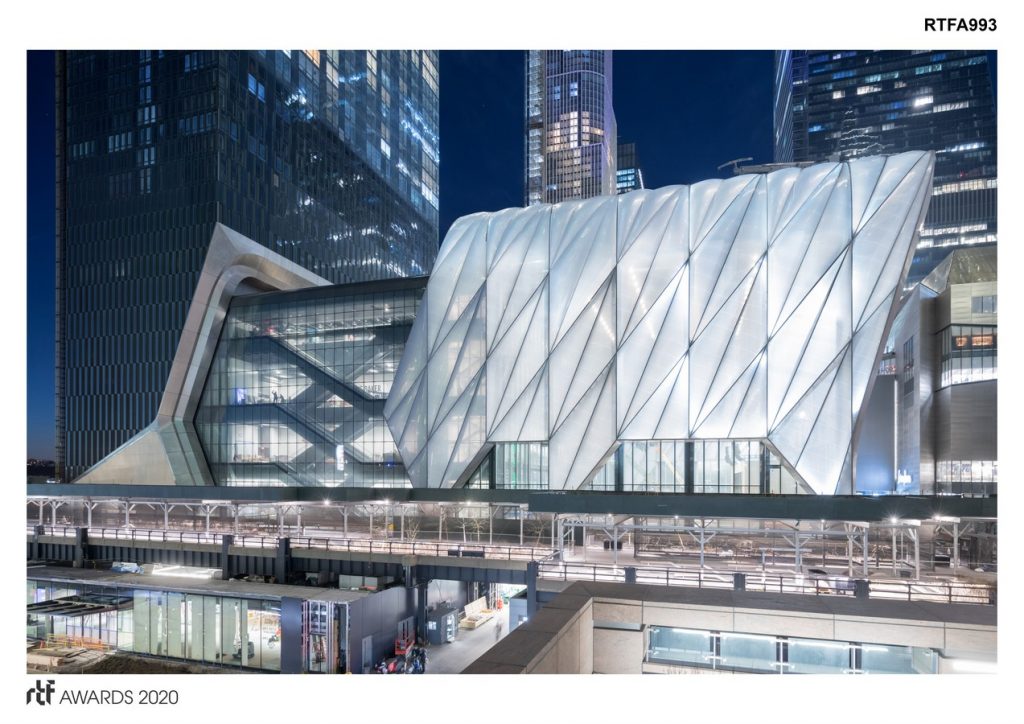 Located on city-owned land where the High Line meets the new Hudson Yards district, The Shed comprises a fixed structure with a stack of column-free galleries encased within a telescoping outer shell that slides onto an adjoining plaza, allowing the building to double its footprint on demand. Reinterpreting industrial-scale gantry crane technology, the steel and ETFE shell can deploy in five minutes using the horsepower of a single automobile.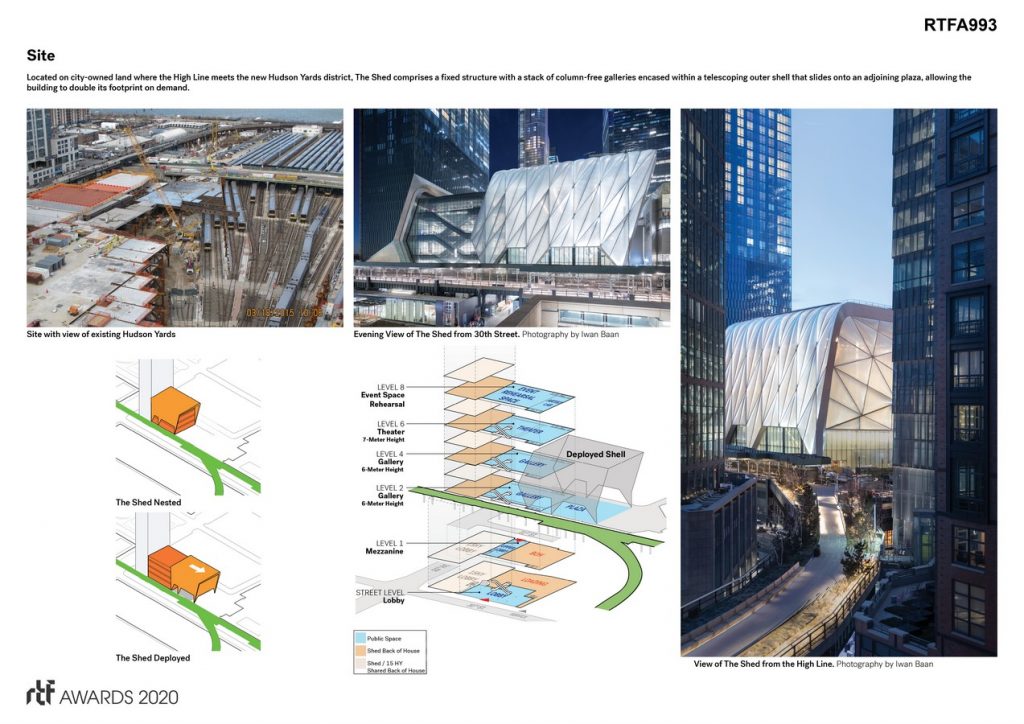 This exuberant volume of light-, sound-, and temperature-controlled space is conceived as a highly flexible "architecture of infrastructure," providing spatial flexibility to adapt to a wide spectrum of event sizes and types.  When deployed, The Shed's resulting hall can accommodate an audience of 1,200 seated or 2,700 standing; flexible overlap space in the two adjoining galleries of the base building allows for an expanded audience in the hall of up to 3,000. The robust and versatile building offers abundant power supply and rigging capacity. The ceiling of the movable shell is a continuous occupiable theatrical deck that can accommodate 2-ton loading from any point across its surface. Guillotine doors on three sides open to create a seamless indoor-outdoor environment.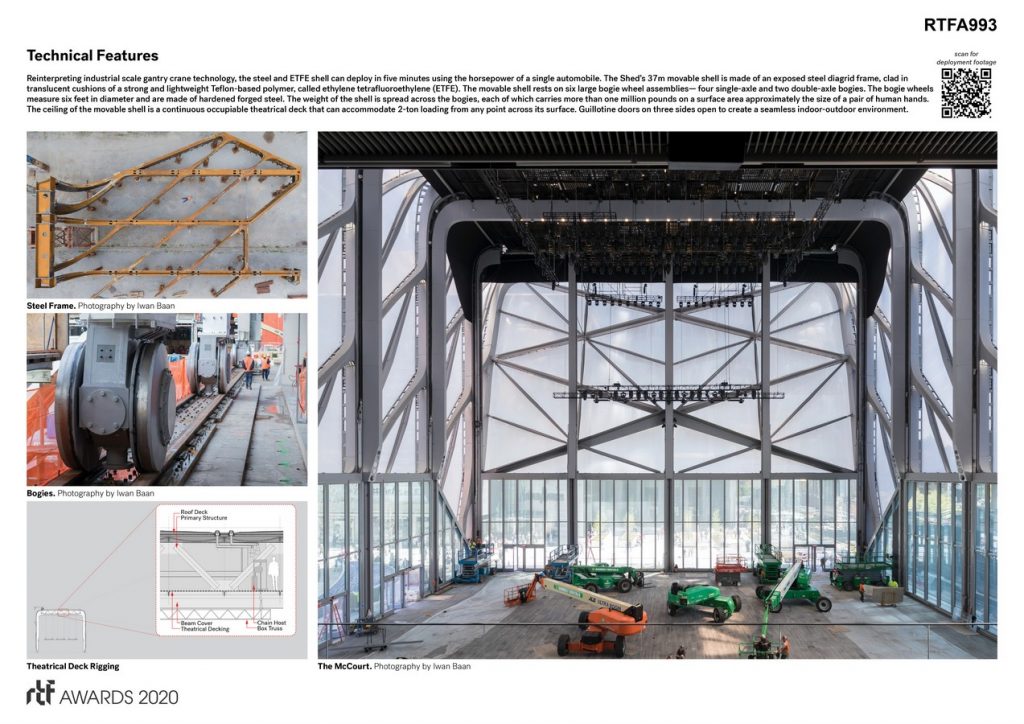 When nested, the shell reveals a 1,800 m2 public plaza equipped with distributed power that can be used for open-air performances and exhibitions. The Shed's fixed building includes two levels of gallery space, a 500-seat black box theater, a rehearsal space, a creative lab, an event space, and a café. The Shed claims the lower ten levels of the adjoining residential tower to the west for its back-of-house spaces. In exchange, the project developer gained the ability to build higher. Thus, the bulk of The Shed's own building is reserved for public cultural programming.
The Shed takes inspiration, architecturally, from the Fun Palace, the influential but unrealized building-machine conceived by British architect Cedric Price and theater director Joan Littlewood in the 1960s. Like its precursor, The Shed's open infrastructure can be permanently flexible for an unknowable future and responsive to variability in scale, media, technology, and the evolving needs of artists.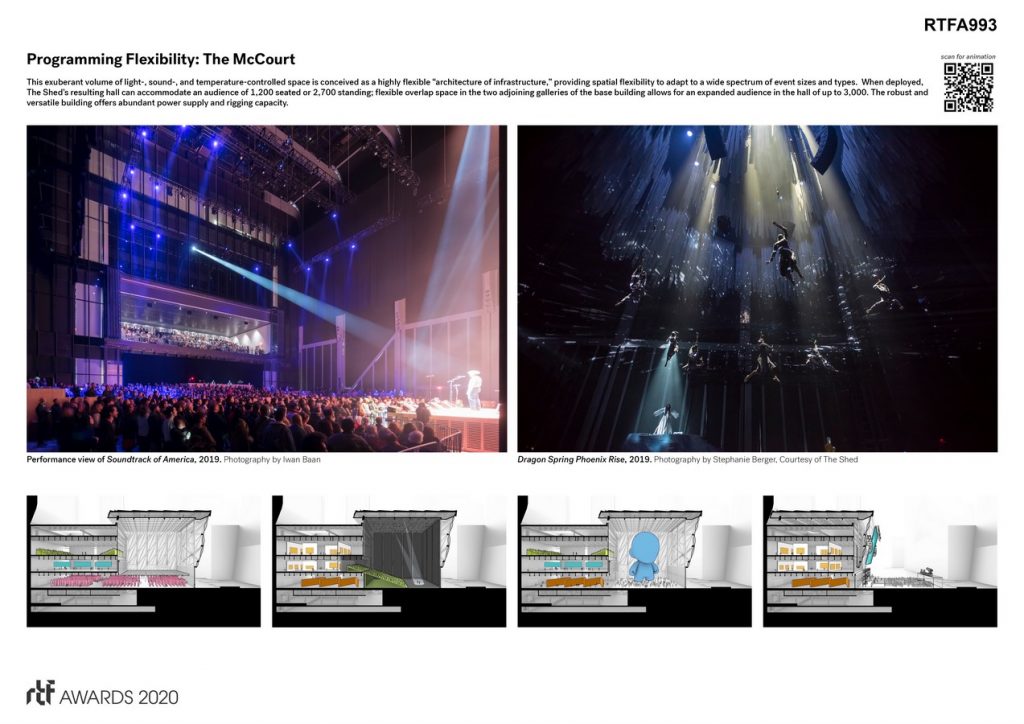 The Shed's non-profit mission is to ensure New York City's diverse communities have equitable access to cultural opportunities. More than half of The Shed's audience in 2019 attended with free or $10 tickets. Admissions to many of The Shed's programs have been free to all. Programming also features Open Call, a large-scale commissioning program for NYC-based emerging artists across all disciplines. In its first year, 52 artists were selected to receive financial support, space, and resources to develop and present their projects at The Shed.
ARCHITECTURE, CONSTRUCTION & DESIGN AWARDS 2020 IS HERE
Over more than half a decade Rethinking the Future has been a leading organization committed to providing an international platform to not only recognize and acknowledge design talents from all over the world but also to celebrate and share the knowledge that created through a plethora of awards, events and academic dialogues in the field of architecture and design.