The Beggar's Wharf redevelopment design vision has been commissioned by the Rockland Maine City Planning Department and the local MRLD Landscape Architecture + Urbanism as part of the proposed rezoning and development of the Beggar's Wharf post-industrial brownfield waterfront district.
Rethinking The Future Awards 2020
First Award | Cultural (Concept)
Project Name: Beggar's Wharf Arts Complex and Redevelopment Design Vision
Studio Name: Ten to One
Location: United States
Team: Garrick Jones | Graciela Hodgson | Garrick Houston | Sharvari Mhatre | Jeffrey Cole | MRLD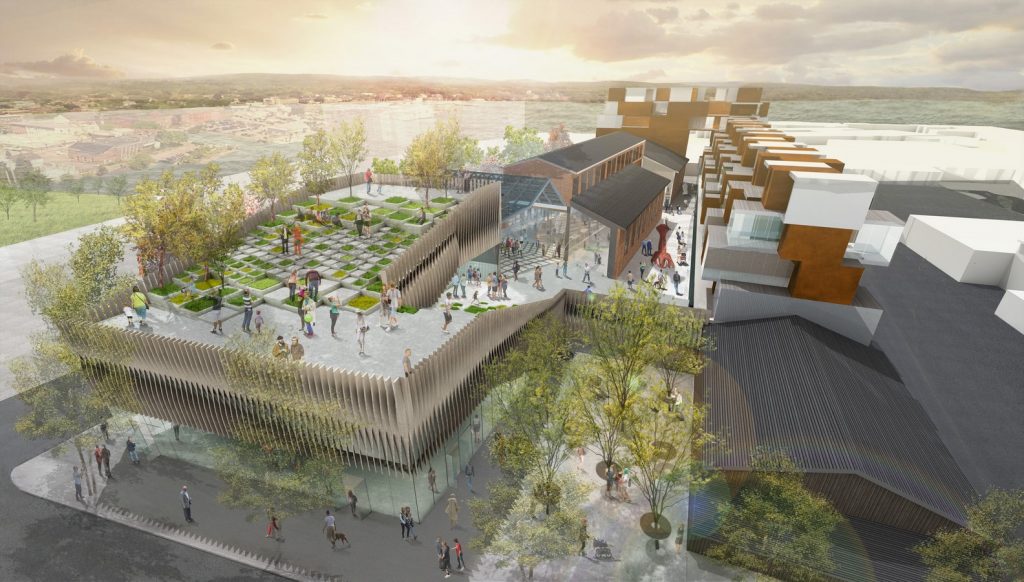 Rockland is becoming one of Maine's art and cultural meccas. The Farnsworth and Center for Maine Contemporary Art among other art and cultural institutions draw approximately fifty thousand visitors annually. Rockland's waterfront is underutilized currently, while the adjacent, inland historic business district is thriving and dense.
Our Beggar's Wharf project posits an eco-system for culturally adventurous Mainers and visitors, prioritizing and intermingling open spaces and event spaces, leisure and workspaces, exterior and interior.
The Beggar's Wharf Arts Complex is the heart of the redevelopment design vision. The Arts Complex is a collective of institutional spaces and ancillary mixed-use spaces including public parks, exhibition and event spaces, maker space studio and educational workshop facilities, artist-in-residence work / live studios, townhouses with flex studio apartments, commercial, as well as, in the larger development, marina, hotel, conference and co-work spaces.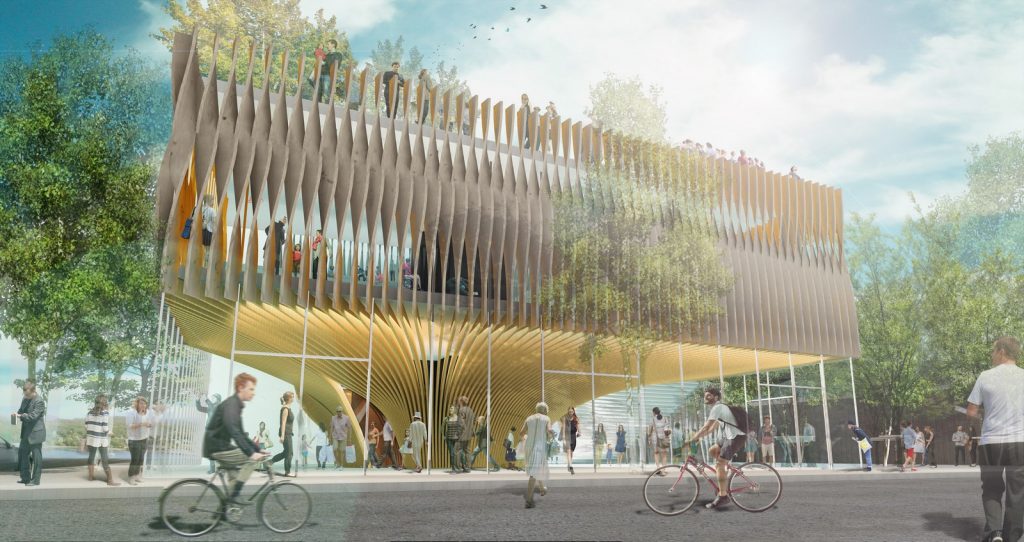 This collective of Arts Complex institutional spaces, commercial, residential and other programming together act as stewards for the public park spaces and center-block sculpture garden in, around, and on the complex.
The project will be sustainably run on a combined renewable energy network of solar rooftop canopies for electricity and a hydronic geothermal loop system – utilizing existing piping and resultant heat from the adjacent seaweed processing and sewage treatment plants – for heating and cooling.
The Museum at the gateway corner begins as an interior ground floor nearly seamless with the streetscape outside, unfurling upwards through public processions of indoor and outdoor spaces. Along the way are flexible galleries, theater and event spaces, terraces, cafes, and markets.

The Museum is structured by a complementary set of steel and concrete cores and slabs plus a series of small exterior columns. A mushroom-like skin of cedarwood fins shrouds the core and upper museum facade. The cedar fins appear continuous from the interior to exterior, acting as a doorway, sun and rain screen, railing, with patterning which morphs from every vantage point. The cedar fins are manufactured by techniques both new and old, digital and analog. Inside the cedar fins are CNC milled and maintain their warm natural color. Outside the cedar, fins twist via steam bending and grey with the elements.
The historic Bicknell Factory Building, the original Beggar's Wharf hub, is reclaimed as a continuation of the Museum exhibition/event space, with a working studio and educational center in the large suspended mezzanine.

Framing the other sides of the Beggar's Wharf Arts Complex full block development are further workshops and administrative functions as well as townhouses and artist-in-residence work/live studios above a primarily retail ground floor.
The townhouses are accessed from common lobbies and esplanades at the street and sculpture garden at the block's center. The townhouses are split-level from front to back with stairs and landings running axially across the middle. Each space is its own floor, allowing distinctive privacies within each space while simultaneously connecting between kitchen and living room, living and study, parents and children's rooms, bedrooms and studio. Each space can have views to or through adjacent spaces as well as outward to exterior views and terraces. Spaces are framed on three sides by a c-shaped concrete shell, on the fourth side by a steel core, with the ends open, glazed, or with retractable walls.
ARCHITECTURE, CONSTRUCTION & DESIGN AWARDS 2020 IS HERE
Over more than half a decade Rethinking the Future has been a leading organization committed to providing an international platform to not only recognize and acknowledge design talents from all over the world but also to celebrate and share the knowledge that created through a plethora of awards, events and academic dialogues in the field of architecture and design.