Design an energy-efficient, minimal, private residence for a family in a decrepit 3000 square foot townhouse in Brooklyn. The former townhouse was a wreck with nothing to salvage other than the front and side brick walls. A perfect opportunity to create a highly energy-efficient, house to passive house standards in the former shell.
Rethinking The Future Awards 2020
Third Award | Hospitality (Concept)
Name: Country Oasis, PASSIVE TOWNHOUSE
Studio Name: SARAH JEFFERYS DESIGN
Design Team: DESIGN PRINCIPAL: SARAH JEFFERYS
PROJECT MANAGER: ERIC SAMUELS
Area: 300 SQF
Location: PARK SLOPE, BROOKLYN, NEW YORK
Consultants: STRUCTURAL ENGINEER: KARL CHEN, STRATFORD ENGINEERING
MECHANICAL ENGINEER: CRAMER SILKWORTH, BAUKRAFT ENGINEERING PASSIVE HOUSE CONSULTANT: SAM MCAFEE, SG BUILD
Photography Credits: MORTEN SMIDT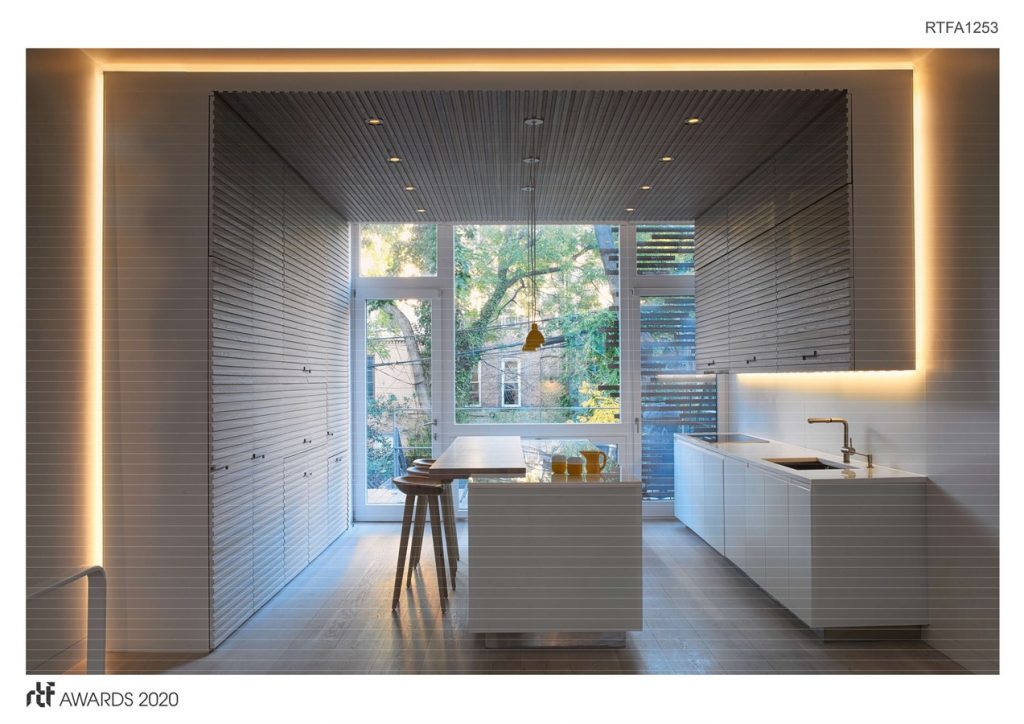 Passive House standards require airtightness, well-insulated building envelope, thermal bridge free construction, high-performance windows and doors, and energy recovery ventilation. Building by these standards saves more than 70% of heating and cooling compared to typical code-compliant buildings in the USA. We believe all construction of the future should be built at a minimum to these standards and preferably to net zero. The USA is very behind on energy-efficient, sustainable construction; regulations need to change. We can all reduce the effects of climate change by improving the built environment to create healthy, comfortable, energy-efficient homes.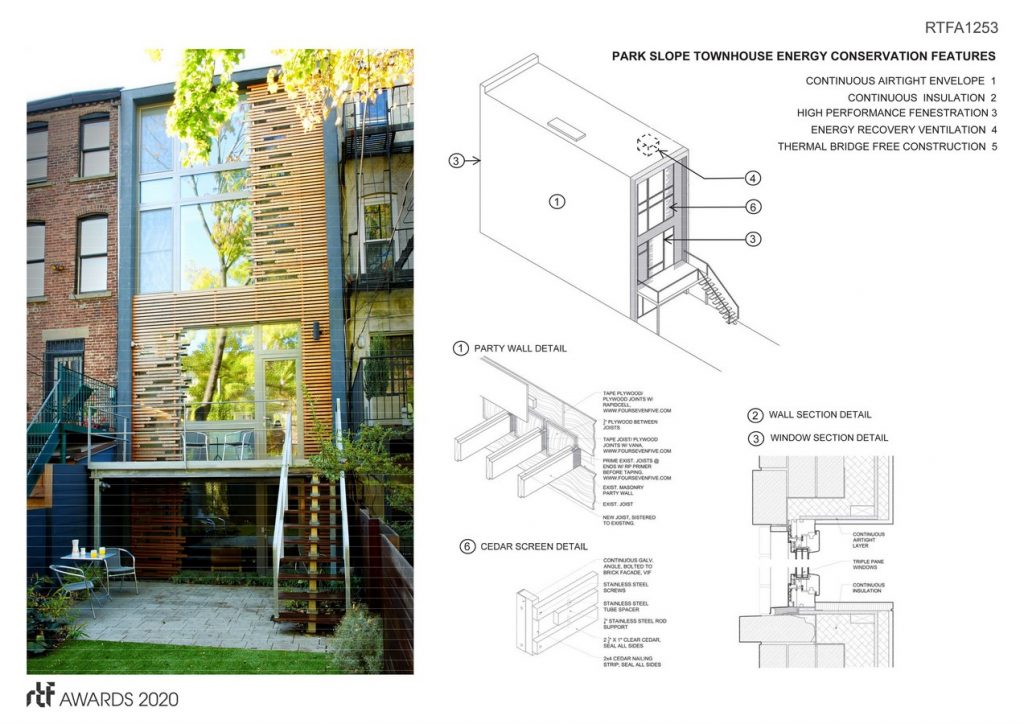 The original brick facade was rehabilitated with triple pane windows in the original openings, while the rear was completely replaced with a contemporary facade of large triple-pane glass panels and horizontal cedar slats. This cedar screen is both sculptural and practical serving as a veil providing privacy and modulates light and views of the neighborhood. On the interior, custom white oak, slatted sculptural millwork in the kitchen rises from the floors, across the ceiling, wraps down the opposite wall. This is highlighted by led concealed lighting; creating a sculptural tunnel to the wood-slatted exterior.  Similar colored wide plank white oak floors treated with lye and oil finish flow throughout the house.  Climb up the minimal steel and wood open staircase to the upper floors.  A translucent etched glass wall creates a private corridor between the master bedroom and bathroom.  Only silhouettes of their bodies are visible from the other side. The home reflects a meeting of cultures for the Danish/Indian family, contrasting the spare minimalist, open spaces, light woods, pale concrete with bright pops of color. Colorful Danish lights and furnishings carefully installed throughout the home. A vibrant, back-painted yellow glass bathroom is a fabulous splash of color, an ode to India, juxtaposed with a cool light gray concrete floor.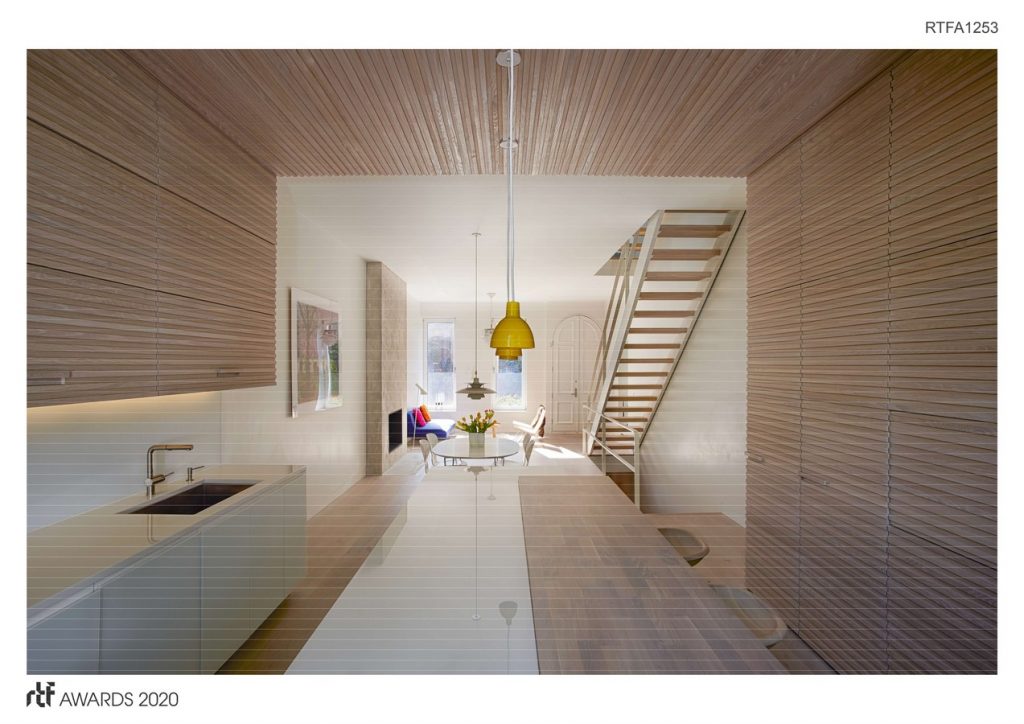 The overall feeling of the house is one of calm, serenity and peace. The house is so well insulated and sealed, it is a peaceful chamber, quite set apart from the noisy city beyond. The exterior walls, roof, and cellar are heavily insulated and sealed with plywood and specialty tape to create this city oasis. The triple-pane glass windows and doors allow loads of light and views, while their high performance prevents heat loss of gain. Kitchen appliances help heat the house passively with an induction cooktop to prevent too much heat gain. While the energy recovery ventilators, pass fresh air throughout the house, creating a healthy, clean environment. Standards of living for a healthier and more sustainable future.
ARCHITECTURE, CONSTRUCTION & DESIGN AWARDS 2020 IS HERE
Over more than half a decade Rethinking the Future has been a leading organization committed to providing an international platform to not only recognize and acknowledge design talents from all over the world but also to celebrate and share the knowledge that created through a plethora of awards, events and academic dialogues in the field of architecture and design.