After 16 championships and more than 70 years of history as the leading baseball team of Mexico, Los Diablos Rojos del Mexico will have a new home stadium, with an impressive 13,000+ covered seats and 7,000 berm seating. In September 2014, Mr. Alfredo Harp Helú (owner of the team) commissioned Alonso de Garay (Taller ADG) to design the new stadium that will be located within the sports complex of Magdalena Mixhuca. De Garay, invited Gonzàlez-Pulido (FGP Atelier) to collaborate 50% – 50% in the design.
Rethinking The Future Awards 2020
First Award | Sports and Recreation Project (Built)
Project Name: Diablos Rojos Stadium
Studio Name: FGP Atelier and Taller ADG
Design Team: Francisco Gonzalez Pulido (FGP Atelier) and Alonso de Garay (Taller ADG)
Design Credits
Architecture: The architectural design of the Diablos Rojos Stadium is the result of a collaboration (50/50) between the Mexican architects Francisco González Pulido (FGP-Atelier, Chicago, IL) and Alonso de Garay (Taller ADG, Mexico City) with the exception of the roof that is the idea and design of  Francisco González Pulido (FGP-Atelier).
Design Coordination:
Francisco González – Pulido (FGP Atelier)
Alonso de Garay (Taller ADG)
Area: Property boundaries 80.000m2. While Building + playing field occupies only 60.000m2
Year: 2019
Location: Mexico City, Mexico
Roof Structure and Membrane Engineering: Werner Sobek (Werner Sobek, Roland Bechmann, Alexandra Mrzigod, Homero Ríos)
Building Structure and Deck: Izquierdo Ingenieros (Raúl Izquierdo, Juan Manuel Figueroa)
Sports Consultant: Populous (David Bower, Mike Sabatini, Justin Cox, David Lizárraga)
MEP International: WE Engineering, (Thomas Willoughby, José Rodríguez)
Local MEP: CYVSA, Bemlo Eléctrica, Garza Maldonado y Asociados, DYPRO
Field Lighting: MUSCO
International Lighting: L-Plan (Michael Rohde, Panagiotis Ireiotis)
Local Lighting: L + F Lighting (Francisco Oropeza, Luis Lozoya)
Signage Design: Manuel Álvarez (Mexico) and ADG Workshop (Mexico)
Wind Consultant: RWDI
Cover Connections Design: CMF
DRO: IESSA
LANDSCAPE: ENVIRONMENT
Project Management: ADETEC
Concrete and steel structure: Tollan (Mexico) and Wassner (Mexico)
Roof: Dunn Lightweight Architecture (Mexico)
Mechanical, Electrical and Plumbing Engineering: Aldesa (Spain)
Special equipment, voice and data: Logen (Mexico) Masonry and finishes: Zersor (Mexico) Seats: Euro Seating (Spain / Switzerland)
Playground: PRODISA (Mexico) AND OMITLAN
Prefabricated facades: FAPRESA
Temporary Deck Brackets: Ulma
Interior Finishes and Executive Box: INK
Steel miscellaneous: JISAMM
Concession Covers: Lorenzo Canvases
Cranes: ESEASA
Prefabricated Bleachers: SEPSA
Miscellaneous Finishes: Pena Group
Commemorative Sculptures: MEVIMA
Signage: DOMA
Concrete Laboratories: Edylsa
Audio and Video: Artcoustix
Siphon System: Geberit
Filming: Luminaire
Photography Credits: Rafael Gamo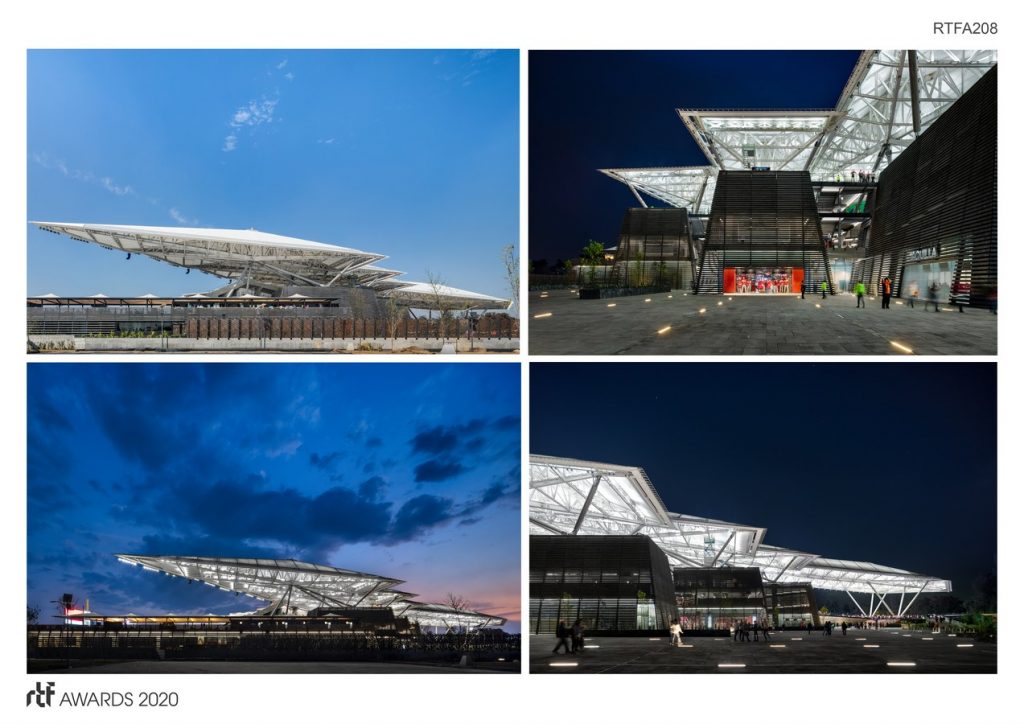 Alfredo Harp Helú Stadium is more than a building, it is an urban complex. Estadio Diablos will have a monumental lightweight roof structure resembling Diablos' trident, which drastically contrasts the predictable roof geometry that has historically defined baseball stadiums around the world.  Indicative of the sky, the roof design is sharp, translucent, luminous and dynamic. Composed of lightweight steel wrapped in PTFE textile material, the roof will become an iconic symbol for the great City of Mexico.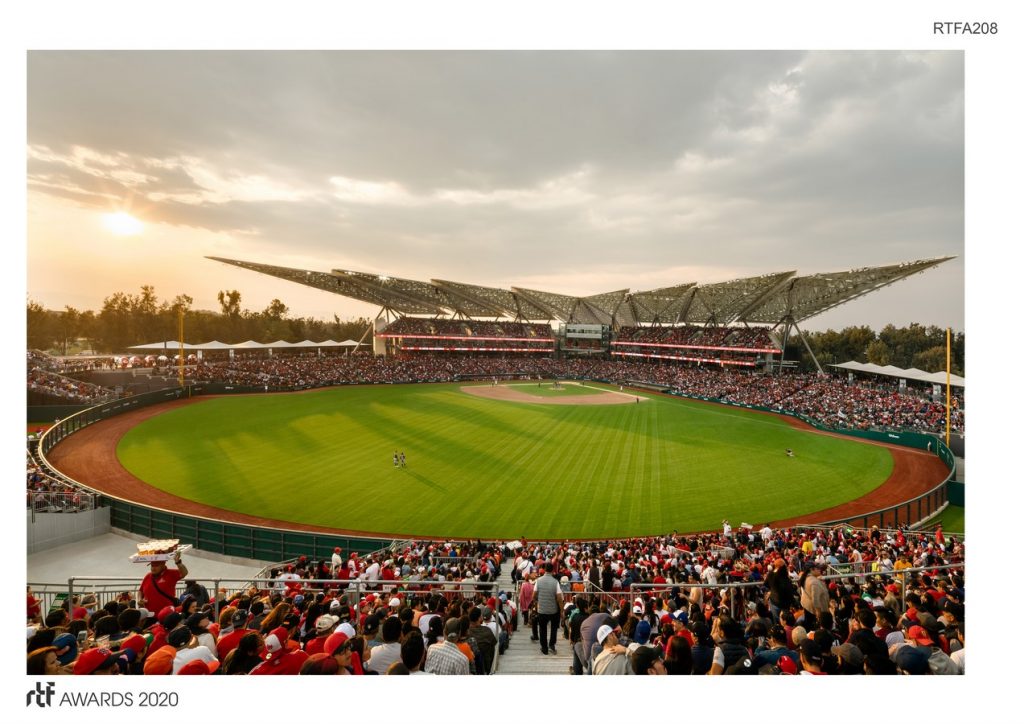 In contrast to the visual lightness of the roof, the base level is ceremonial and draws from many cultural cues. Designed using local materials from the Valley of Mexico and inspired by the pre-Hispanic era, the plaza level design has specific references to the court of the ancient Mesoamerican ballgame and emphasizes the connection between the earth and the heavens.  The guiding concept was to establish the duality between prehispanic Mexico through the base and contemporary Mexico through the roof of Centro Deportivo Alfredo Harp Helú which blends tradition, innovation, austerity, and technology into one space.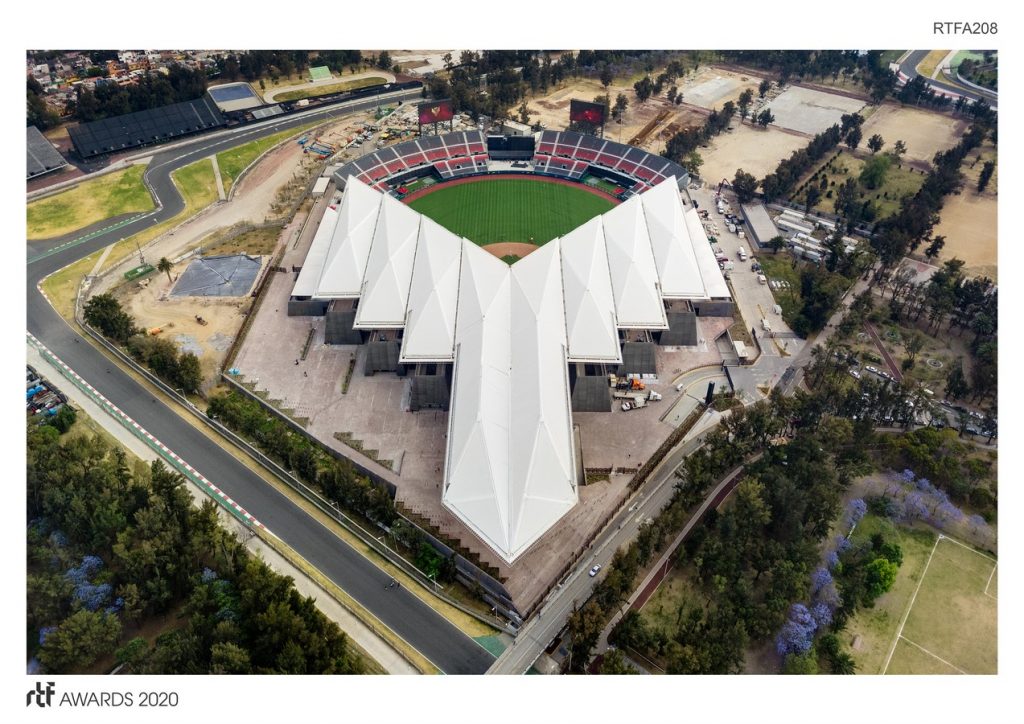 The procession from Alfredo Harp Helú Stadium grounds into the ballpark alludes to climbing an ancient Mesoamerican temple.  As the spectator approaches the grand entrance, they are confronted with six truncated pyramids cladded in indigenous volcanic rock.  Once inside, a ring connects all the seats and functions into one experience with unobstructed views to the field. The key goal for Alfredo Harp Helú Stadium is the vision of a great public space, where the open space is as important as the built space, which is a prominent architectural feature within Mexican culture.  Successful spaces must encourage strong social engagement, incorporate Mexican traditions and respect existing natural conditions.  Therefore, the new stadium is seamlessly integrated into four major public spaces with very distinct characteristics.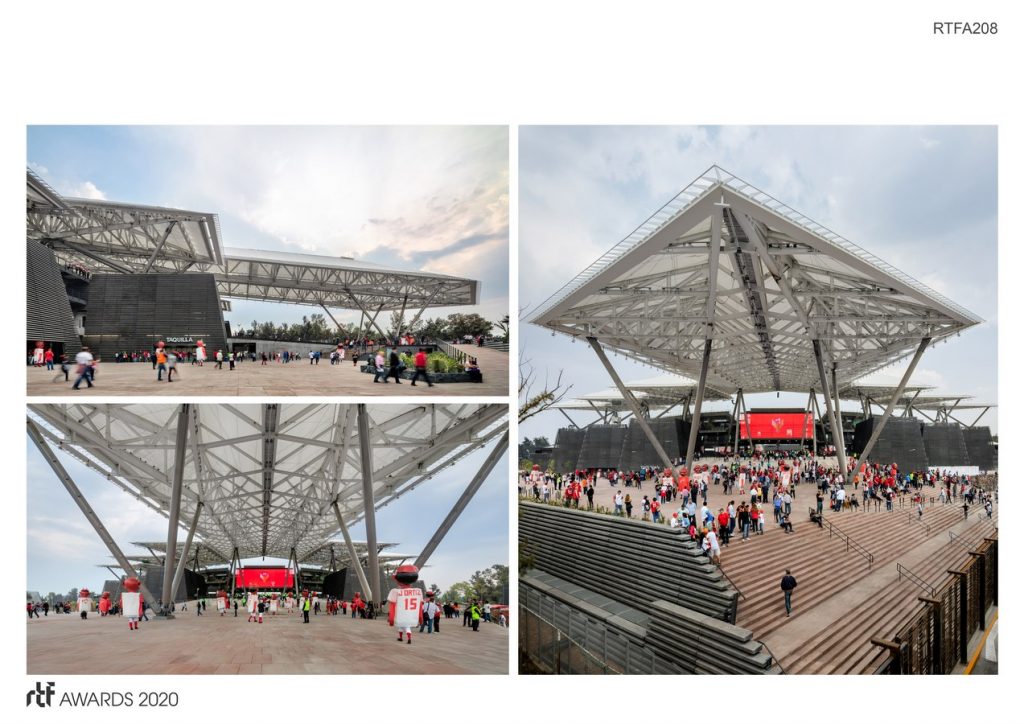 Alfredo Harp Helú Stadium aims to reduce energy consumption, waste, and emissions. The design strives for a Net-Zero building using passive systems with minimal HVAC integration and active water reduction systems. This goal of sustainable design including minimal ecological impact sets a strong precedent for a new standard of building within Mexico. Alfredo Harp Helú Stadium is more than a stadium, it is Mexico's ballpark.  Our challenge was to make the stadium a social and cultural center. As Estadio Azteca is the home of Mexican football, we strive for Alfredo Harp Helú Stadium to become the home of Mexican baseball. Estadio Diablos is inclusive. It is a gift from Los Diablos Rojos to the Mexican people.
ARCHITECTURE, CONSTRUCTION & DESIGN AWARDS 2020 IS HERE
Over more than half a decade Rethinking the Future has been a leading organization committed to providing an international platform to not only recognize and acknowledge design talents from all over the world but also to celebrate and share the knowledge that created through a plethora of awards, events and academic dialogues in the field of architecture and design.