The conceptual design for the modular sports complex ranges in capacity from 3,000 seats to a total possible capacity of 10,000 seats.  The design was created with the intent of targeting communities that desire to promote economic development with the sport as the catalyst for growth.
Rethinking The Future Awards 2020
First Award | Sports and Recreation Project (Concept)
Project Name: Future Stadia
Studio Name: Pendulum Studio LLC
Design Team: Pendulum Studio
Area: 53,000 – 131,000 sqft
Year: 2019 (Concept)
Location: United States
Other Credits: Renders – Pendulum Studio LLC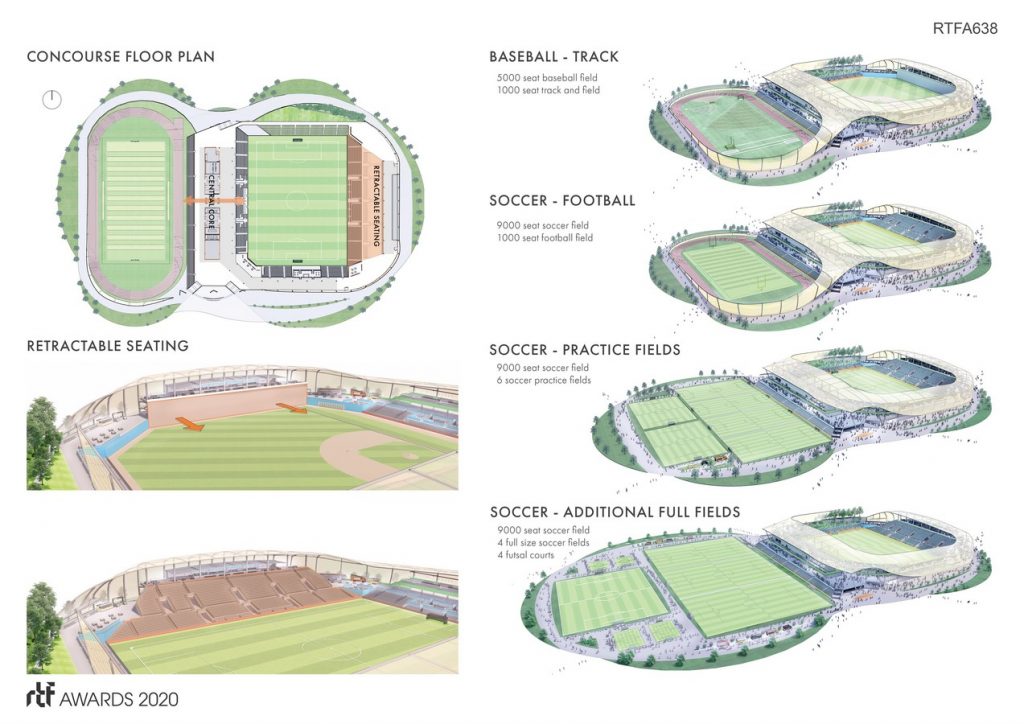 The nucleus of the design is a central operational core (phase one) from which all spectator amenities radiate.  Central cooking facilities, restrooms, general utility, vertical circulation, and administrative functions exist in this central core to accommodate multiple sports field configurations with clear lines of sight, 360 degrees around the building.  As additional modules are added (phases two through six), new seating amenities can be added to increase stadium capacity and field uses.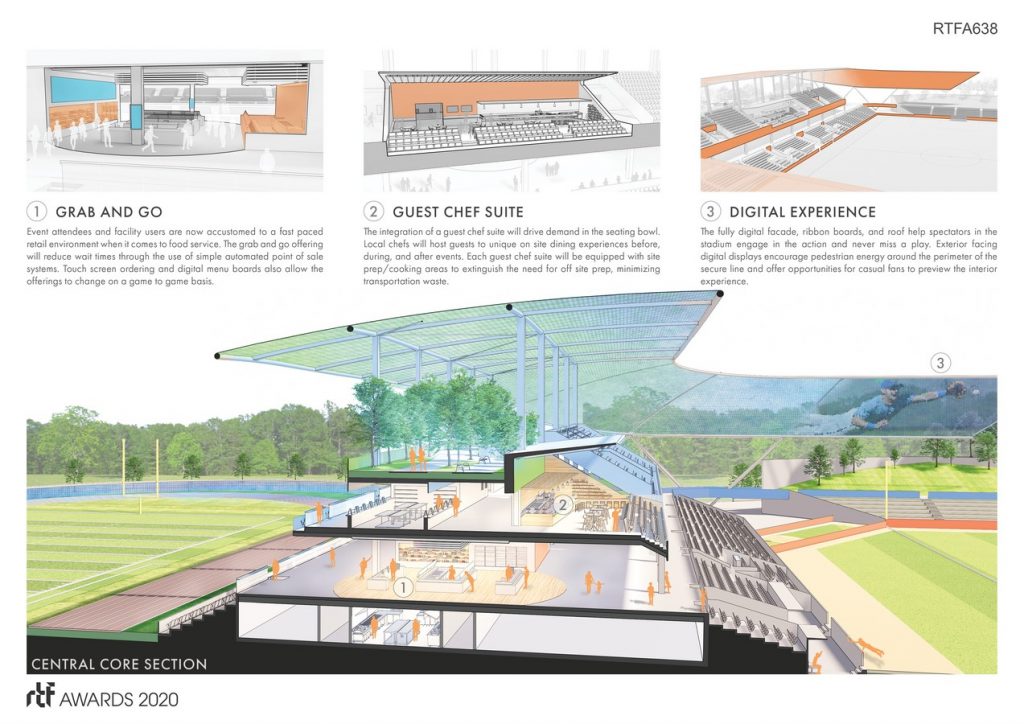 Typically, the use of a radial field configuration (baseball) does not integrate well with rectangular field configurations (football, soccer, lacrosse, rugby, etc.).  With this in mind, this design incorporates retractable seating in the main bowl to accommodate rapid automated changeover from rectangular to radial field layouts.  No matter how the main stadium is configured, visual lines of sight to the playing field surface have been maximized.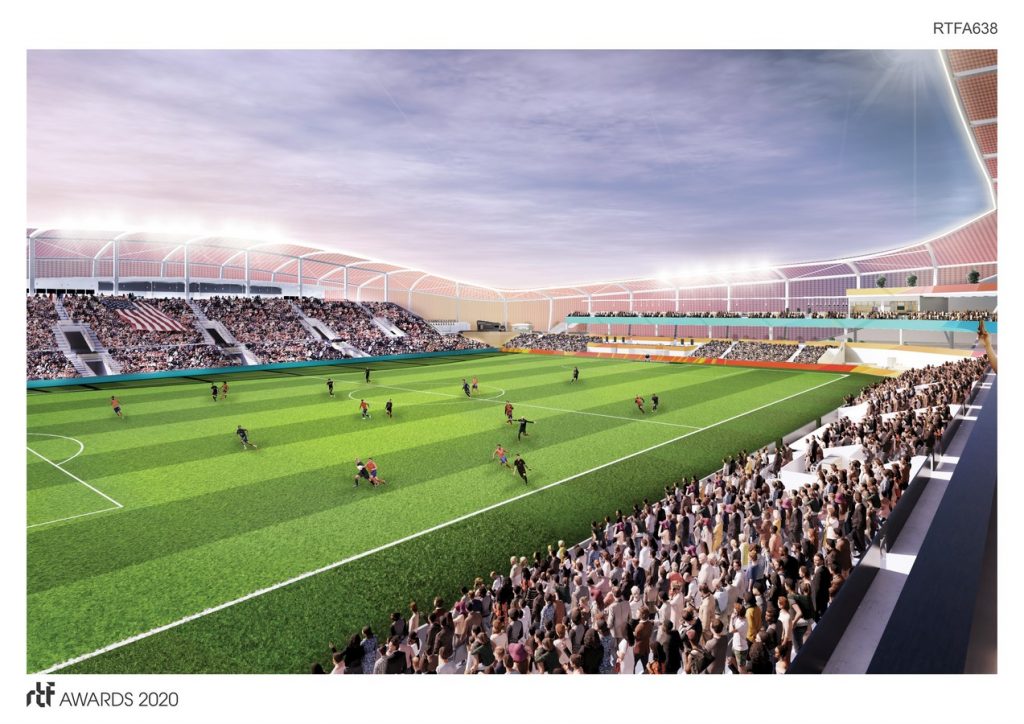 The integration of technology is of major importance to the stadium design.  In lieu of the placement of static signage, all way-finding and advertisement surfaces have been designed as digital displays.  The entire ETFE (Ethylene Tetrafluoroethylene) roofing system is designed to accommodate projected digital imagery.  As building modules are added in future phases, the roofing system can be expanded to take many different shapes that provide sun/rain protection and visual effects.  The flexibility of the use of digital displays in lieu of static signs complements the thought of facility flexibility.  The stadium complex is designed to accommodate use by many teams/entities.  The use of digital display technology will allow for rapid changeover of graphics, sponsors, concession menus, and color schemes.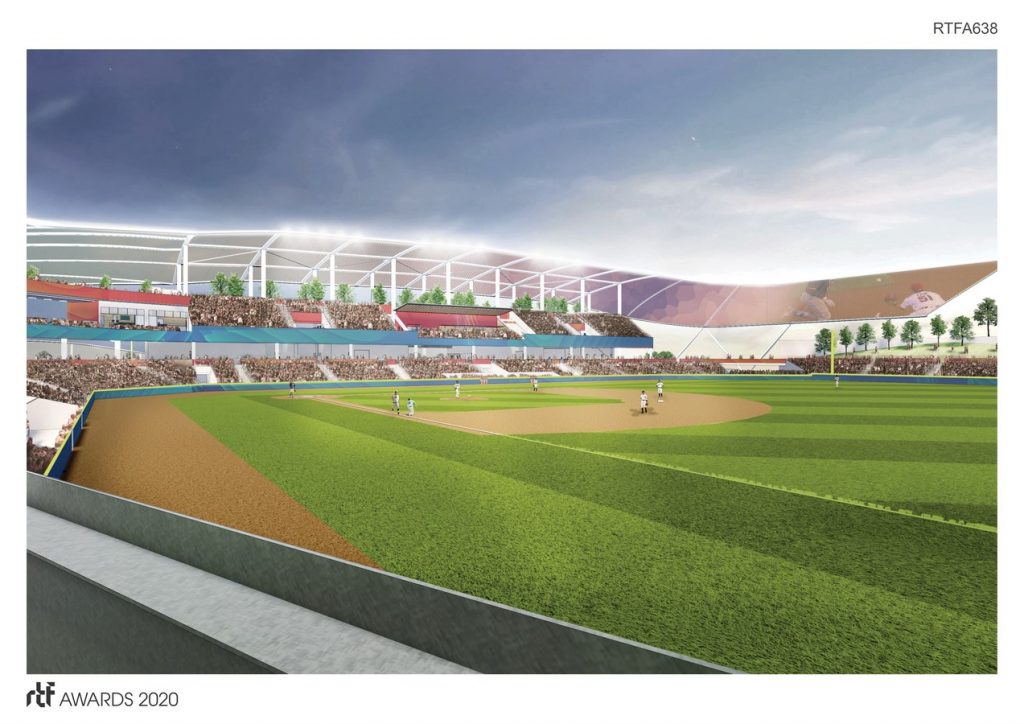 The inspiration for the overall aesthetic of the stadium is "contextual fluidity".  The design can take on the shape that best suits the environment and context it will be sited within.  Since this design is a modular prototype, the final overall aesthetic has yet to be decided.
ARCHITECTURE, CONSTRUCTION & DESIGN AWARDS 2020 IS HERE
Over more than half a decade Rethinking the Future has been a leading organization committed to providing an international platform to not only recognize and acknowledge design talents from all over the world but also to celebrate and share the knowledge that created through a plethora of awards, events and academic dialogues in the field of architecture and design.