The mission of Springdale General is to keep the creative class in Austin by building a campus of affordable maker studios, creative office space, test kitchens, and workshops in East Austin. With over 165,000 square feet of space on 10 acres, this development accommodates a variety of small to medium businesses from coffee roasters to tech startups. Many of the tenants are women- or minority-owned, reflecting Austin's diverse creative community.
Rethinking The Future Awards 2020
Second Award | Commercial (Built)
Project Name:  Springdale General
Studio Name: Michael Hsu Office of Architecture
Design Team: Michael Hsu, Jay Colombo
Area: 165,000 sf
Year: 2019
Location: 1023 Springdale Road, Austin, Texas
Consultants: Navcon (general contractor)Verde (landscape architect) MJ (structural engineer) Stansberry (Civil engineer) AYS (MEP engineer
Photography Credits:  Chase Daniel
Other Credits: Central Austin Management Group (owner)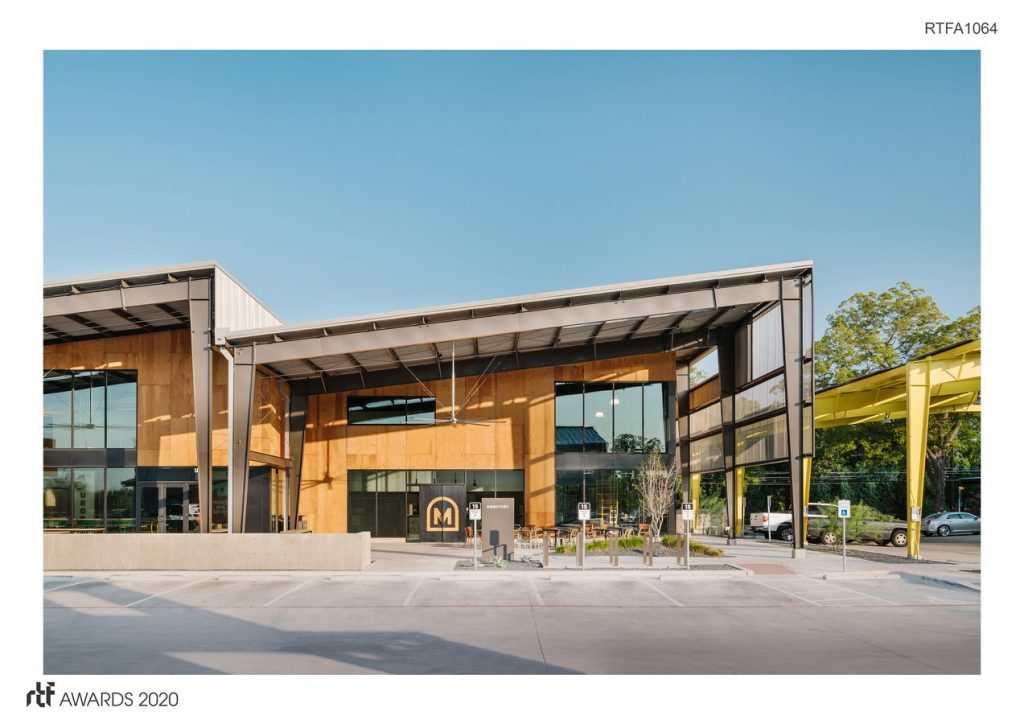 As Austin continues to grow, rents have increased at a pace that has quickly priced-out the creative class. A primary goal of this project was to keep rents significantly below the market so that the type of maker and nonprofit businesses that have recently been priced out of central Austin could have a place to call home. The development team's commitment to affordability without sacrificing design and functionality presented a challenge in project execution. The solution uses innovative and cost-effective materials alongside energy conscious solutions to keep the price attainable.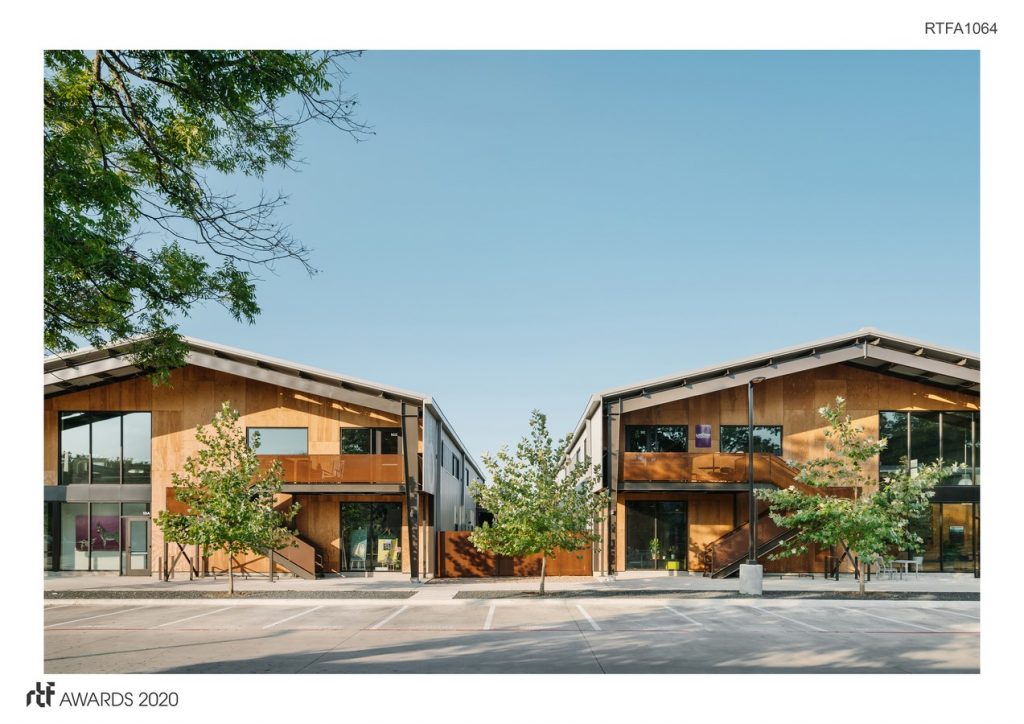 Several non-profit organizations are tenants of Springdale General including Co-Lab Projects, College Forward, Austin Center for Design, Notley Ventures, Creative Action, Austin Parks Foundation, Latinitas, and Texas Book Festival. Springdale General offers these valuable groups a place to office, as well as opportunities to collaborate in an active community of congruent organizations. Springdale General has oriented all community uses toward the front of the development, including coffee shops, restaurants, and a bar. This orientation welcomes the neighborhood into the development and provides opportunities for gathering with the larger community.
Springdale General is designed specifically to support a strong nonprofit, small business community ecosystem by presenting opportunities for groups to collaborate, innovate and work together to build success. Pedestrian-friendly corridors, ample gathering opportunities, and grouped communal uses make room for serendipitous collisions of like-minded people.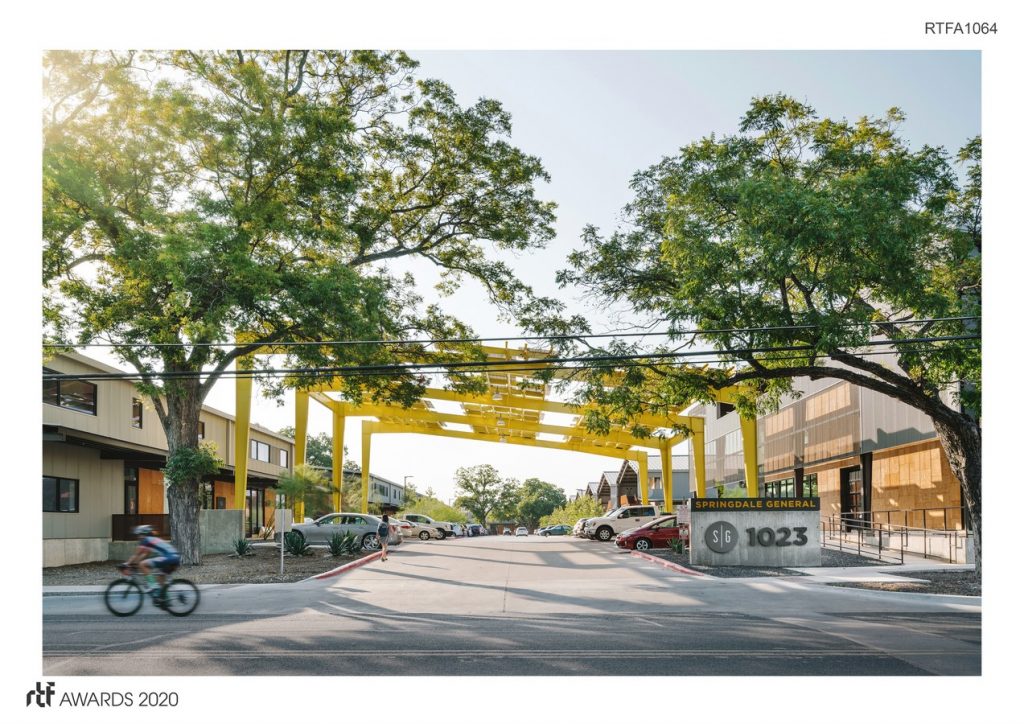 Affordable building techniques and finishes were used to help keep costs low. All the buildings are prefabricated in a kit of parts construction method which achieves flexibility in assembly and efficiency in the manufacturing process. Simple, industrial materials such as corrugated metal siding as well as ample daylighting were used to minimize cost. The buildings are designed with recessed entryways, porches, and patios to make the spaces more welcoming and open than traditional industrial development. A striking yellow solar canopy marks the entrance and invites users into Springdale General.
The design for Springdale General preserves all existing trees on the property and utilizes a minimal landscape to reduce maintenance costs. Rainwater on the site is collected and housed in cisterns, which also add to the aesthetic of the development. A yellow solar canopy marks the entry for Springdale General and provides energy through a photovoltaic system for the front buildings.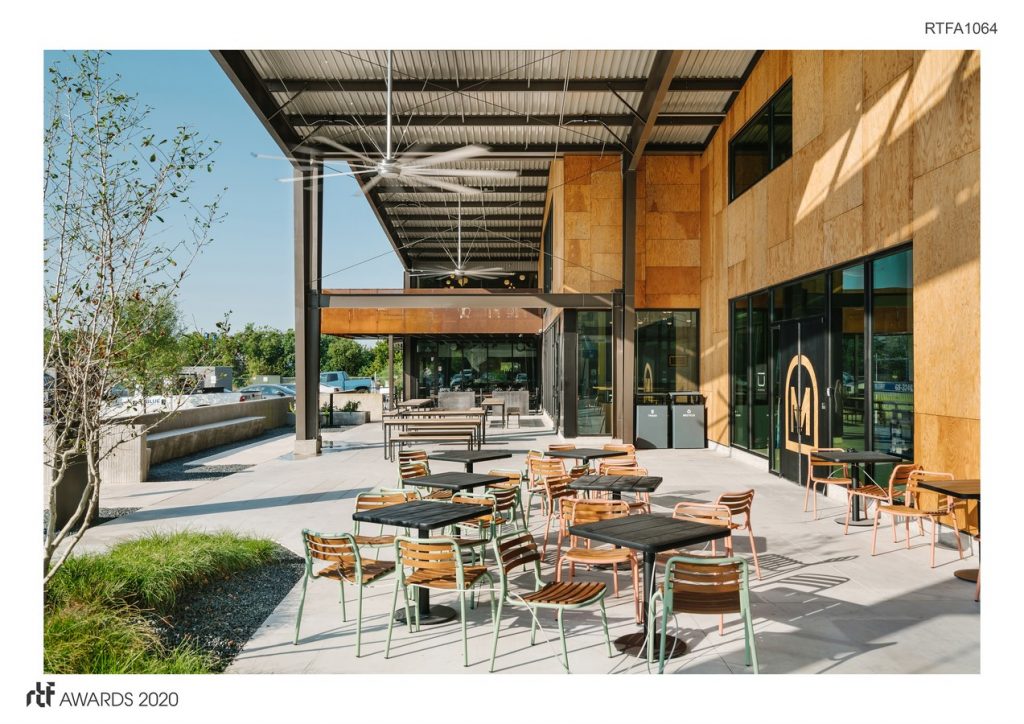 Springdale General provides an affordable community for creative and nonprofit organizations to grow and thrive. Over 60 businesses and non-profits call Springdale General home, in spaces ranging from 750 to 10,000 square feet.
ARCHITECTURE, CONSTRUCTION & DESIGN AWARDS 2020 IS HERE
Over more than half a decade Rethinking the Future has been a leading organization committed to providing an international platform to not only recognize and acknowledge design talents from all over the world but also to celebrate and share the knowledge that created through a plethora of awards, events and academic dialogues in the field of architecture and design.