This exclusive project features a luxurious 360 m2 private house with a full-sized exploitable rooftop garden. In the past few years, the company has designed and constructed 14 similar buildings in St. Petersburg region, Russia.
Rethinking The Future Awards 2020
Second Award | Private Residence (Built)
Project Name: Hill Park project #6
Studio Name: Hill Park
Design Team: Nikolay Muzhikov, Dmitry Prudnichenko
Area: 366 m2
Year: 2019
Location: St. Petersburg, Russia
Photography Credits: Maxim Romanenko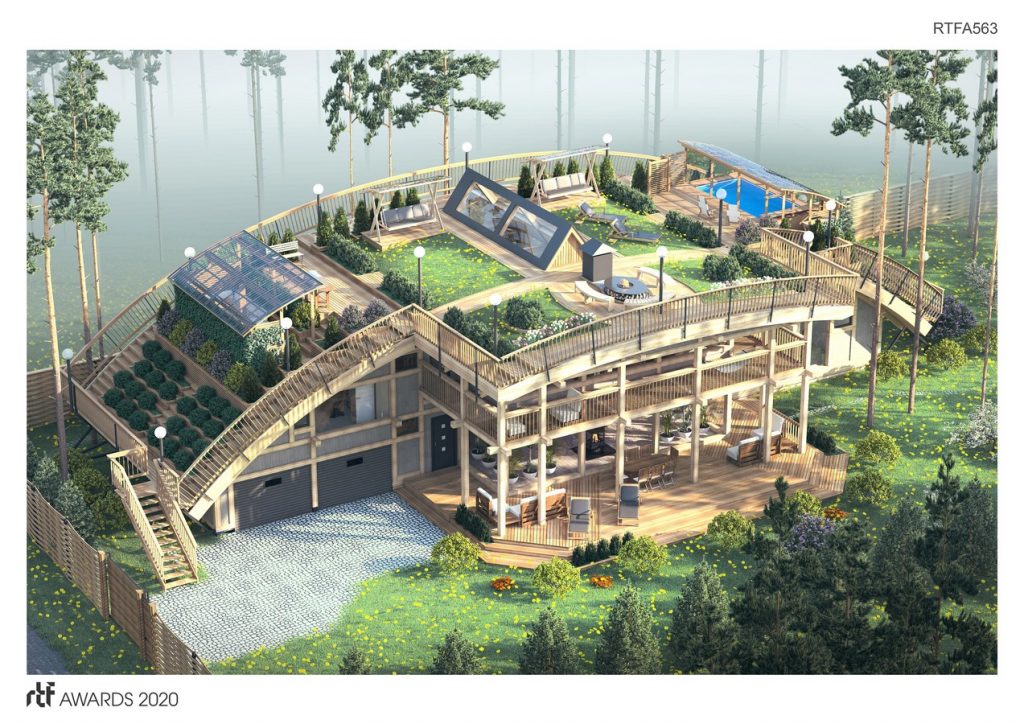 The objective of the project was to enhance the traditional Scandinavian green roof (a pitched roof with fairly primitive vegetation), turning it into a real park – a place to relax in nature and enjoy outdoor recreation.
The environmental and economic benefits of green roofs are widely acknowledged. They contribute greatly to thermal and sound insulation, significantly reduce drainage load and prolong roof service life by protecting waterproofing materials from mechanical damage, overheating and direct sunlight.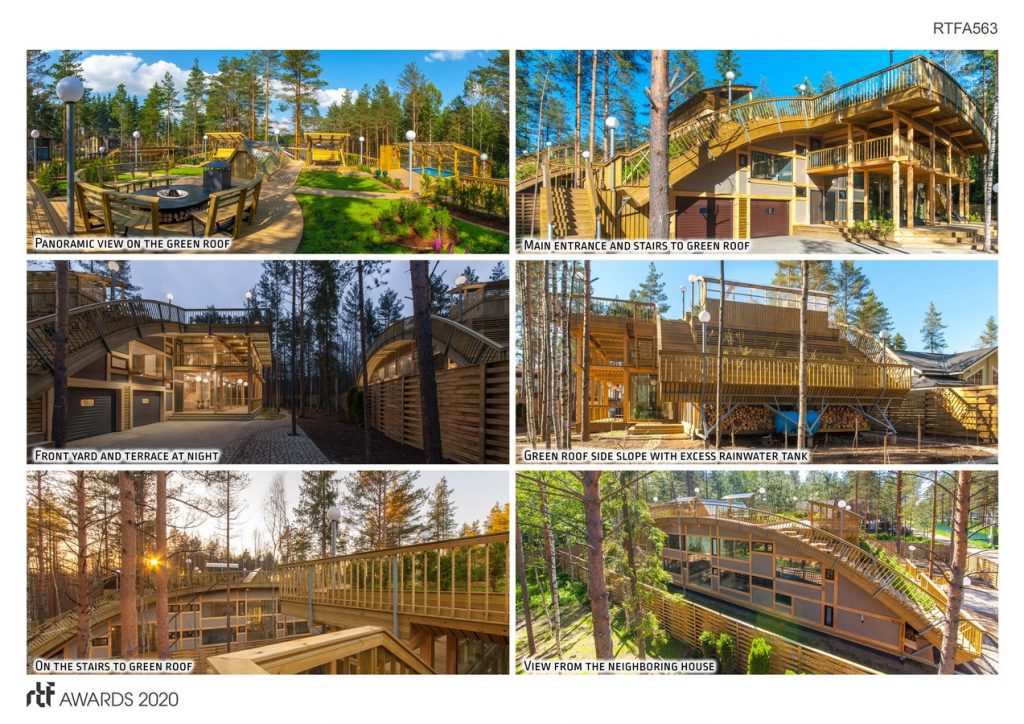 Hill Park houses use an arched roof construction with horizontal terraces. The roof surface is fully exploitable and provides enough space for landscaping. The water flow remains natural, as on a traditional pitched green roof. The soil has constant contact with an inclined surface and actively absorbs water that flows down the slope. Excess water is collected in a storage tank at the very bottom of the slope and is returned back to the roof through drip irrigation.
Although the house is made entirely of wood (glued beams fachwerk), the arched roof construction easily withstands all possible loads: snow, soil, terraces, and rooftop constructions.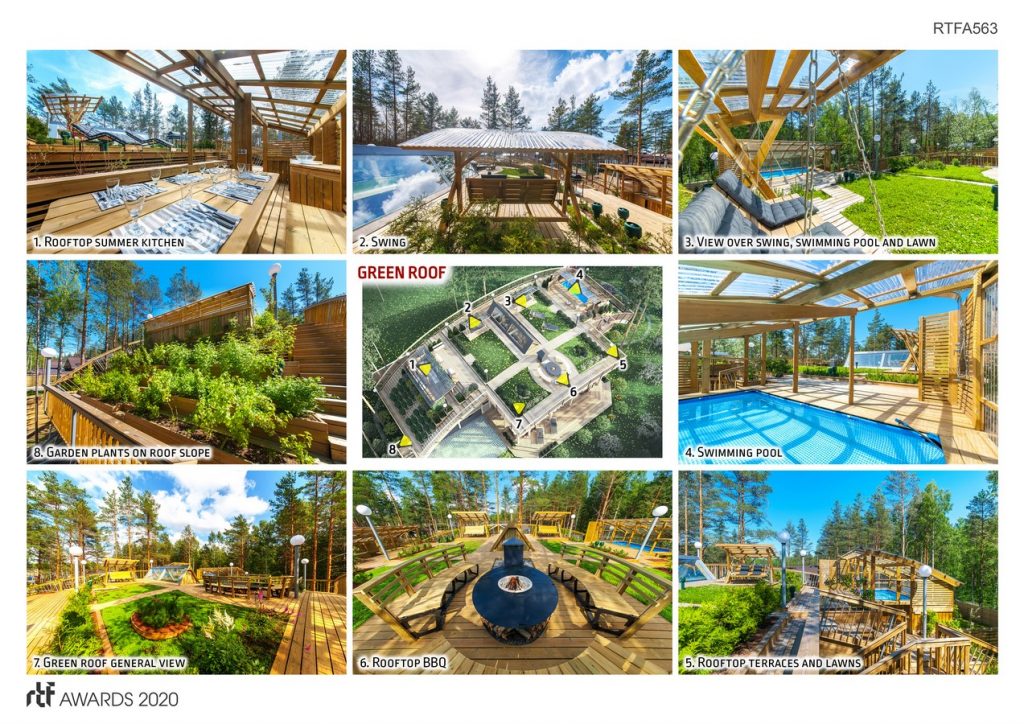 The rooftop garden is made of horizontal terraces with steps and transitions between them. Soil thickness varies from 20 to 80 cm to accommodate sections with lawns, shrubs and small trees.
The central flat part of the roof comprises walking terraces, lawns, awnings and is surrounded with decorative shrubs and perennial flowers. It is equipped with a swimming pool, summer kitchen, barbecue, swings, deckchairs, hammocks, etc. Steeper slopes are planted with fruit shrubs – this way they do not block each other from the sun and are easily accessible. Curly vines grow along canopies' walls and roofs and provide natural shade.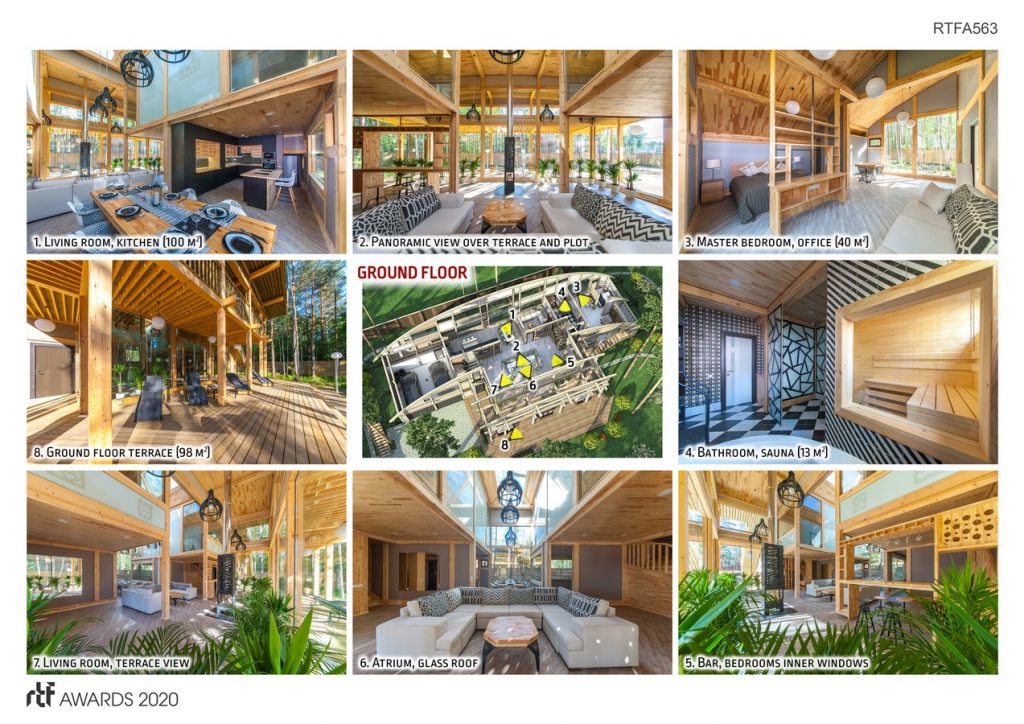 The spacious 360 m2 house comprises a large living room with a kitchen area, 4 bedrooms with private bathrooms, a guest room, a garage and a large number of utility rooms. The total usable area, including outdoor terraces, balconies and a rooftop park exceed 900 m2.
Interiors are designed to match the architectural concept of the house, with light and spacious rooms, decorated using natural and eco-friendly materials. The house is fully equipped with custom made furniture and all necessary household appliances.
ARCHITECTURE, CONSTRUCTION & DESIGN AWARDS 2020 IS HERE
Over more than half a decade Rethinking the Future has been a leading organization committed to providing an international platform to not only recognize and acknowledge design talents from all over the world but also to celebrate and share the knowledge that created through a plethora of awards, events and academic dialogues in the field of architecture and design.