The project land is located in Kigali, the capital of Rwanda. Rwanda is famous for its hills. There is a topography that creates a vertical slope all over the country. The project land is a sloping land that is affected by this slope.
Rethinking The Future Awards 2020
Second Award | Housing – upto 5 floors (Concept)
Project Name: Hills Apartments
Studio Name: WALL Corporation
Design Team: Selim Senin
Area: 3226 sqm
Year:2018
Location: Kigali/Rwanda
Photography Credits: Selim Senin
Other Credits: Selim Senin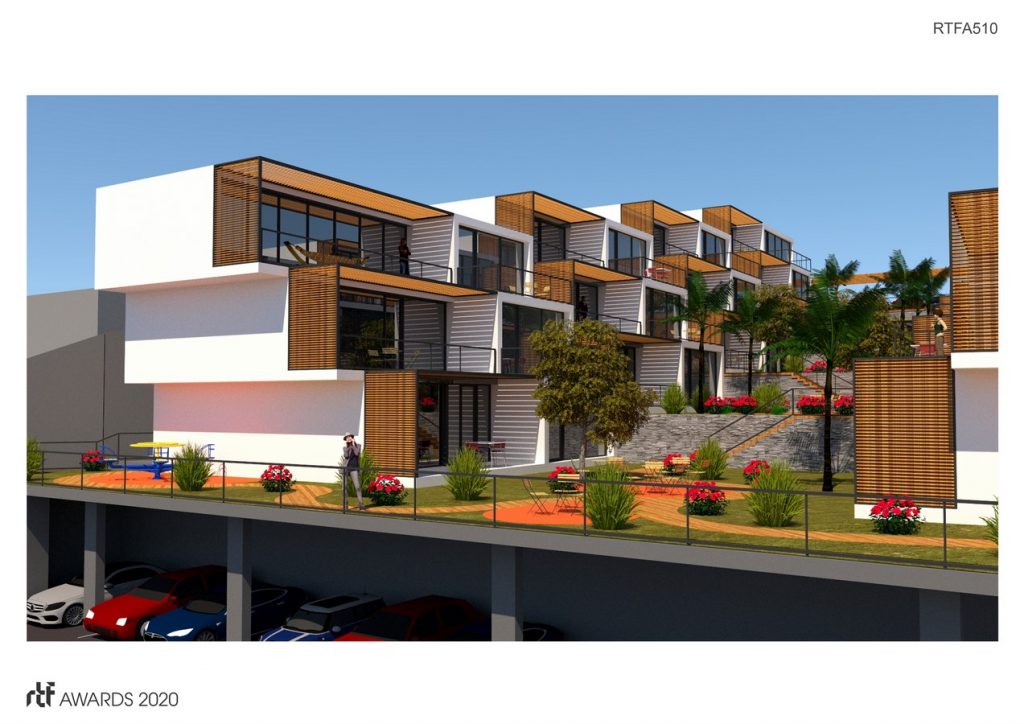 The structure was designed as a part of the slope without conflict with the existing slope of the land. Thanks to the design on a natural slope, excavation has been reduced to a minimum level, making a significant contribution to the reduction of costs.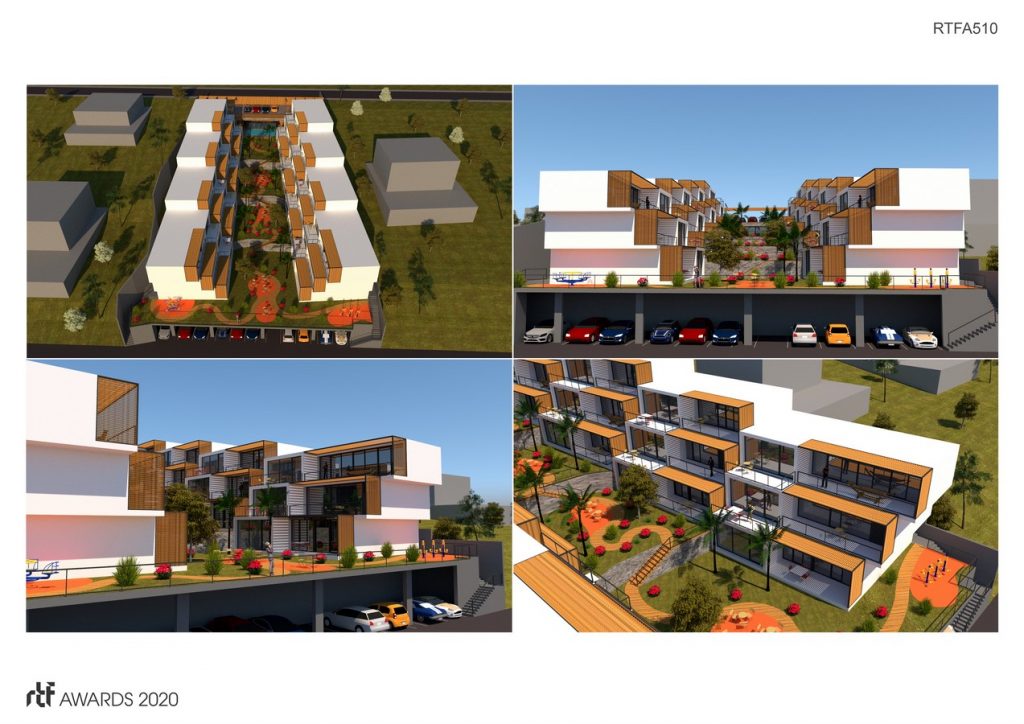 The project was designed as 2 housing blocks. The blocks were placed gradually according to the terrain slope. The blocks were arranged gradually in the direction of the slope and were designed gradually by retracting towards the upper floors. These stages in two directions refer to the topography of Rwanda consisting of hills.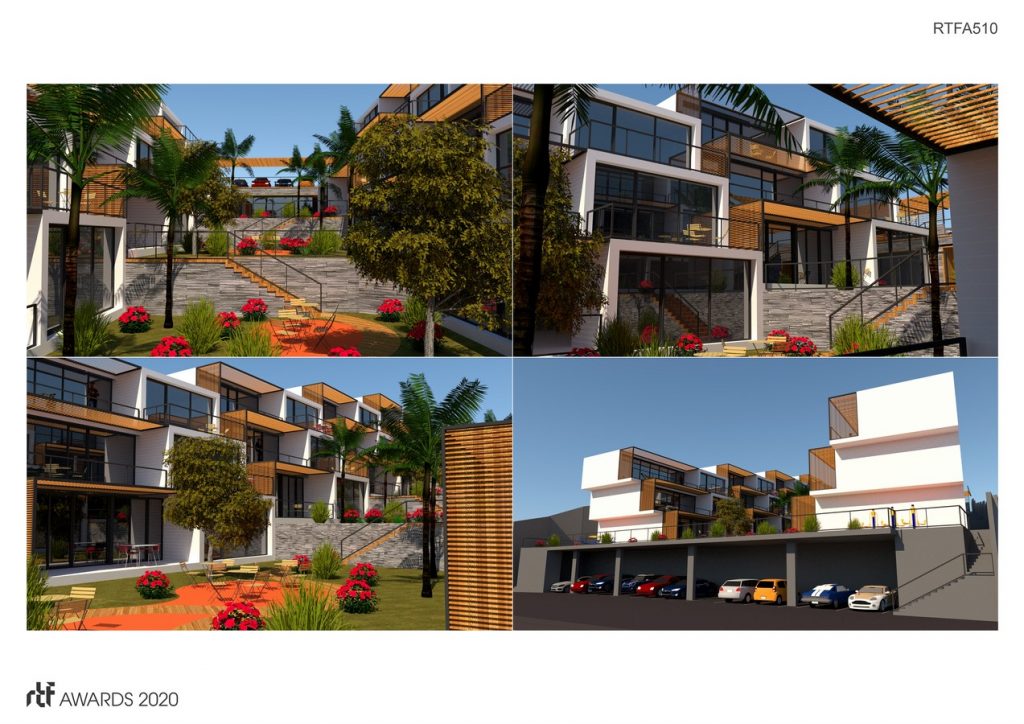 There are 12 apartments in each block. The project consists of 24 apartments in total. There are 3 rooms and a living room in apartments which are on the ground floor. The apartments on the first floor have 2 rooms and a living room The apartments on the first floor are designed by pulling 2 meters. The apartments on the 2nd floor consist of 1 room and a living room. The social space in the middle becomes more spacious thanks to the steps of the blocks towards the upper floors.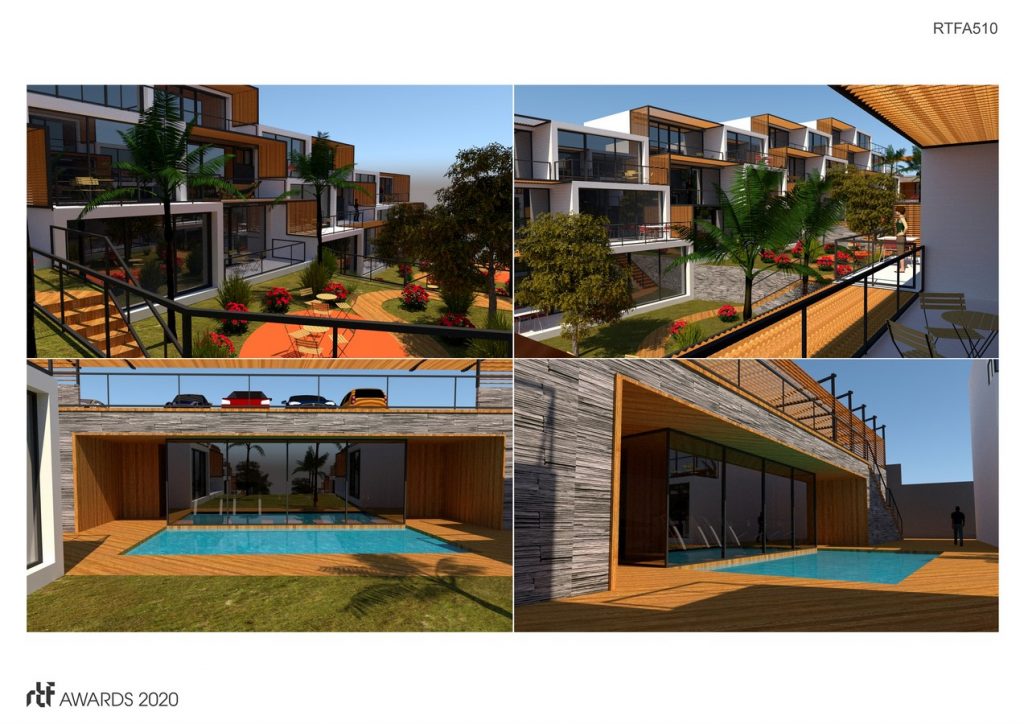 Each block has 4 separate buildings. Each level has its own stairs. The building at each level is accessed from the road between the structure and the surrounding wall.
Between the two blocks, there are social areas in relation to the levels of the blocks. There are 2 separate car parks at the top and bottom levels. There are a gym and technical areas under the car park above. In front of the gym, there is a pool to the extent permitted by the land.
ARCHITECTURE, CONSTRUCTION & DESIGN AWARDS 2020 IS HERE
Over more than half a decade Rethinking the Future has been a leading organization committed to providing an international platform to not only recognize and acknowledge design talents from all over the world but also to celebrate and share the knowledge that created through a plethora of awards, events and academic dialogues in the field of architecture and design.