In 2016, Vosh•Arch led the conceptual design for our client's winning submission for a provincial design competition that challenged both developers and builders to explore innovative affordable housing options.
Rethinking The Future Awards 2020
Third Award | Housing – upto 5 floors (Concept)
Project Name: Heartland Housing Innovative Housing Project
Studio Name: Voshell Architecture and Design, Inc. (Vosh•Arch)
Design Team: Todd Voshell, David McNary, Sarah Jones, Diana van der Voort
Area: 72,236 ft(Building Area); 6,254 ft(Site Area)
Year: 2019 – Present
Location: Fort Saskatchewan, Alberta, Canada
Consultants: Structural – Ethos Engineering, Mechanical + Electrical + Energy – Integral Group, Civil – Arrow Engineering
Other Credits: China Architectural 3D Rendering Co. Ltd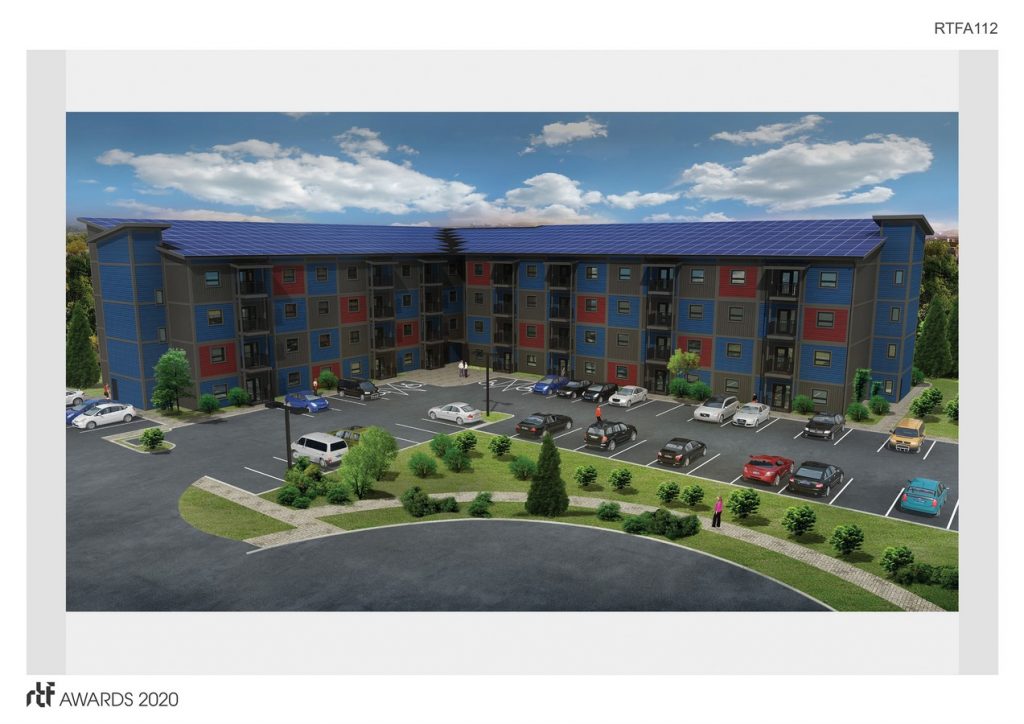 After much research and a number of visits to various local modular construction/manufacturing sites, it became clear that incorporating the use of repurposed shipping containers for the design and construction of affordable multifamily housing would not only meet the design competition's criteria of "integration, sustainability, livability and innovation", but also address the shortage of quality affordable housing in smaller, rural communities in a unique, cost-effective way. With the aid of additional funding from all three levels of government that was secured on the premise that this affordable housing project would meet Net Zero Energy requirements, we have worked closely with our not-for-profit client to help bring this project one step closer to fruition.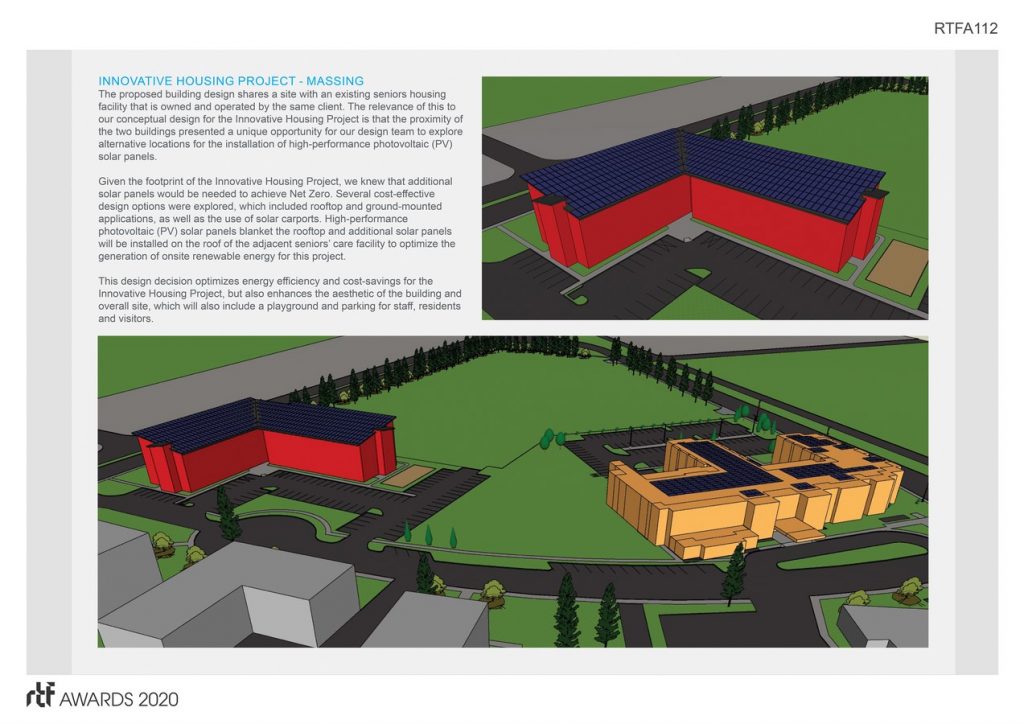 The use of repurposed shipping containers for modular housing projects is not a new concept. The challenge in cold-climate regions where temperatures can plummet to -40°C or -50°C lies in the design and construction of shipping container housing projects capable of withstanding the severity of Canadian winters. Specialized design considerations unique to cold-climate regions, such as the design and construction of high-performance building envelopes, requires an understanding of not just heat, air, and moisture, but also of climate, design, and occupant behavior. In this regard, the design of this project is primarily technology-driven and incorporates a number of cutting-edge building materials and assemblies, some of which are not yet available within Canada.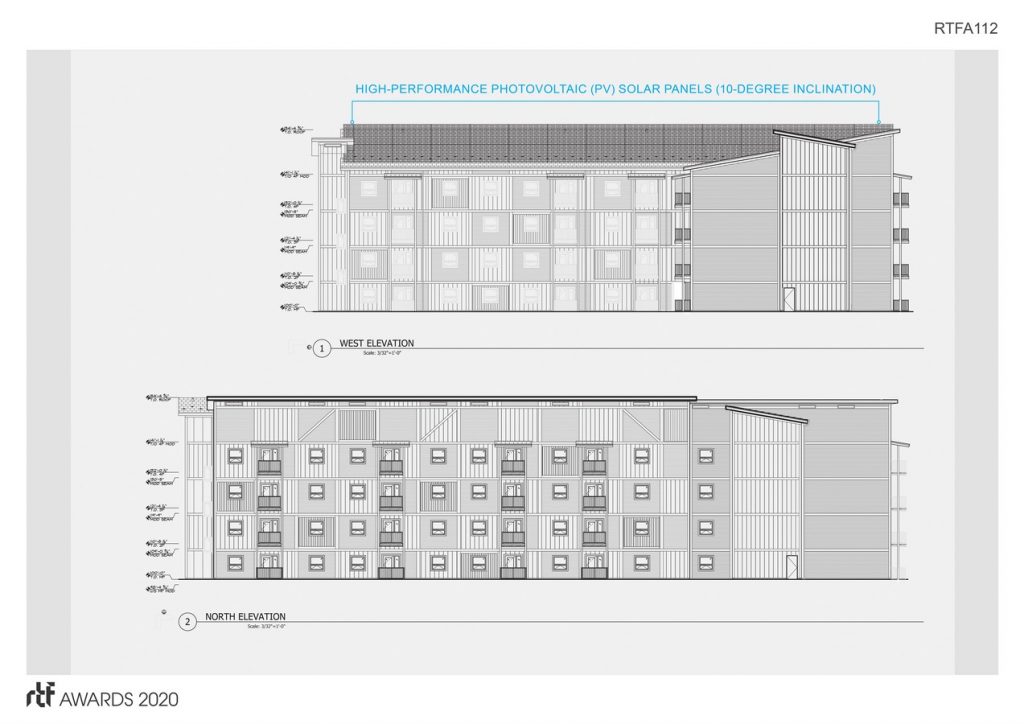 The Innovative Housing Project is a four-story, 83-unit (with a minimum of 8 adaptable units for individuals with accessibility needs) apartment building that utilizes repurposed shipping containers. Unit sizes range from studios and 1 to 3-bedroom suites with the main floor consisting entirely of barrier-free suites. Targeting Net Zero, the design incorporates a number of sustainable design features that help save energy, use space efficiently and reduce waste.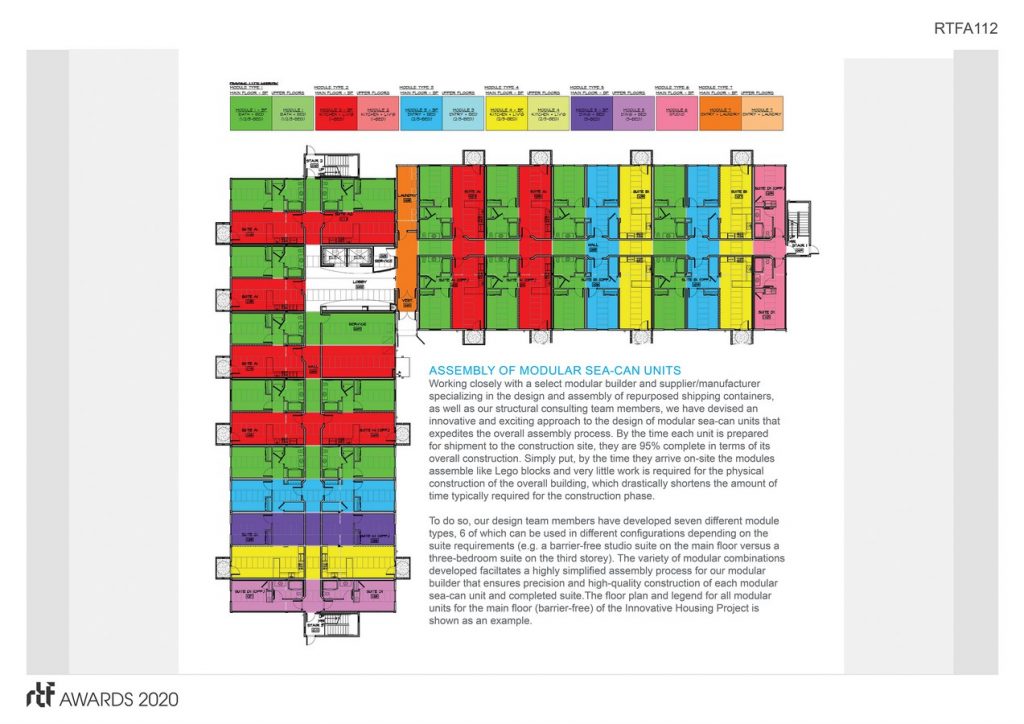 In addition, our unique approach to the design and assembly of modular sea-can units expedites the construction of the overall building in that each modular unit is 95% complete by the time it reaches the construction site — an accomplishment that not only reduces construction waste, but also shortens the overall construction schedule, saving both time and costs without compromising the quality and durability of the building. It is our intention that this project will be the vehicle for introducing the viability of Net Zero affordable shipping container housing to the cold climate regions of Canada as a time and cost-effective reality.
ARCHITECTURE, CONSTRUCTION & DESIGN AWARDS 2020 IS HERE
Over more than half a decade Rethinking the Future has been a leading organization committed to providing an international platform to not only recognize and acknowledge design talents from all over the world but also to celebrate and share the knowledge that created through a plethora of awards, events and academic dialogues in the field of architecture and design.