VOSH worked closely with Connecting Care and Points West Living to explore unique, cost‐ effective variations of building designs that would best mirror their vision. During the pre‐design phase of the Airdrie Seniors Care Community, variations of building designs were explored to determine whether a more cost‐effective and innovative approach to programming could help to improve spatial and functional efficiencies.
Global Design & Architecture Design Awards 2022
First Award | Housing (upto 5 floors) (Built)
Project Name: Airdrie Seniors Care Community
Project Category: A8 ‐ Housing (up to 5 floors) ‐ Built
Studio Name: Voshell Architecture and Design, Inc. (VOSH)
Design Team: Architectural ‐ Todd Voshell, Sabrina Keichinger, Chad Kuzio, Michael Belitsky; Design‐Builder – Eagle Builders
Area: 121,291 ft2
Year: 2022
Location: Airdrie, Alberta, Canada
Consultants: Structural – Grubb Engineering, Mechanical – D.A. Fox Engineering, Electrical– WSP, Civil – Al‐Terra Engineering, Landscape Architecture – Design North Landscape Architecture, Pre‐Fabrication Designers – Aggregate Design Studio
Text Credits: Maria Royal (Voshell Architecture and Design, Inc. – VOSH)
Other Credits: Renderings, Chad Kuzio (Voshell Architecture and Design, Inc. – VOSH) Seniors Photos (Connecting Care and Points West Living)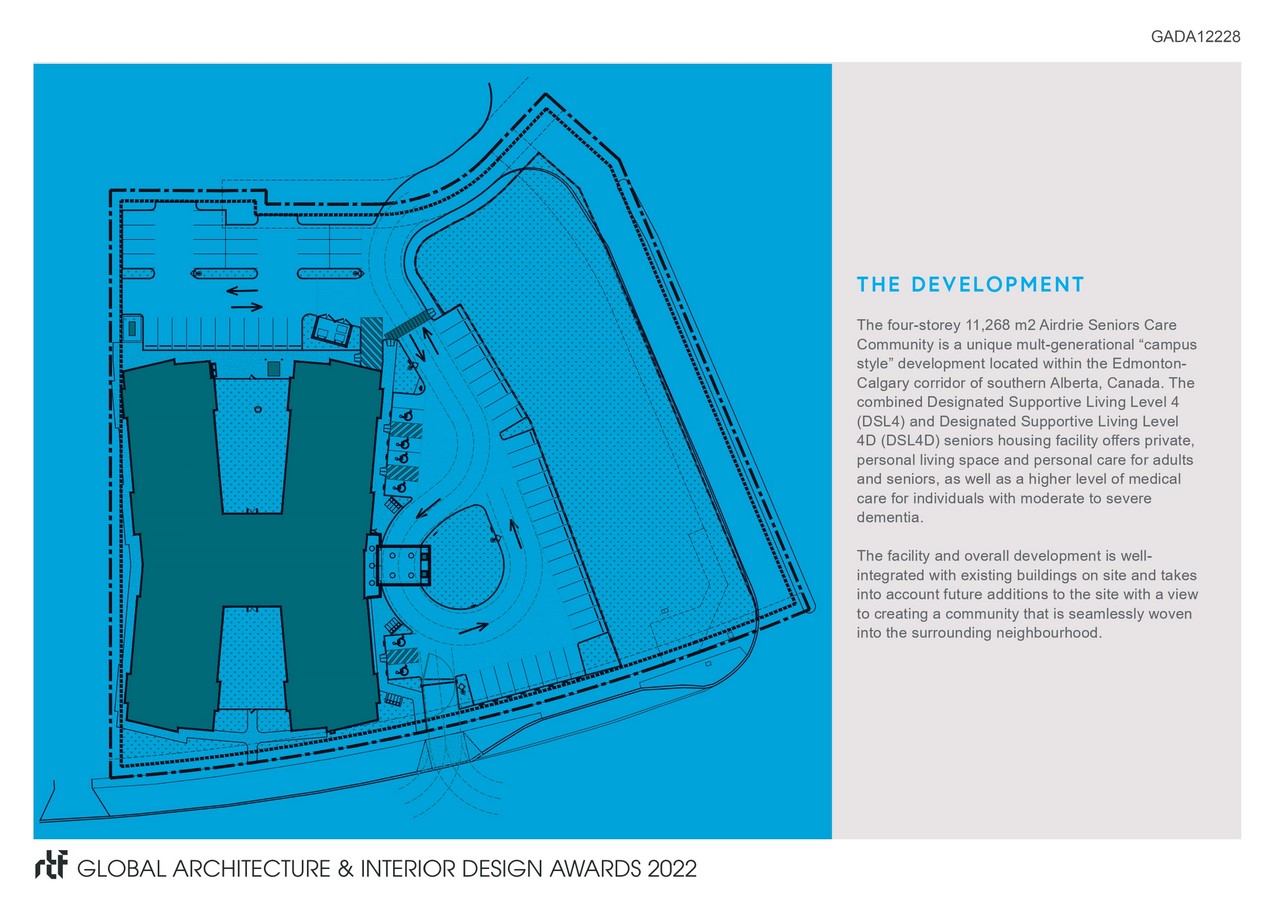 More importantly, the Client's model of care, which is based on the Eden Alternative®, was lost in its design translation of the existing "template" building that had been used for similar developments — a shift from the sterility of "institutional" models of care to a more person‐specific model was needed in order to achieve this alignment.
The result of this in‐depth design exercise is the "Butterfly" building wherein each floor is viewed as a "village" and each quadrant a neighbourhood.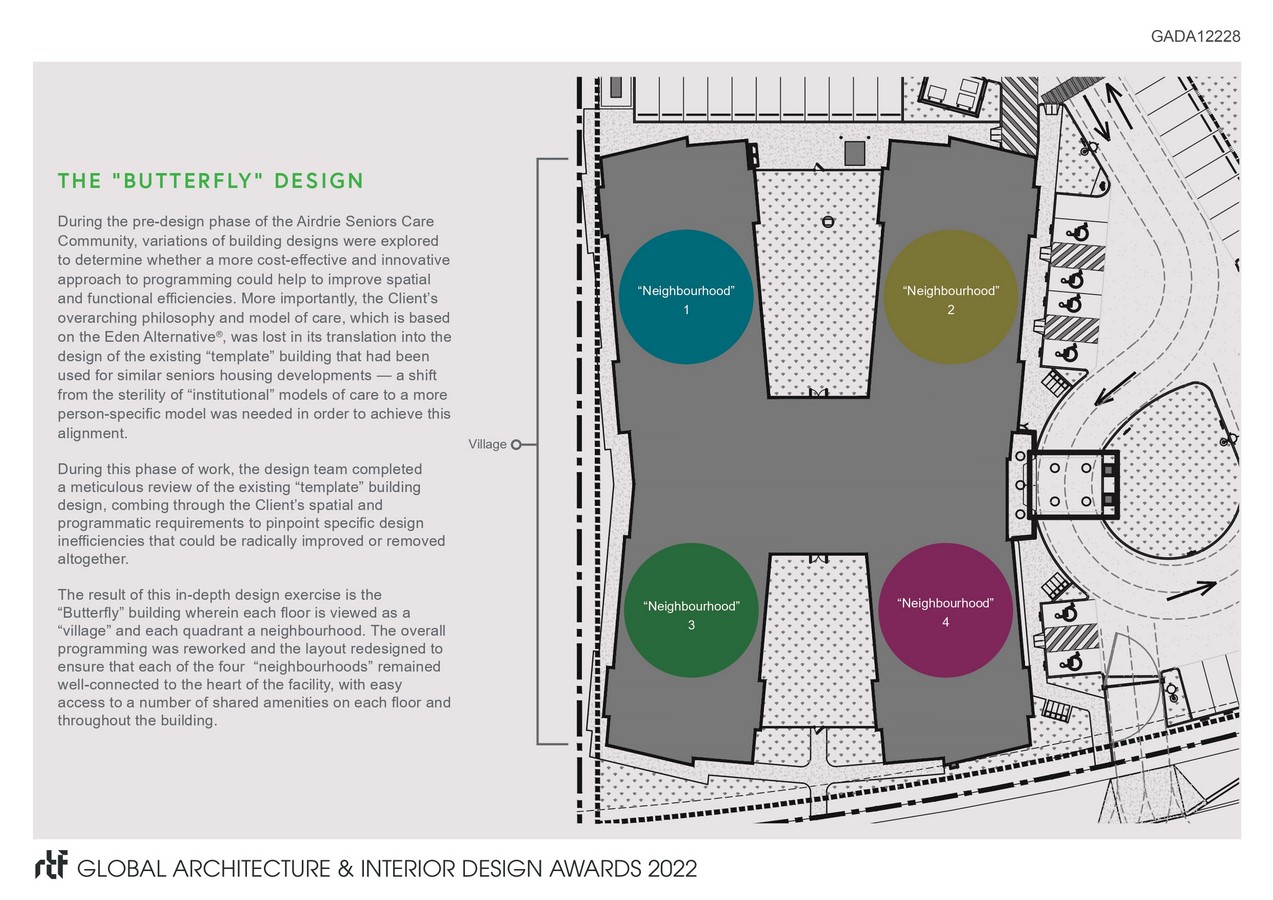 The design is a simple, yet elegant solution that not only incorporates all seven fundamental aspects of "personhood" (identity, connectedness, security, autonomy, meaning, growth, and joy) that are the core of the Eden Alternative® framework of care, but one that also reduced the overall footprint of the "template" building design by 2,230 m2 without compromising programmatic needs and requirements. Inevitably, this also reduced the project's overall construction cost by $9 M.
Although the "Butterfly" layout of the Airdrie Seniors Care Community was initially developed to address spatial and programmatic inefficiencies, the design inadvertently resolved a number of critical pandemic‐related challenges revolving around functionality in light of the ever‐changing public health orders and restrictions issued by the Province of Alberta. Operational challenges aside, another dilemma faced by seniors care facilities during the pandemic was the prolonged isolation of elderly residents due to public health restrictions and extensions to the provincial state of emergency.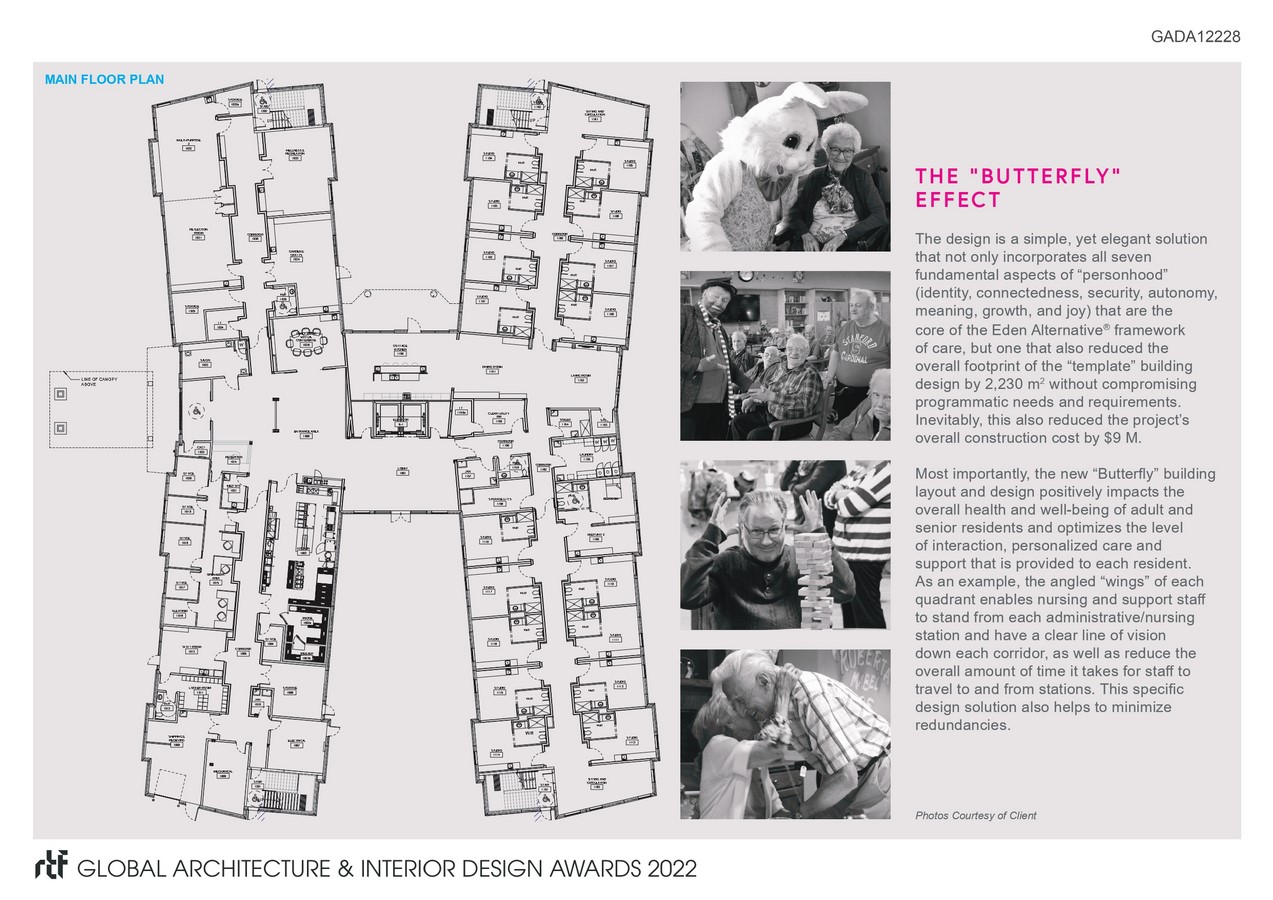 With its four distinct "neighbourhoods" and revisions to the facility's mechanical building systems and strategically placed spatial separations, the design of this building allows for each quadrant to function separately from the others during an outbreak without compromising the overall operation of the facility. The "Butterfly" design has since garnered substantial support from local health authorities and three other seniors care communities of the same design are currently being constructed in Edmonton, Fort Saskatchewan and Medicine Hat.
The Airdrie Seniors Care Community is a Design‐Build project that utilizes precast concrete construction. Working with a Canadian‐based manufacturing and construction company that specializes in the design, fabrication and construction of precast concrete buildings, the "Butterfly" design and configuration pairs well with this particular structural building system and has not only proven to be cost‐effective with a noticeably shortened timeline for construction, but this particular precast concrete building comes with a 100‐year service life.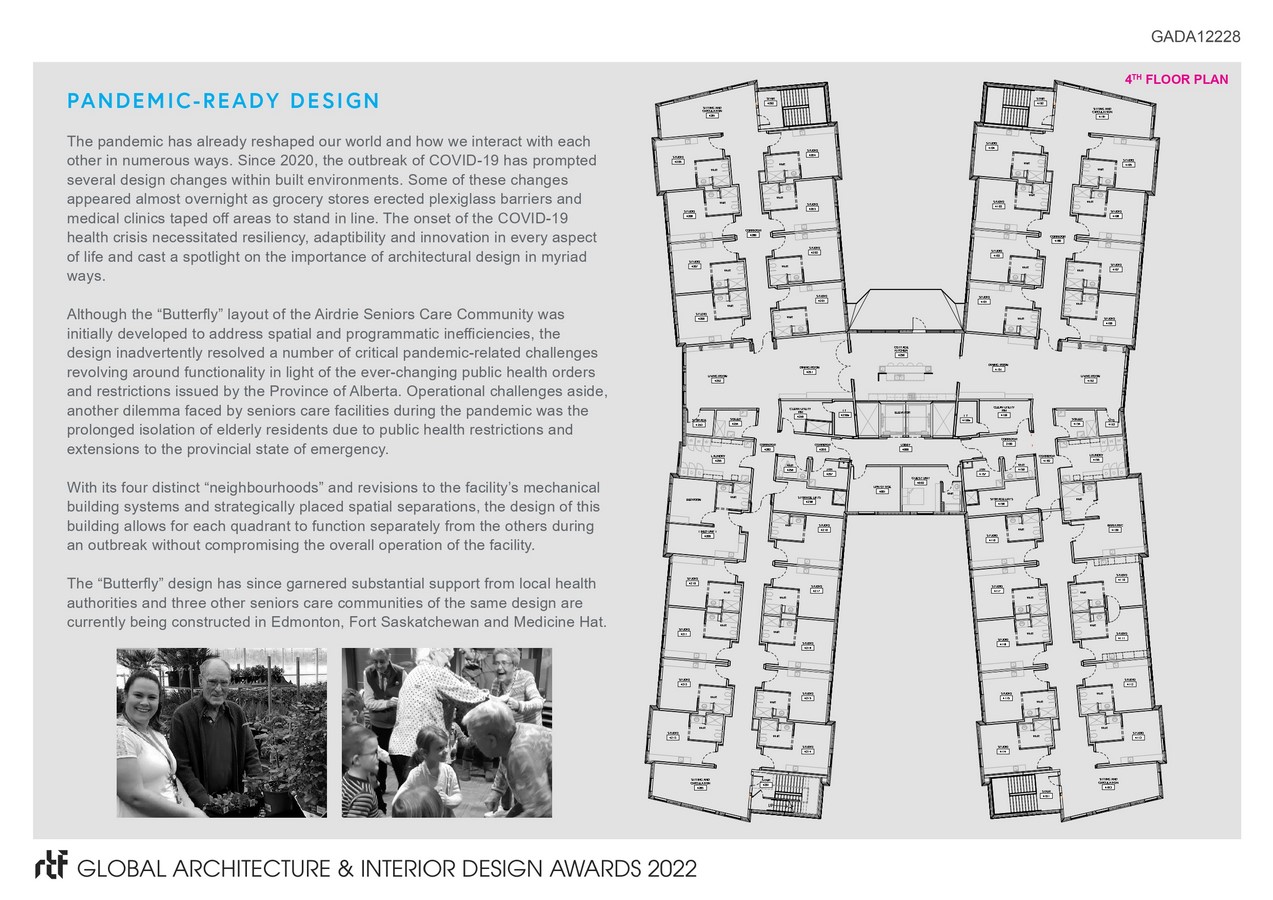 Located in Airdrie, Alberta the 121,291 ft2 Secord Care Community is a four‐storey building with 126 units consisting of studios (including adjoining studios), bariatric units, and a guest unit.