This comprehensive renovation and addition to a converted former 4-story industrial building create a comfortable, 8-story one family residence wrapped in a smart climate façade that adapts to environmental conditions and significantly reduces heating and cooling costs.
Rethinking The Future Awards 2020
Second Award | Housing – over 5 floors (Built)
Project Name: 512Townhouse
Area: 5,000 sq ft / 465 m2
Year: 2019
Location: West Soho, New York City
Studio Name: Archi-Tectonics NYC LLC
Design Team: Principal in charge: Winka Dubbeldam, Assoc. AIA; Project Leader: Justin Korhammer
Archi-Tectonics Team: Hanxing Zu, Avra Tomara, Royd Zhang, Kristina Kroell, Hsiang Wei Chen, Adin Rimland, Boden Davies, Robin Zhang
Architect of Record: Randall Collins PE
General Contractor: Galcon Construction
Mechanical Engineers: 2LS Consulting Engineering
Structural Engineers: WSP GROUP
Photography Credits: Frederica Carlet & Archi-Tectonics
Materials
Windows: Mix Legno
Floors: Siberian Wood
Steel stairs: Ascend StairsGlass elevator: Day Elevator & Lift
Kitchen: GD Arredamenti
Facade Trellis:  Trespa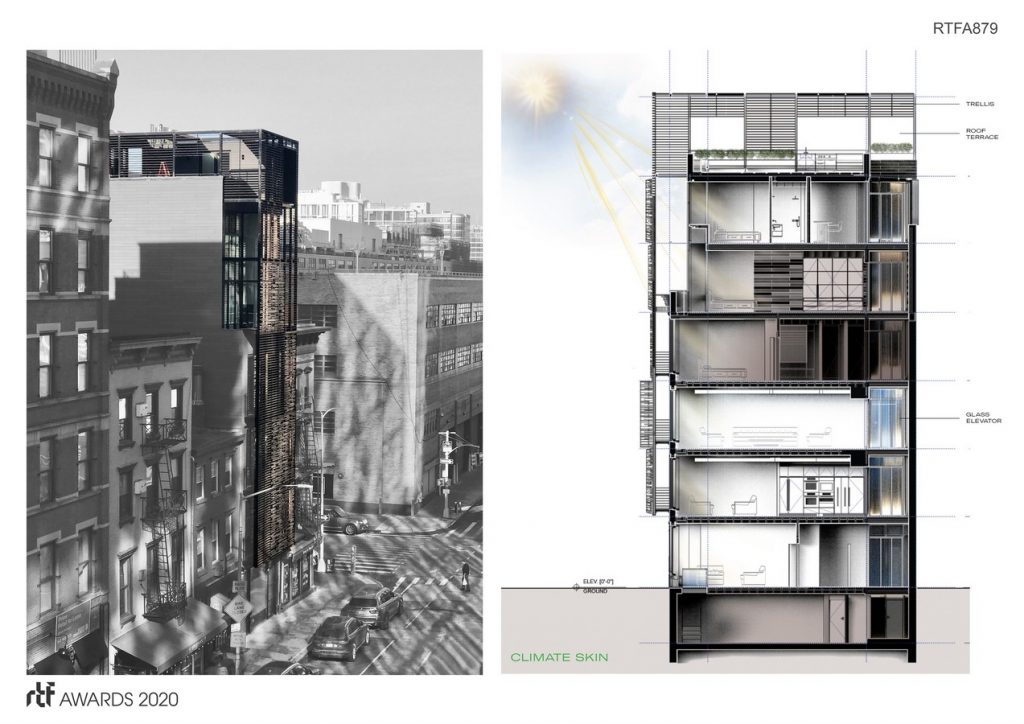 Three Buildings
By adding a large extension onto an existing building with a footprint of only 19 x 40 feet, this townhouse was converted into an 8-story vertically stacked tower of rooms.  The challenge of nearly doubling the size of the townhouse was addressed by adding what we call a "third building," a climate skin configured of openable trellis panels that help regulate privacy & temperature. The existing brick building was meticulously restored, materials recycled, and the new extension above was designed as interlocking steel and glass volumes. Interior and exterior spaces alternate and intersect to maximize spatial variety while strategic cuts allow light to enter deep into the building section and create curated views towards the surrounding neighborhood.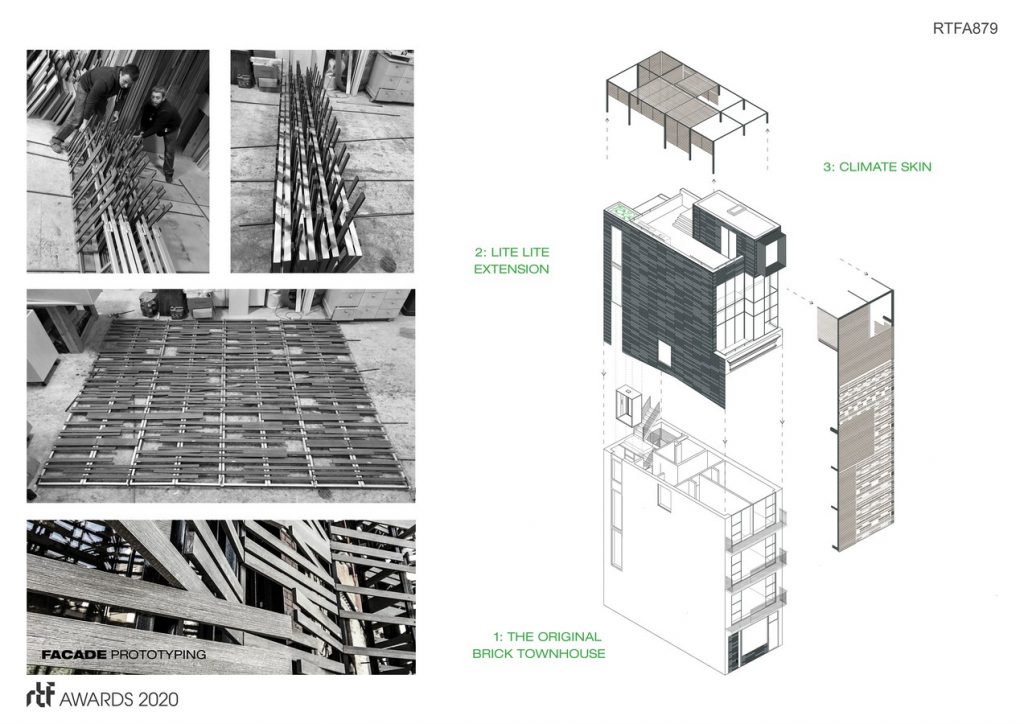 Climate Control 
The building volume setbacks are inscribed within in a significantly larger unifying, rectangular trellis envelope of multiple patterns and densities. Made from a lightweight steel frame and folding panels clad with Trespa™ slats, this "smart climate control envelope" serves as an adaptable perimeter of the building.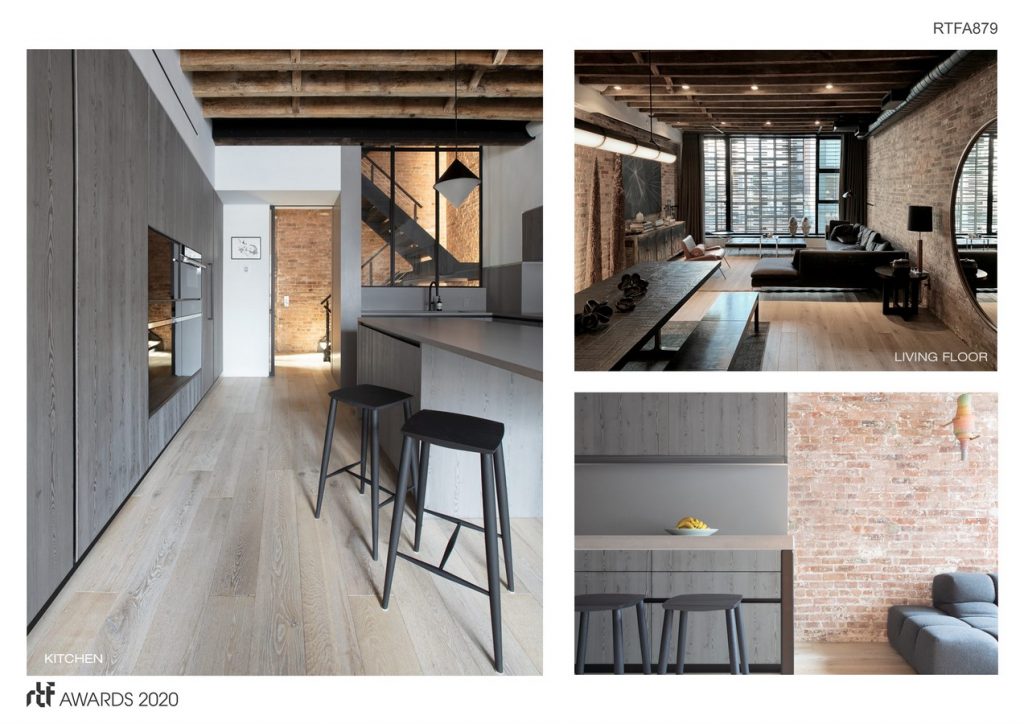 It provides shading and variable levels of privacy as well as functions as the spatial enclosure of new balconies and generous roof terraces. Extensive prototyping assisted in optimizing the movement of the trellis panels, that transform as they open: when closed they are one smooth surface; when open, finger-like fins fold out like feathers of a birdwing.
Like an intricate lacework dress, the sheathing changes character and appearance at different times of the day and view angles and serves as both filter and amplifier between the privacy of the house and the public streetscape. The façade panels are operable: they can fold and slide open. This way, the façade effortlessly adapts to the residents' changing needs and simultaneously connects to and encloses from the surrounding city.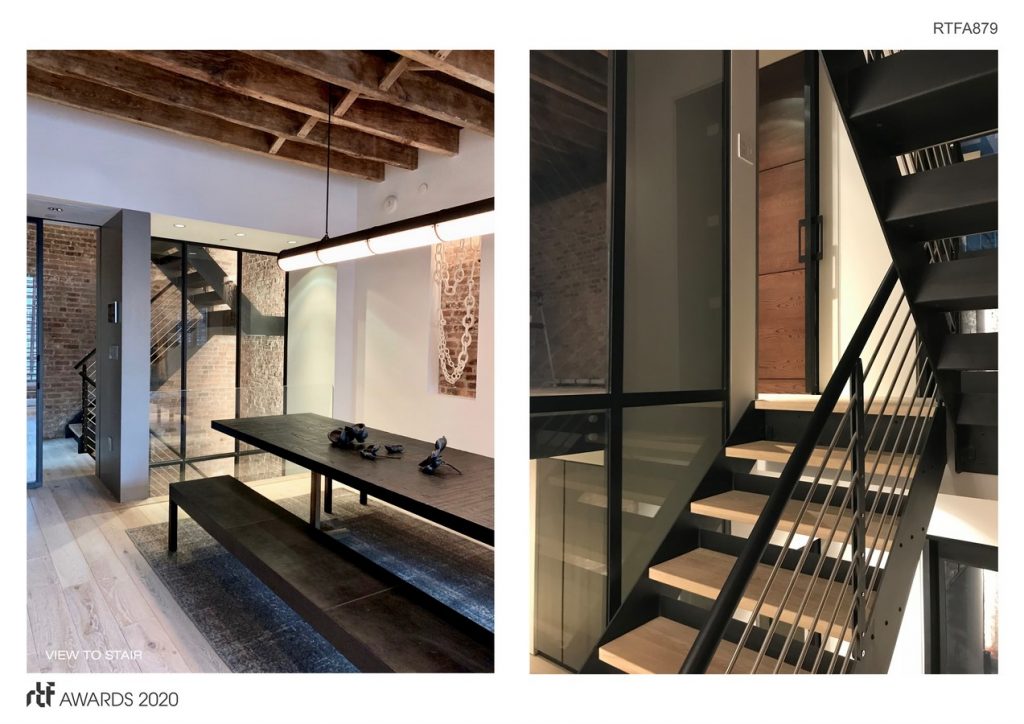 Verticality
Double-height spaces between the kitchen and dining and between the study and master bedroom allow for spatial interlacing, long views through, and double-height windows connect the stairs back to the living spaces.  In the rear of the building, a dramatic south-facing continuous window slot lights the glass elevator which in turn lights the 8-story black steel staircase, with views to the living spaces. This together with recessed LED lights in the staircase, highlights the sensation of extreme verticality and transforms mundane everyday tasks into a dynamic spatial experience.
ARCHITECTURE, CONSTRUCTION & DESIGN AWARDS 2020 IS HERE
Over more than half a decade Rethinking the Future has been a leading organization committed to providing an international platform to not only recognize and acknowledge design talents from all over the world but also to celebrate and share the knowledge that created through a plethora of awards, events and academic dialogues in the field of architecture and design.